12 Boho Bathrooms to Inspire Your Self-Care Sanctuary
For the free spirit in all of us.
By Kate McGregor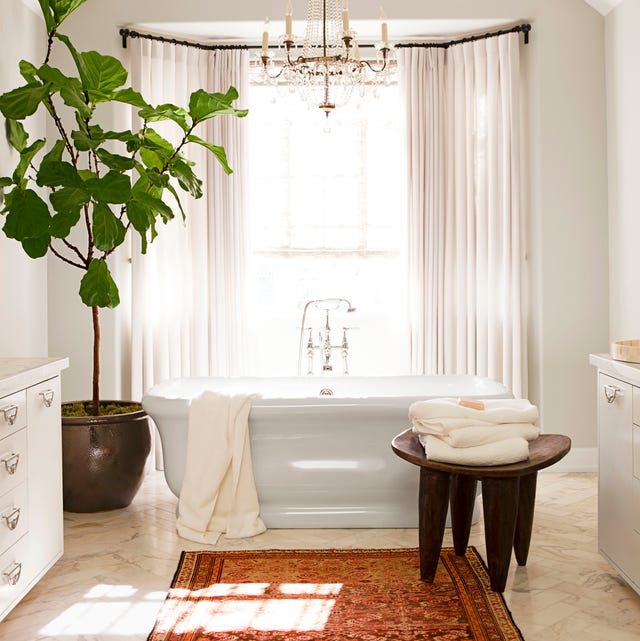 Amy Neunsinger
With its layered textures, lush greenery, and romantic lighting, the elements of bohemian design make it ideal for places where you want to relax. It's no wonder, then, we're seeing so many great boho bathrooms. Boho design elements like natural textures, warm colors and prints, and candlelight make your bathroom feel like a sanctuary. The decadent, laid-back aesthetic can actually be challenging to master, though. Compared with design styles like midcentury modern that have clear elements, boho design is much more flexible, and the rules are purposefully left open to interpretation. That's why we're here to help with inspiration.
Similar to an eclectic design style, a boho design style brings together different colors, textures, and patterns and blends styles and eras for a look that's actually more curated than it might initially appear. Like a boho bedroom or living room, the best boho bathrooms never look dated. Boho design is about your personality, not the current must-have styles. In that sense, it's timeless, which makes it a great choice for a bathroom.
Boho bathrooms have to be practical too. Trust us, you're not going to see any shag rugs next to bathtubs here. Primary bathrooms and even power rooms are hardworking spaces that you want to look and feel clean, so opt for bohemian elements that aren't hard to care for like vibrant artwork, hanging plants, and colorful tile. The best boho bathroom ideas look stylish while still being functional. Ahead, we're highlighting 12 boho bathroom ideas to spark your inspiration and set it free.
1
Add an Area Rug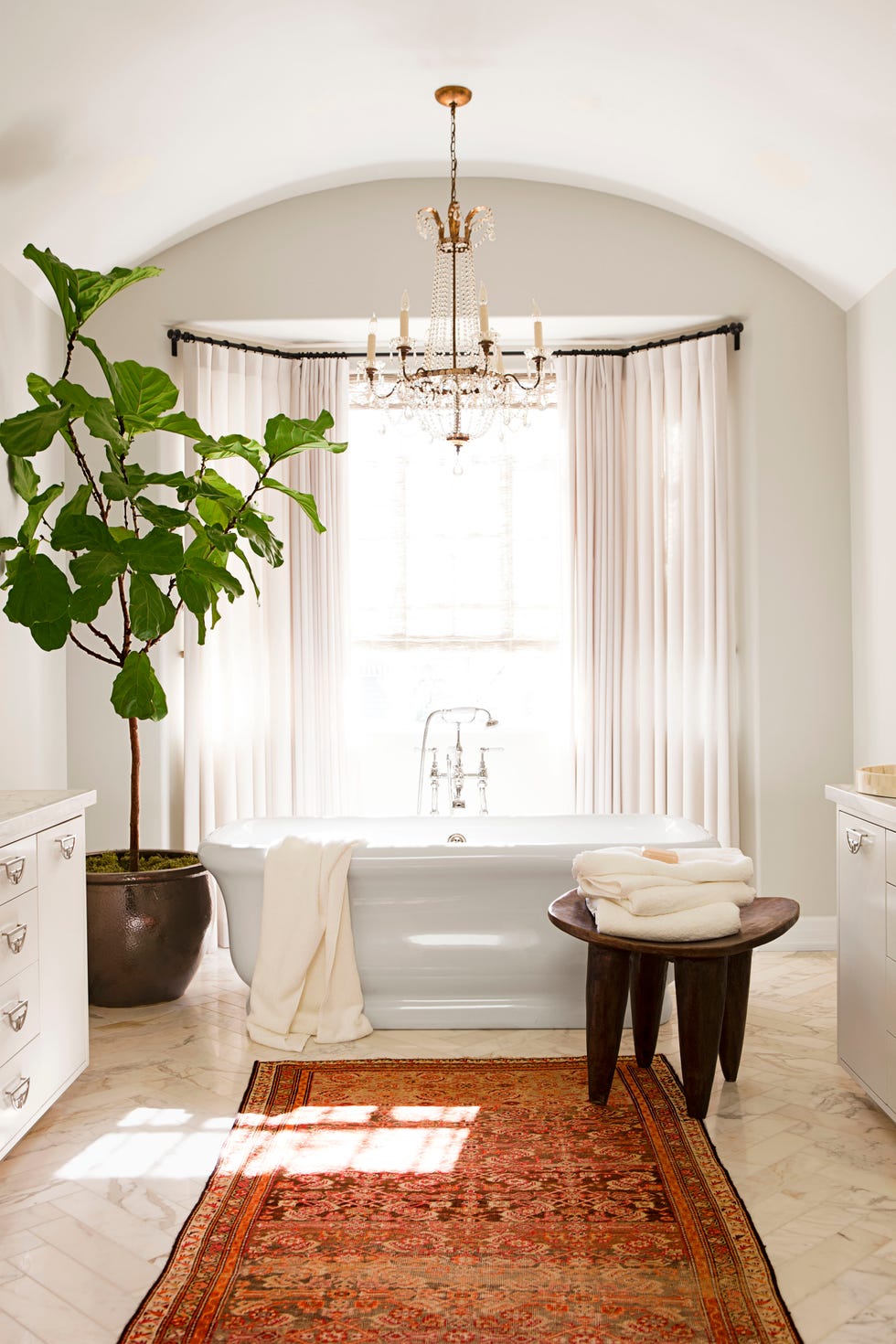 Amy Neunsinger
A vintage carpet instantly warms up the cold tile floors in this mostly white space. Add a potted plant like this fig tree and a natural wood stool and voilá: boho bathroom. It really doesn't take much to change the energy of a classic bathroom design like this one.
2
Use Complementary Colors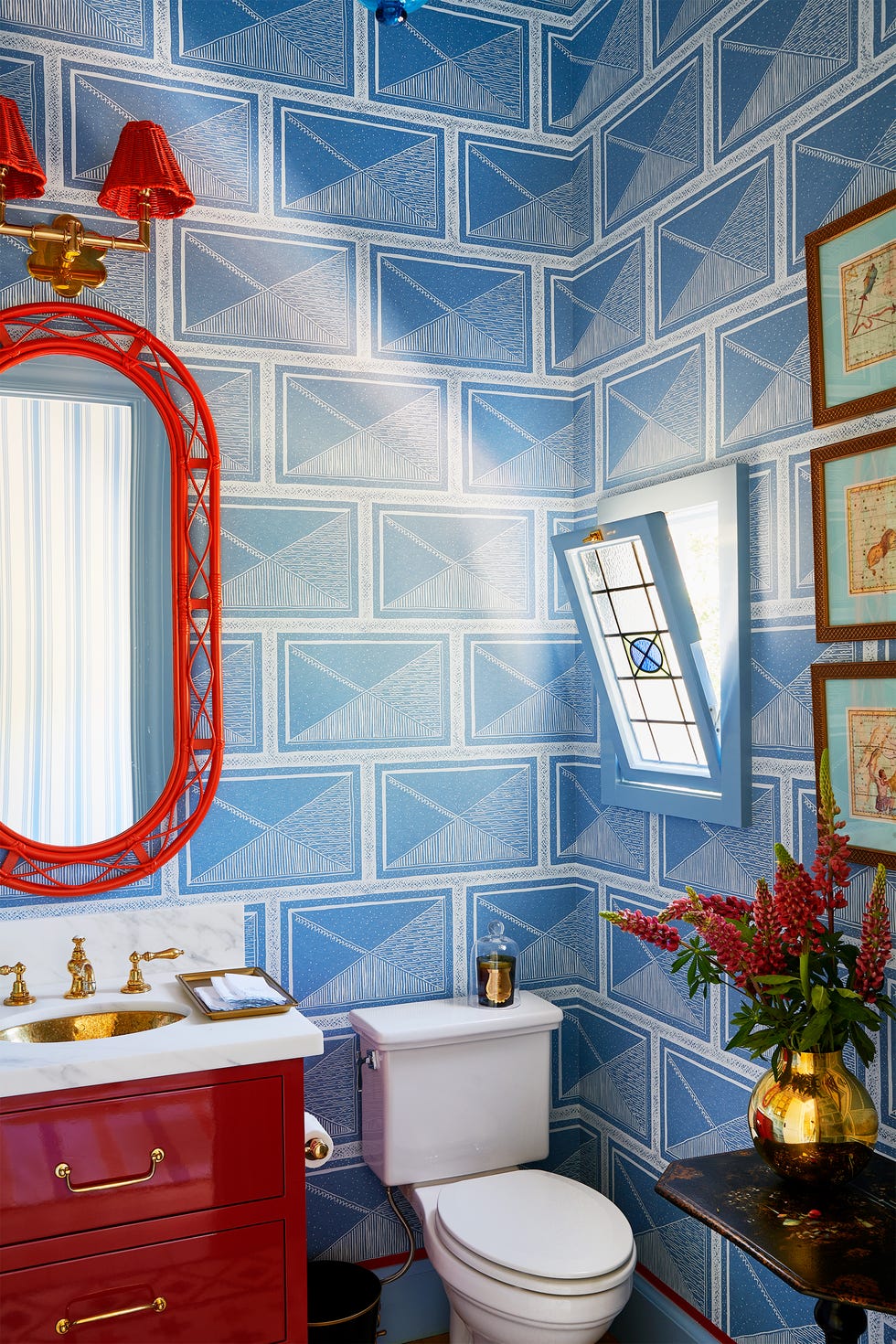 Amy Neunsinger
Use the color wheel to your advantage when choosing vibrant colors for a boho bathroom. This cool-toned red pops against the sky blue wallpaper for a layered and bold look. Natural textures like rattan and wicker along with dark wood antiques add to the collected, bohemian feel.
3
Designate a Seating Area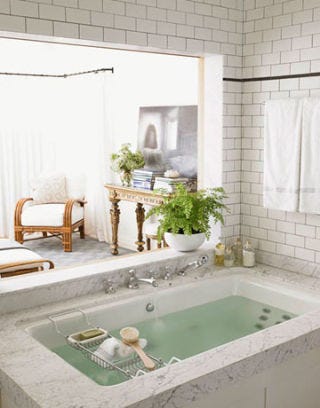 Victoria Pearson
Nothing says luxury like a bathroom with its own sitting area. Opt for natural textures like rattan, bamboo, and carved wood and bring in plenty of plants to complete the boho look.
Advertisement - Continue Reading Below
4
Play with Natural Materials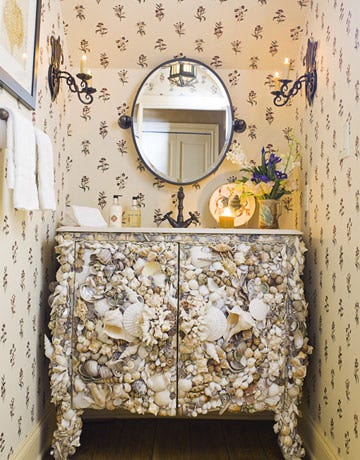 Reed Davis
In this boho bathroom, a vanity paved with seashells takes center stage. It echoes the style of the OG bohemians—think late 19th-century Europe. Ornate sconces and hardware add to the decadent vibe.
5
Have an Accent Wall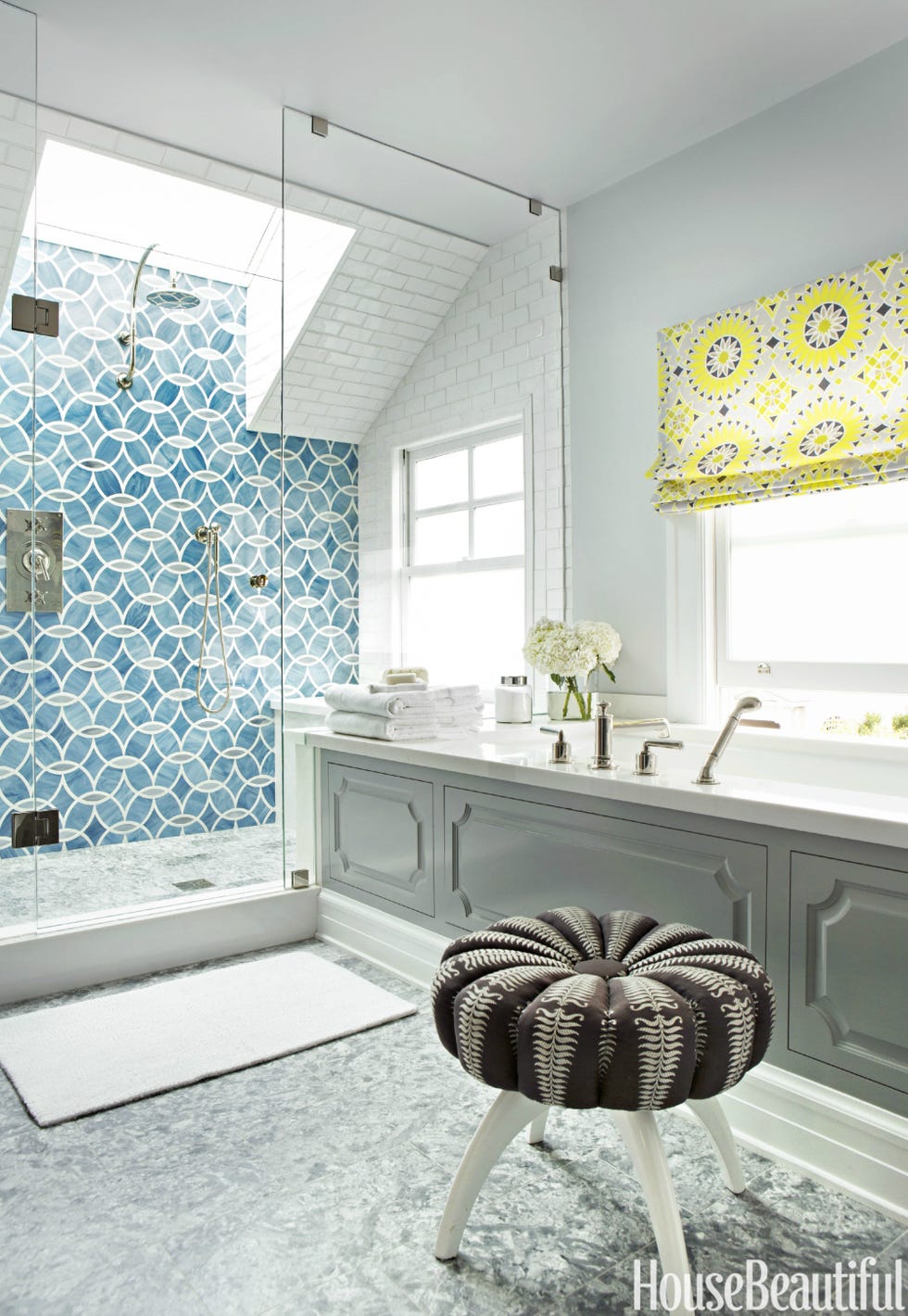 House Beautiful
Not a fan of wall-to-wall color? That's okay! You can still achieve a boho look by designating one wall as a vibrant accent wall. Choose tile in an ombré color scheme with an eclectic pattern for a bold and bohemian look.
6
Try an Allover Pattern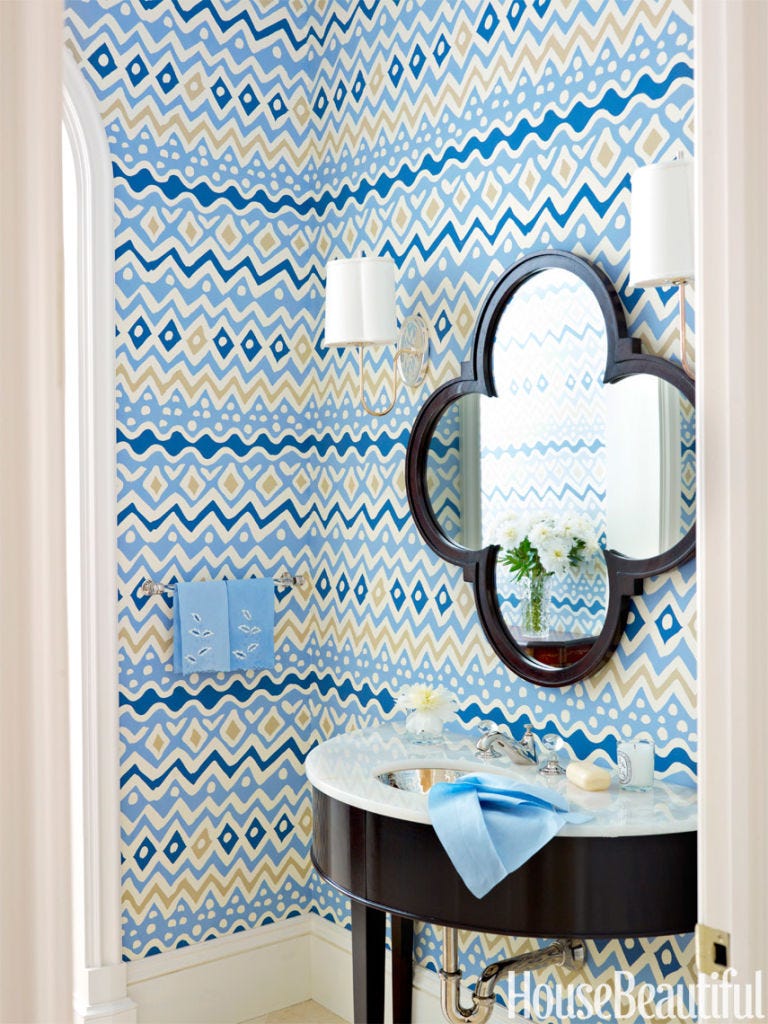 James Merrell
Pattern is key in boho design. A powder room is a great place to test out a statement wallpaper—it won't feel as dizzying or overwhelming in a small, contained space. We like how the dark wood mirror and vanity seen here make it look more grounded too.
Advertisement - Continue Reading Below
7
Use Natural Materials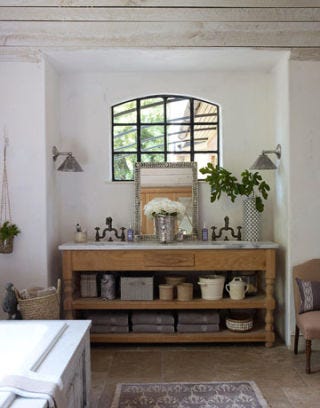 Simon Upton
A boho bathroom can still be a minimalist bathroom. Pared-down bohemians can opt for neutral shades and natural textures. The wood, stone, greenery, and metal in this space work together to look layered and cozy, not cluttered or mismatched.
8
Let Nature In
Lisa Romerein
Boho design is all about embracing nature, so why not open up your bathroom to the literal outdoors? The clever extra door seen here makes this shower work accessible from a private outdoor deck. If you live in a warm weather locale, this indoor-outdoor shower might be just what you've been dreaming of.
9
Play with Texture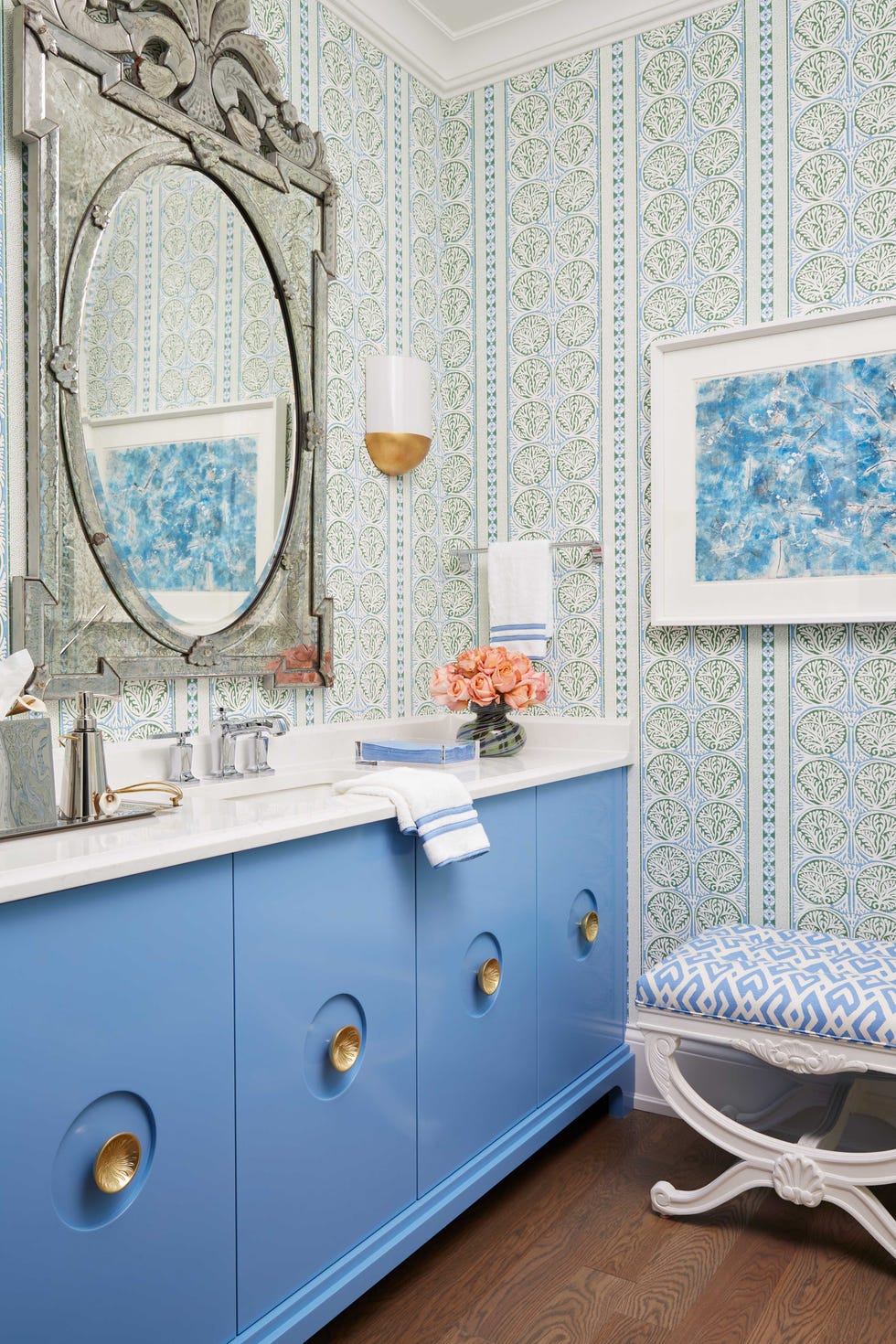 Reid Rolls
Metal, wood, fabric, and more—bring them on! Layering textures is the easiest way to get a boho bathroom. The more textures, the better. Just stick to a color family to get an effect that's collected, not cluttered. Here, the range of cool blues and metallics still look cohesive.
Advertisement - Continue Reading Below
10
Think Beyond Subway Tile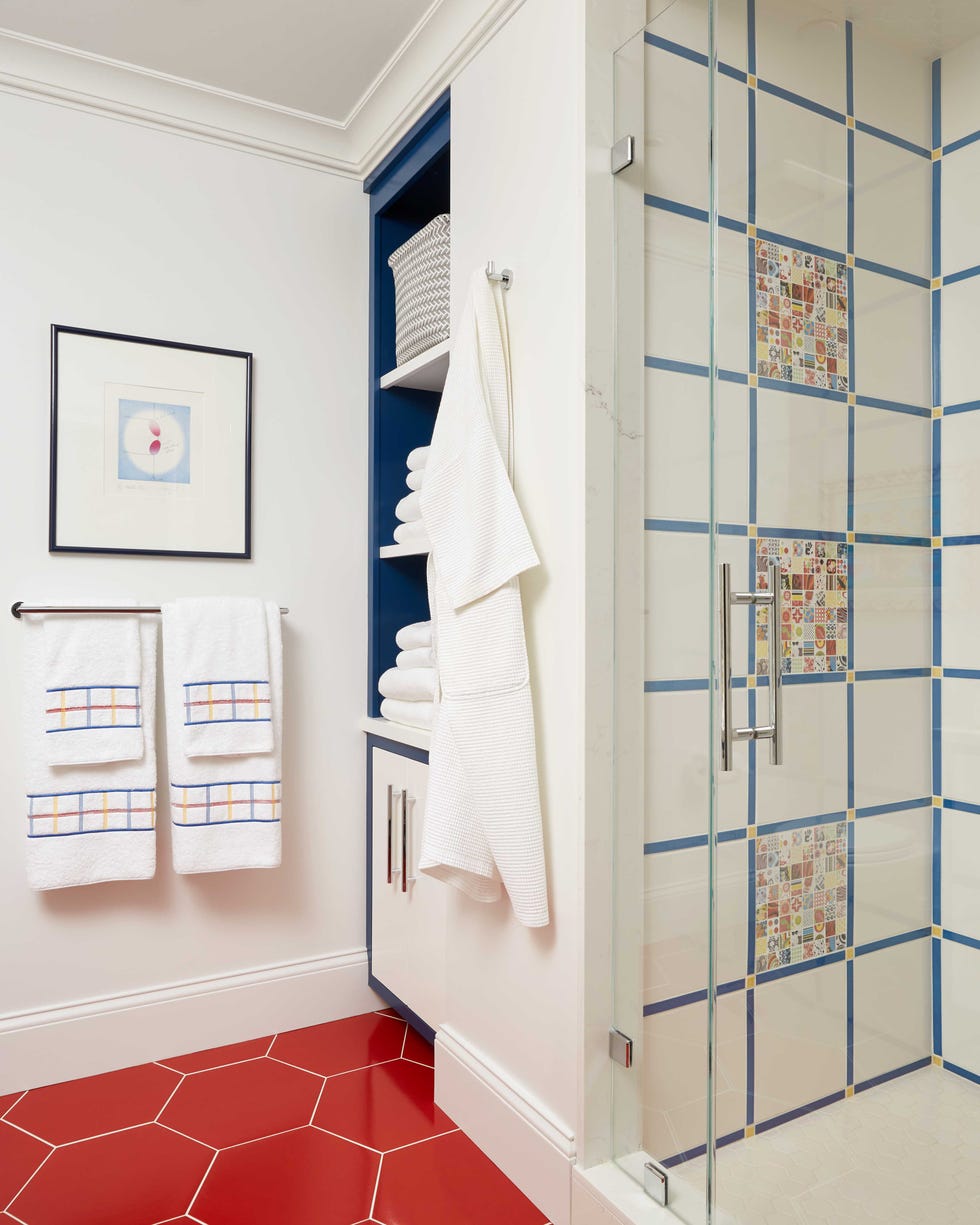 Reid Rolls
Play with tile size, shape, pattern, and color for a more interesting bathroom. Coordinate the colors of your paint, linens and decor with it for a cool modern art moment.
11
Use Warm Tones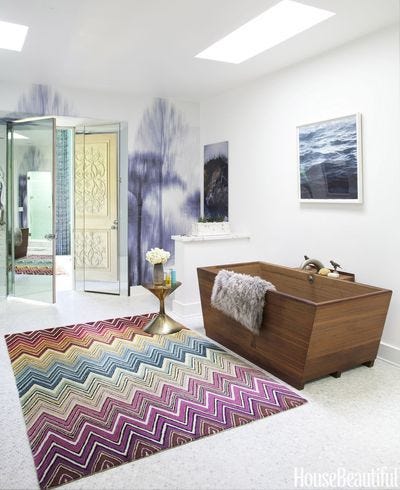 Victoria Pearson
Good light is essential for a spa-like boho bathroom. If you have plenty of sun streaming in, use it to your advantage. Area rugs, mirrors, and warm-toned wood make the most of the sun coming through these skylights.
12
Keep It Cozy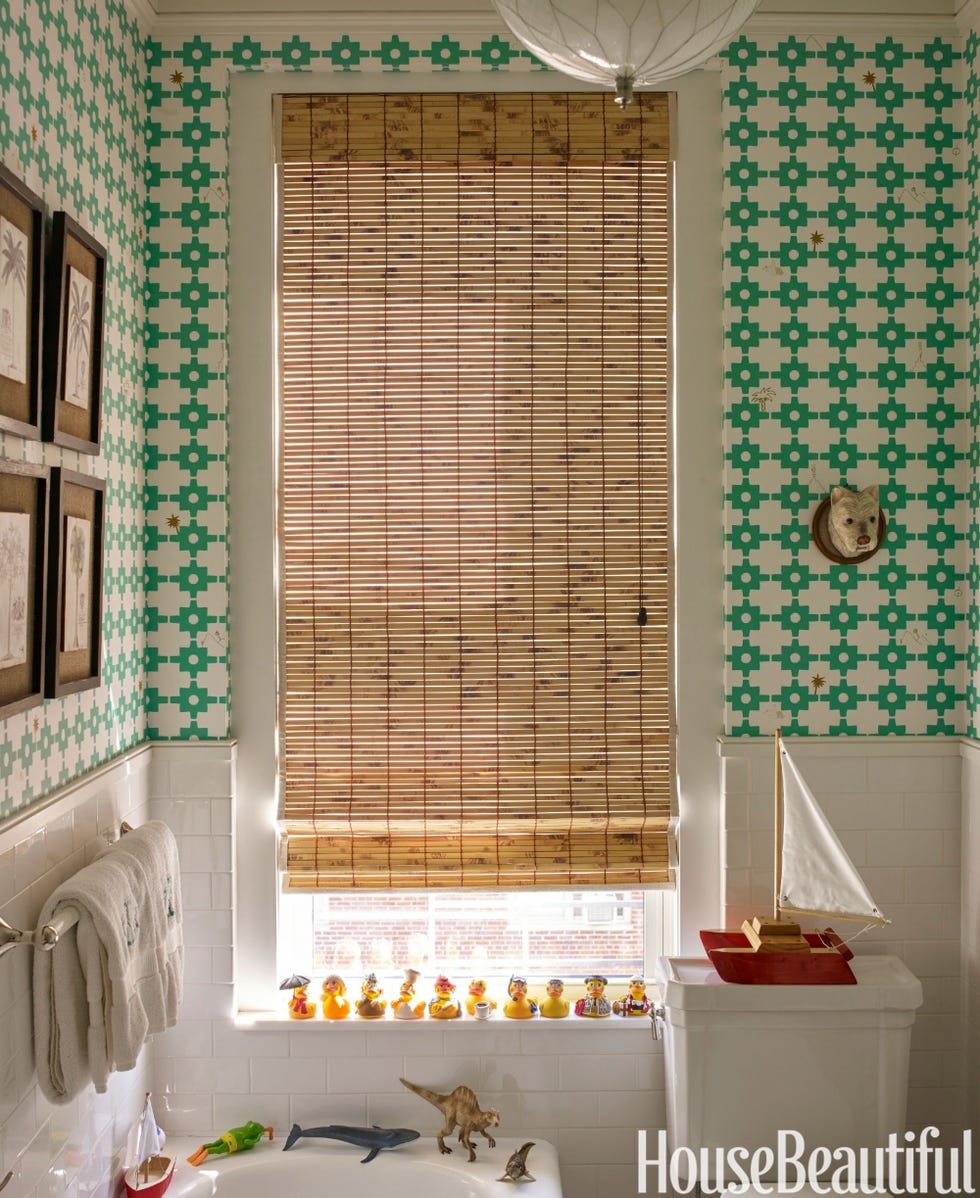 Francesco Lagnese
Dim lighting and natural textures keep boho bathrooms calm and relaxing even when they're filled with pattern. That's especially helpful in a kids' bathroom like this one, where bathtime is part of a wind-down routine.