Every item on this page was hand-picked by a House Beautiful editor. We may earn commission on some of the items you choose to buy.
How to Decorate with Jewel Tones Like a Designer
Incorporate the rich hues in timeless ways.
By Kate McGregor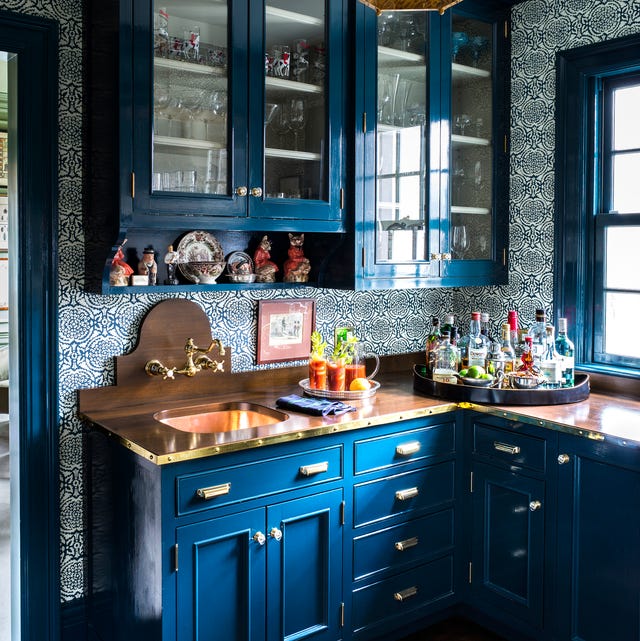 Paul Raeside
While muted pastels and soothing neutrals have been all the rage in color trends these days, there's another group of hues that are preparing to take over: jewel tones. Jewel tone colors are those derived and/or named after gemstones and jewels, like sapphire blue, emerald green, and ruby red. The colors, vibrant and deep, are the opposite of pastels. These hues are known for their richness and depth, and they're ideal for making spaces like bedrooms and dens feel cozy or adding drama to small spaces like powder rooms.
Jewel tones are more versatile than you might think. In fact, jewel tone colors can be "inviting, captivating, and luxurious," says Natalie Ebel, cofounder of the paint company Backdrop. Backdrop recently announced a collaboration with Porsche that unveiled four new paint colors, all of which happen to be jewel tones: a rich green, fuchsia, yellow, and blue, all intended to be modern takes on heritage Porsche colors. Which is to say that Ebel has spent a lot of time contemplating jewel tones recently.
One potential pitfall is that decorating with jewel tones can easily make a space lean too dark or powerful, says Ebel. That's why she says it's important to pay attention to balance when using jewel tone colors in larger spaces. "I think any color can be modern depending on how you apply it and design the space," she says. "To make jewel tones feel modern, I would pair them with neutral colors and incorporate sleek textures and clean lines to create a balanced look."
Here's another designer trick of the trade: Use the color wheel to your advantage. Every color has a complement for a reason. Blue and orange are a natural pairing, as are violet and yellow and red and green. You can build a room off these pairings by layering in patterns and textures.
Ahead, we highlight eight ways to decorate with jewel tones. including tips for incorporating them in your existing decor.

1
Rust Orange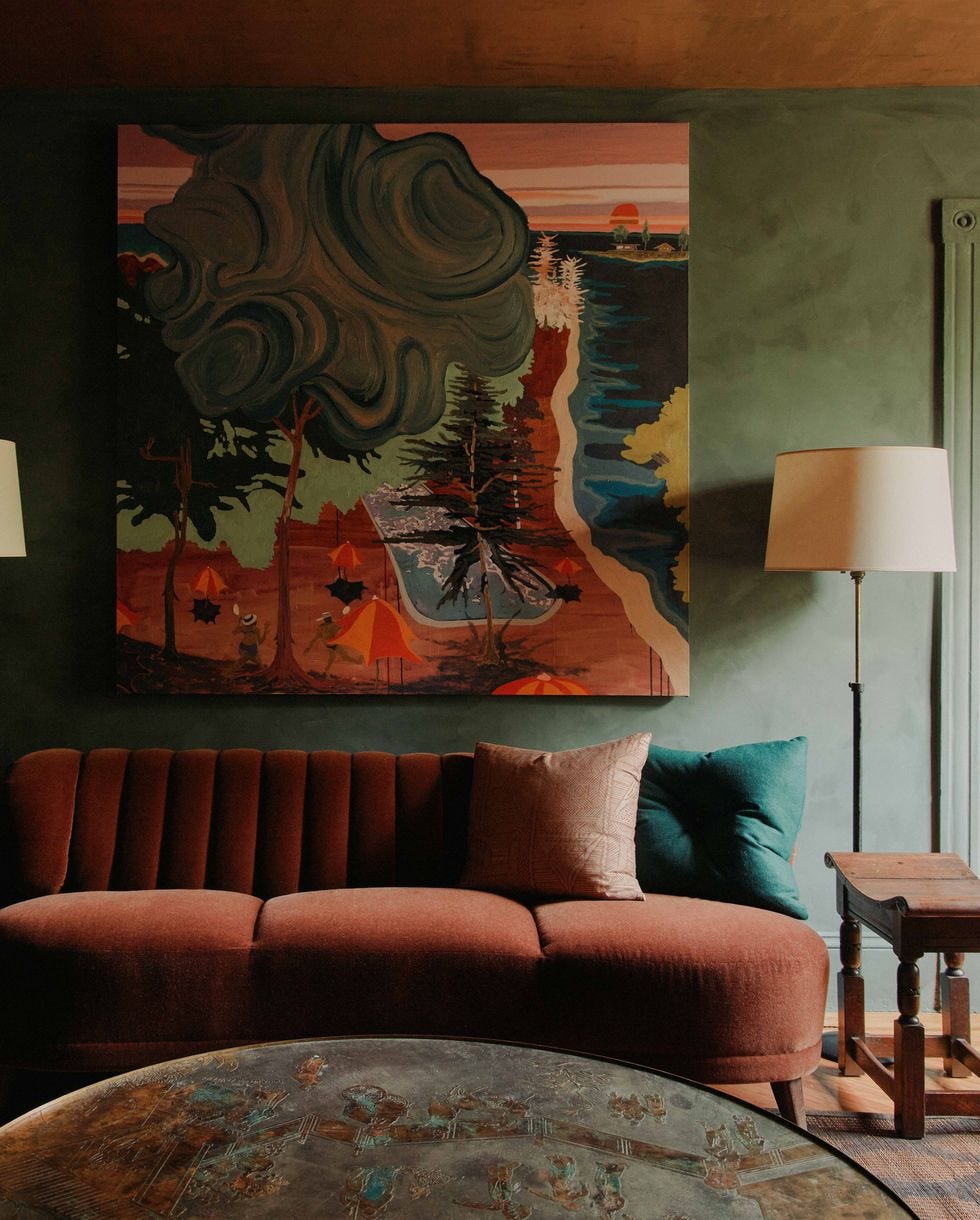 William Jess Laird
Instead of going full color on the walls, opt for a furniture swap to incorporate jewel tones into your decor. This rust-orange couch (reminiscent of topaz or citrine) pairs perfectly with its color complement, sage green. Tie in the color further with warm-toned woods and artwork.
Buy Now Rust Orange Paint
2
Jade Green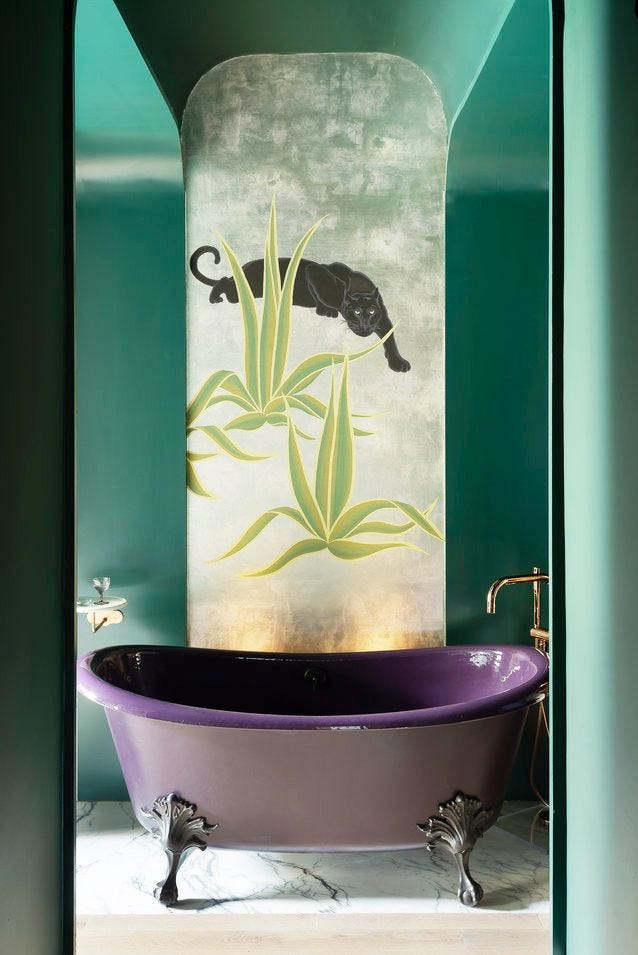 Studio DB
To make a vivid statement, opt for a high-gloss paint color and equally vibrant fixtures in your main bathroom. To break up solid washes of color, use a wallpaper panel in the same verdant color family. offers the eye a focal point.
Buy Now Jade Green Paint
3
Emerald Green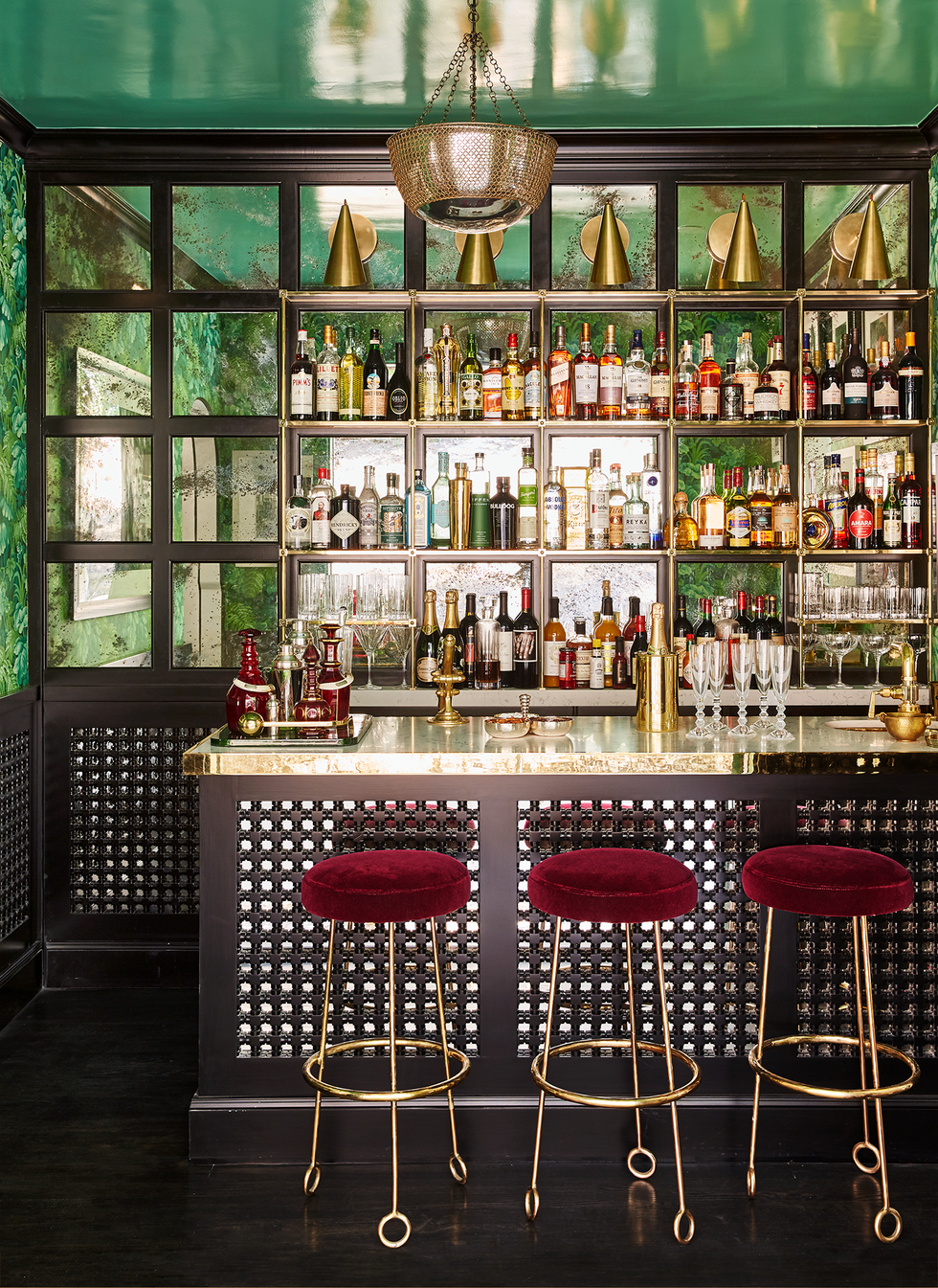 Victoria Pearson
In social spaces like a bar or den, choose contrasting shades for the ultimate glamour. Mirrors and gold lighting reflect light around the closed space to make it feel bigger despite the jewel-toned emerald ceiling.
Buy Now Emerald Green Paint
Advertisement - Continue Reading Below
4
Cobalt Blue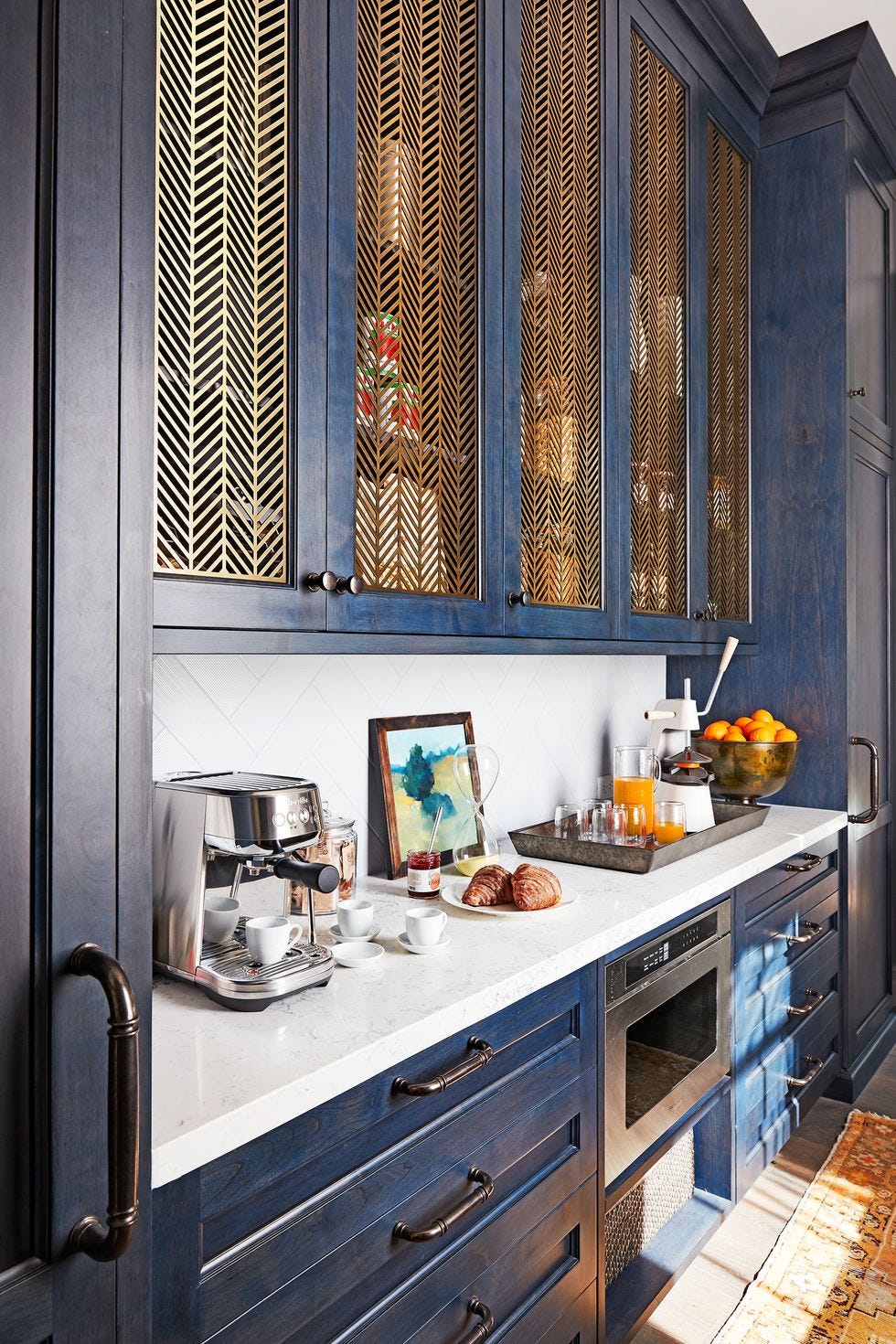 David A. Land
Navy is a classic kitchen cabinet color for its timelessness and versatility. But rather than going almost black in tone, instead choose a slightly more cobalt shade to add vibrancy and depth to the space.
Buy Now Cobalt Blue Paint
5
Ruby Red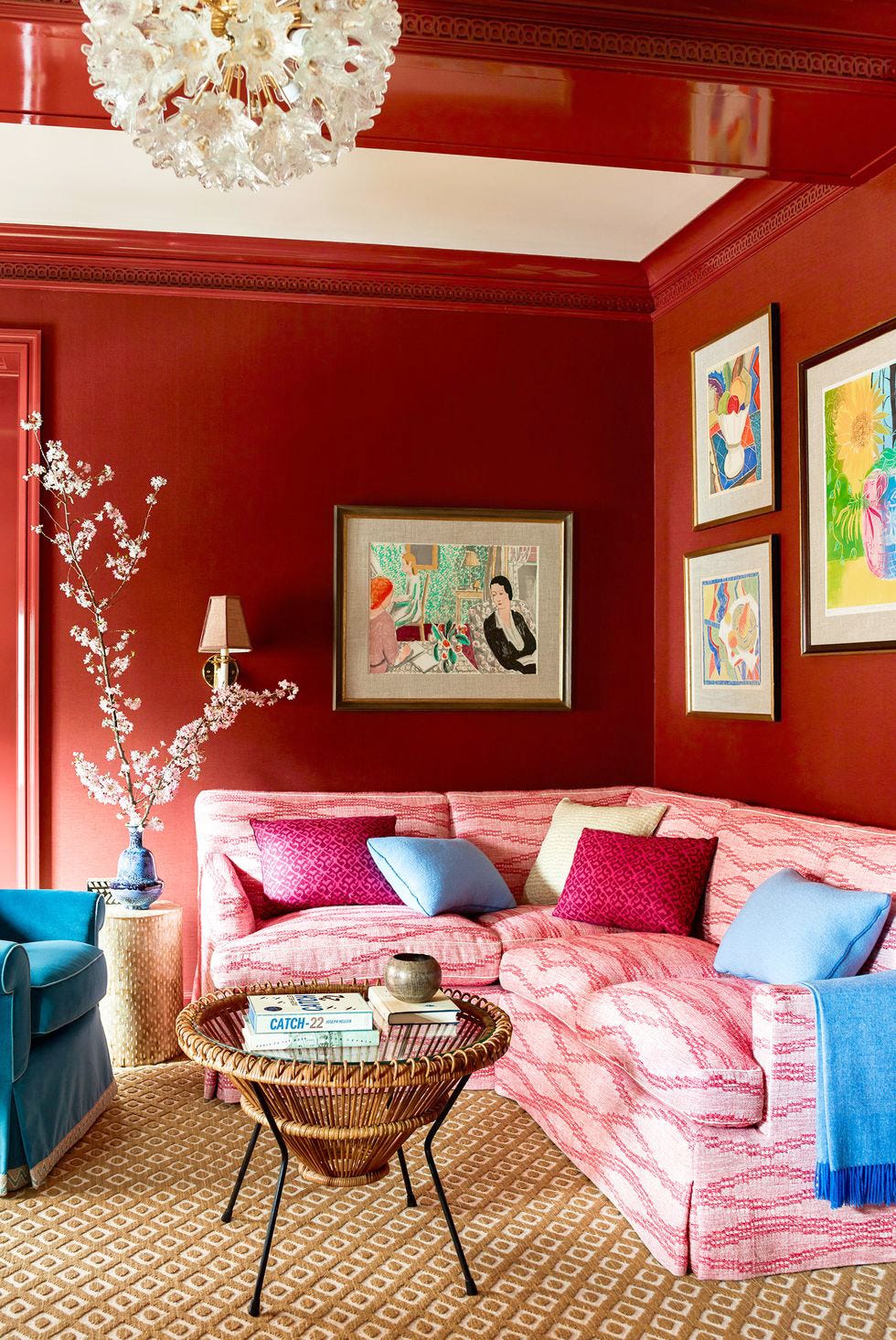 Eric Piasecki
Red is a fiery and strong color, and when swathed on the walls it can be overwhelming (and not in a good way). However, opting for a slightly subdued ruby shade, combined with cooler pinks and blues for balance, is a great way to incorporate the hue into your space.
Buy Now Ruby Red Paint
6
Eggplant Purple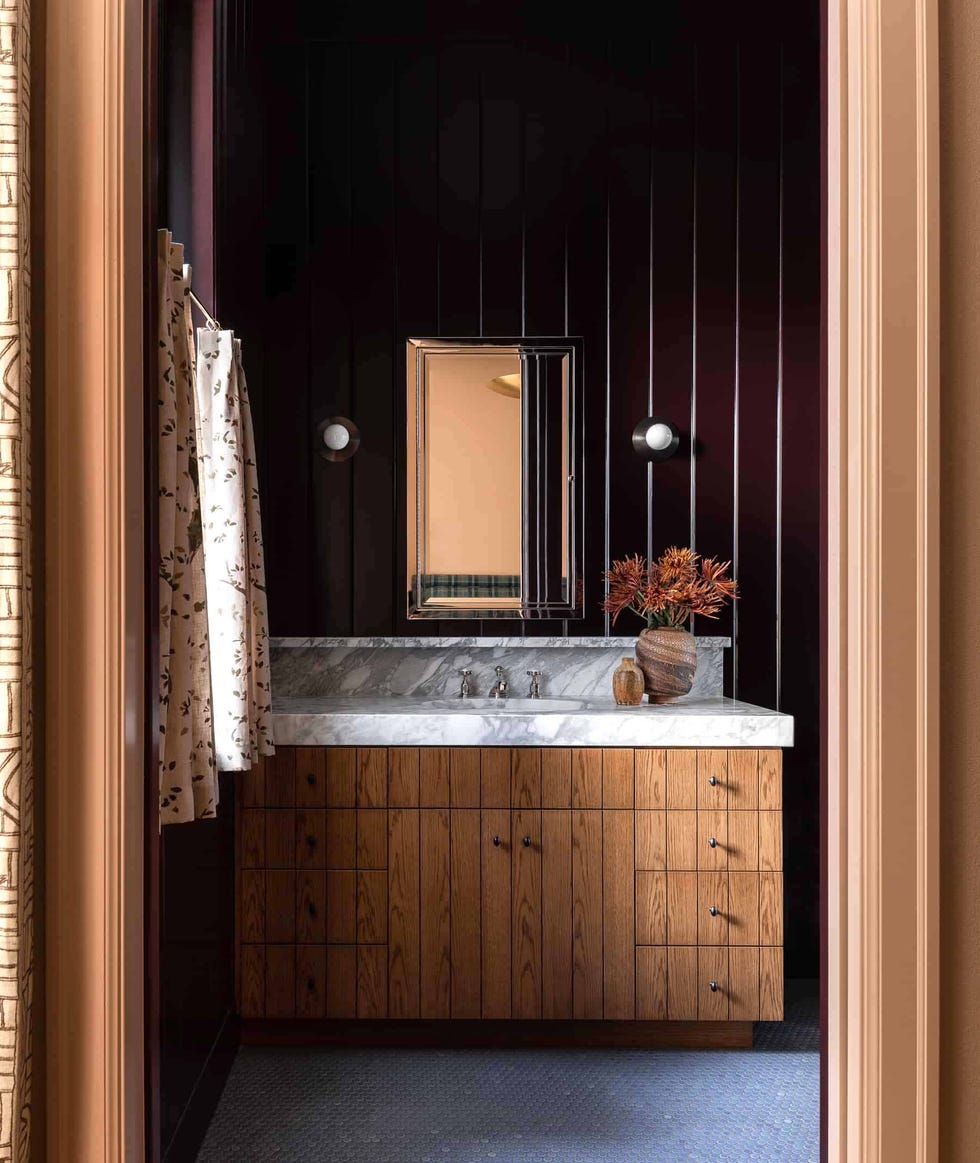 Heidi Caillier
Bathrooms are the one space where no (okay, maybe just a few) rules apply. Jewel tones are known for their dramatic tendencies. Where better to show off their rich tones than in a dark and moody bathroom like this one by Heidi Caillier?
Buy Now Eggplant Purple Paint
Advertisement - Continue Reading Below
7
Burgundy Red
Heidi Caillier
Create a cozy and cocooning bedroom by swapping stark white walls for a deep jewel tone. This burgundy bedroom by Heidi Caillier is soothing without feeling like a cave.
Buy Now Burgundy Red Paint