20 Small Kitchen Island Ideas That Actually Make Your Space Look Bigger
You'll never see your bar cart the same way again.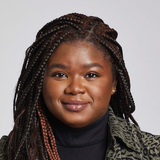 By Medgina Saint-Elien
Attempting to live out your Ina Garten kitchen dreams in a tight space can dash your hopes of celebrity-chef stardom. Instead, go off the script and add a kitchen island to your tiny kitchen! Despite popular belief, there are small kitchen island ideas that don't cramp your style and can serve as a workstation for stress-free meal prep.
Ashley Macuga of Collected Interiors says, "I know that I am bringing up a taboo topic, but when space is at a minimum the kitchen peninsula is often the most efficient way to create workspace and countertop seating too. Not to mention extra cabinet storage for utensils, placemats, and maybe a small wine fridge too!"
While the debate on kitchen islands continues, make the most of your kitchen layout by celebrating the island for all it can do. One of the best kitchen islands is always the star of the show, drawing guests in to nibble on snacks before a dinner party or storing your impressive stack of cookbooks. Plus, it provides additional seating for hosting family or answering emails in the morning. Whatever you need them to be, these multifunctional pieces of furniture can hold your mail, make room for your favorite espresso machine, and display your beloved pots and pans. If you're doubtful that your small kitchen can squeeze one in or are too nervous to install it into your home, don't worry. We've found unique kitchen island tips that can change your mind, from a rolling kitchen island on wheels to a counter-height table you can move out of the room when you don't need it. Read on for small kitchen island ideas from designers who will inspire you to optimize your compact space.

1
Glossy Tiles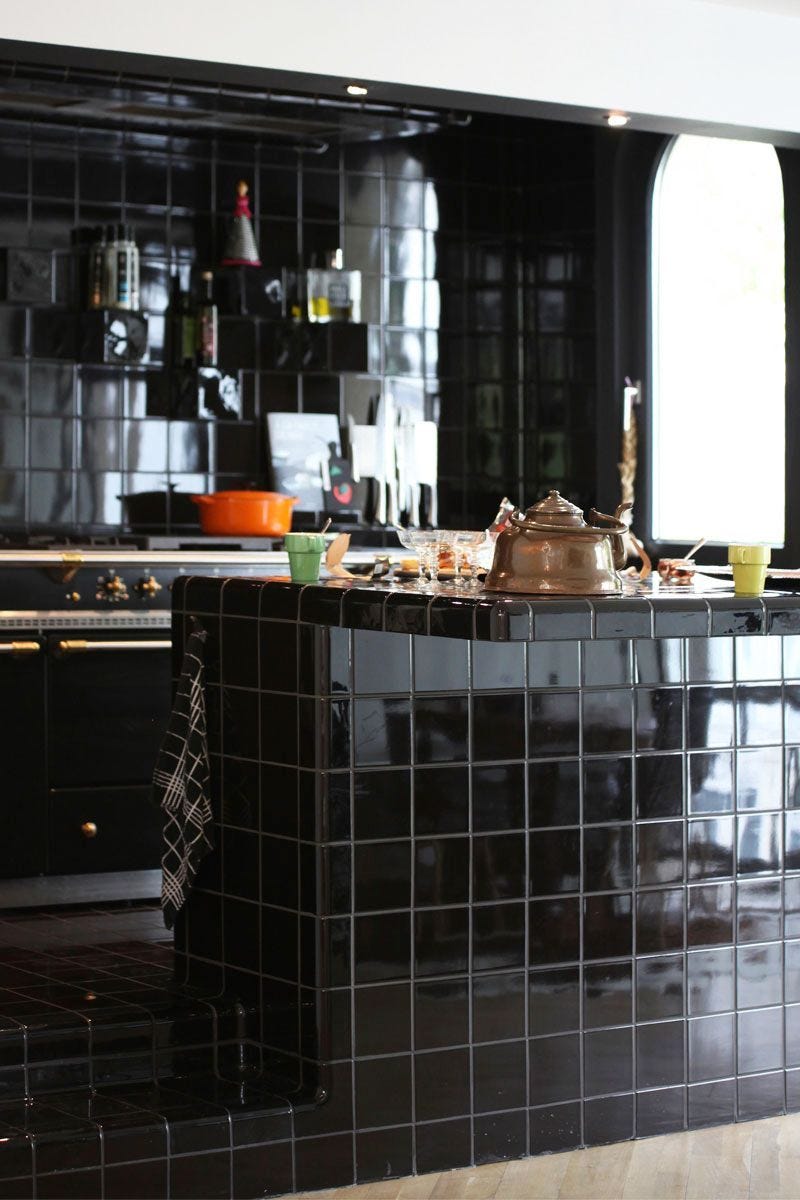 Studio Helder
Designed by Studio Helder, this striking kitchen is completely covered in glossy tiles by DTile, a company that manufactures curved and specially shaped tiles. It straddles a unique line between retro and futuristic with a small kitchen island that juts out for when you want to pull up a barstool for breakfast.
2
WFH Station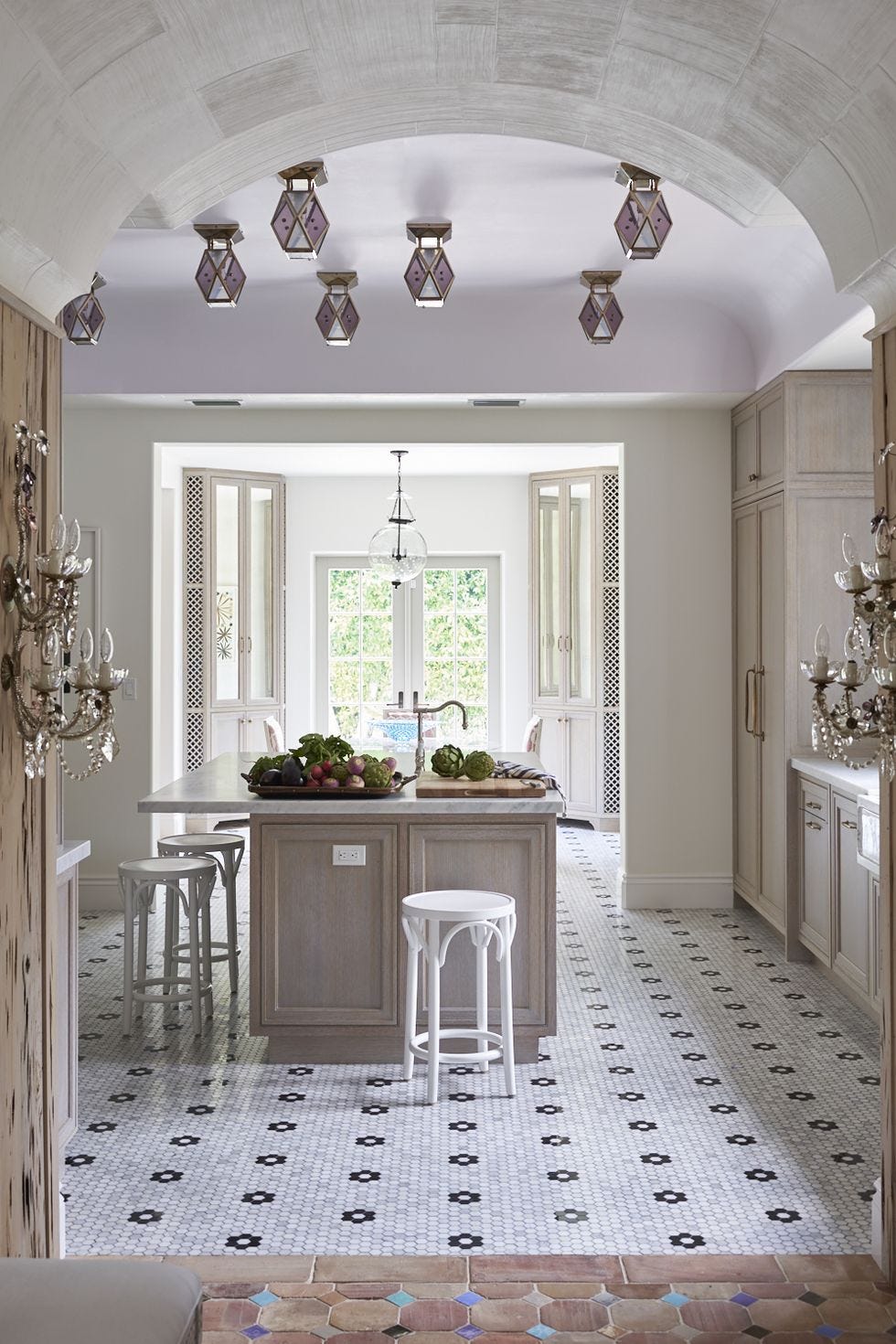 James Merrell
This whitewashed wood island with a marble top is the kitchen MVP. Designer Ellen Kavanaugh optimized it with extra outlets on the side to help when someone's working from the barstool and needs a little charge or prepping dinner with a food processor.
3
Rustic Table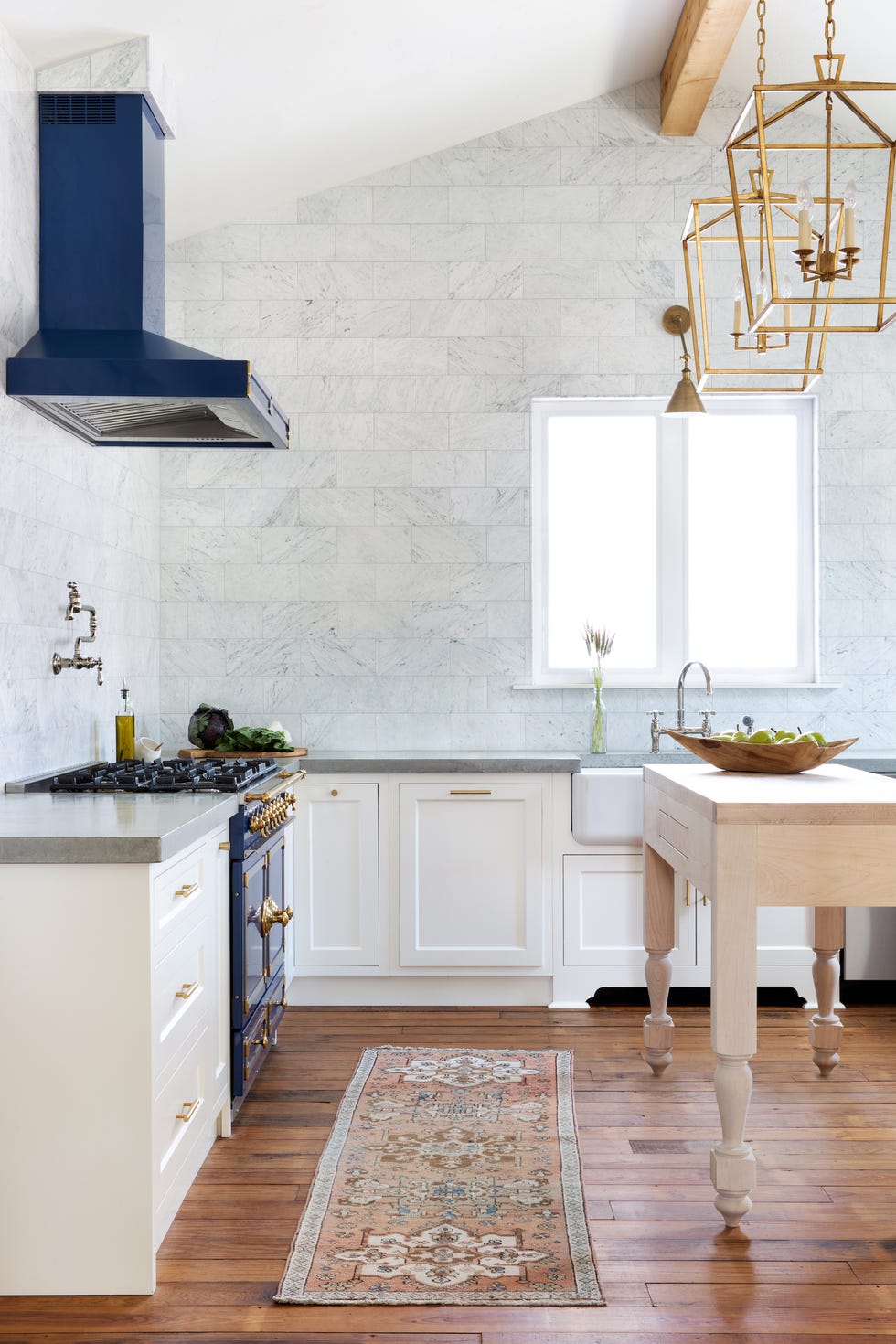 Molly Culver
Shannon Eddings of Shannon Eddings Interiors chose to skip adding upper cabinets in this Texas countryside kitchen since the lower cabinets are efficient and the pantry was ample. "We added a small maple island for an extra worktop space. This makes what is a pretty compact space feel more open while being anchored by the handmade island," she explains.
Advertisement - Continue Reading Below
4
Black Granite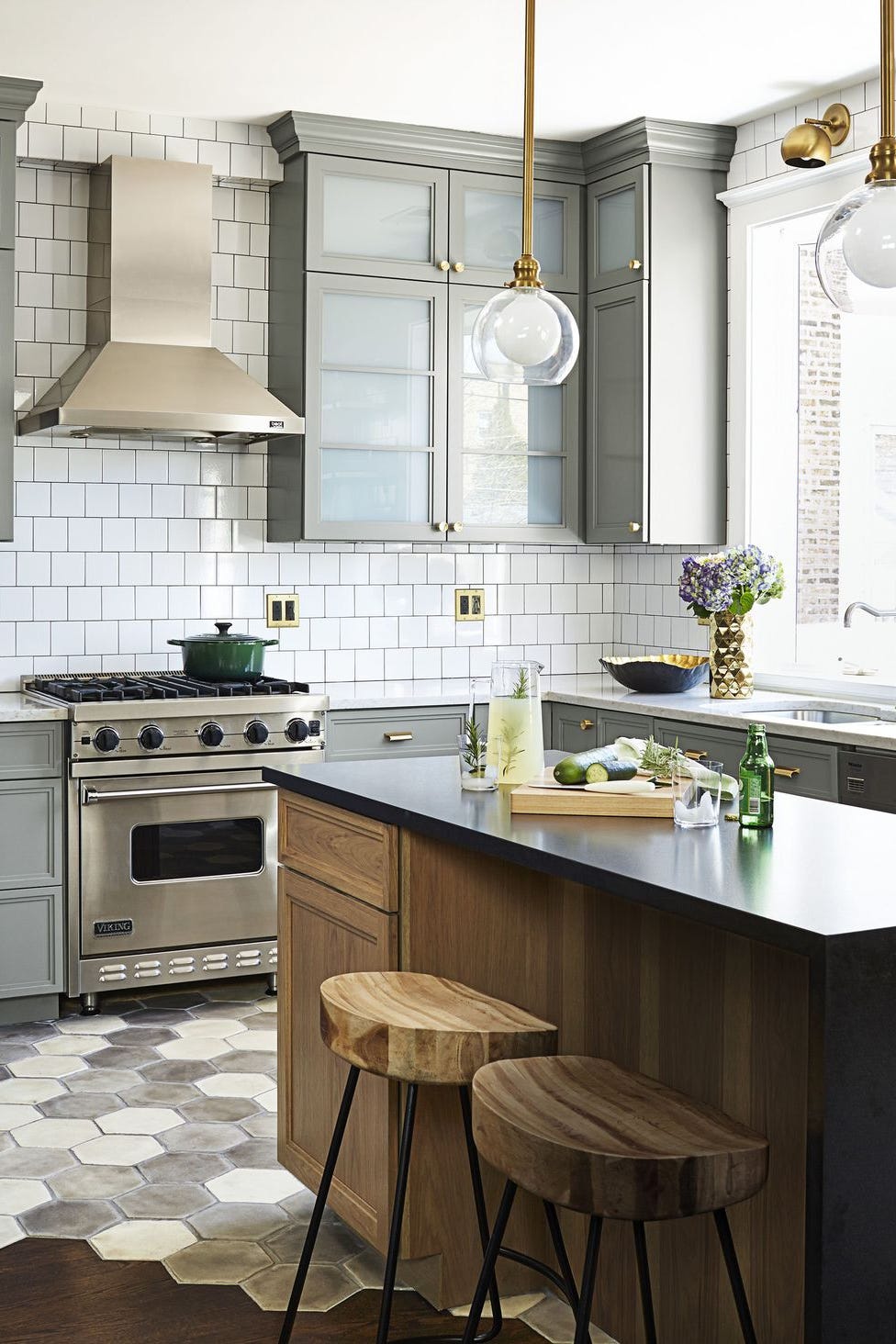 Nathan Kirkman
Don't be afraid to mix materials. This Chicago kitchen contrasts the absolute black granite countertop on the island with pale wood in a leathered finish. The gray cabinets are topped with a Silestone counter in subtly veined Pulsar.
5
Family Zone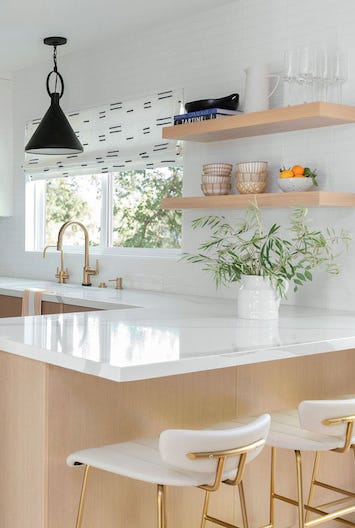 Nicole Dianne Photography
If you're a small family in a small space, you need somewhere for the kids to color while you multitask. You can keep your eye on a toddler or two and prep lunch or dinner at this peninsula.

6
Upcycled Materials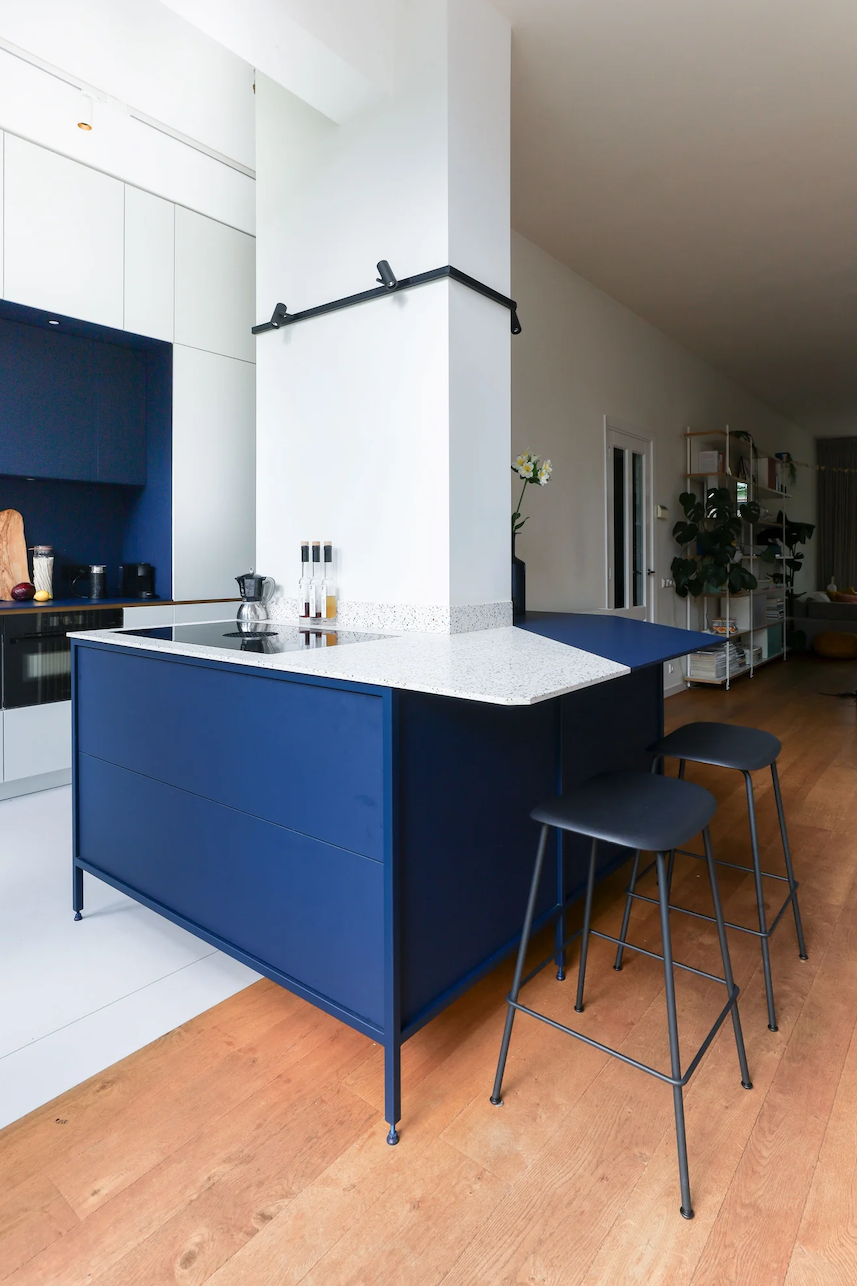 ROZA SCHOUS
Finnish brand Durat is known for its cheerful, colorful composite that's made of 30 percent recycled plastic. This material is as durable as it is vibrant, and it can be used to craft countertops, sinks, shelves, and even cabinet fronts, as seen here.
Advertisement - Continue Reading Below
7
Homey Lighting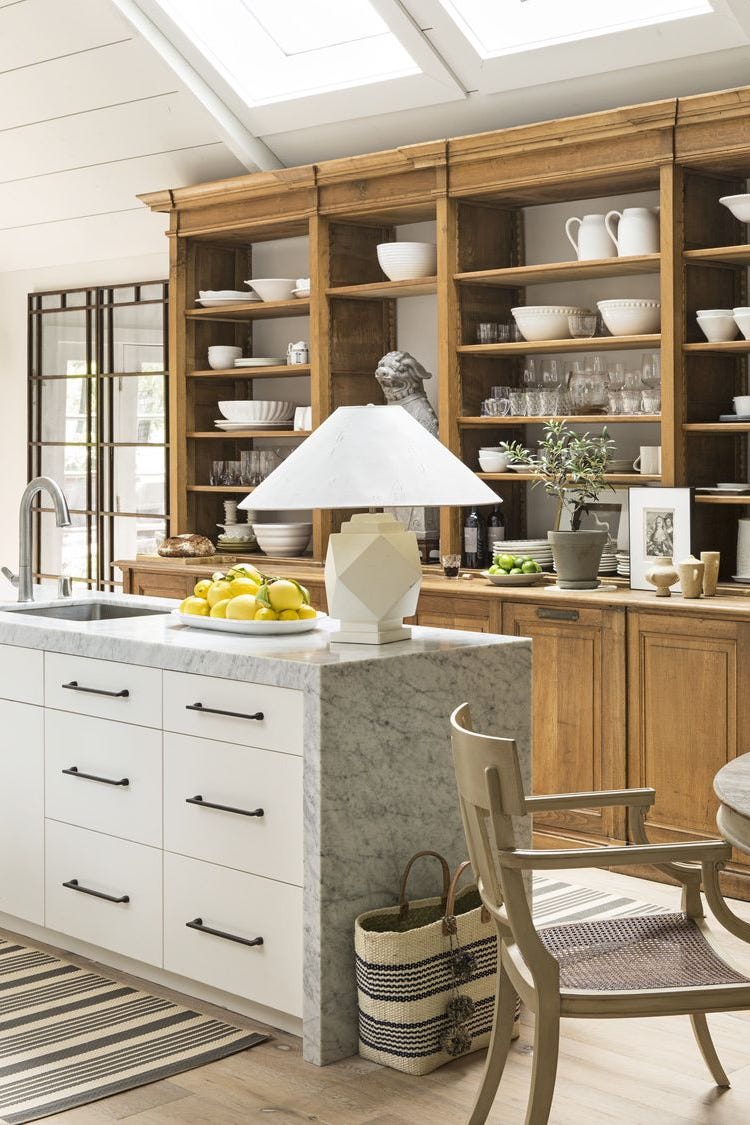 Lisa Romerein
Enter the kitchen island lamp, ready to add a romantic and effortless glow to your cook space and help you create an unforgettable dinner scene, especially when paired with a slim marble island. Make sure you choose a style that balances size and aesthetics, like the geometric ceramic version in this serene space designed by Benjamin Dhong.
8
Bold Paint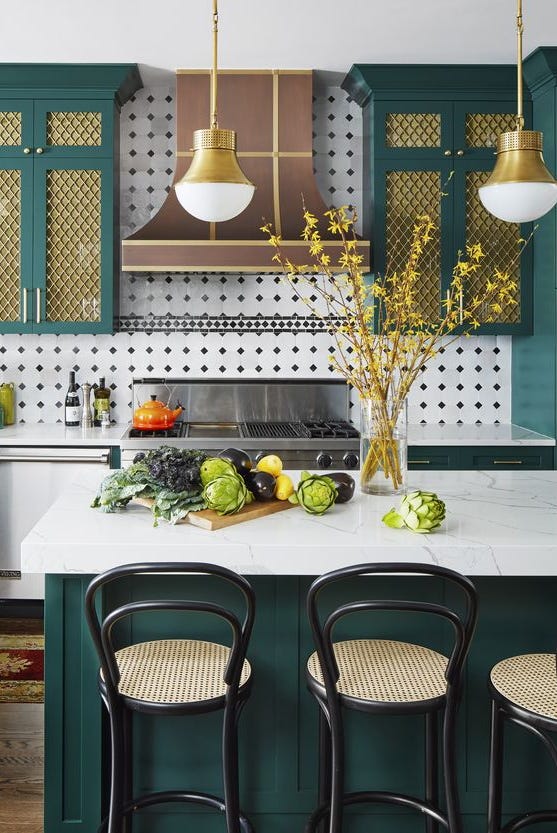 Dustin Halleck
The moment Chicago-based designer SuzAnn Kletzien laid eyes on Benjamin Moore Hunter Green paint, she knew it was the missing piece to the renovation of this Lincoln Park kitchen. "The color was so vibrant, deep, and rich, it drew me into the showroom entrance," she recalls. "I couldn't keep my eyes off it."
9
Candelabra Lighting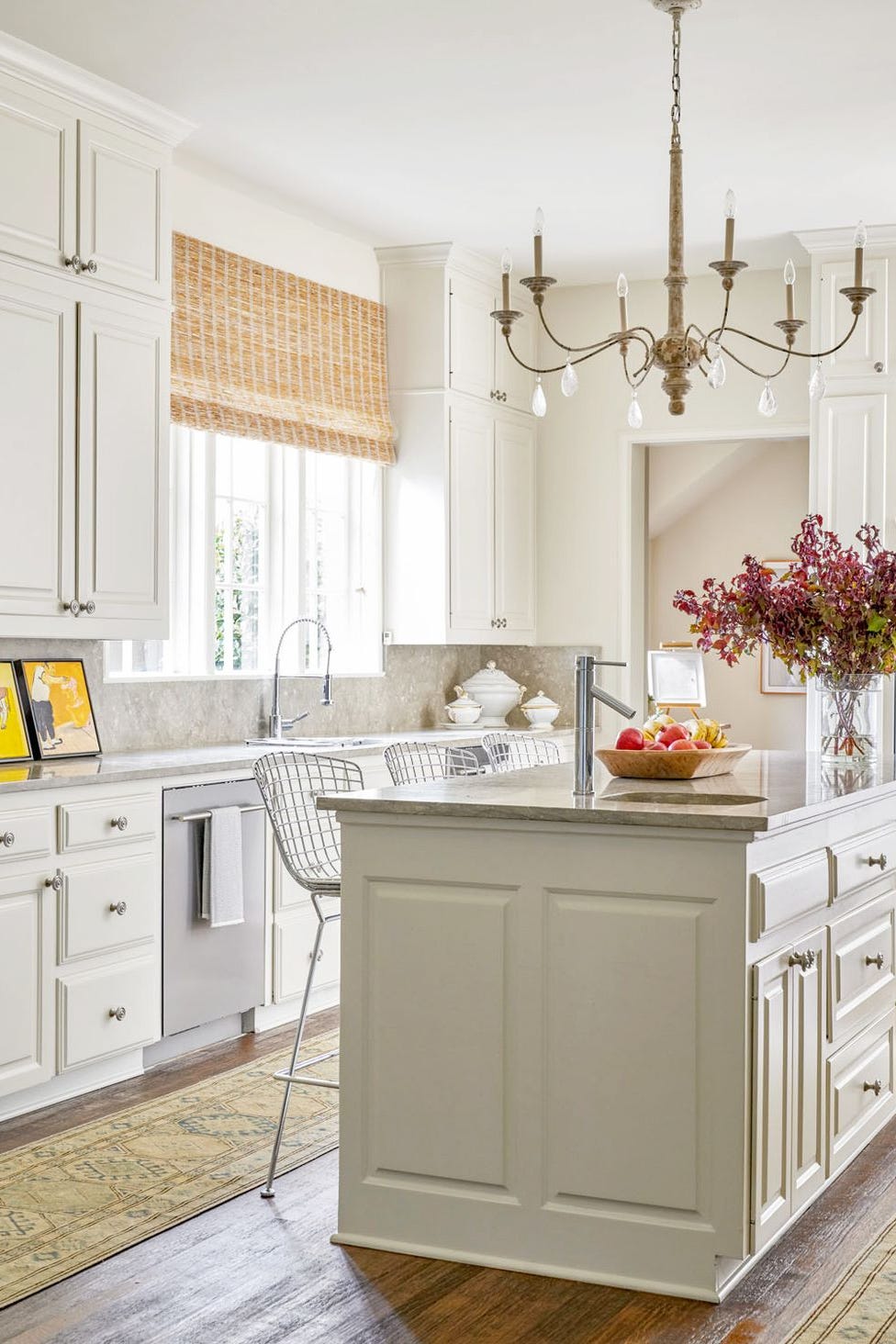 Jean Liu Design
Balance modern living with classic French country style by installing new light fixtures above an efficient and simple layout. In this kitchen by Jean Liu, the island introduces rustic-meets-dainty details, like the antique candelabra chandelier.
Advertisement - Continue Reading Below
10
Bar Cart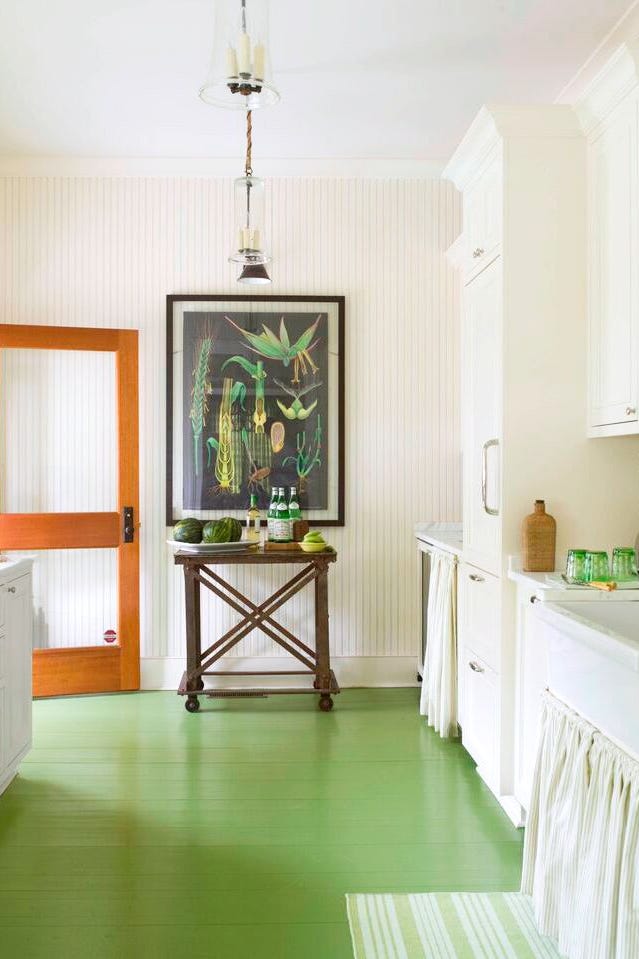 Savage Gibson
Kitchen too small for an island? Use a bar cart instead, and push it against the wall when you aren't using it. It can provide a small amount of extra counter space when you're cooking a lot—and a little bit will do the trick.
11
Patterned Runner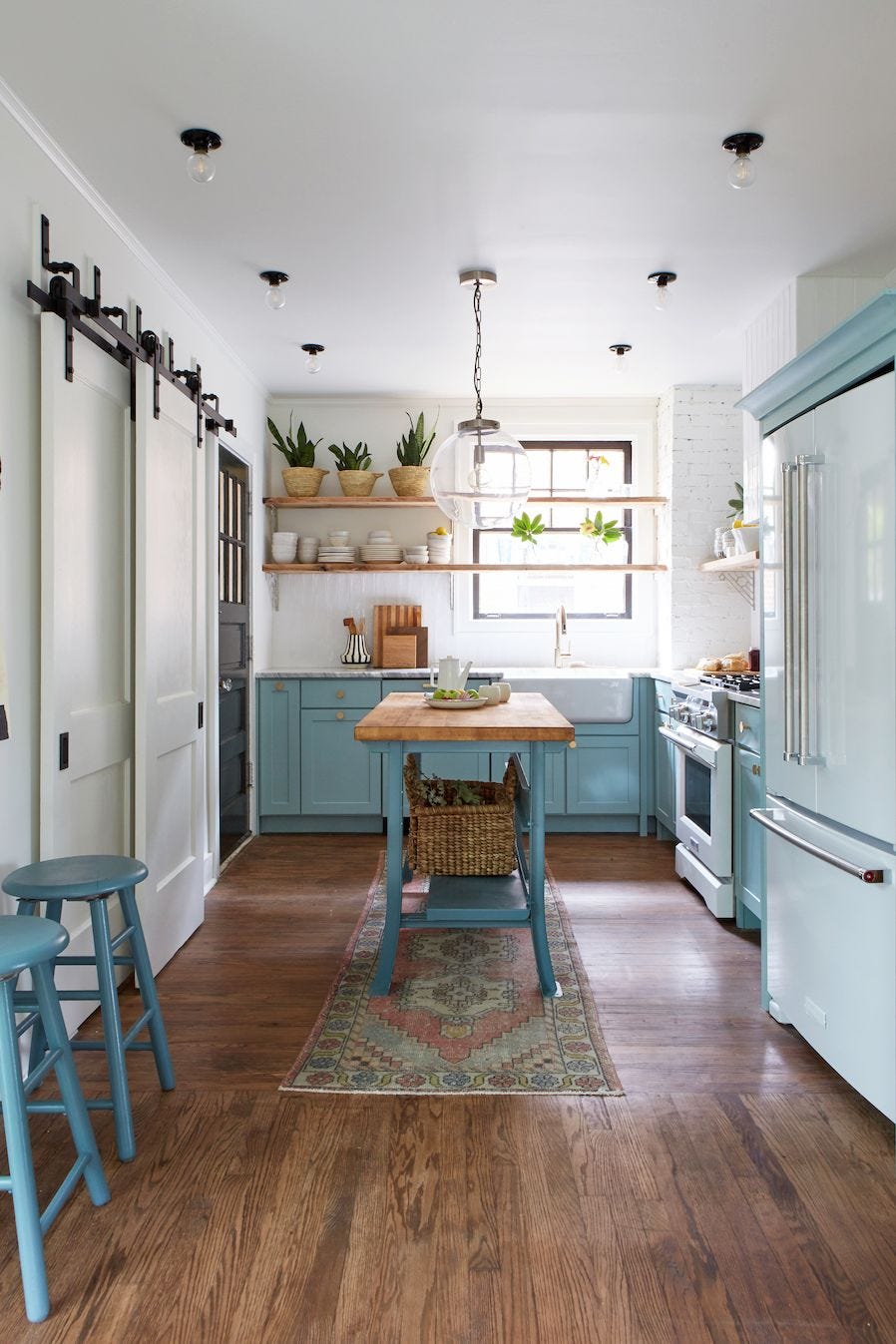 Leanne Ford Interiors
Leanne Ford laid a runner under this makeshift kitchen island to warm things up and give it a nice frame. It also adds a bit of contrast in color while still complementing the blue cupboards, barstools, table frame, and appliances.
12
Subway Tile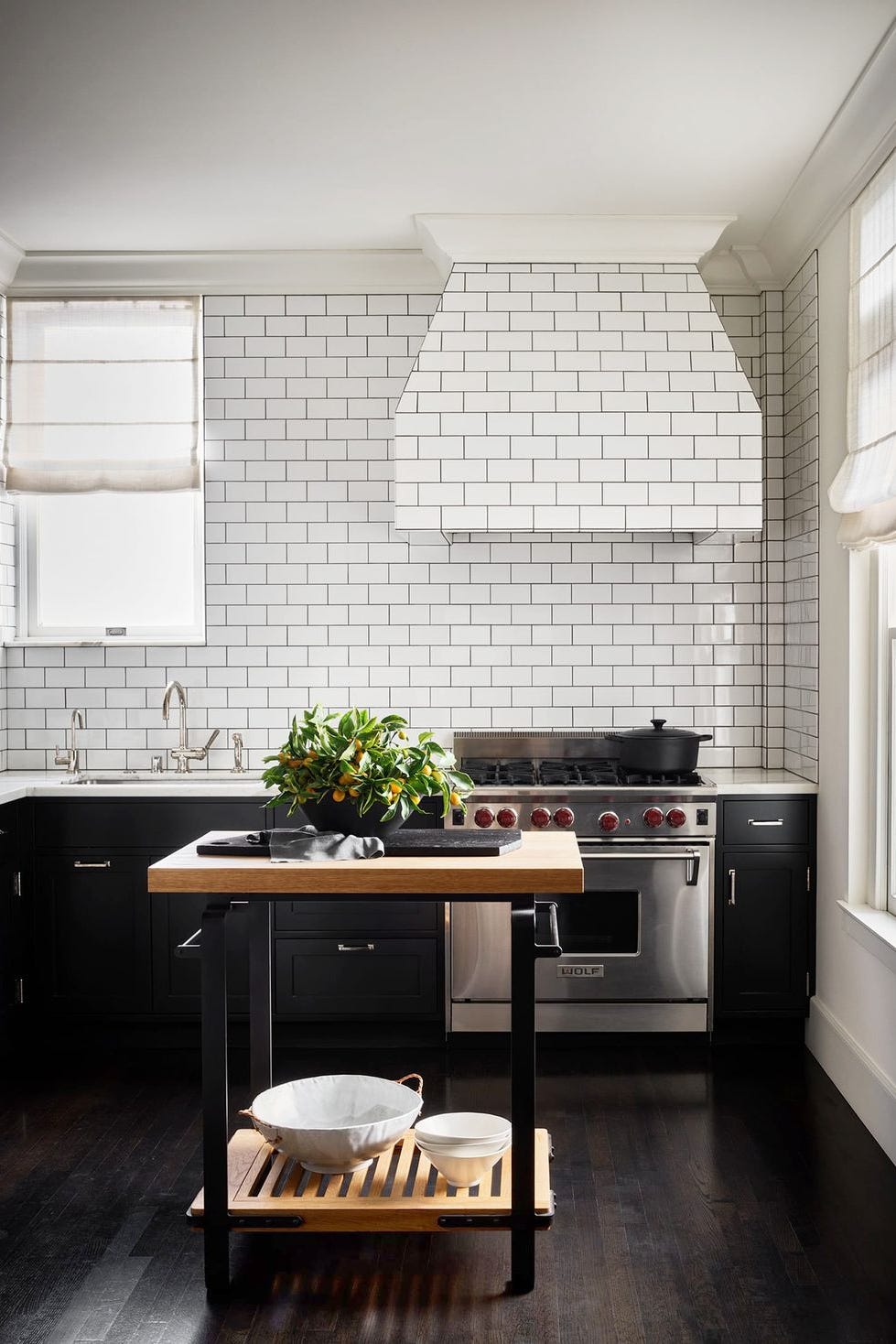 Nicole Hollis Studio
Here's one more reason to love subway tile, brought to us by Nicole Hollis Studio. Lay them horizontally to cover every last inch of space, from the backsplash to the range hood, to help the space feel wider. Park your kitchen island for prepping dinner, and you're all set.
Advertisement - Continue Reading Below
13
Multipurpose Ledge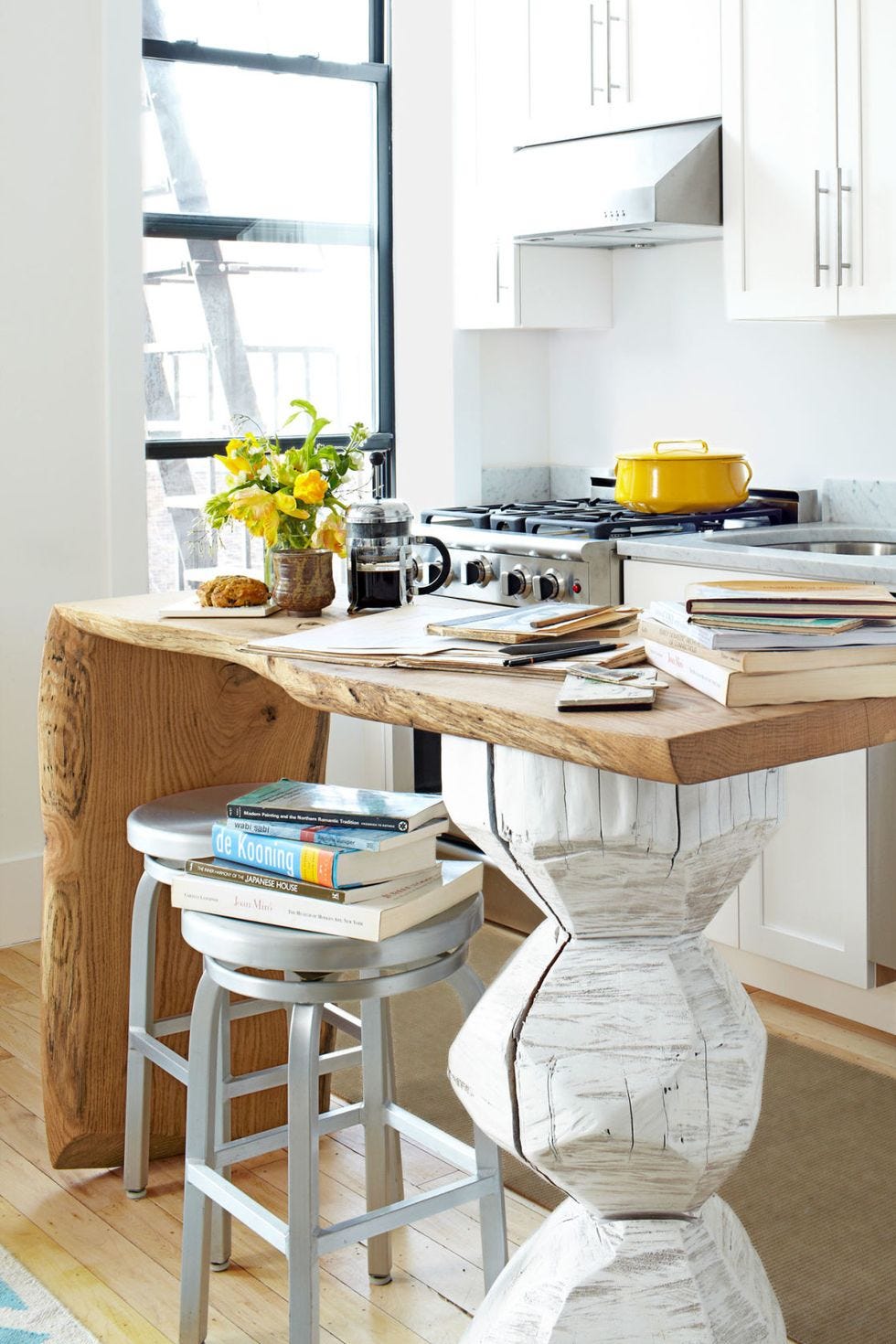 Tara Striano
No space? No problem. In this 400-square-foot apartment, a console-style wood table acts as a kitchen island, breakfast bar, and workspace.
14
Open Shelves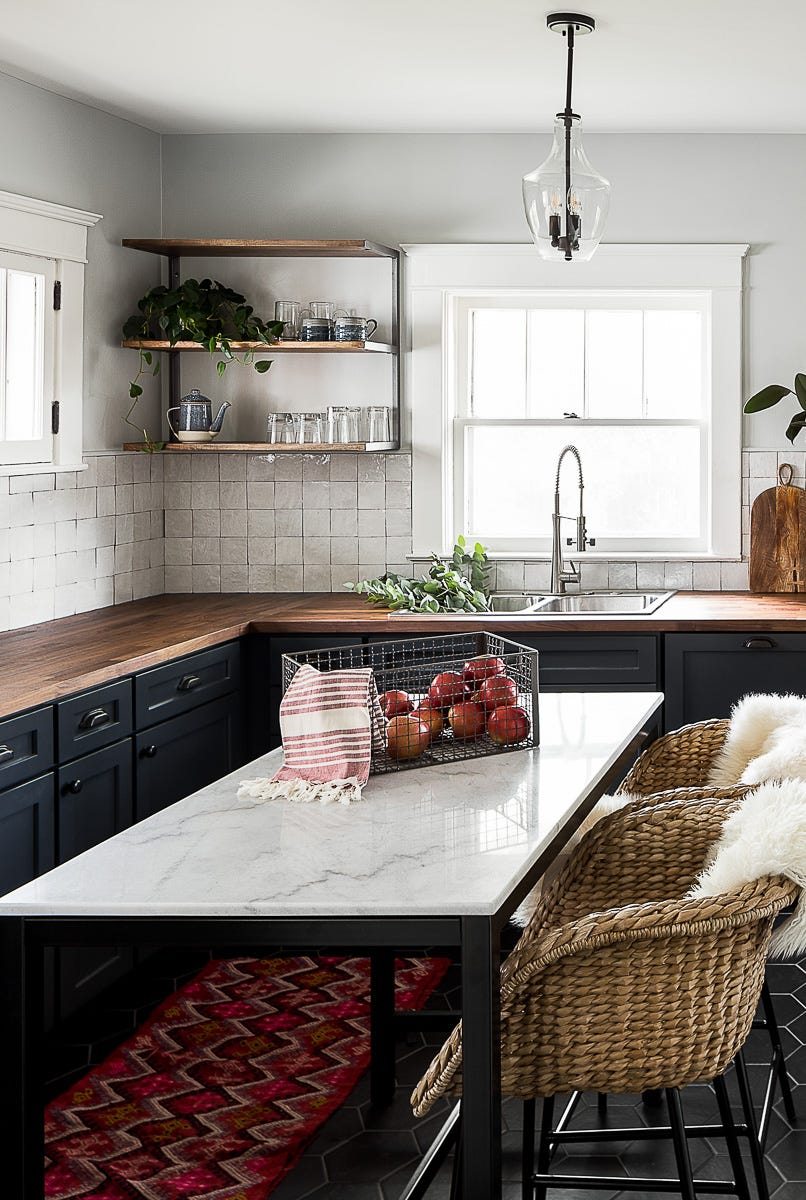 J.L Jordan Photography
Bethany Adams of Bethany Adams Interiors loves the versatility of a kitchen island to prep, dine, or host. "Pay close attention to the size and scale of the island—you don't want it to look wedged in. In small kitchens, I like to use an island that is open underneath (like this marble-topped one from Crate & Barrel) so that the room appears more spacious and open," Adams says.
BUY NOW Crate & Barrel French 55" Kitchen Island
15
Antique Objects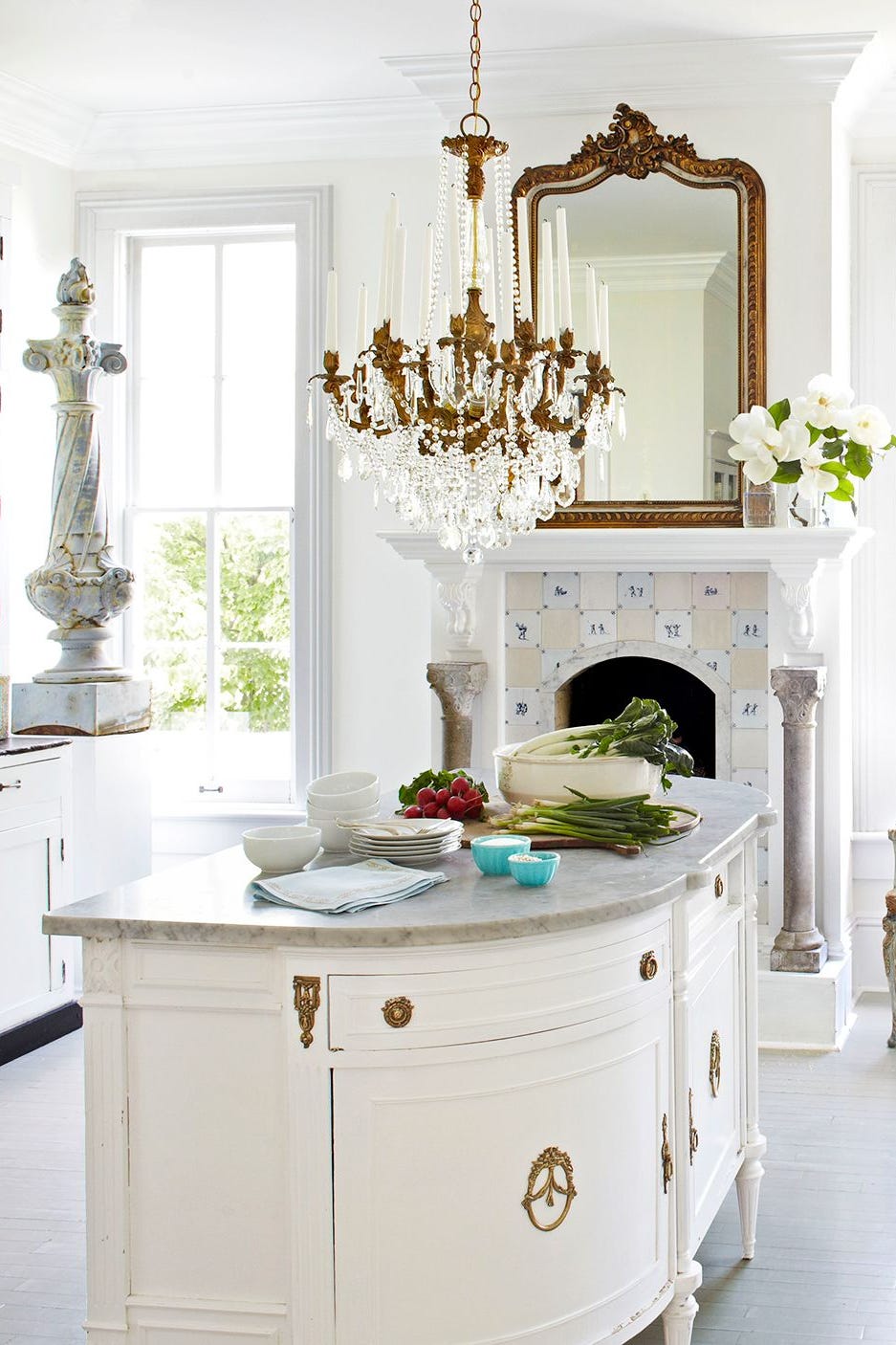 Bjorn Wallander
This kitchen is the perfect balance of formal and laid-back thanks to designer Annie Brahler's skillful layering of antiques. The gilt mirror, chandelier, and decorative accents on the vintage demilune cabinets add frill and pomp, while the reclaimed wood columns ground the room with an air of history and resilience. It's the island upgrade your kitchen's missing!
Advertisement - Continue Reading Below
16
Corner Seating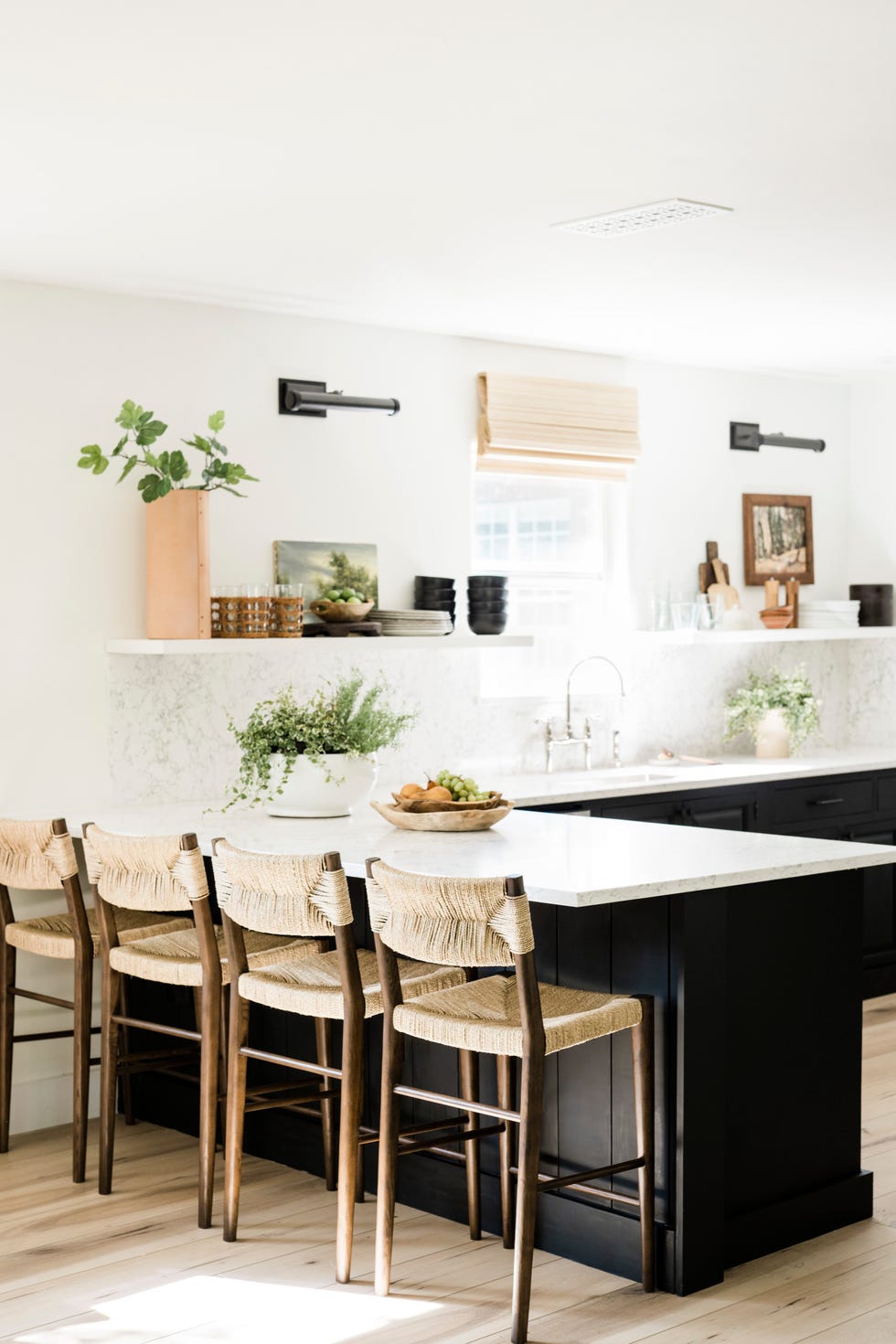 Madeline Harper
Anastasia Casey of IDCO Studio used every inch of space to optimize storage without making the kitchen cluttered. If you don't want a busy counter, use floating shelves to keep your favorite kitchenwares on display.
17
Double Islands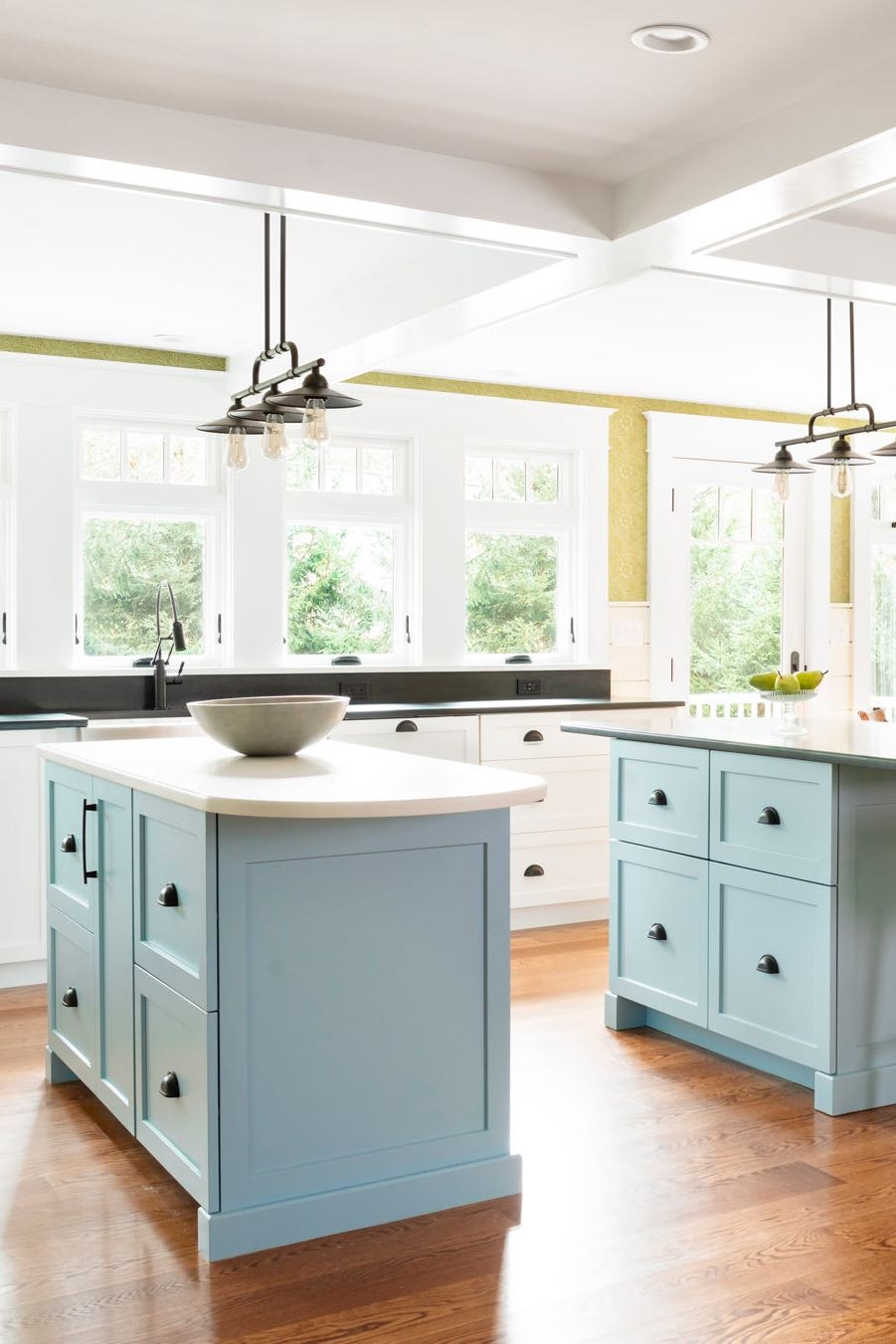 Tamara Flanagan
Why have one kitchen island when you can have two? Instead of one large island, this space is broken up by two smaller back-to-back islands. The symmetry is aesthetically pleasing, and they also add so much functional value.
18
Complementary Accents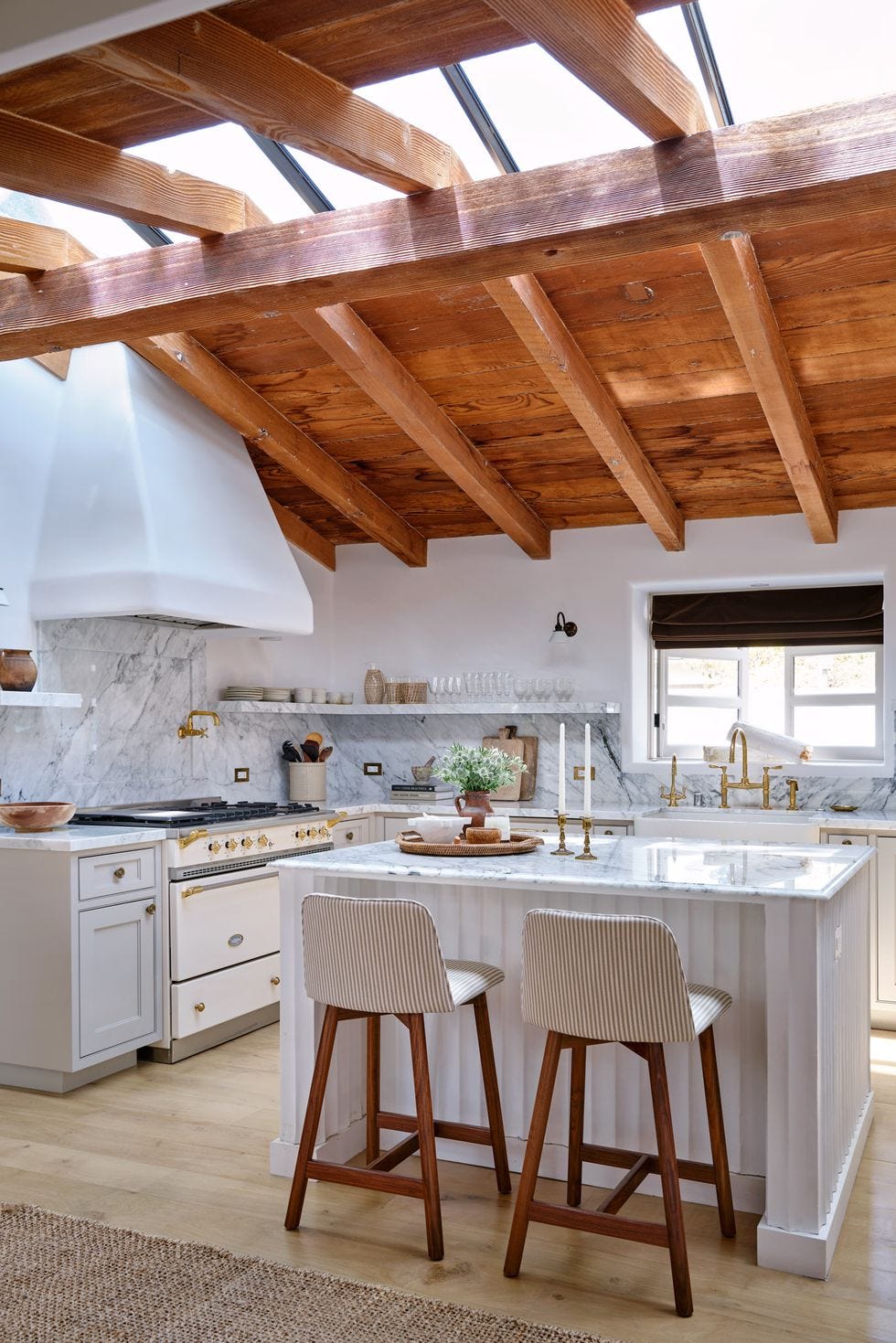 Trevor Tondro
Designer Mallory Kaye modernized the kitchen of this ranch house while also letting the original architecture shine. She paired sophisticated finishes with functional fabrics and a smart layout to withstand the wear and tear of young children and work hard for family living. Above the kitchen island, the custom adobe-style plaster hood draws the eye up, as does a skylight stretching along the room's width and bathing it in natural light.
Advertisement - Continue Reading Below
19
Industrial Lines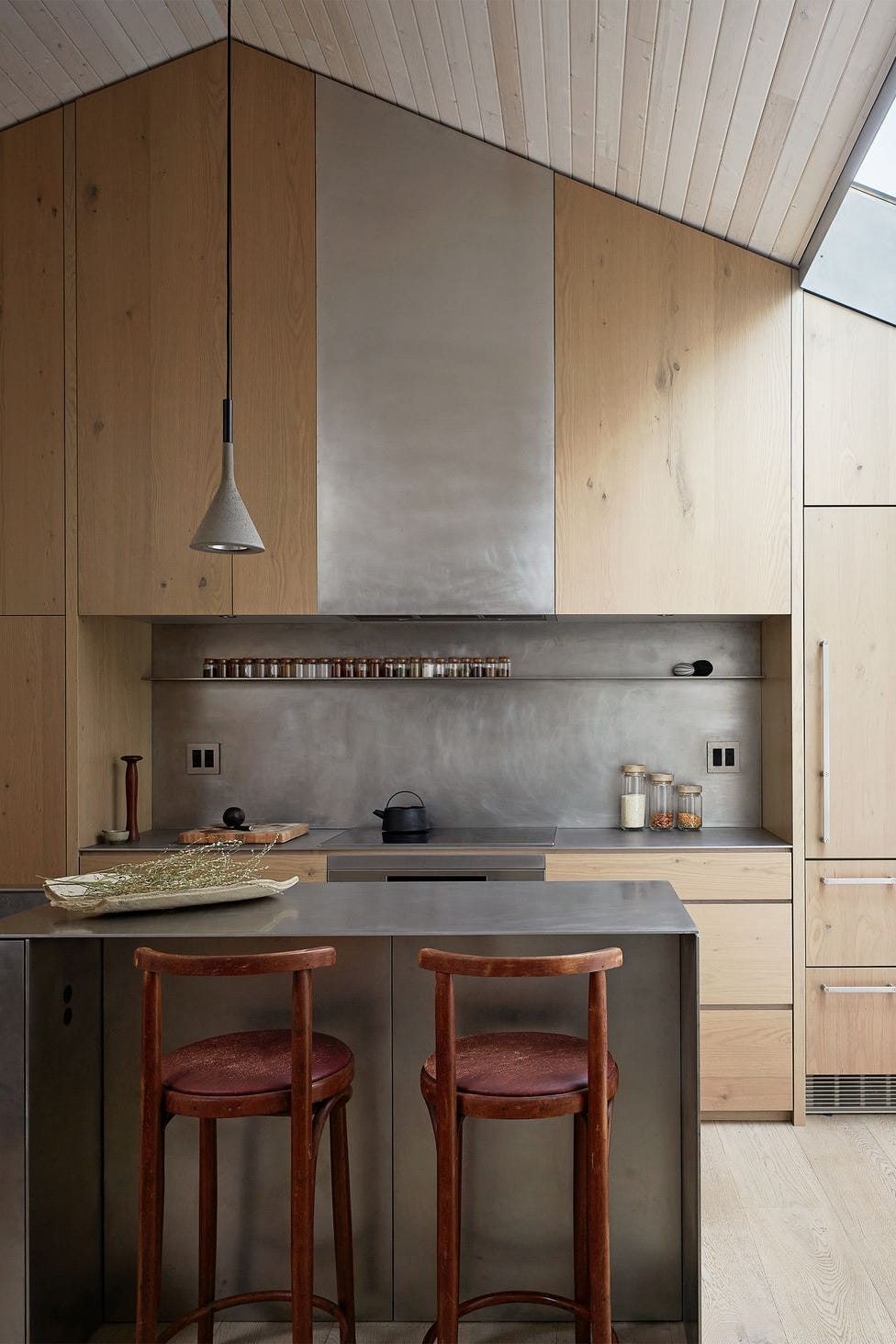 STUDIO DIAA
Super-sleek yet also cozy, this kitchen designed by Studio DIAA blends farmhouse elements like rustic wooden stools and blond shiplap ceilings with industrial materials for a balanced whole. The skylight and task pendant provide optimal light for cooking.
20
Slim Footprint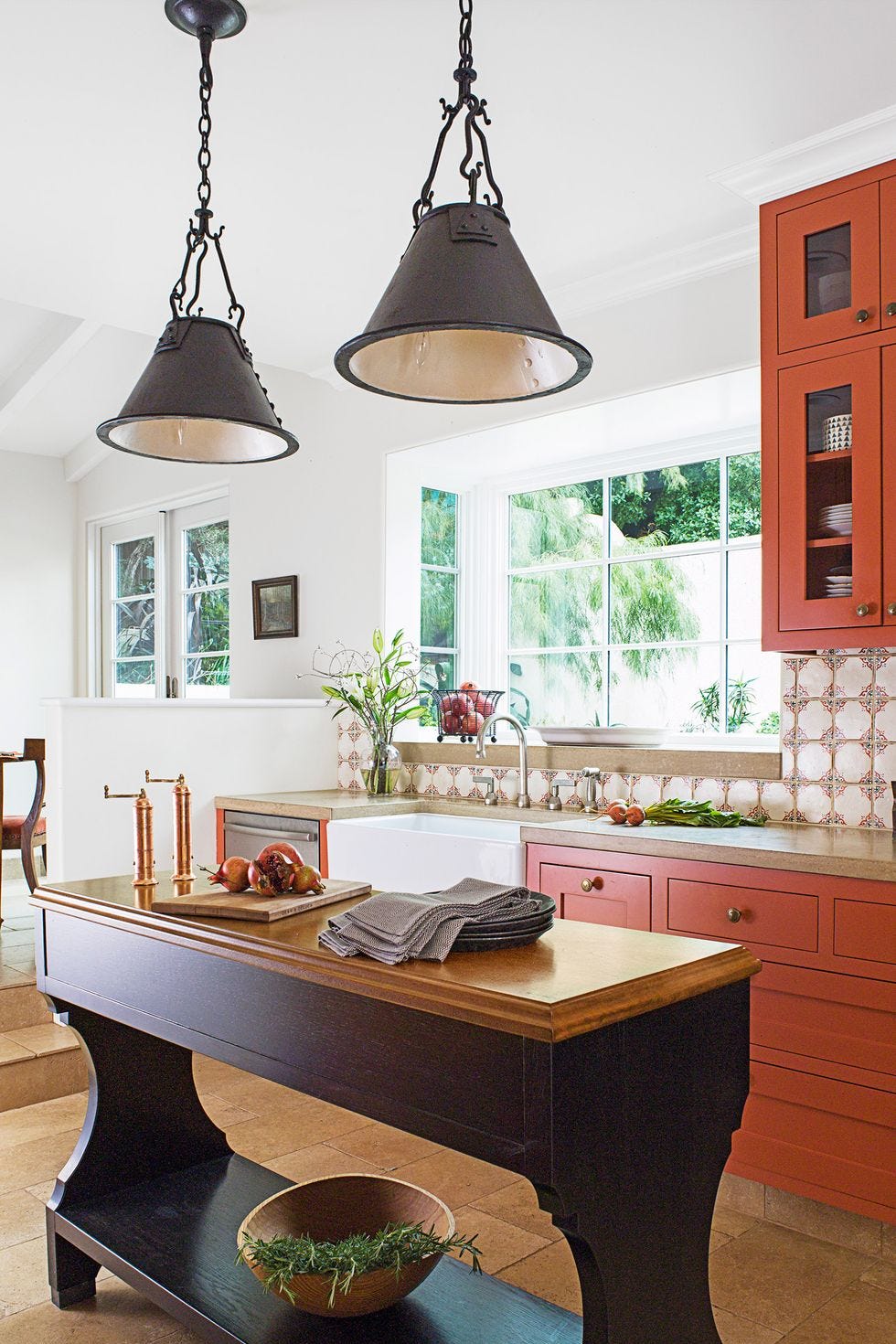 David Duncan Livingston
This kitchen island is really more of an oversize console table, but it does the job and looks perfectly to scale for this space. Burnt orange cabinets are unexpected and add a rustic touch to a kitchen. We love how the insides of the hand-forged iron lanterns were painted white to reflect more light onto the kitchen island.