Every item on this page was hand-picked by a House Beautiful editor. We may earn commission on some of the items you choose to buy.
15 Greenhouse Ideas To Complete Your Dream Garden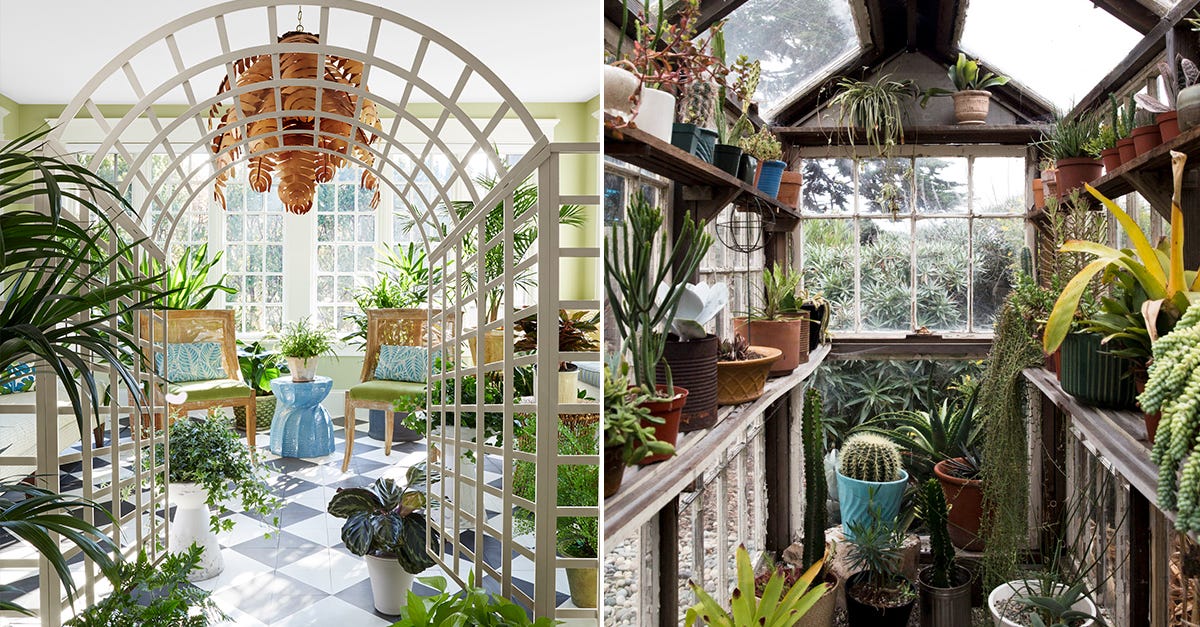 LEFT: Alison Gootee; RIGHT: Bon Traveler
If you've got a green thumb, welcome, you've found your people! And if there's one thing all of us plant parents have in common, it's an obsession with greenhouse ideas. Greenhouses are buildings (big or small) that protect a number of plants from the elements, whether it's the blazing sun or the stark cold of winter. With controlled air and protection from critters, greenhouses are a must for devoted gardeners. They also look ultra charming in your yard.
Design-wise, your greenhouse can be practically any style you want. Looking for a boho vibe? Easy. What about a classic English garden take? You can do that too. There are simple greenhouse ideas made with lumber and plastic sheeting for practical gardeners. As home design experts, we're partial to decorative greenhouses that can double as a tiny house or she shed—even a catio. There are greenhouse styles to suit every kind of space, from large and luxurious yards to small-space gardens.
What's growing inside your greenhouse matters too, naturally. We adore planting some of our favorite farm-to-table produce in a greenhouse such as tomatoes, carrots, cucumbers, lettuce, eggplant, spinach, basil, and more to extend the growing season. A greenhouse is an ideal home for plants that deer and rabbits love to eat because they have year-round protection inside. It's also great for delicate flowers that have specific humidity needs, like orchids.
Whether you aspire to build your own greenhouse or already have one you want to spruce up, we're here to help. We've pulled some of our top greenhouse design ideas to help make your space feel unique. Not sure where to store your seedlings? We've got you covered! Is lighting an issue? We have some tricks up our sleeves for just that! What about using vertical space? You'll find inspiration here. Just keep scrolling to get a look at 15 greenhouse ideas and tips we know you'll love.
1
Create a Single Aisle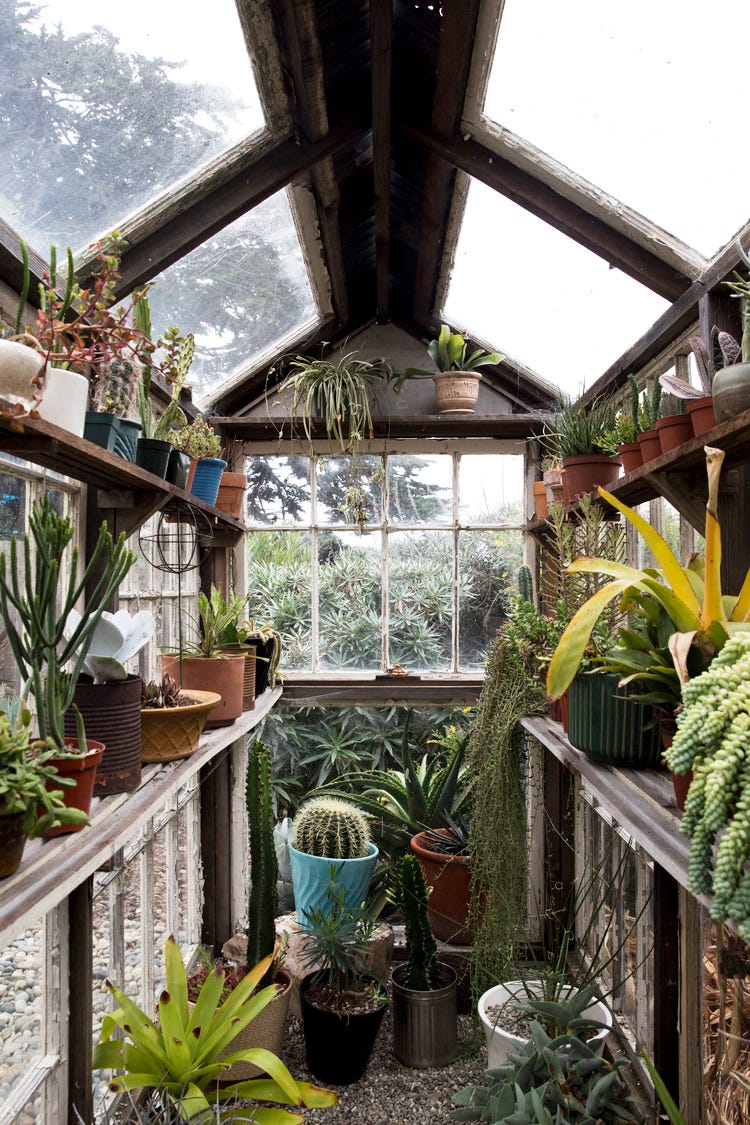 Nicole Franzen
In a small greenhouse, layout and organization are key. To keep things orderly and visually appealing, don't overcrowd your space by splitting it into two aisles. A single aisle is much more practical. Use your vertical space for shelves to hold lighter plants.
2
Arrange Romantic Seating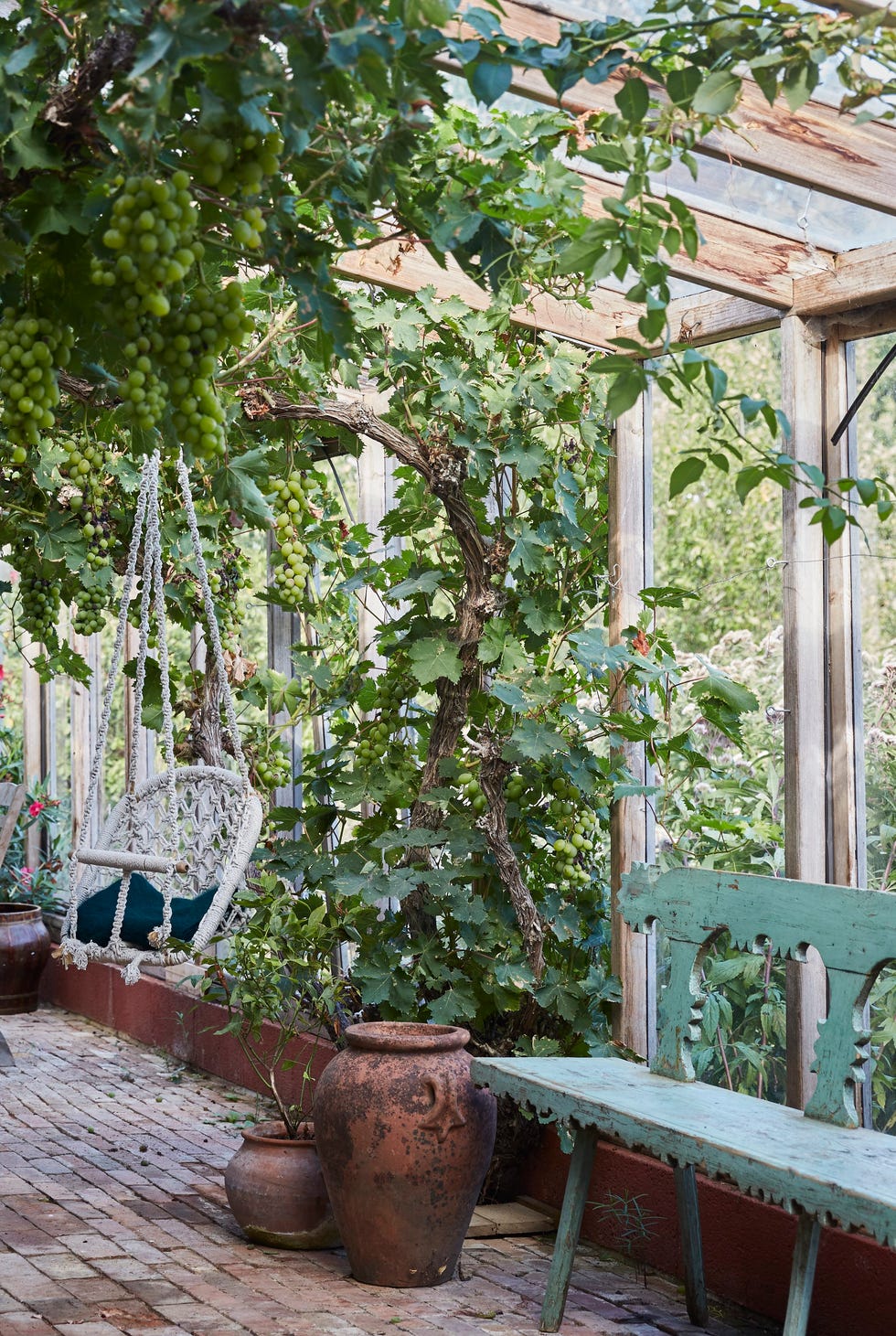 Studio Ashby
Make your greenhouse feel like a secret garden by hanging a rustic swing chair, as Studio Ashby did here. Then add a painted bench for a pop of green that echoes your plants, like this mint one.
3
Take Advantage of a Skylight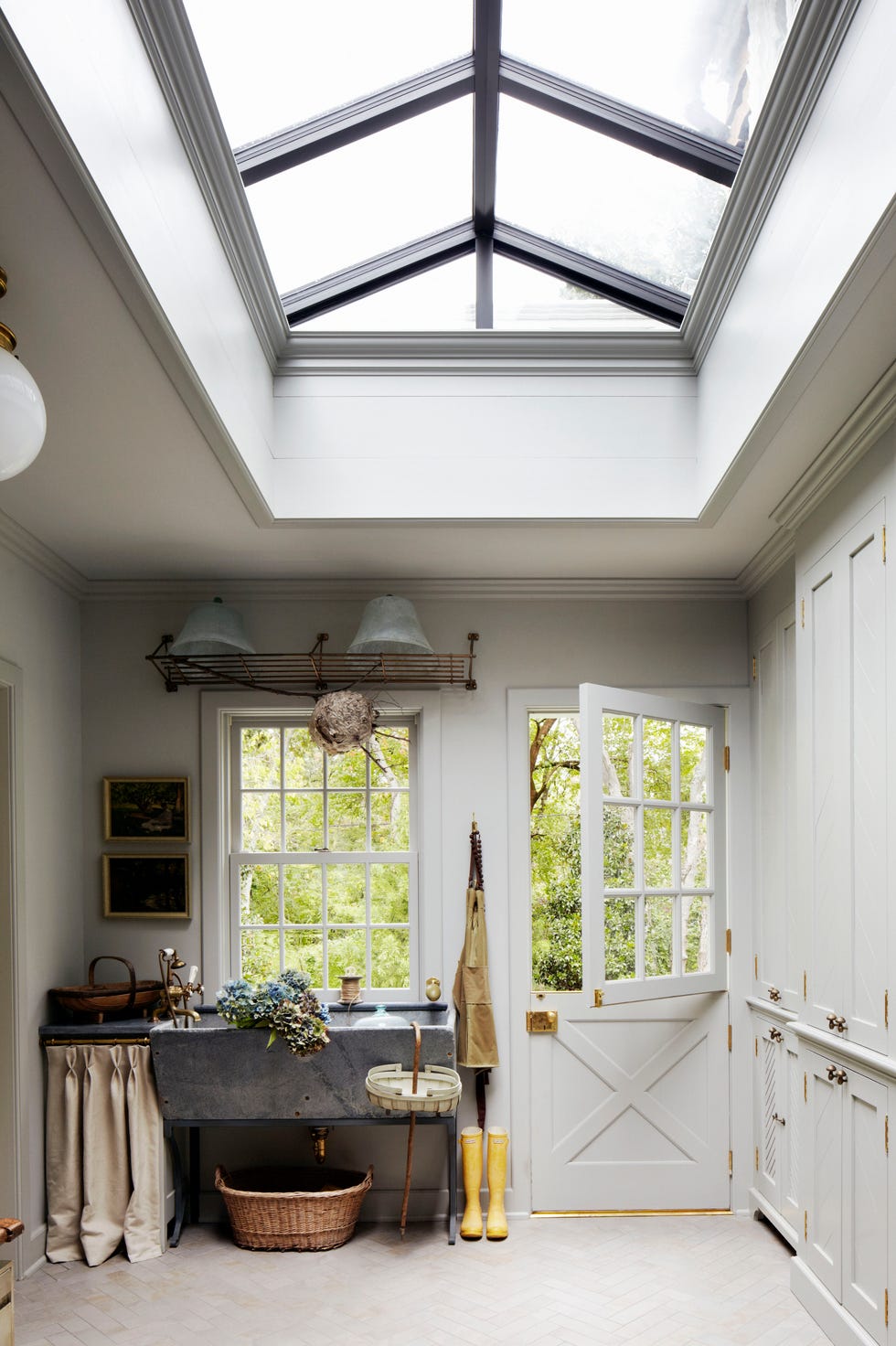 Simon Watson
Convert a garage or spare room with access to the outdoors into a makeshift greenhouse by putting in a skylight. It's a good alternative to a greenhouse if there isn't room to build one in the yard or if you prefer the location. This mudroom slash garden space designed by Jeanette Whitson feels more like a conservatory.
Advertisement - Continue Reading Below
4
Copy a Plant Nursery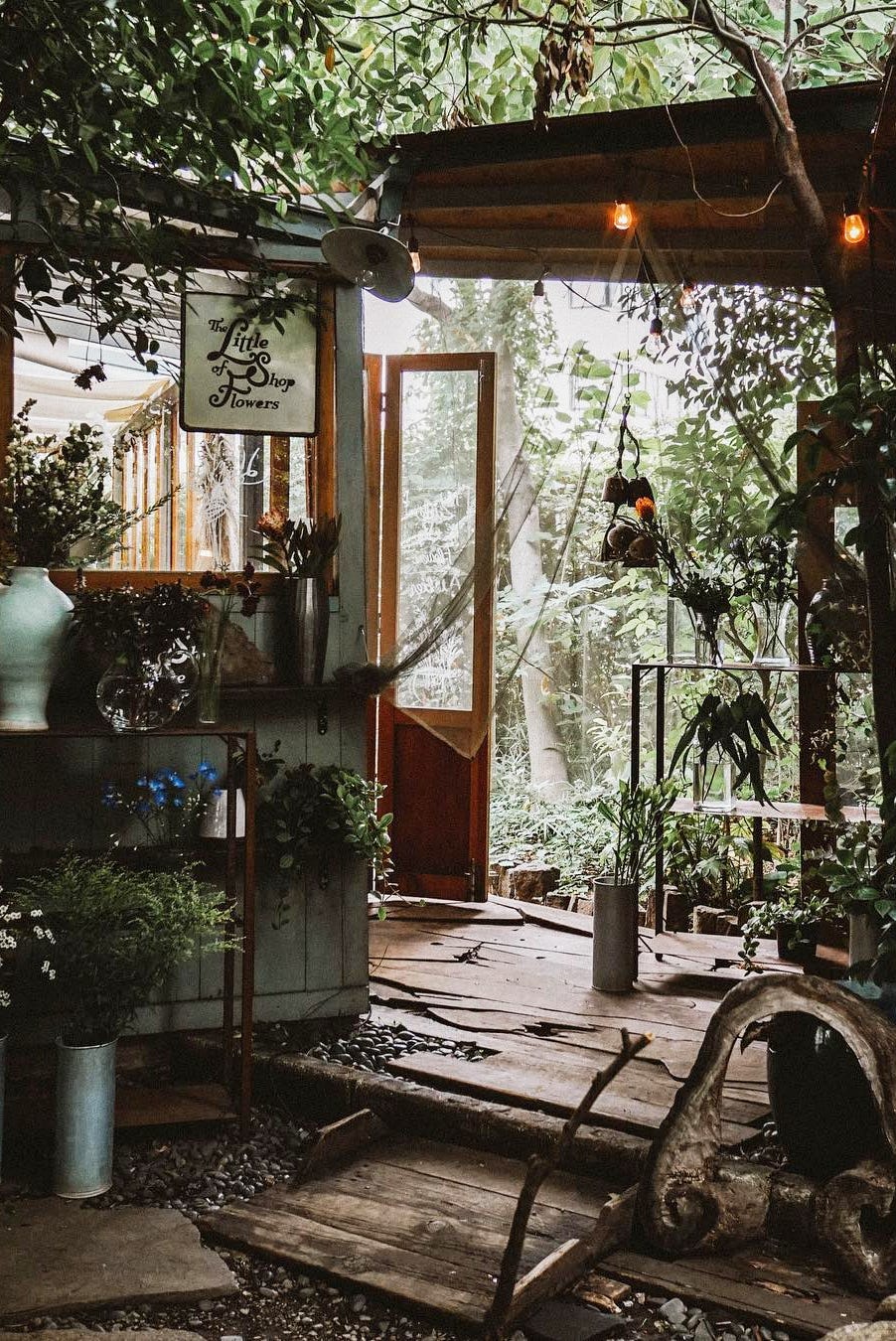 Bon Traveler
Visit your favorite local plant nursery and take note of the little design elements that you love. Things like decorative stone pieces and string lights are low lift but high impact.
5
Just Hang Plants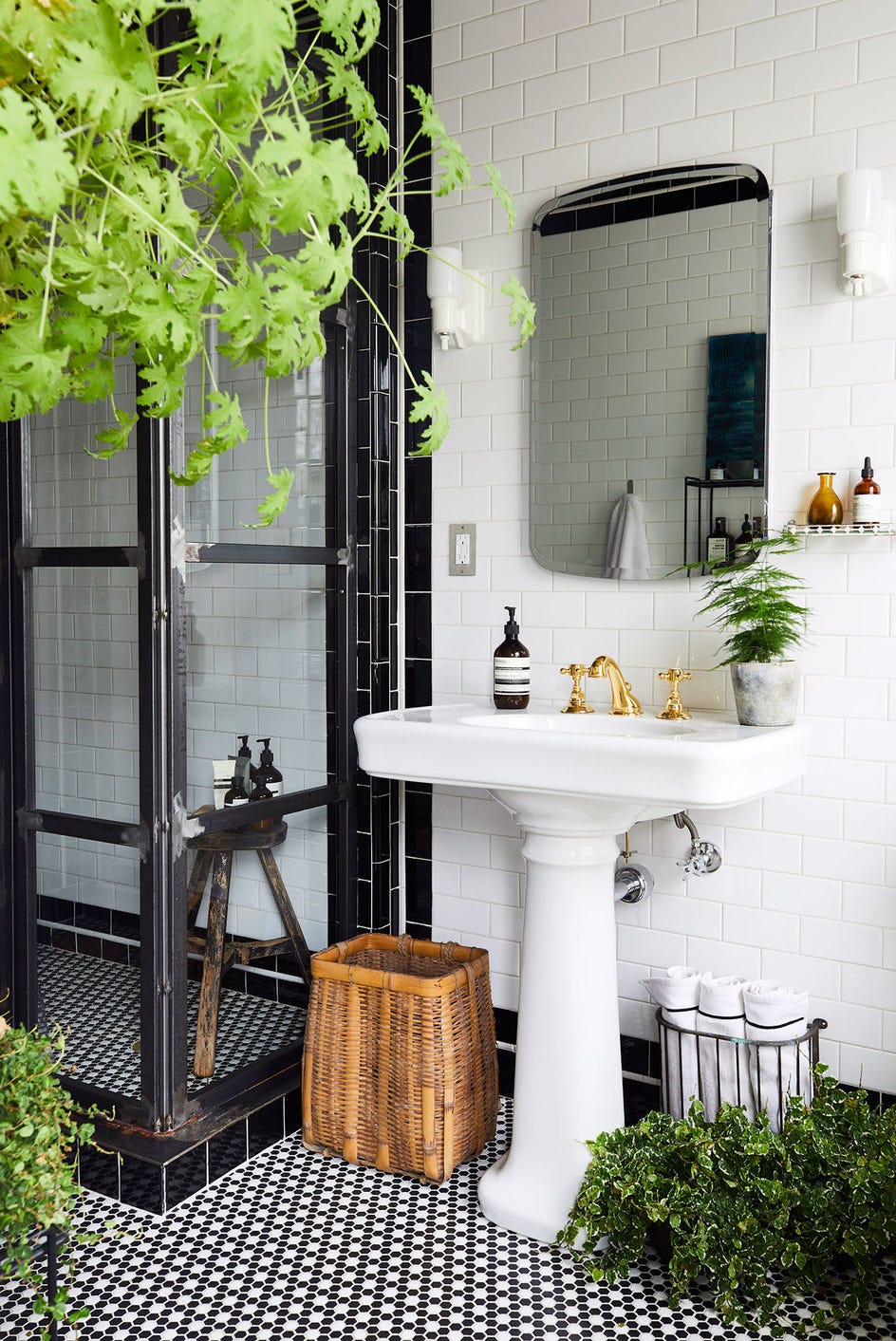 Nicole Franzen
If you love plants—like really, really love plants—and a room in your home gets enough natural light to support it, transform it into a greenhouse of sorts, as designer Chris Benz did in his bathroom. This spot outside the shower offers plenty of humidity for plants to soak up.
6
Add a Patio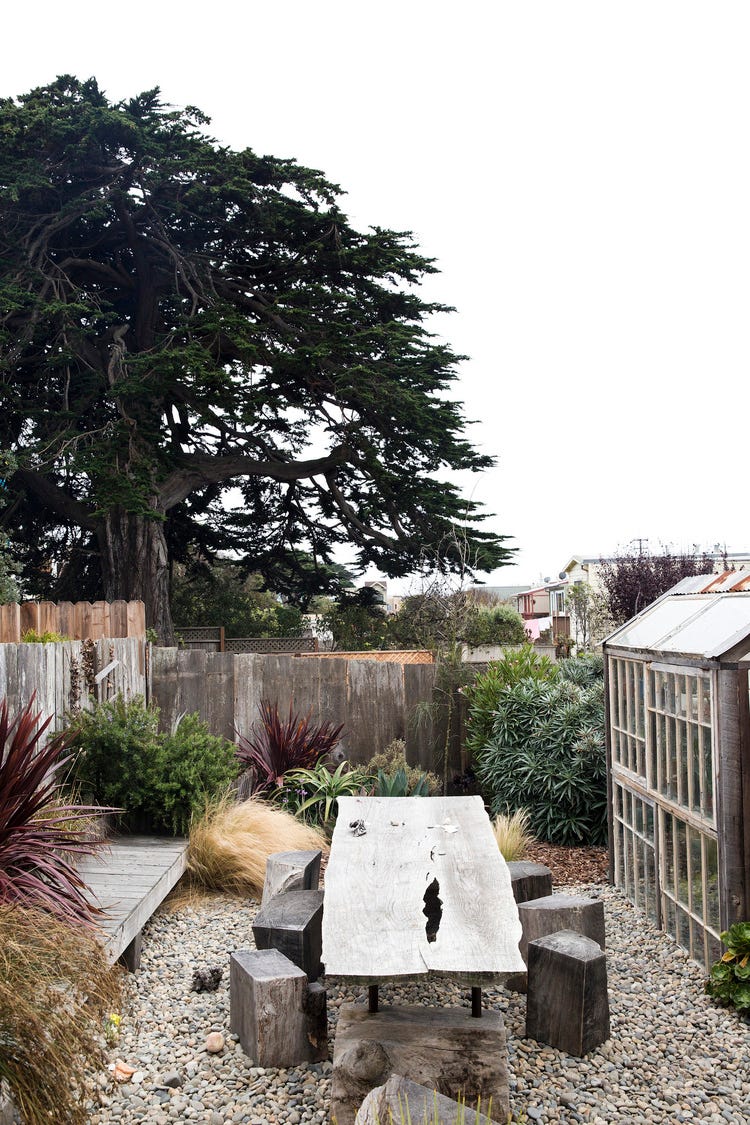 Nicole Franzen
Your greenhouse can be the anchor of a bigger outdoor living space. A little gravel and a rustic table set turn the narrow space outside this greenhouse into a beautiful sitting and dining area. We love how the landscaping makes it feel cozy and secluded.
Advertisement - Continue Reading Below
7
Use Vertical Space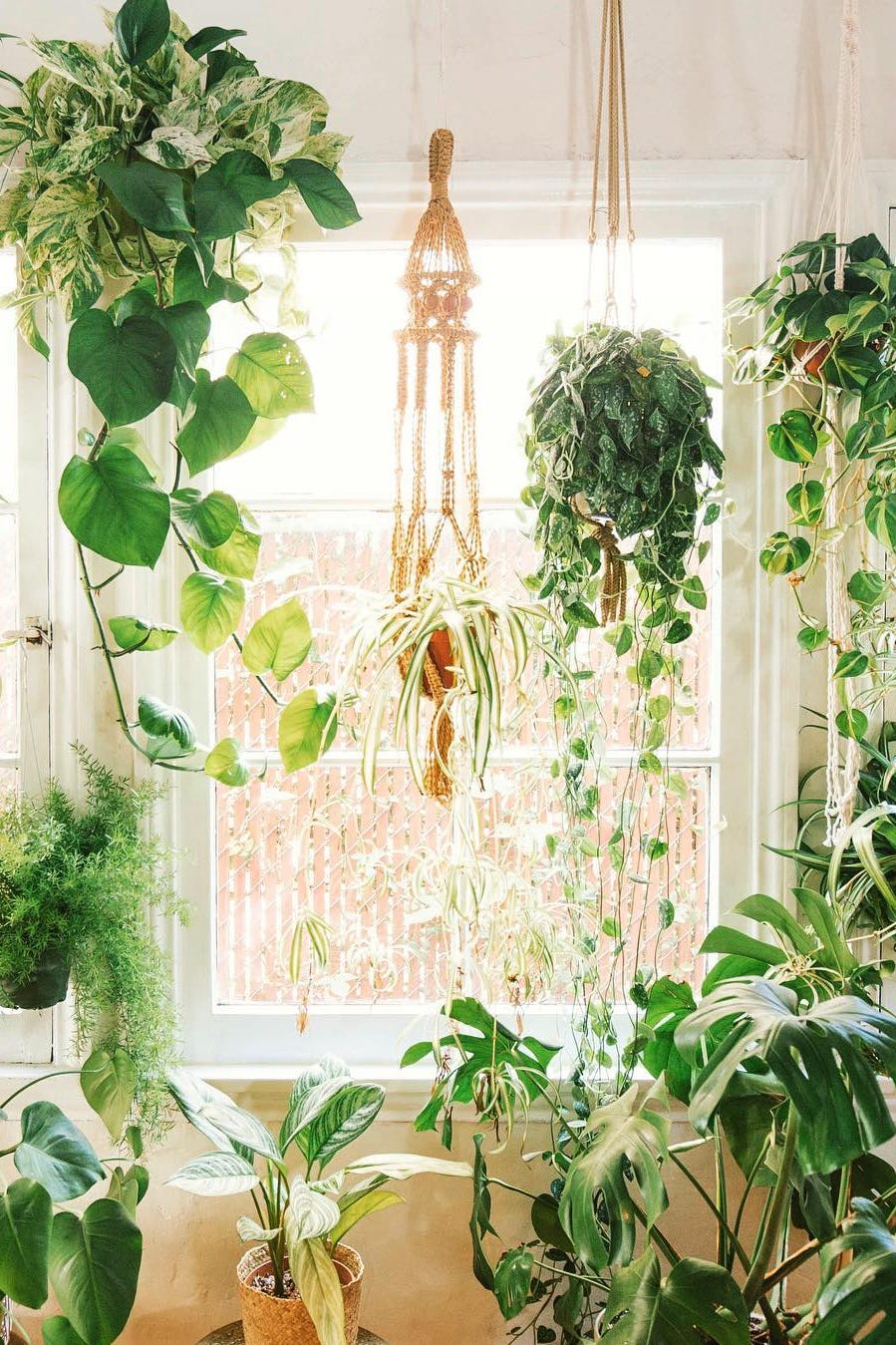 Old Brand New
Hanging a bunch of potted plants and terrariums will double the amount of greenery you can grow in your greenhouse. We're digging this urban jungle vibe from Old Brand New.
8
Create a Conversation Area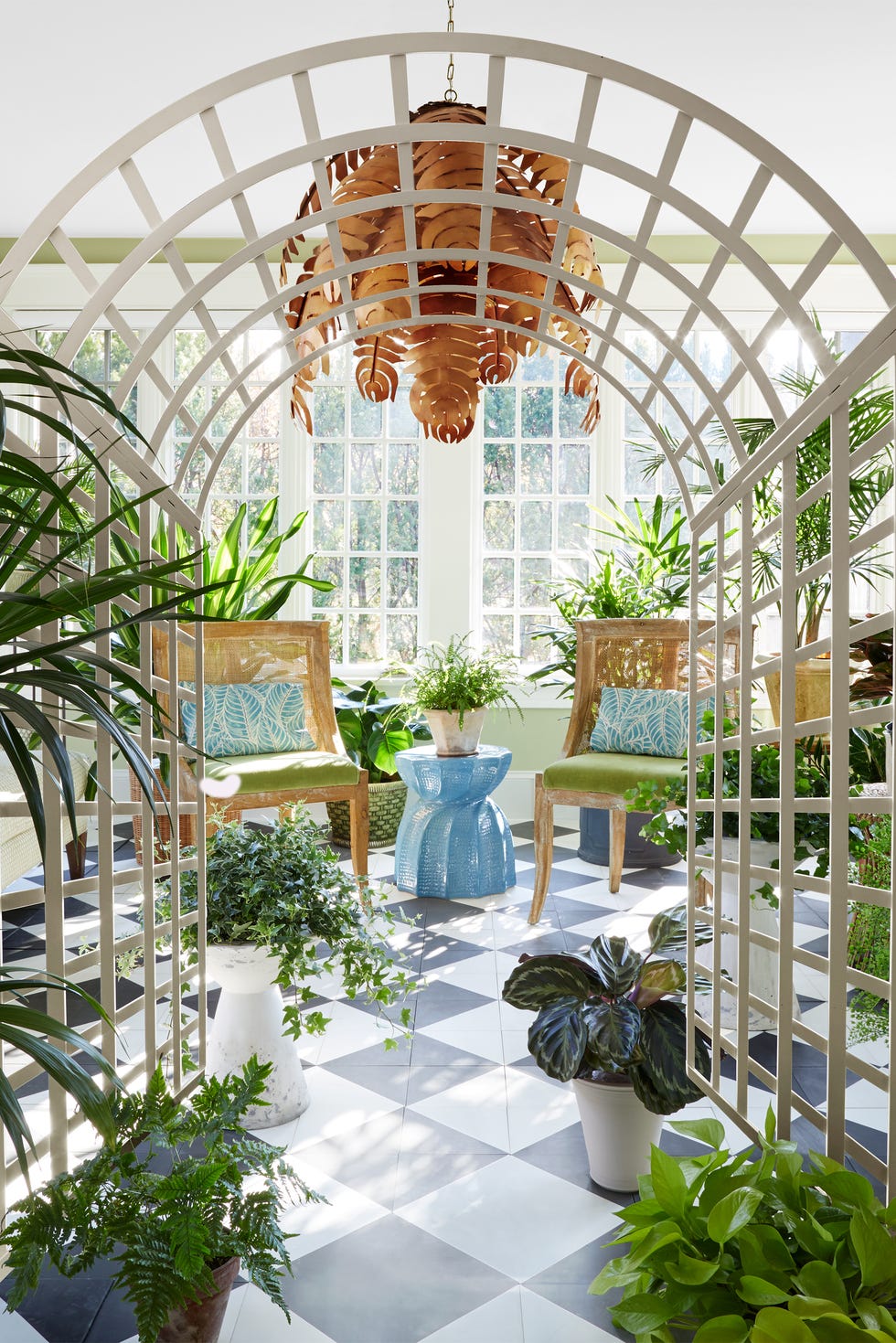 Alison Gootee
Set up a seating nook to make a spacious greenhouse feel even more grand. In this space, the green cushions blend in nicely with plants while the pops of light blue introduce contrast. The big on-theme pendant also helps create a sense of place.
9
Hang String Lights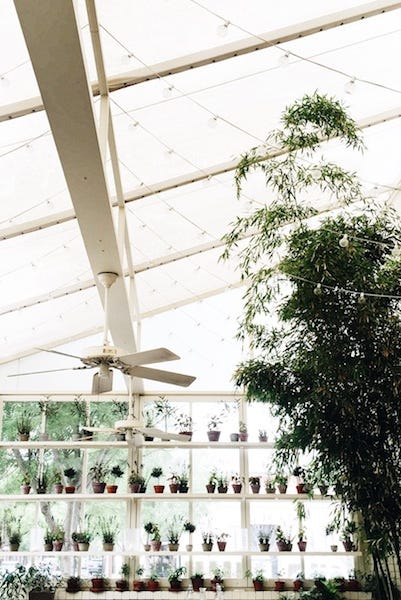 Lauren Stephanie Wells
String lights instantly make your greenhouse feel like a special haven. Here, they crisscross the roof to provide quite a bit of lighting. This is a well-organized greenhouse (just check out those shelves) that can easily double as a party space.

Advertisement - Continue Reading Below
10
Steal a Sunny Corner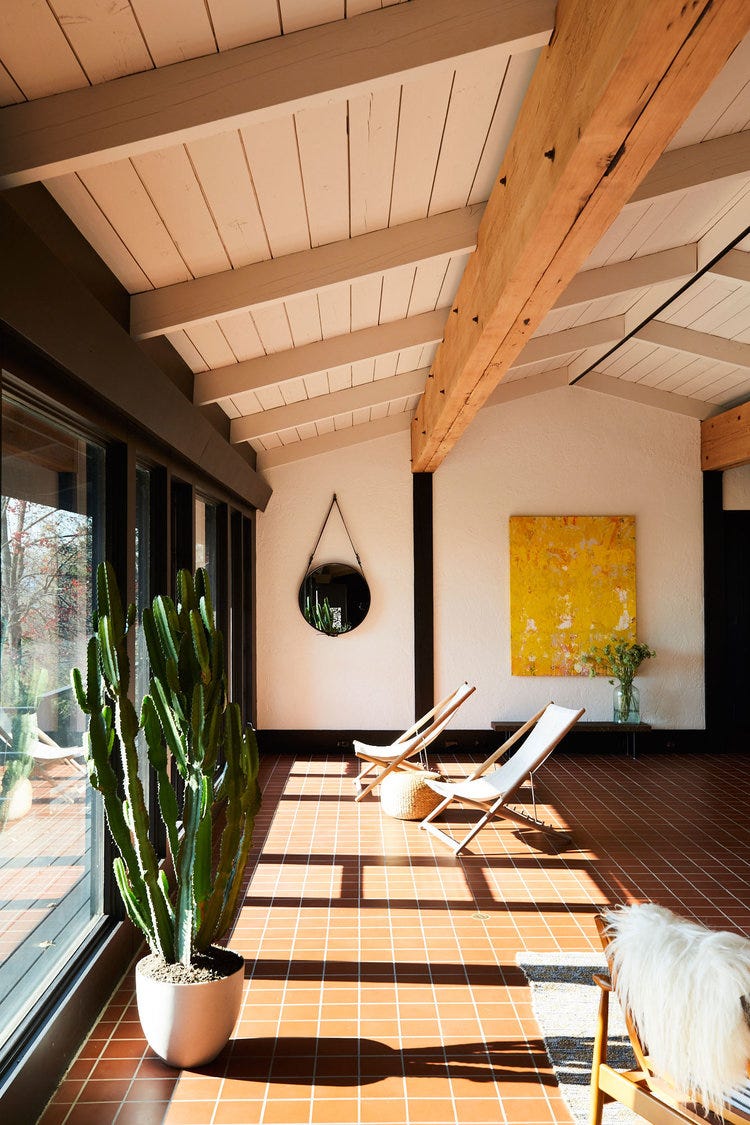 Nicole Franzen
A bright room in your home, like a sunroom, is the perfect place for a makeshift greenhouse. If you have floor-to-ceiling windows that let in lots of light, even better. We love the large cactus perched by the window in this sunroom designed by GRT Architects.
11
Tent Your Garden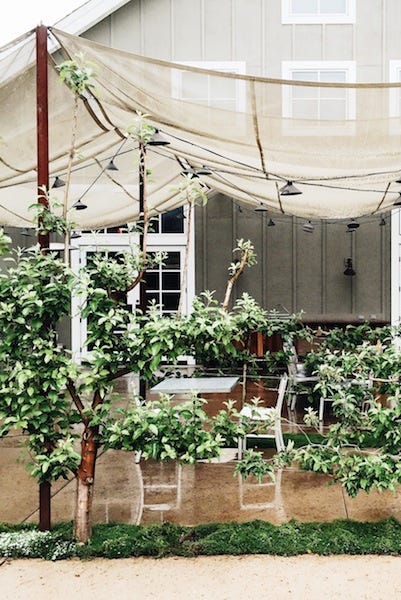 Lauren Stephanie Wells
If you don't want to build an entire greenhouse in your yard, consider a tented garden. It'll have a similar insulating and protective effect, but it won't be as much work to install or maintain as a permanent structure.
12
Build Raised Beds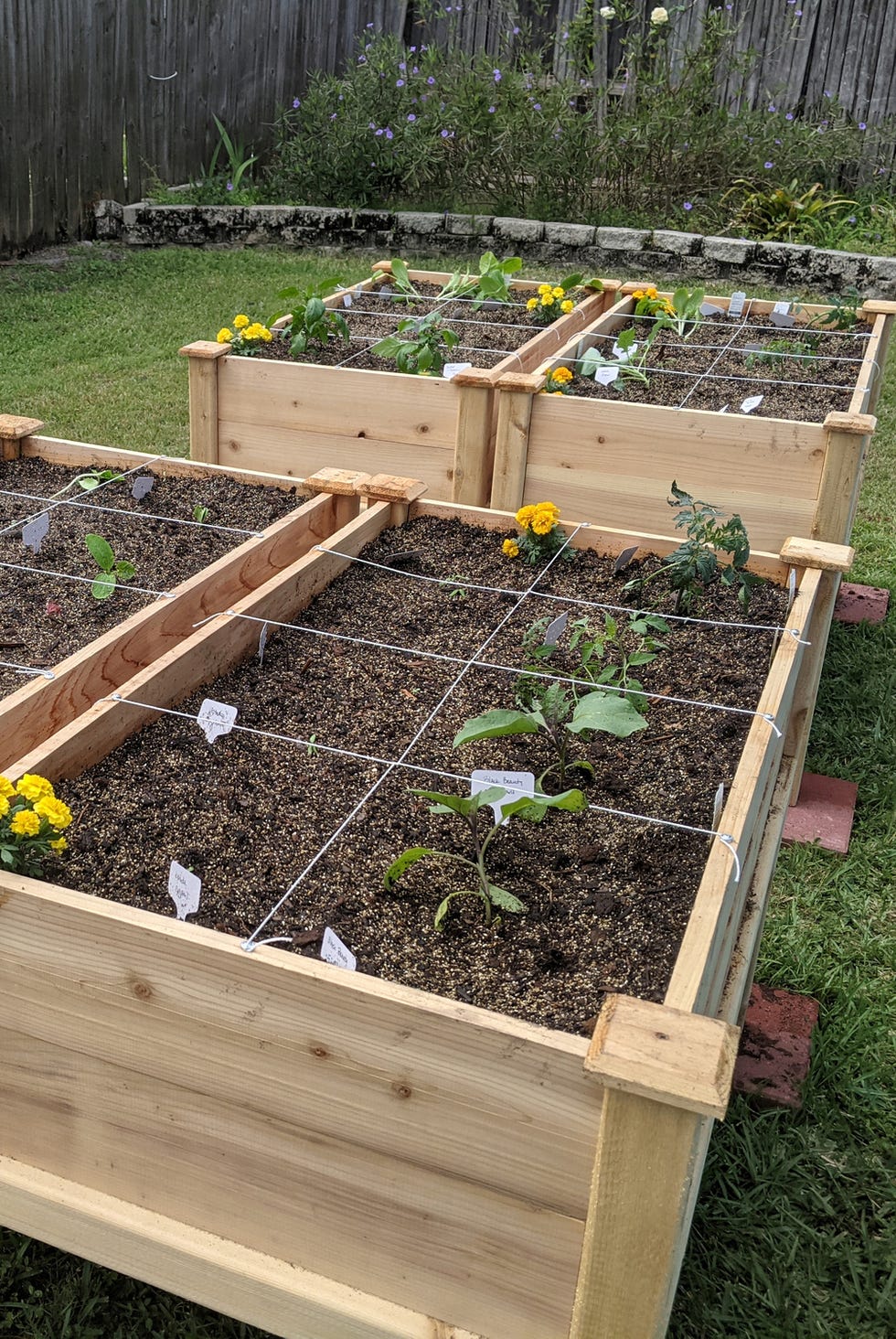 Photo by Cathy Scola
//
Getty Images
If you have the room, we highly suggest putting some raised beds inside your greenhouse. It's a fun way to add in some dimension, and practically speaking it allows you to control your plants' soil quality and water more precisely. If you don't have the space, install some raised beds around the front or sides of your greenhouse.
Advertisement - Continue Reading Below
13
Set a Stylish Table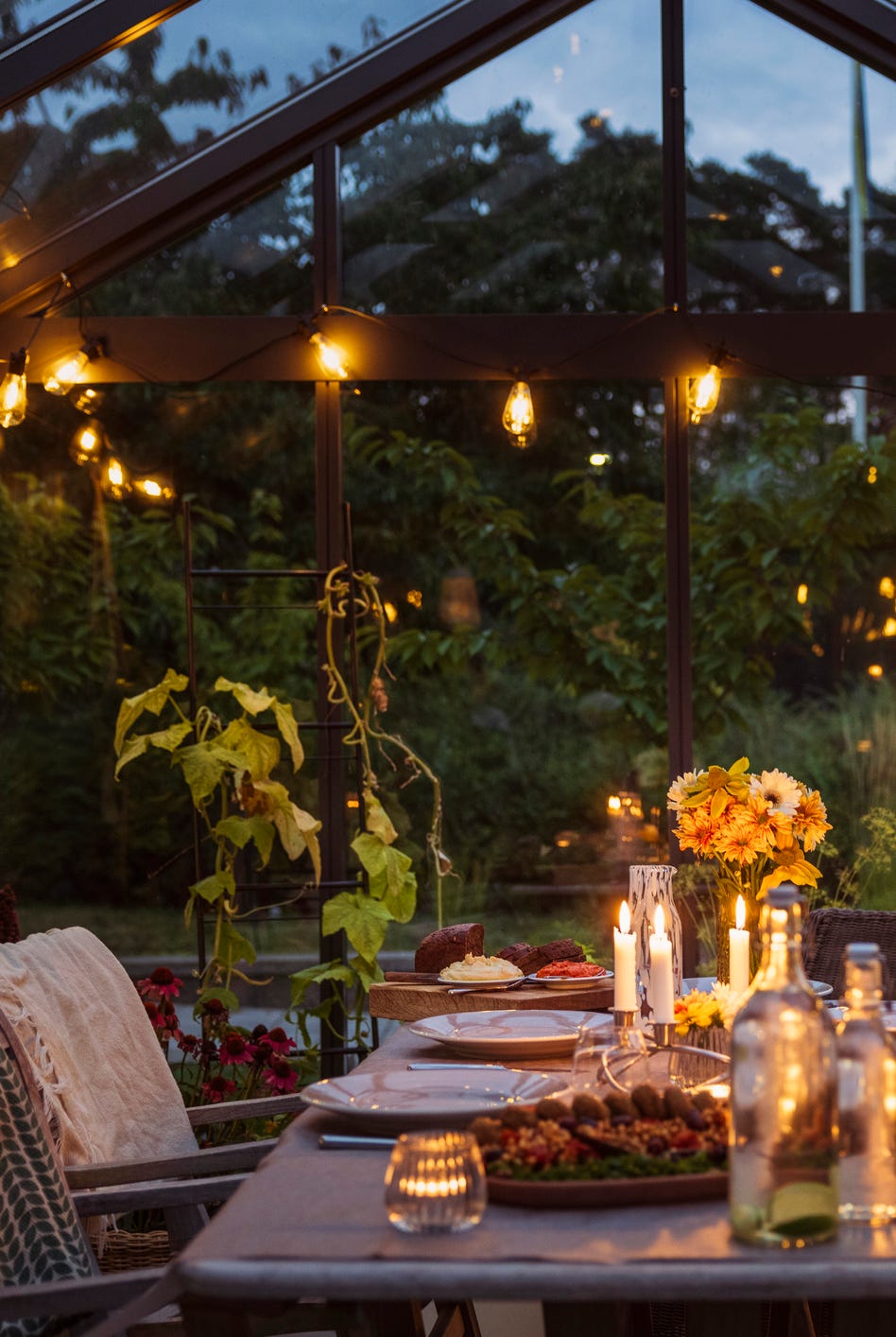 Johner Images
//
Getty Images
Greenhouses are such romantic places for dinner parties. You get to enjoy the soft glow of the string lights and the sunset without having to worry about a little rain. Just add in a table and chairs. Big or small, it'll be a beautiful spot for a special meal.
14
Upcycle Old Furniture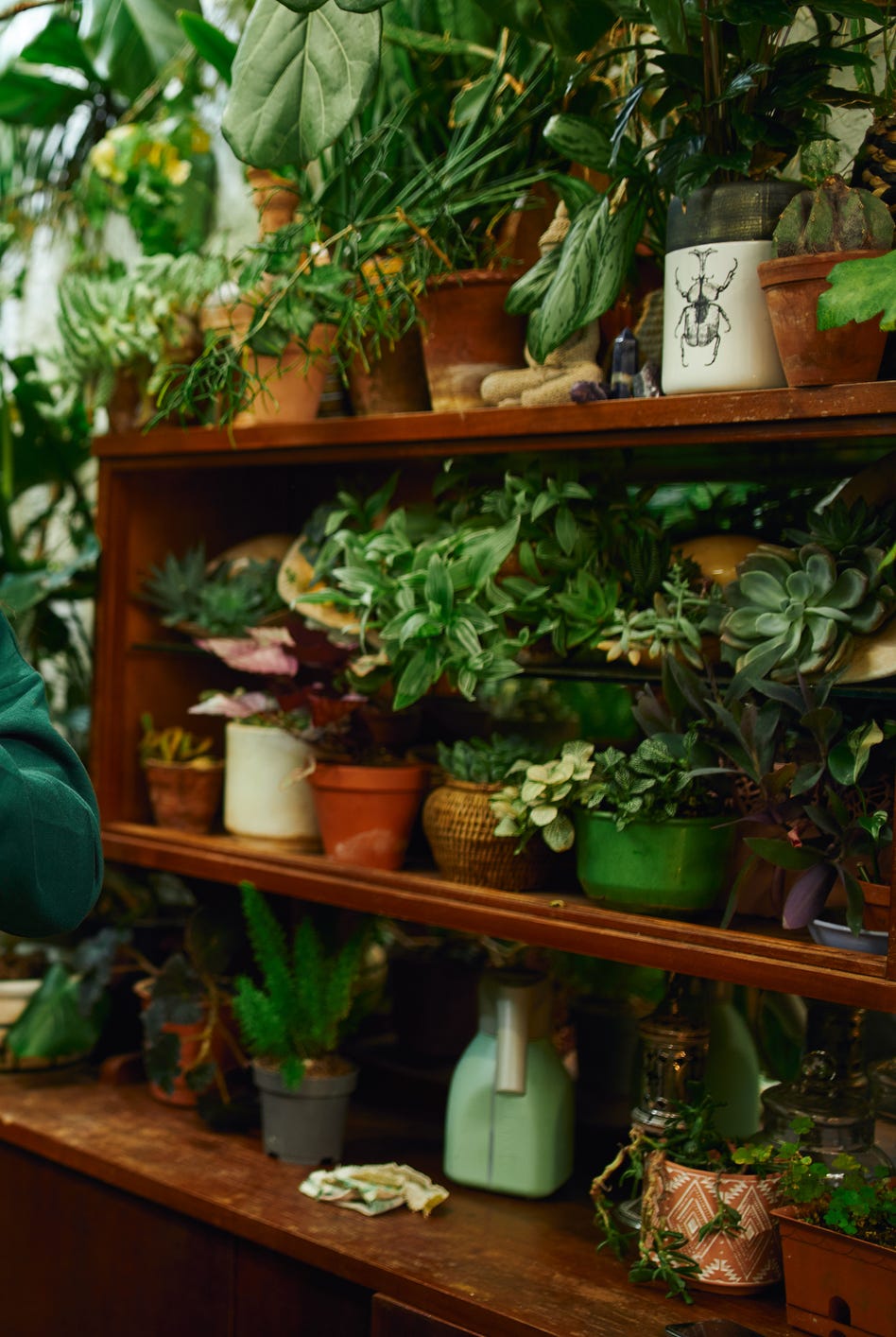 Sergey Mironov
//
Getty Images
Do you have a cabinet that's collecting dust in the basement? Did you come across a cool bookcase at a thrift store—but never got around to refinishing it? Put those pieces to good use by upcycling them as your greenhouse organization system. Open storage pieces are ideal for growing seedlings and the garden tools you reach for all the time, like as snips, watering cans, gloves, and more.
15
Roll Out Washable Rugs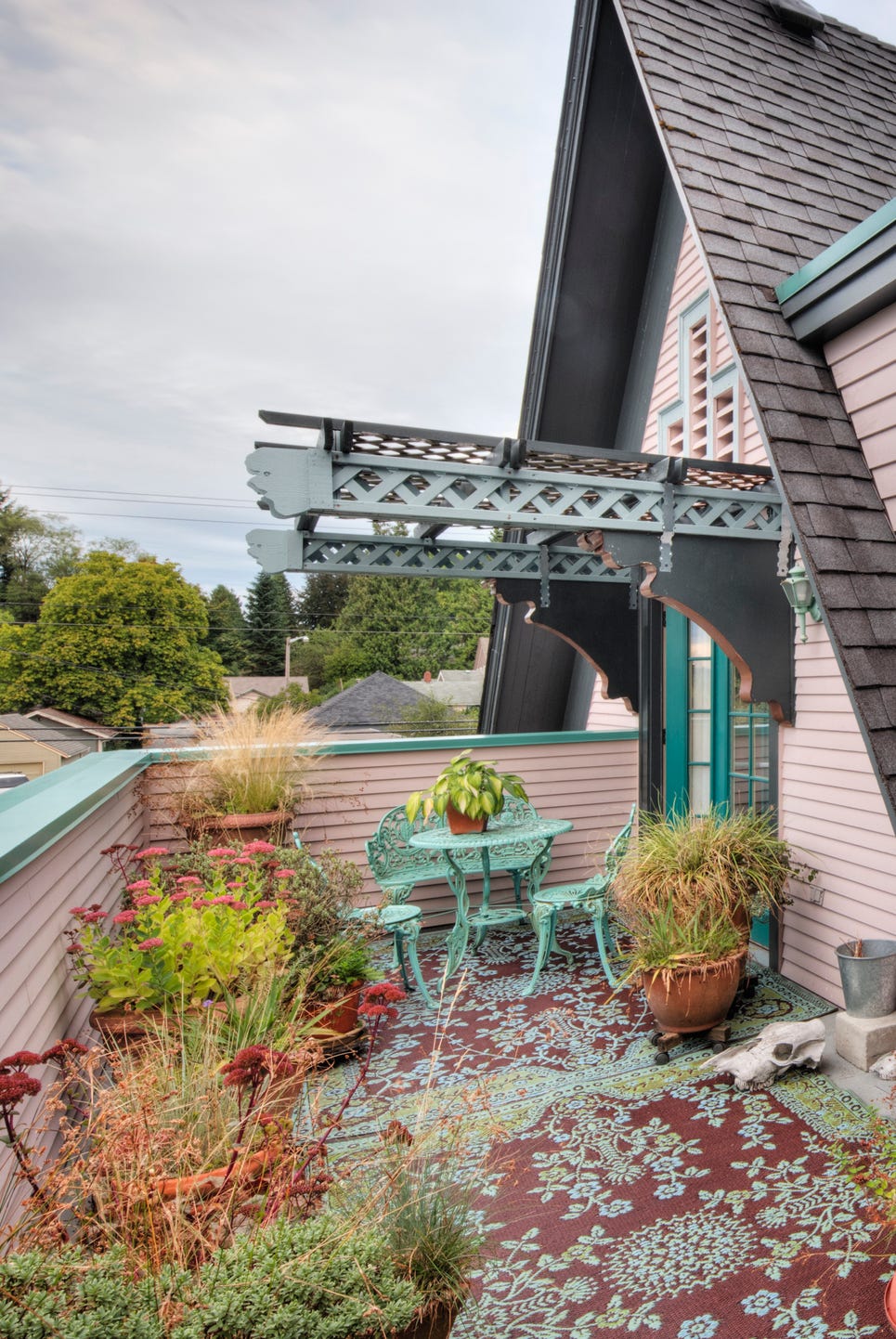 Mint Images
//
Getty Images
Rugs? In a greenhouse? Just hear us out. If your greenhouse floor is currently dirt or grass and you're going for a more picturesque vibe, washable rugs are a great shortcut. We love the options Ruggable has to offer. Choose one big rug or layer a few for a boho feel.