51 Breakfast Nooks That'll Make Every Morning Look Brighter
Almost as energizing as coffee!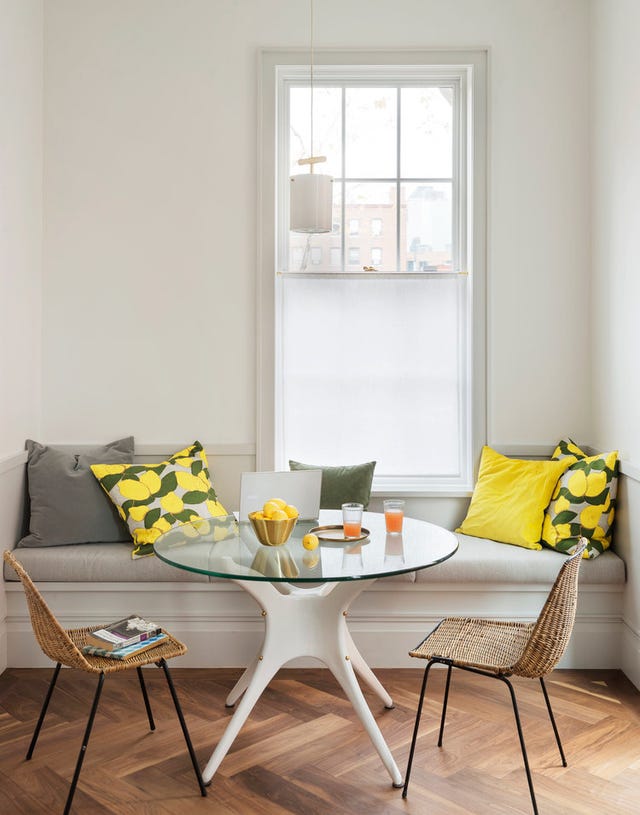 Studio DB
Breakfast nooks prove that you really can make the best out of any weird corner or awkward section in your home. Comfortable, functional, and conducive to intimate conversations and meals with your loved ones, they're small but mighty spaces that work with the architectural flow of your home and your lifestyle.
Design-wise, breakfast nooks can be decorated to your liking and outfitted with plush seating arrangements you won't want to get up from. If you're low on square footage or not a fan of using your picture-perfect dining room for syrupy food and sticky hands, adding a slim banquette to your breakfast nook is a clever solution. (And performance fabric is always a good idea.) Whether you're preparing a quick and simple meal that gets your family out the door in the morning or dressed to the nines and hosting a delicious brunch party for guests, this corner of your precious abode will be in constant use year-round. You know how everyone always gathers in the kitchen no matter how carefully you set up the rest of the house? Well, breakfast nooks have that same vibe.
To help you rethink your dining setup, we found the best breakfast nooks that'll fit any style preference, difficult corner, and size budget. Breakfast is the most important meal of the day, so spoil yourself with a special jeweled box just for you. Read on for mood-boosting kitchen nooks that'll get you out of bed in the morning.
1
Mix Prints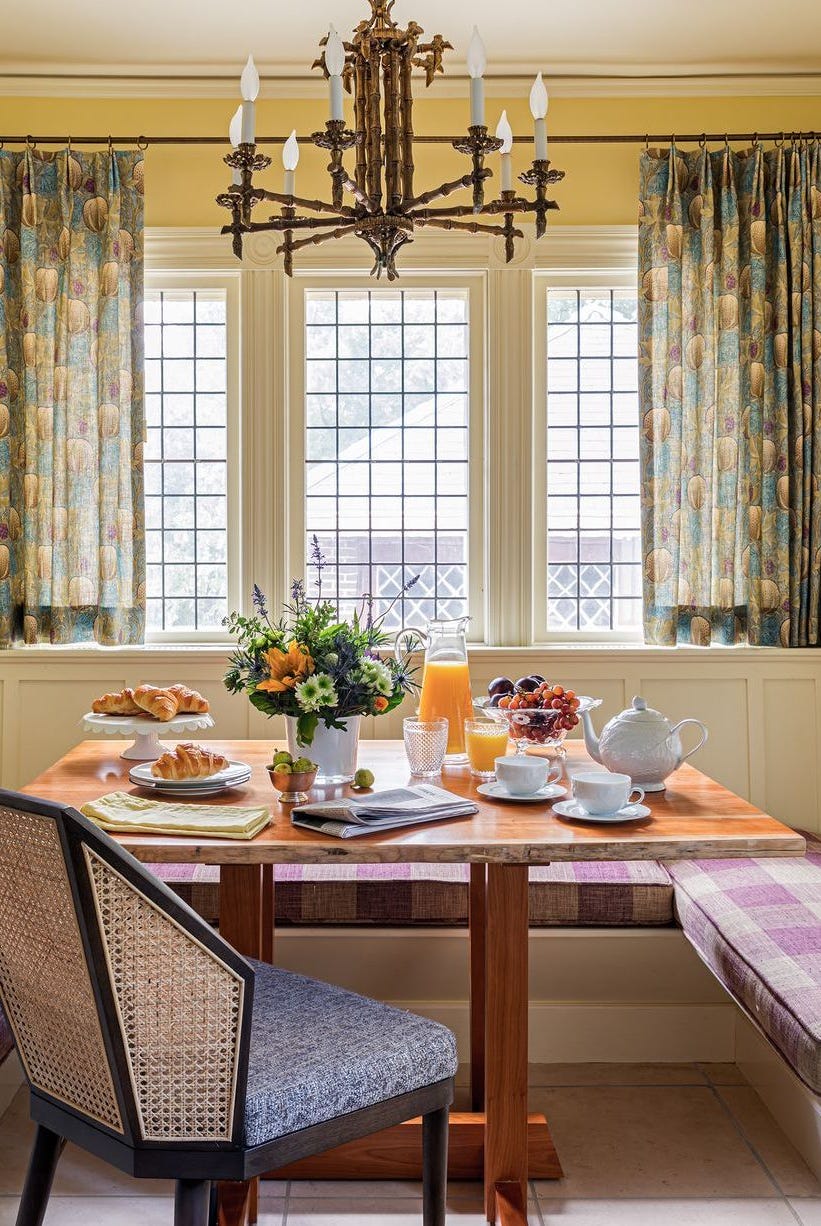 Sean Litchfield
With purple plaid cushions, fruit-covered drapes, and a denim-like accent chair, this sunny kitchen is like stepping into the set of your favorite movie. Dane Austin designed this 19th-century home for families to enjoy meals with a view. "An antique brass faux bois chandelier and a live-edge craftsman-style breakfast table further the naturalist touches of an English countryside estate," says Austin.
2
Install Black Tile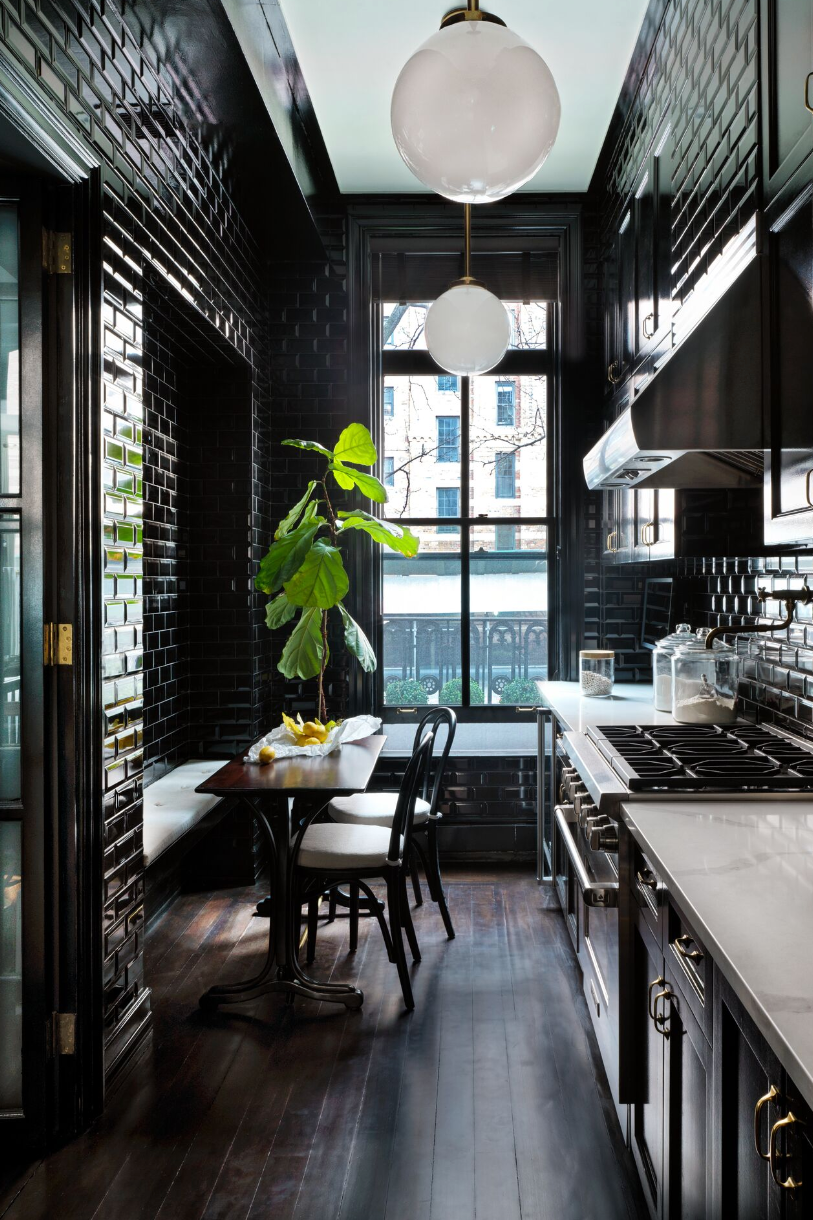 Chris Mottalini
Yes, your apartment's kitchen can have a breakfast nook! Consider a glossy black tiled kitchen nook like the one designer Nannette Brown created for this moody galley kitchen in a New York apartment. Plus, tiles are super easy to clean, so bonus points for messy eaters.
3
Plant Away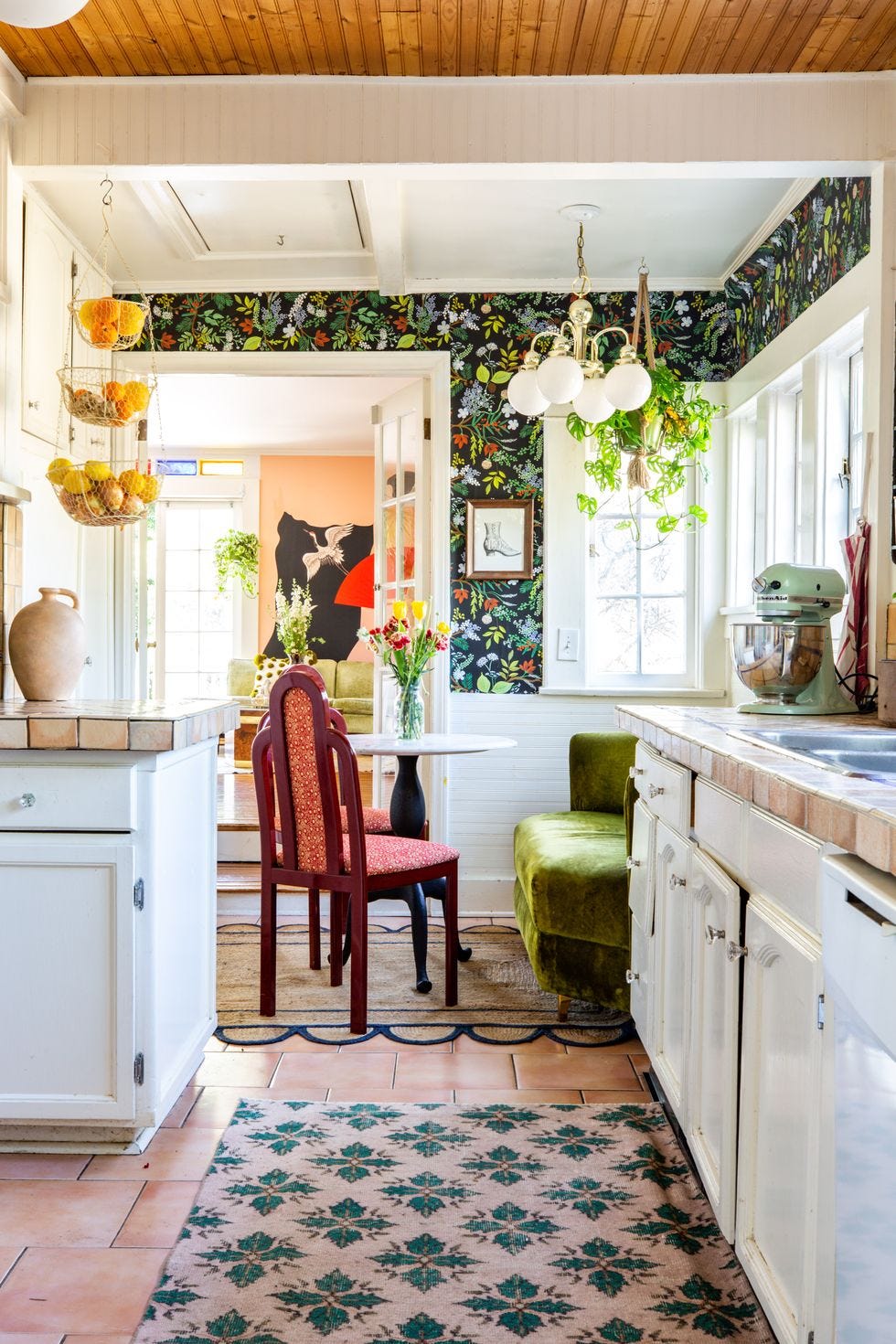 Francesca Grace
Use your green thumb to bring leafy greens into your kitchen. To play up this home's period features, designer Francesca Grace gave the interiors a cosmetic refresh with wallpaper, vintage items, light fixtures, and accessories. We love how the fun hanging fruit basket also serves a practical purpose: keeping the countertops clear.
Advertisement - Continue Reading Below
4
Maximize Accessories
Ngoc Minh Ngo
Bring all of your favorites into your kitchen for a decadent and chic breakfast nook. Decorate the windowsills with plants, toss animal throw pillows on a velvet seat, or display your favorite antique art pieces in a mini gallery! The world is your oyster in this lavish kitchen nook.
5
Make Your Dining Room Work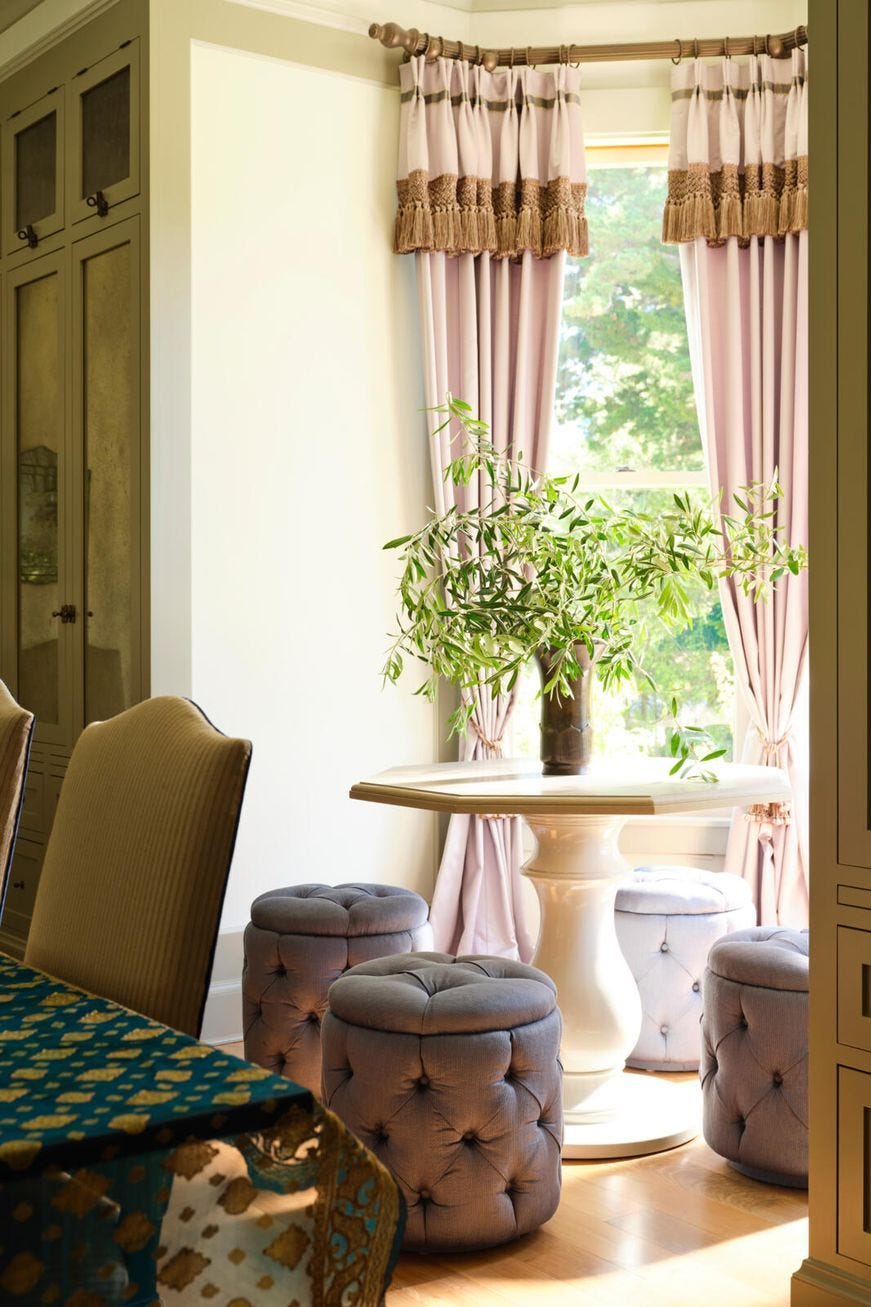 Roger Davies
If you don't have a nook in your kitchen, take your breakfast to the corner of your dining room! It sets clear boundaries and can serve as a kids' table when necessary. Just take it from the small seating area in a California home's dining room designed by Alexandra Loew. Situated in the bay window, the setup serves as the kids' table during big gatherings.
6
DIY a Workstation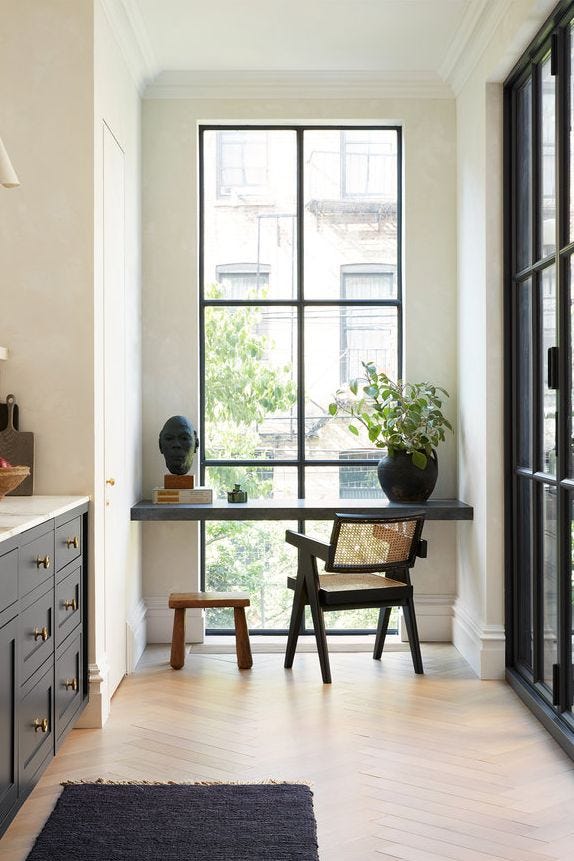 Dustin Askland
Maybe you can mix business and pleasure without making a mess. Here's proof that you can make your own nook into a productivity-boosting (and stylish) command station. Get inspired by this desk area designed by Elizabeth Roberts and use your extra space to enjoy a cup of coffee as you answer emails.
Advertisement - Continue Reading Below
7
Maintain the Architectural Style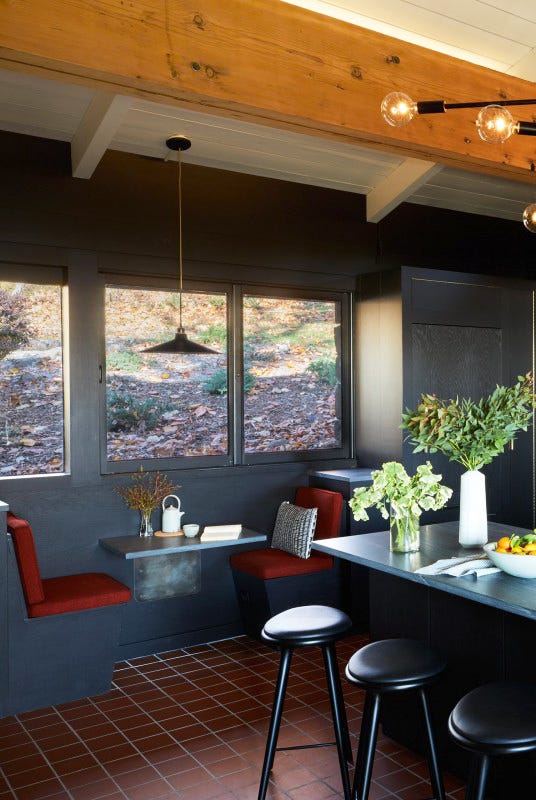 GRT Architects
These single-seat banquettes and built-in metal table in a kitchen by GRT Architects are reminiscent of a classic midcentury diner right off the highway—perfect for this inky and sophisticated kitchen in a midcentury modern home in New York's Hudson Valley.
8
Incorporate Whimsy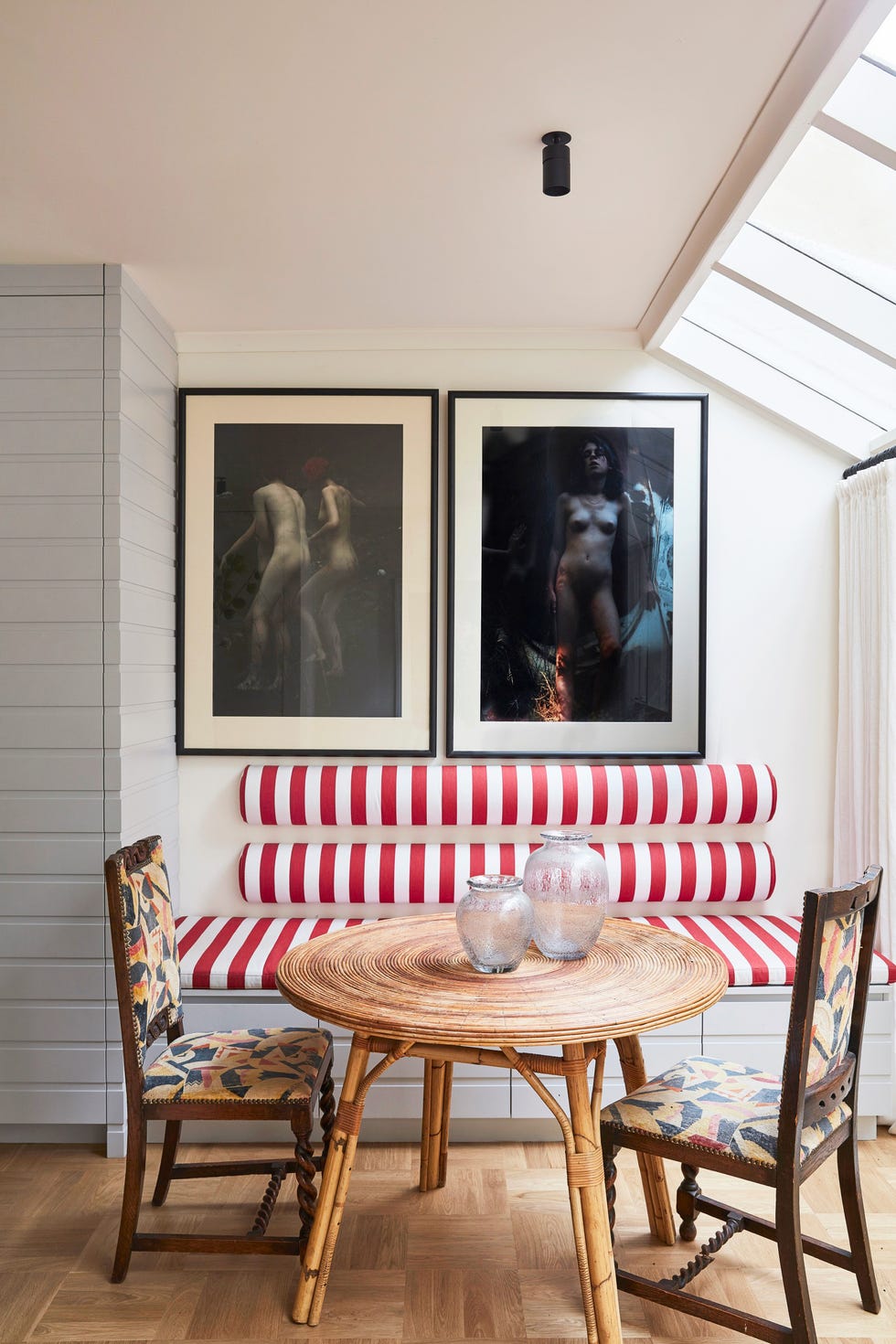 Tamsin Johnson
If you never met a stripe you didn't like, add them into your breakfast nook with upholstered chairs. You can change out the color depending on the season. This one designed by Tamsin Johnson is such a refreshing mix of styles, too, from the moody and provocative framed photographs to the casual rattan table, modern walls, and whimsical yet classic upholstery.
9
Get as Cozy as Possbile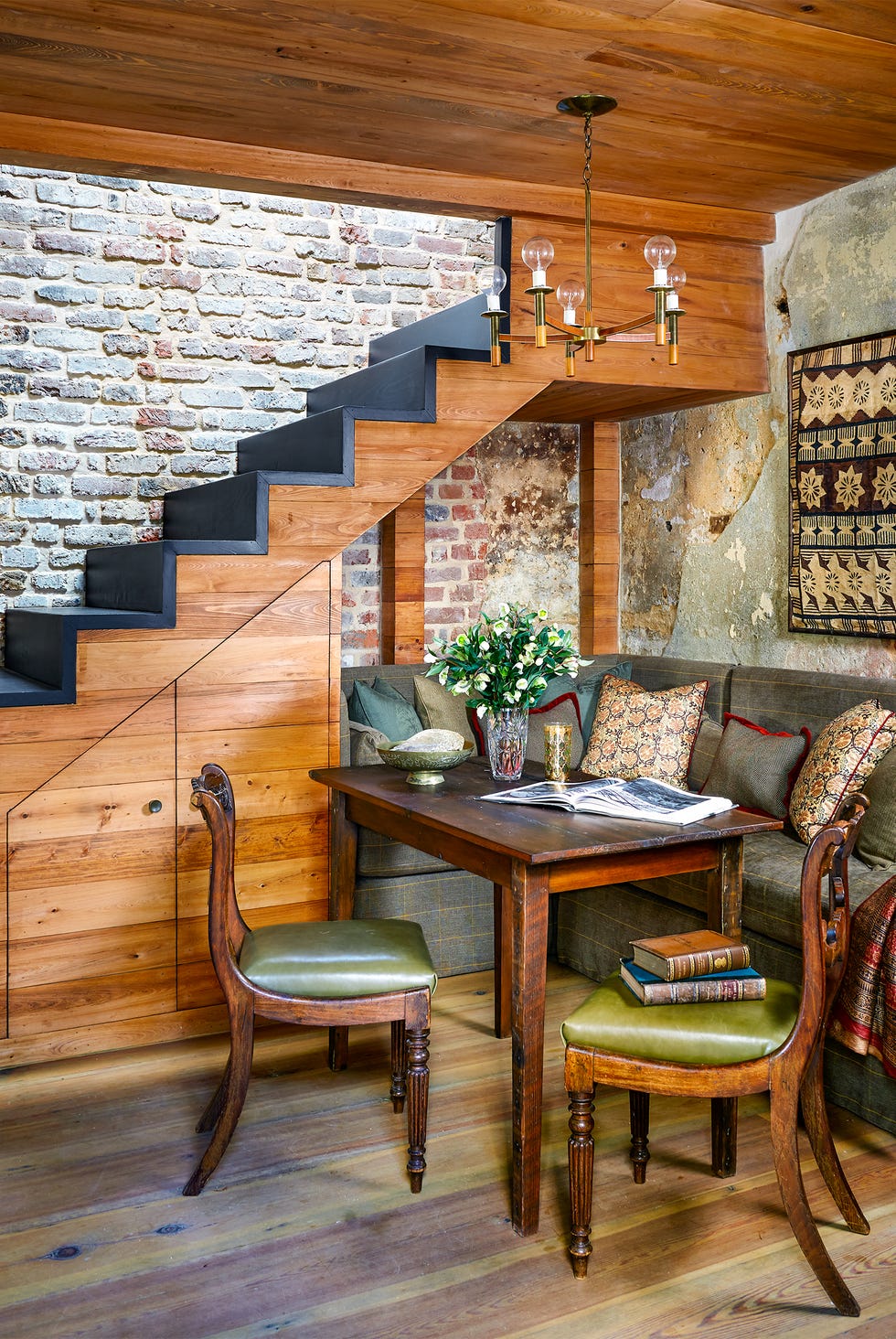 Trevor Tondro
Cameron Schwabenton's update of a 1770s guesthouse in Charleston is a testament to the power of preservation. Walls were stripped down to the original brick and plaster. In the dining nook, the table is reclaimed pine and the custom banquette is in Prince of Wales plaid fabric by de Le Cuona.
Advertisement - Continue Reading Below
10
Bring the Outdoors In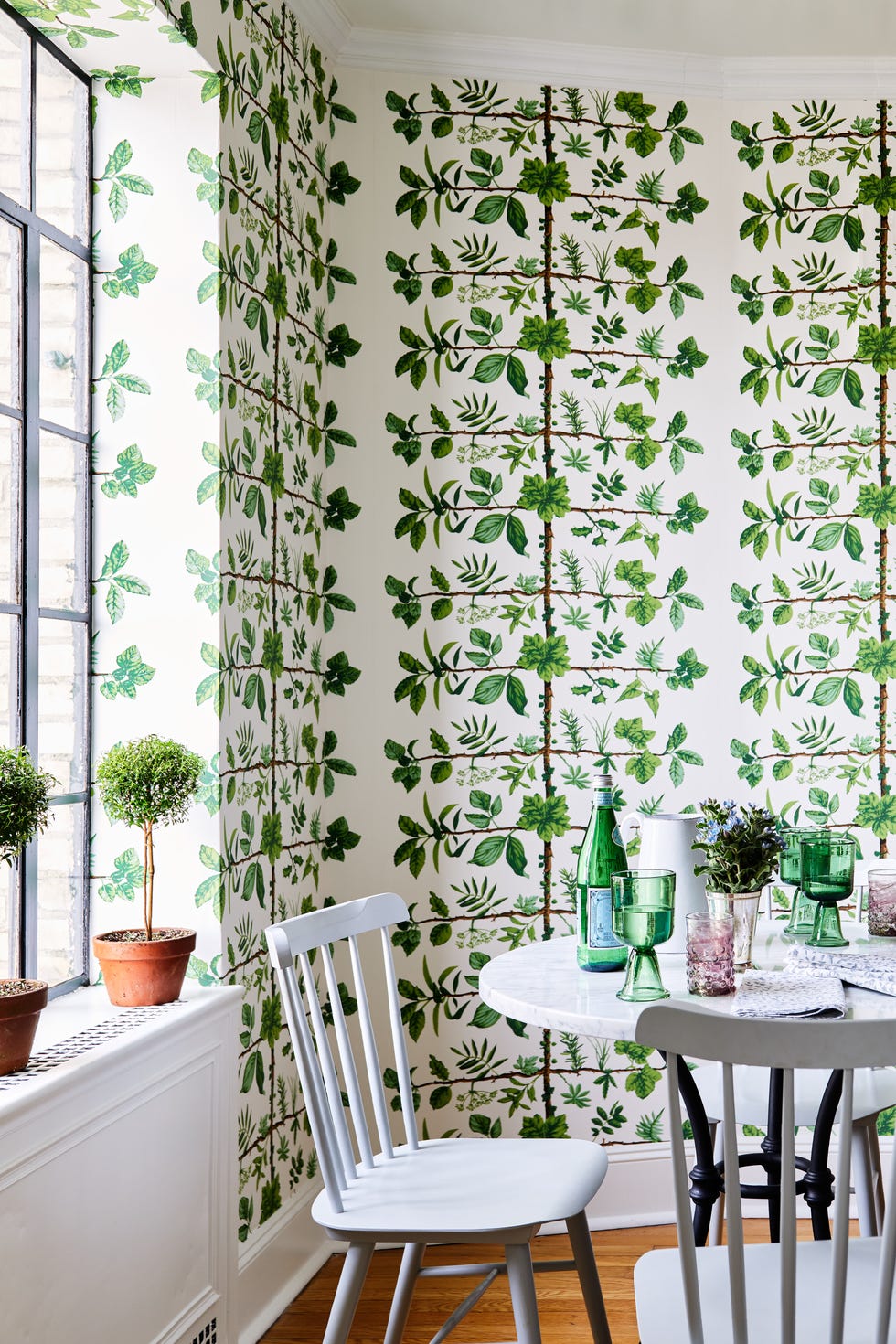 Read McKendree
In this New York kitchen by Lilse McKenna, the designer wanted to nod to the garden outside the window—but also the city skyline. The solution? Covering the walls in Pierre Frey's iconic Espalier pattern (with a few windowsill topiaries to match!).
11
Balance Cozy and Bright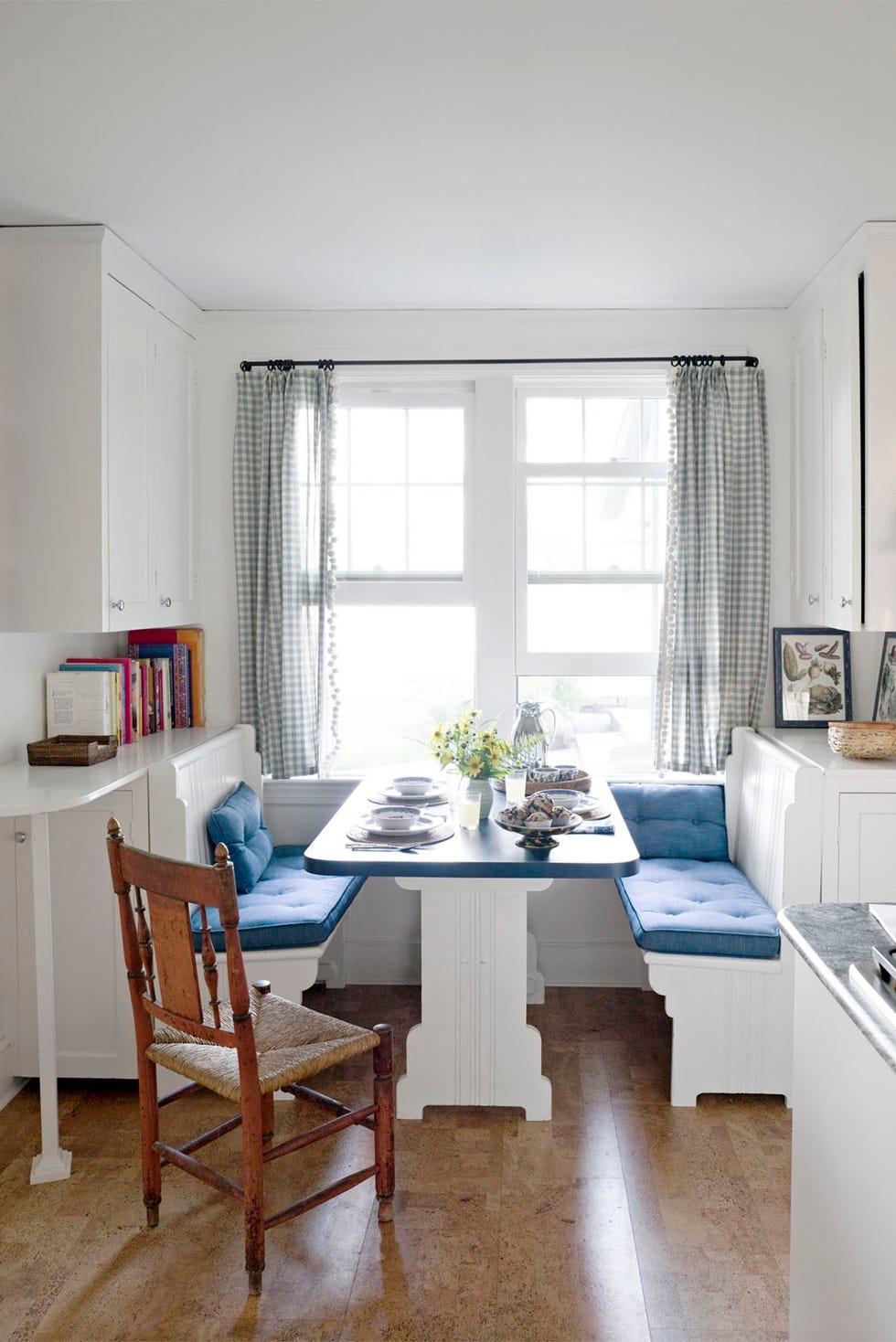 Francesco Lagenese
Custom banquettes add an extra punch of coziness in this kitchen designed by Tom Scheerer, but also feel bright, fresh, and crisp. The blue Formica top complements the denim-toned cushions. The gingham curtains add the perfect country touch.
12
Coordinate Upholstery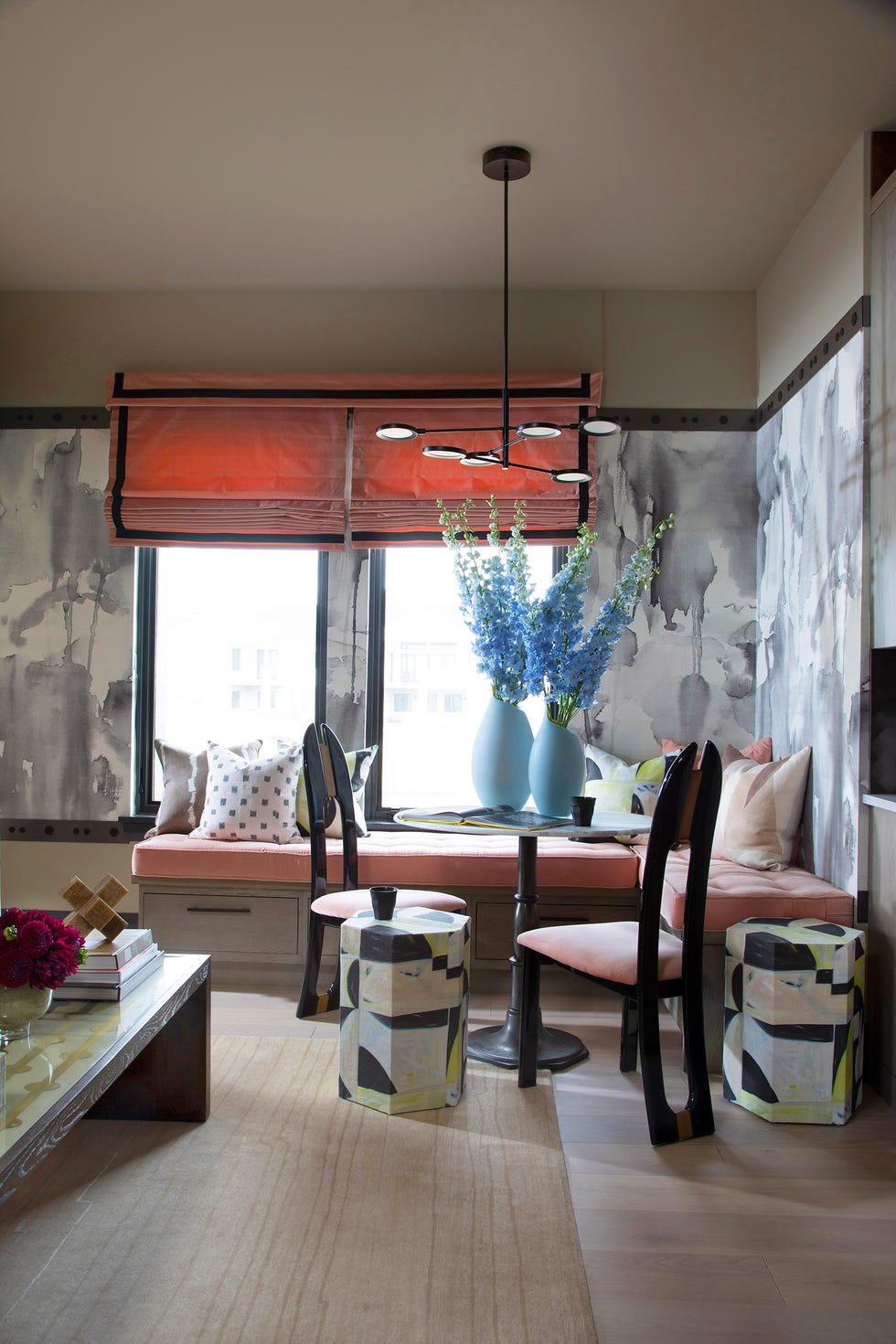 EMILY MINTON REDFIELD
Designed by Tiffany Brooks for the House Beautiful 202o Whole Home, this nook carves out a place for guests to eat in their very own little apartment within the larger home. Pink upholstery on the banquette ties in nicely with the window treatments and accents throughout, like the chair cushions.
Advertisement - Continue Reading Below
13
Add Back Cushions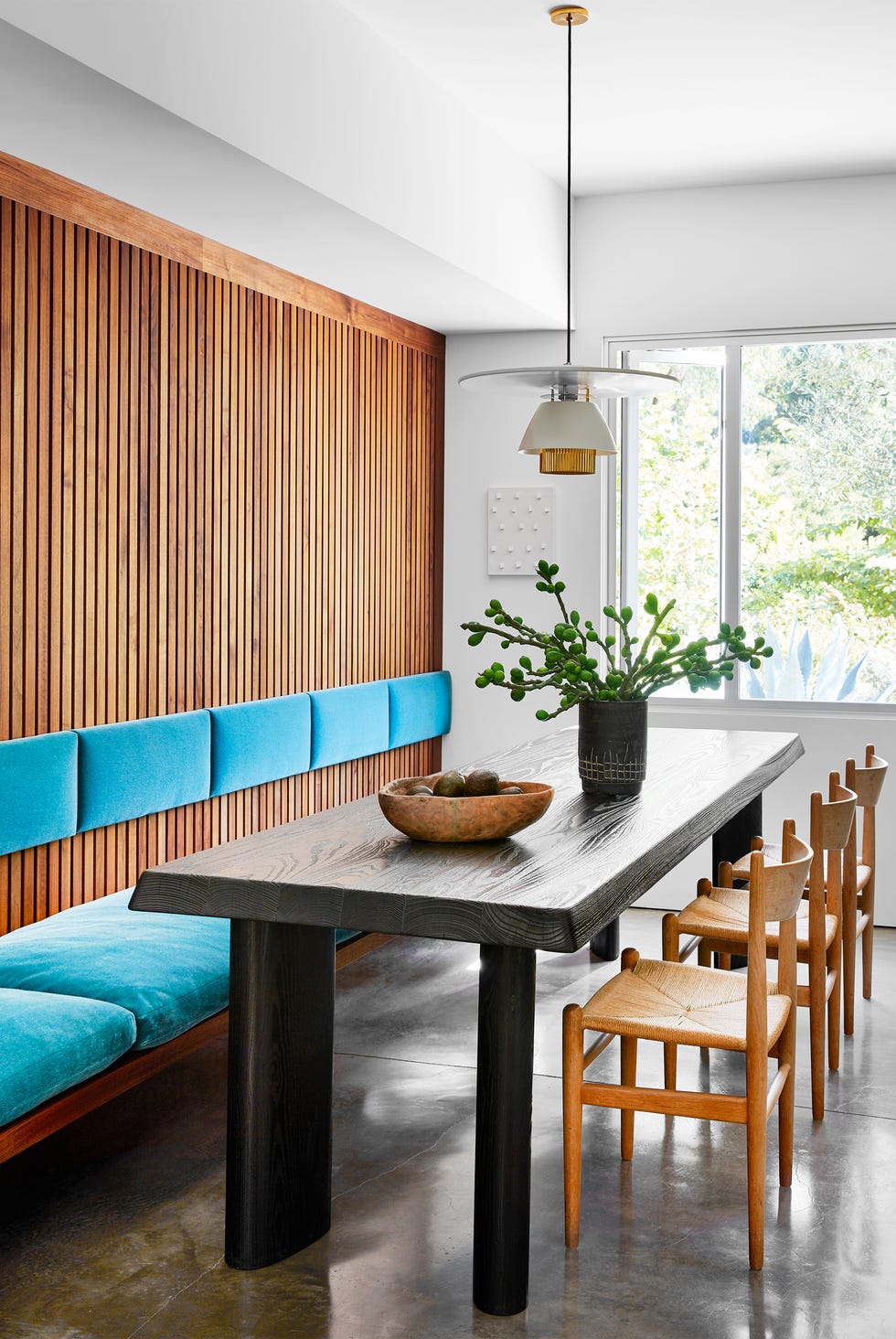 Stephen Kent Johnson
Custom back cushions that match the seats create both cohesion and comfort. The wooden wall paneling warms up the darker elements and also reflects the more casual chairs across the table in this breakfast nook designed by Studio Shamshiri.
14
Make Do With What You Have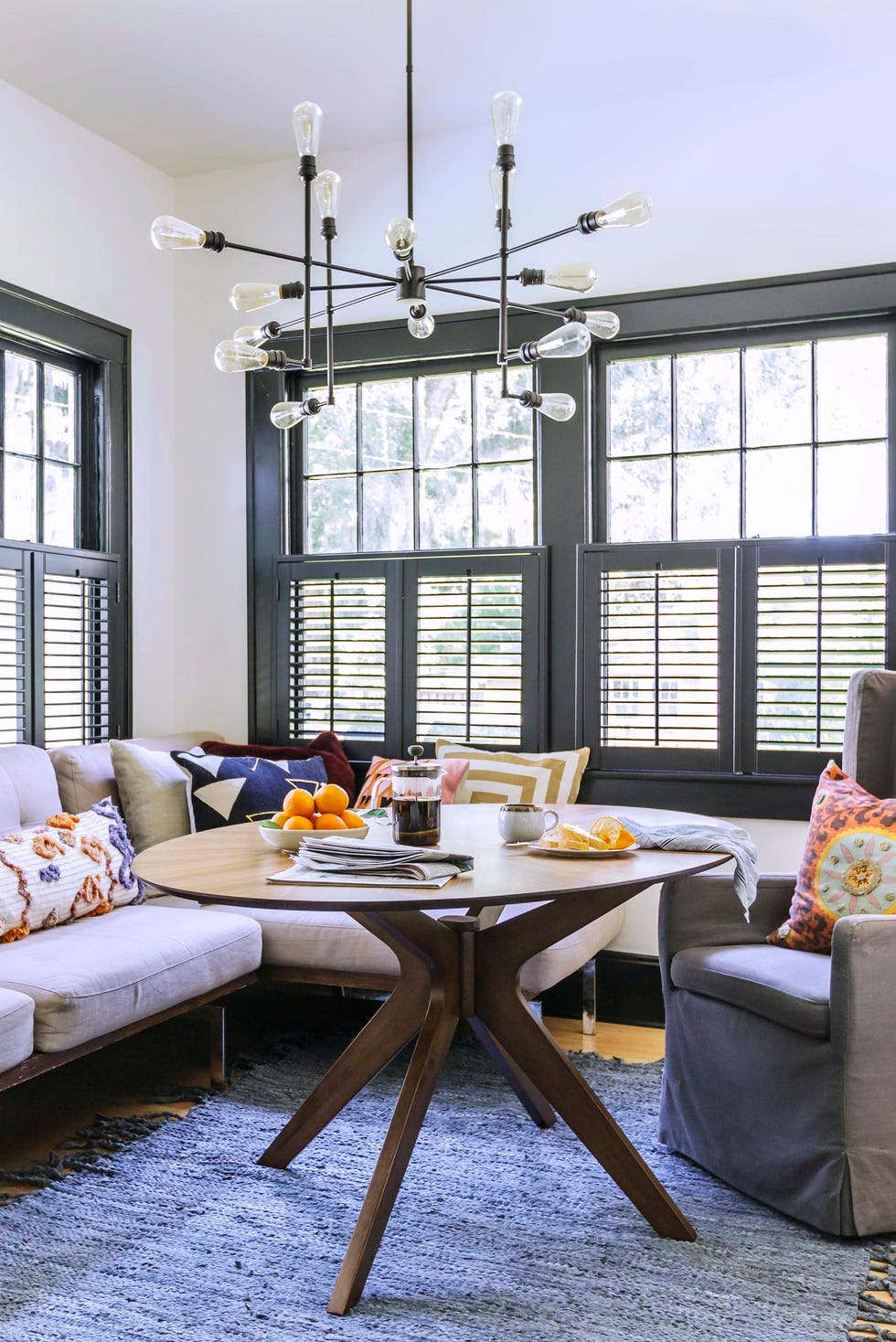 JESSIE PREZA
How could you possibly not have a good morning in this sun-drenched breakfast nook? Designer and occupant Fitz Pullins removed the French doors connecting the kitchen to this bonus space, enhancing flow and sunlight the bright yet neutral and calming colors along with the laidback materials that reflect the warmth of the Florida landscape. And the best part? No building necessary—the banquette seating here is just the right-sized sofa.
15
Keep It Minimal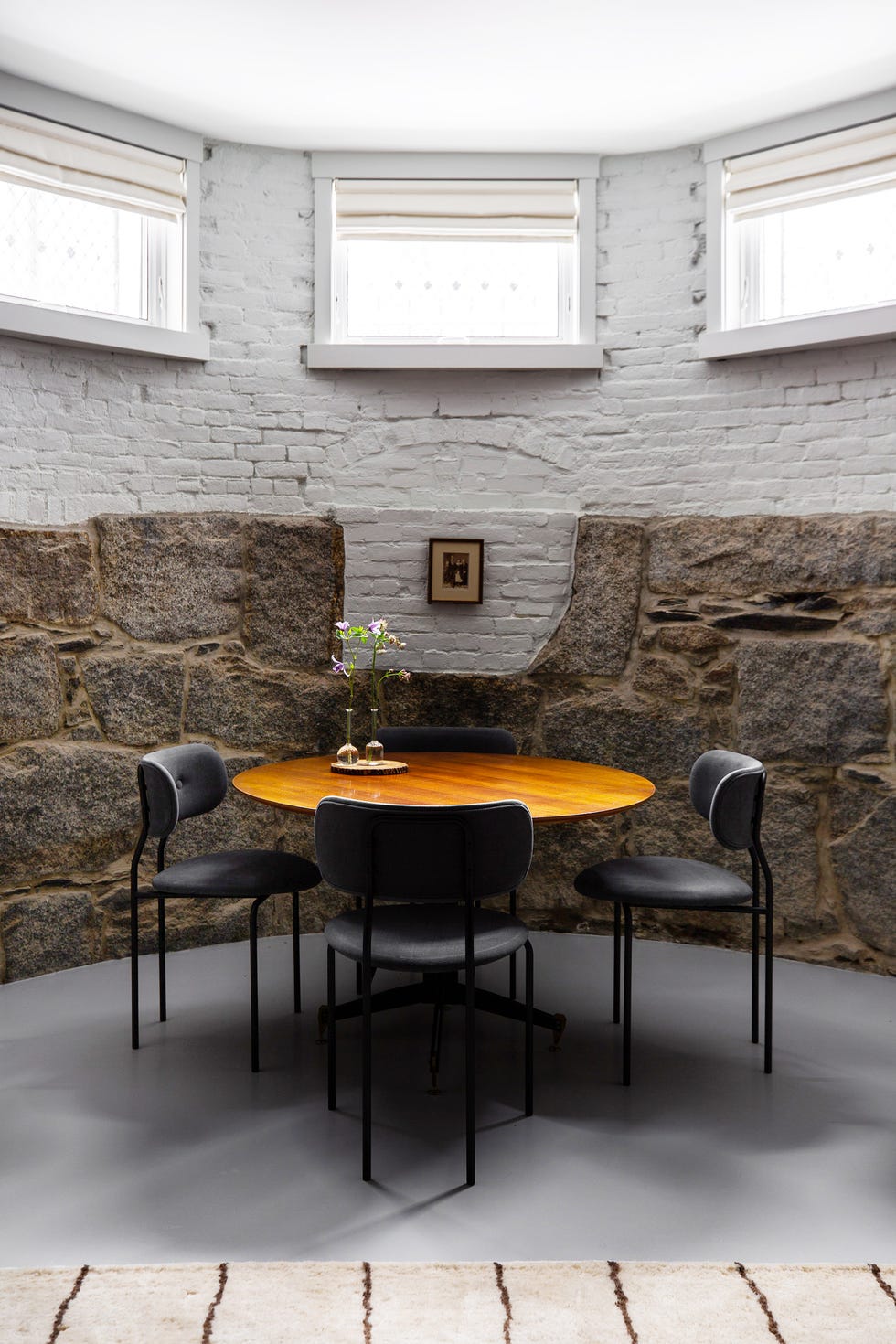 Shade Degges
Designer Jae Joo gave this cellar in a Boston rowhouse a sleek upgrade with polished dark gray and black dining chairs and floral vases atop a nondescript table. Sometimes simplicity is best. She also painted the exposed brick and concrete floors a light gray and added a laid-back, neutral-hued striped rug. Rather than fighting with the bones, like the exposed stone, the new pieces complement them.
Advertisement - Continue Reading Below
16
Perch by a Window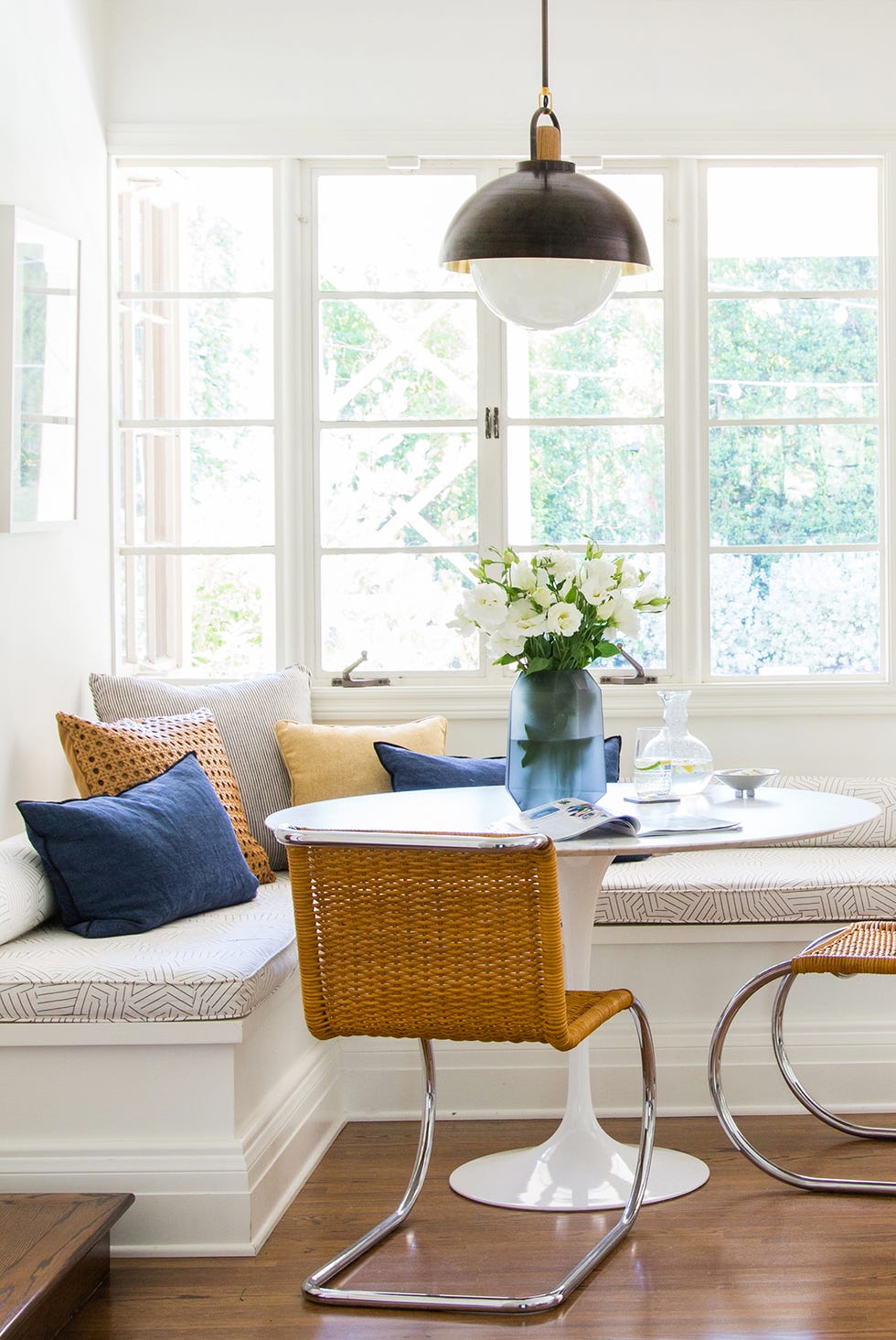 Tessa Neustadt
This Emily Henderson-designed breakfast nook is perfect for families, thanks to the ample seating and comfortable and durable materials. It's also always well-advised to set up your dining nook by a large window so you can enjoy that bright morning light.
17
Carve Out a Niche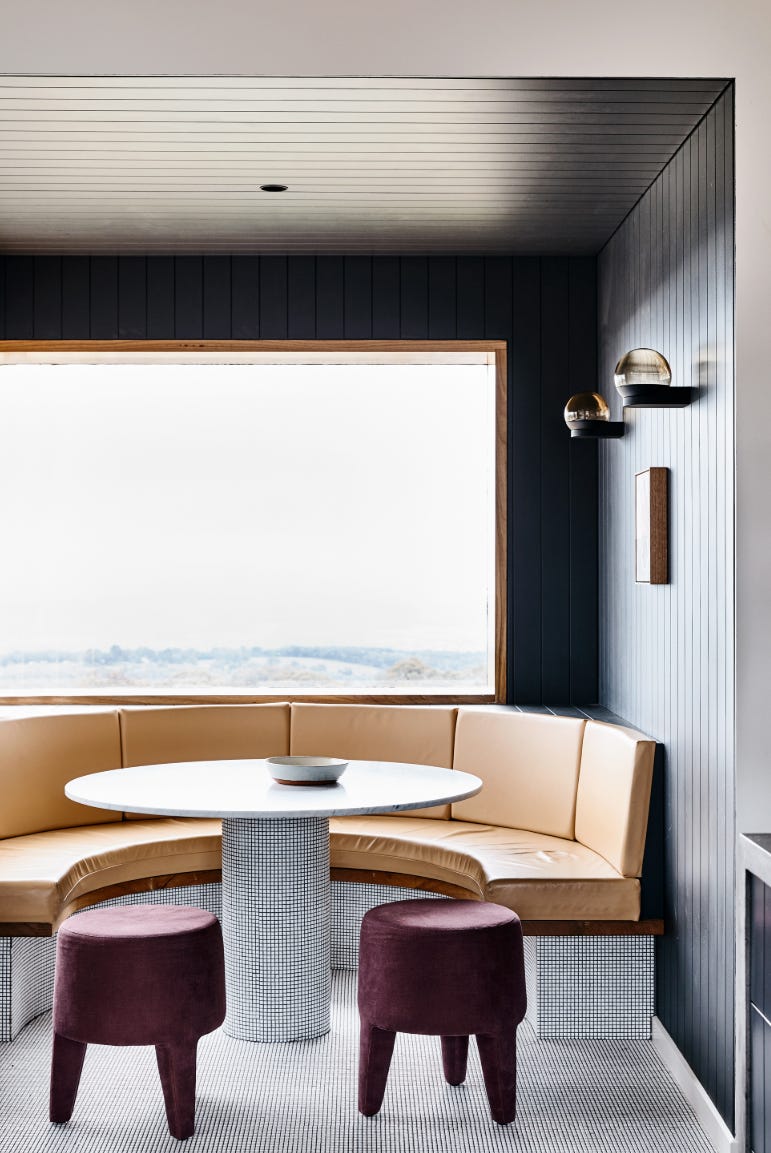 Doherty Design Studio
This is easily one of the most stylish breakfast nooks we've ever laid eyes on. The curvature of the built-in banquet plays up the rounded custom pedestal table as well as the stools, and matching tiled table base, banquet base, and floors create a modern, almost futuristic impression. Designed by Doherty Design Studio, the dining nook is also situated inside an architectural niche, enhancing the sense of intimacy even further.
18
Make It Kid-Friendly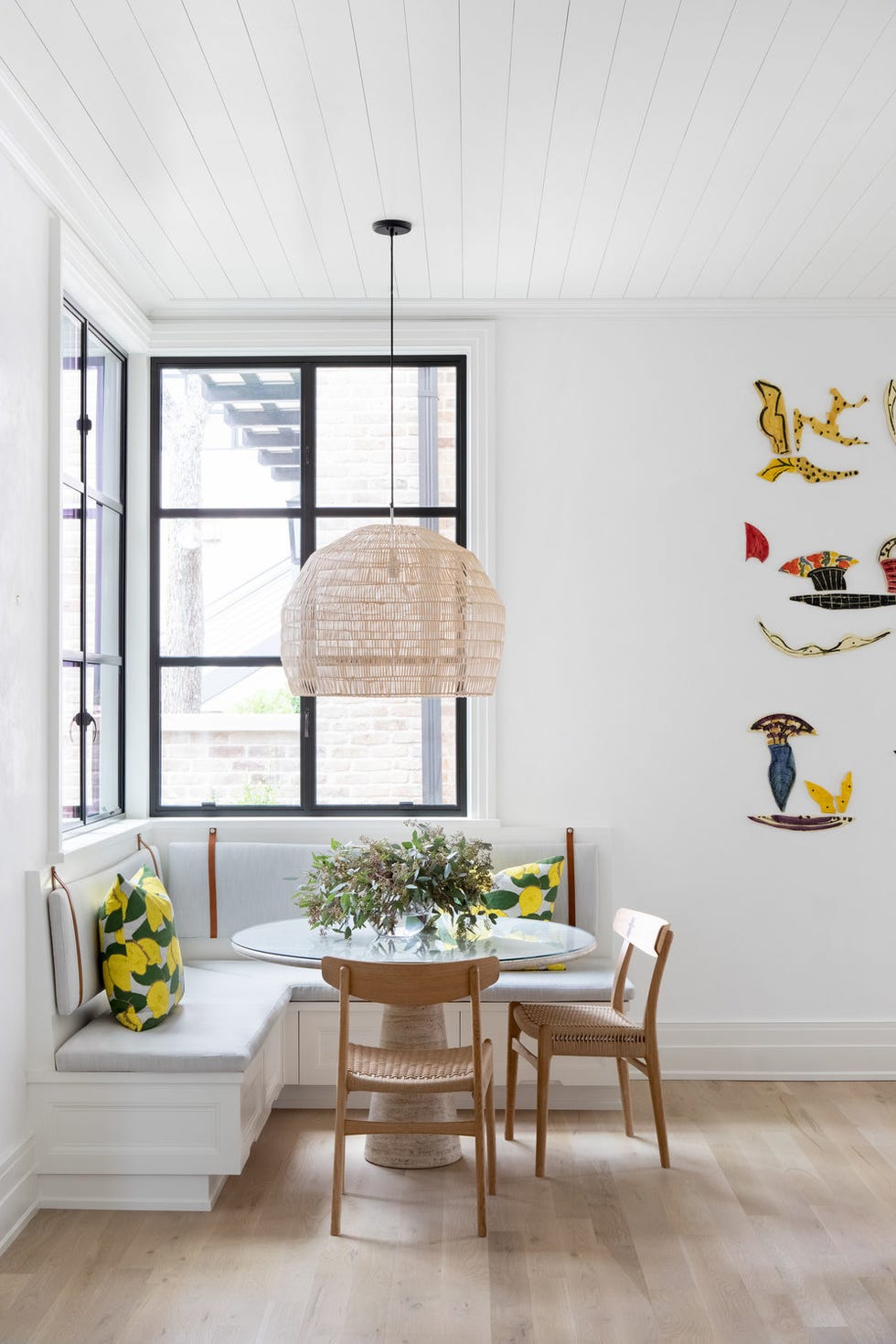 Chango & Co.
If you want a space that's fun for your kids but cool enough for you, this one designed by Chango & Co. is the ultimate inspiration. From the oversized drum pendant to the cheerful threes and corresponding wall art, it's chic but approachable.
Advertisement - Continue Reading Below
19
Double Seating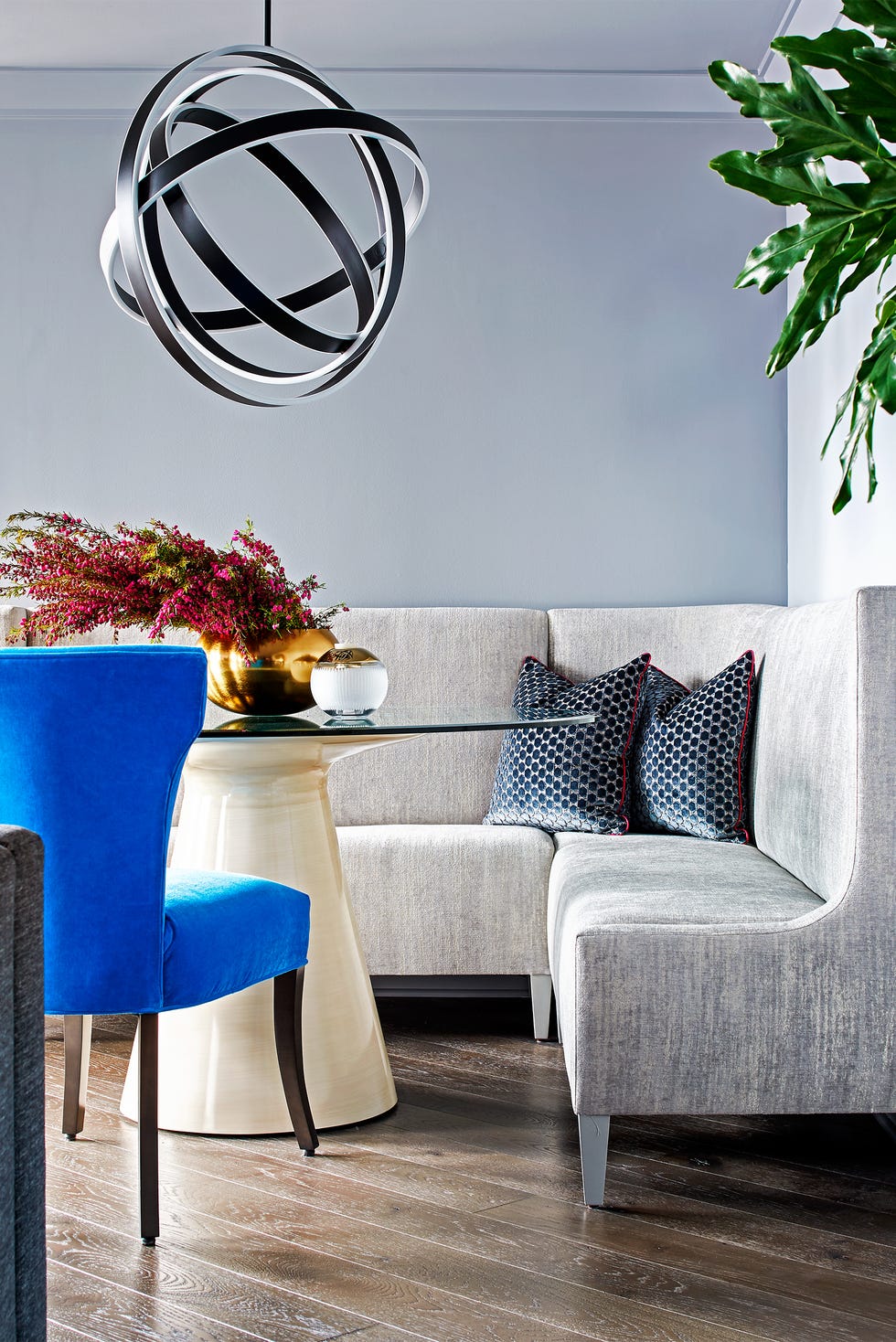 Erin Shakoor
Interior designer Erin Shakoor doubled the seating in this dining nook with a banquette. "A banquette allows you to sit longer, more comfortably—is and with more people," she tells us.
20
Close It Off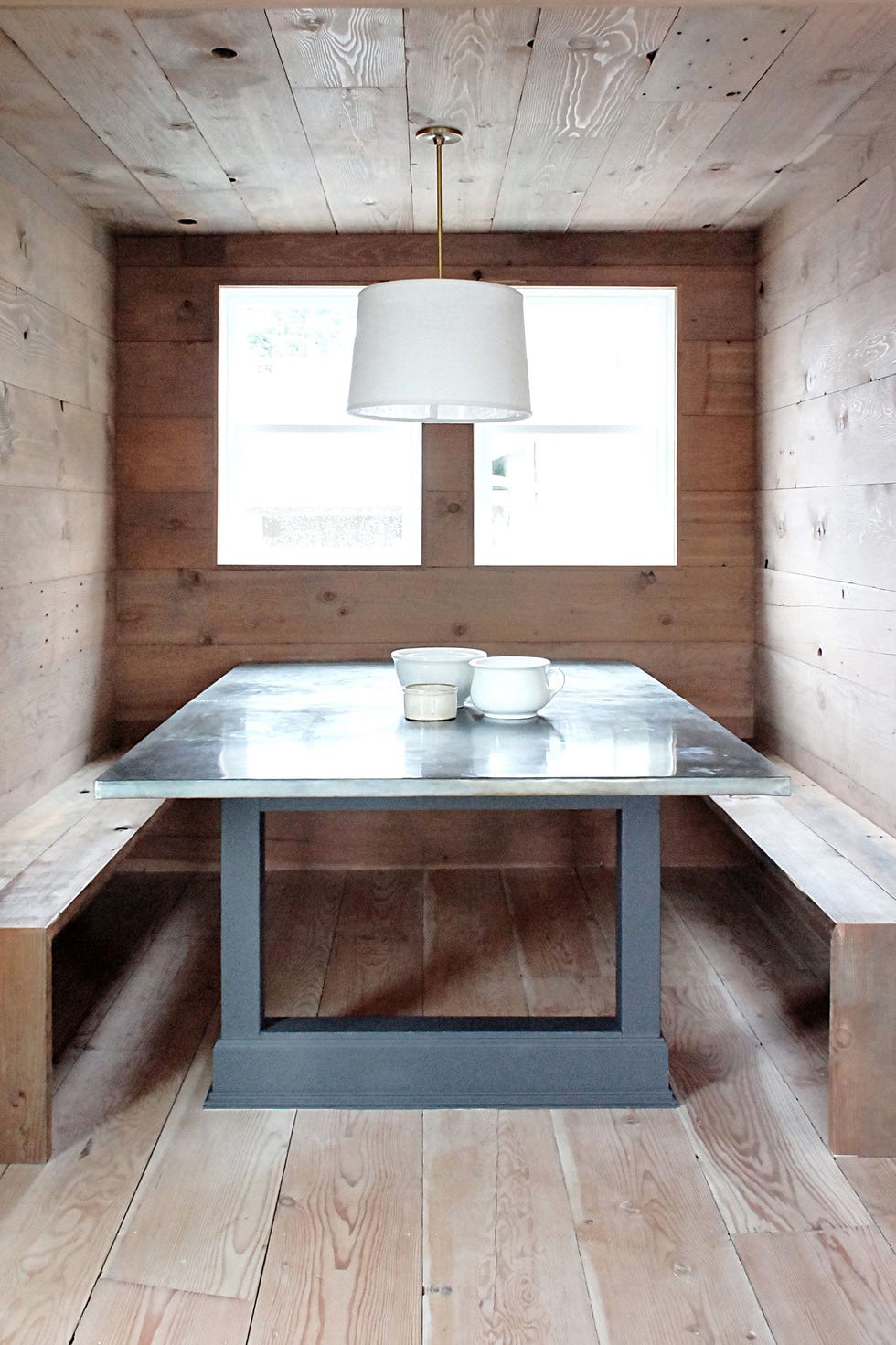 Kaemingk Design
The only thing cozier than a breakfast nook is an enclosed breakfast nook. Designed by Kaemingk Design, this one is pared down, minimalist, and industrial but the warm wood materials and enclosed setting make it feel inviting and intimate.