How to Dress Up Your Bay Window for Enjoying the View
You'll see your home from a new perspective.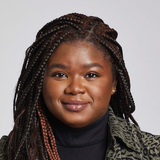 By Medgina Saint-Elien
A bay window is a luxury you should always make the most of in your home. Formed by three windows that bump outward (a center window with two angled windows on either side), it's an architectural treasure that deserves to be appreciated daily. Whether it's the backdrop for your kitchen table, a go-to perch for your pets, or a reading nook in your living room, a bay window adds all the drama without the fuss. You can take in a glorious view from your window while natural light spills into your home. These angled alcoves set up special moments in your space no matter where they are built.
"Bay windows add a ton of visual interest to a space. Rather than just having traditional windows, the three-dimensional nature of bay windows breaks up the wall," says interior designer Hilary Matt.
A bay window can be the secret to bringing the outdoors in. Since bay windows protrude outward, they actually increase the square footage of your home and provide an opportunity for creativity. They can also improve how you feel. Angela Hamwey, founder of Mackenzie & Co., adds, "Bay windows offer an abundance of natural light, which helps boost your mood and decrease the need for supplementary artificial lighting."
Perfect for basking in the sun (think of it as a mini sunroom), a bay window is too dreamy to ignore in your decorating plans. We tapped designers to share inspiring bay window ideas you can add to your home without breaking the bank. Reimagine your favorite area to fit in extra storage, a clever seating arrangement, or a lounge in the sun.
How to Decorate a Bay Window
A bay window can raise unique design challenges, but once you find a solution that works for you it's a breeze to decorate. According to Matt, the best place to begin is targeting what the use of that space will be and how the window fits that use. "Can it be a breakfast nook and fit a table?" she asks. "Then a bay window is a perfect way to anchor a table around built-in seating."
Hamwey suggests letting your windows shine and stand out as the focal point. Nothing should block the view. "We often approach bay windows as an opportunity to design custom furnishings such as a built-in dining bench or window seat. Surrounding decor or furnishings should be minimal and neutral to not compete with each other and create a seamless transition between indoors and outdoors," Hamwey says.
What Window Treatments Are Best for Bay Windows?
Our experts agree drapes are a bit of a hassle to deal with when styling a bay window. Opt for Roman shades or cafe curtains that can be customized to fit perfectly and allow you to control the amount of light that comes in. "If the bay windows are at the front of the home, you may consider a cafe curtain that only partially covers the window to create privacy while still allowing natural light in," says Hamwey.
1
Reading Nook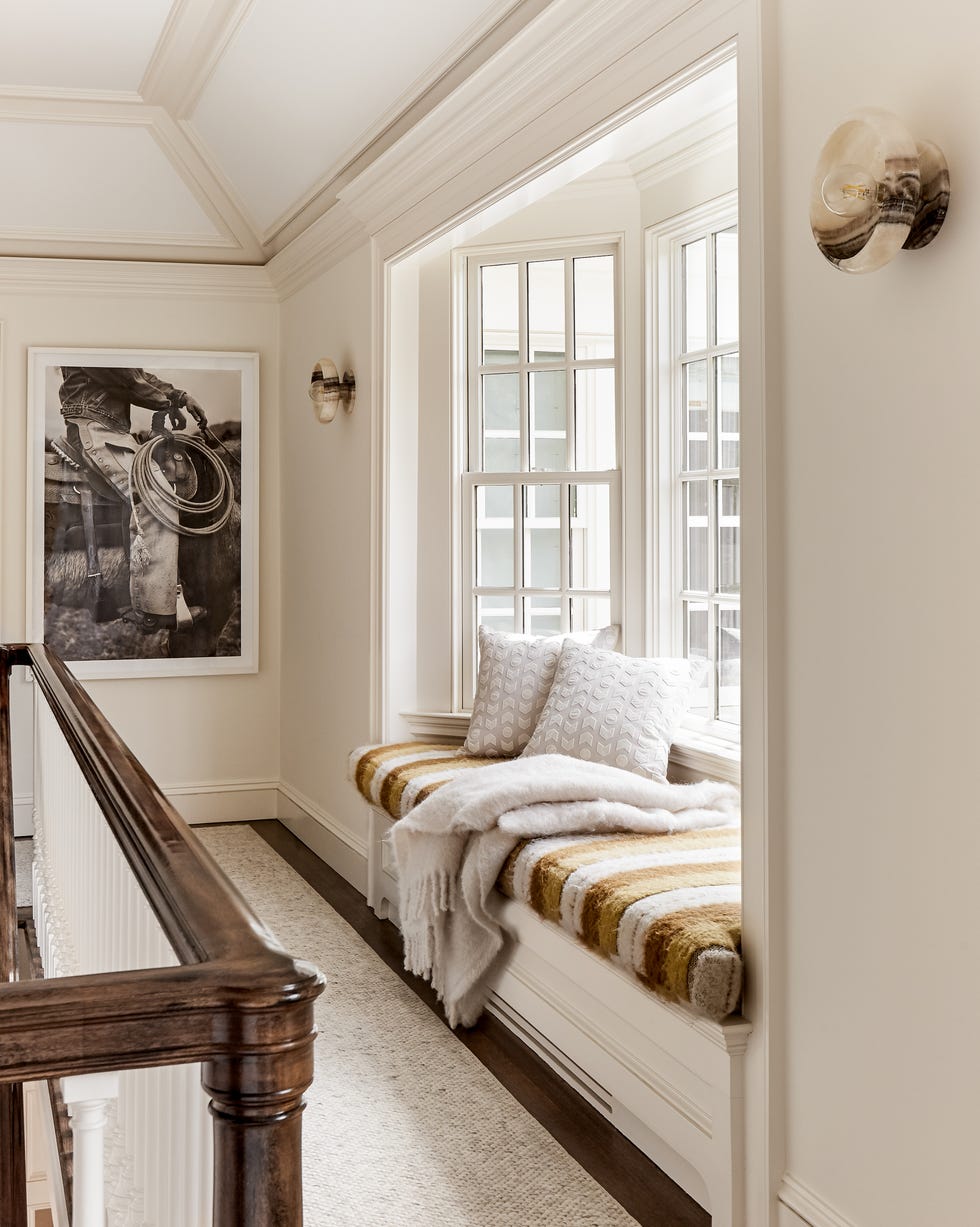 Courtesy of Hilary Matt
Hilary Matt designed this second-story bay window for binging your favorite book and journaling. An upholstered cushion like this one will give you all the warm and fuzzies.
2
Colorblock Trim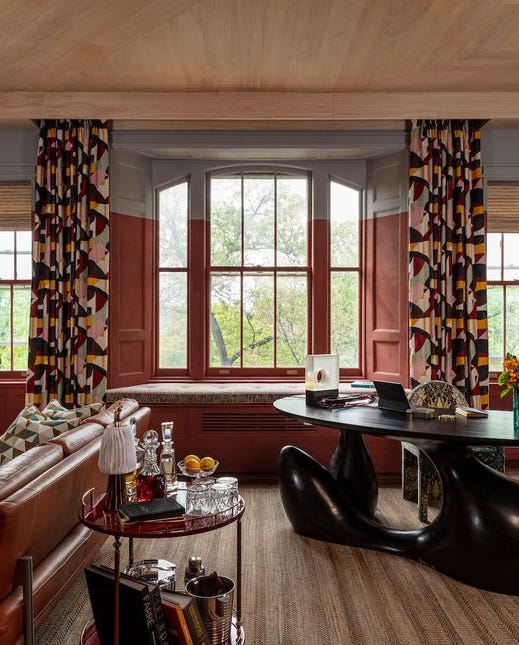 Nickolas Sargent
Jay Jeffers's designs for the Kips Bay Showhouse reimagine how to paint your walls. Coloring outside the lines of traditional millwork, this bay window pairs two-tone paint, patterned curtains, and a dainty cushion.
3
Storage Heaven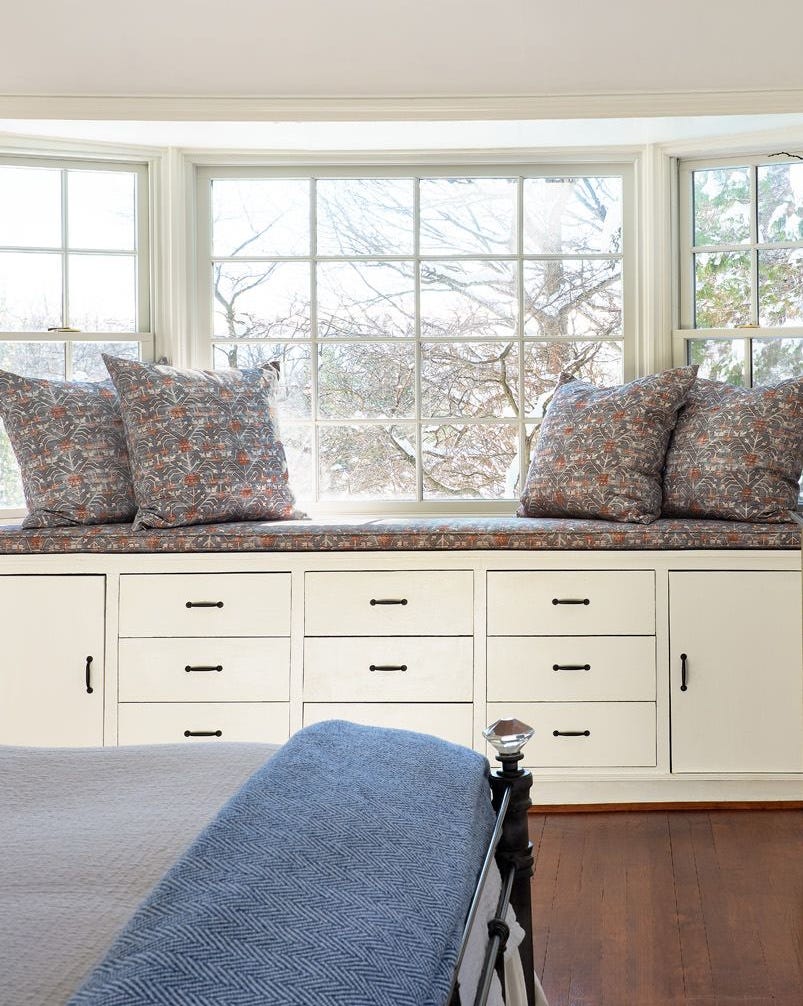 coutesy of Instagram.Gety Images
Organize to your heart's delight! Designer Cameron Ruppert added nine drawers and two cabinets to this bay window for storing out-of-season bedding or clothing, plus a cushion to stack with pillows and books.
Advertisement - Continue Reading Below
4
Blue Bay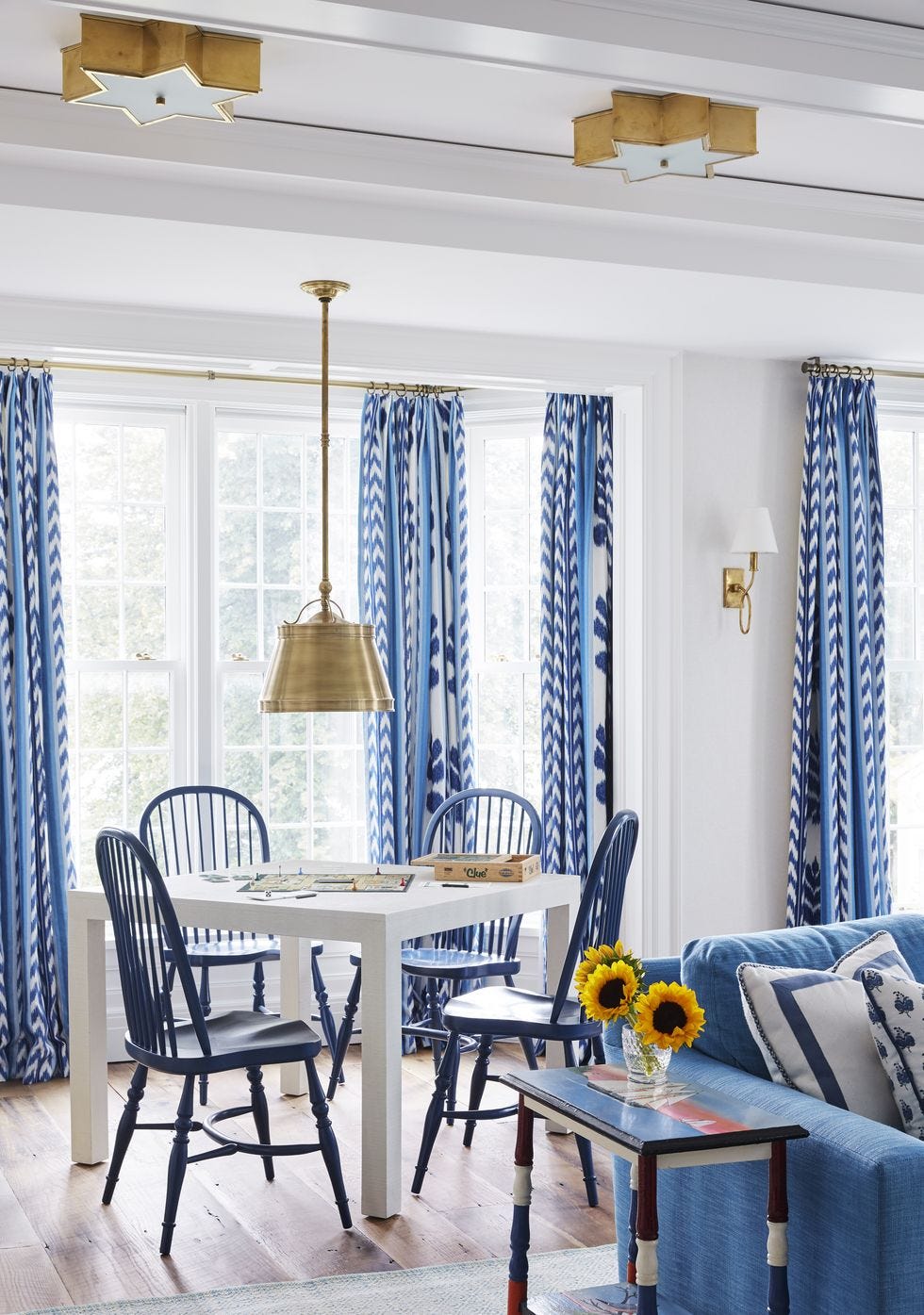 Annie Schlechter
Philip Mitchell focused on "creating immediate history" by adding traditional elements with old-world craftsmanship to this Nova Scotia home. The blue and gold accents adorning the bay window give the air of royalty.
5
Restful Textures
Nicole Hollis
This calming boho-styled nook promotes a stress-free atmosphere even on the busiest days. Tuck yourself away in a dreamy, layered area for a snug movie night or light reading. Place your book down on a side table when your eyes feel heavy, and pull down the shades for a nice nap.
6
Barbiecore Central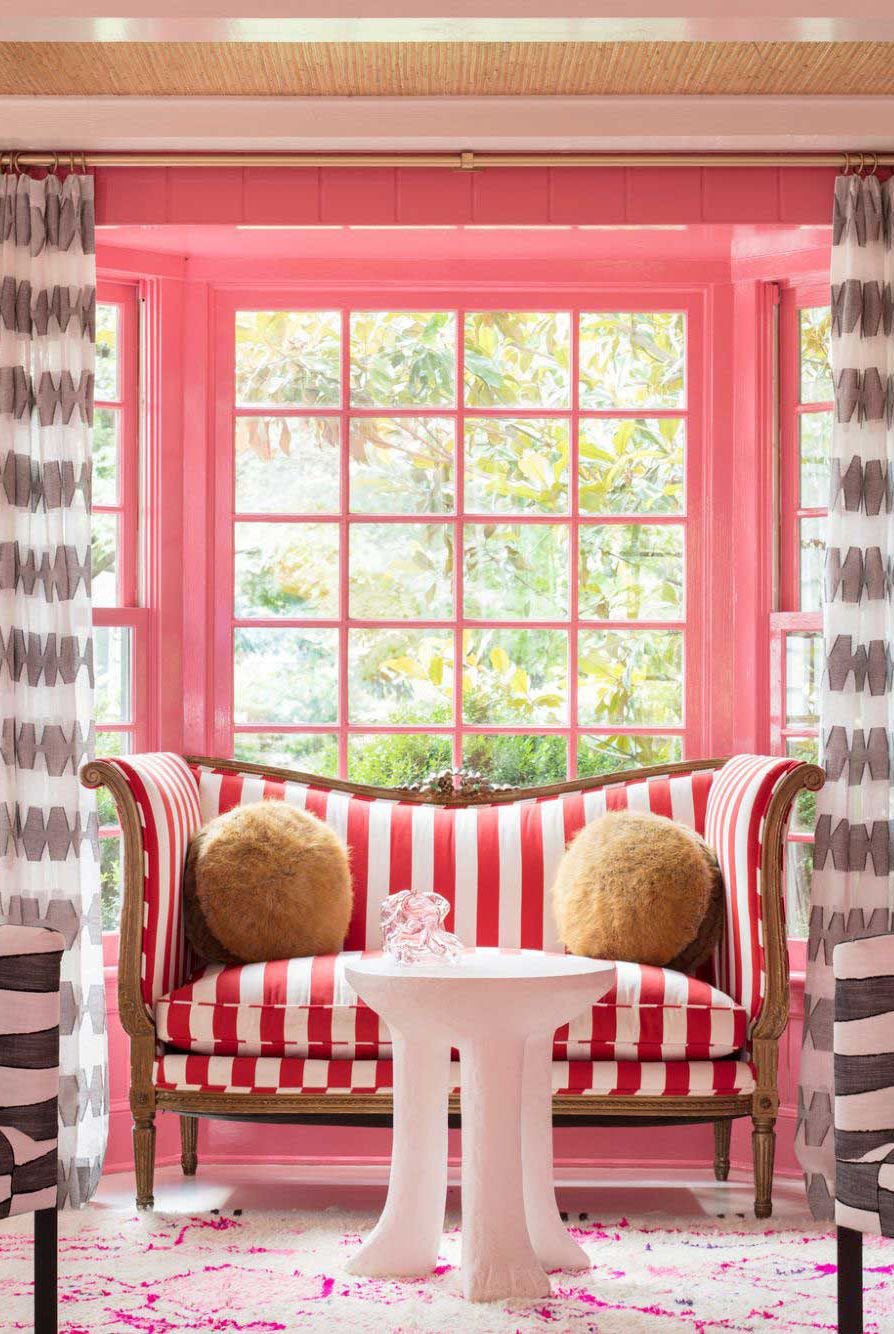 Janie Molster
Make a statement and claim pink for your bay window. Interior designer Janie Molster slid a candy-striped settee in front of these angled windows, followed by sheer curtains. The contrasting colors and prints allow the space to outlast the Barbiecore trend.
Advertisement - Continue Reading Below
7
A Custom Corner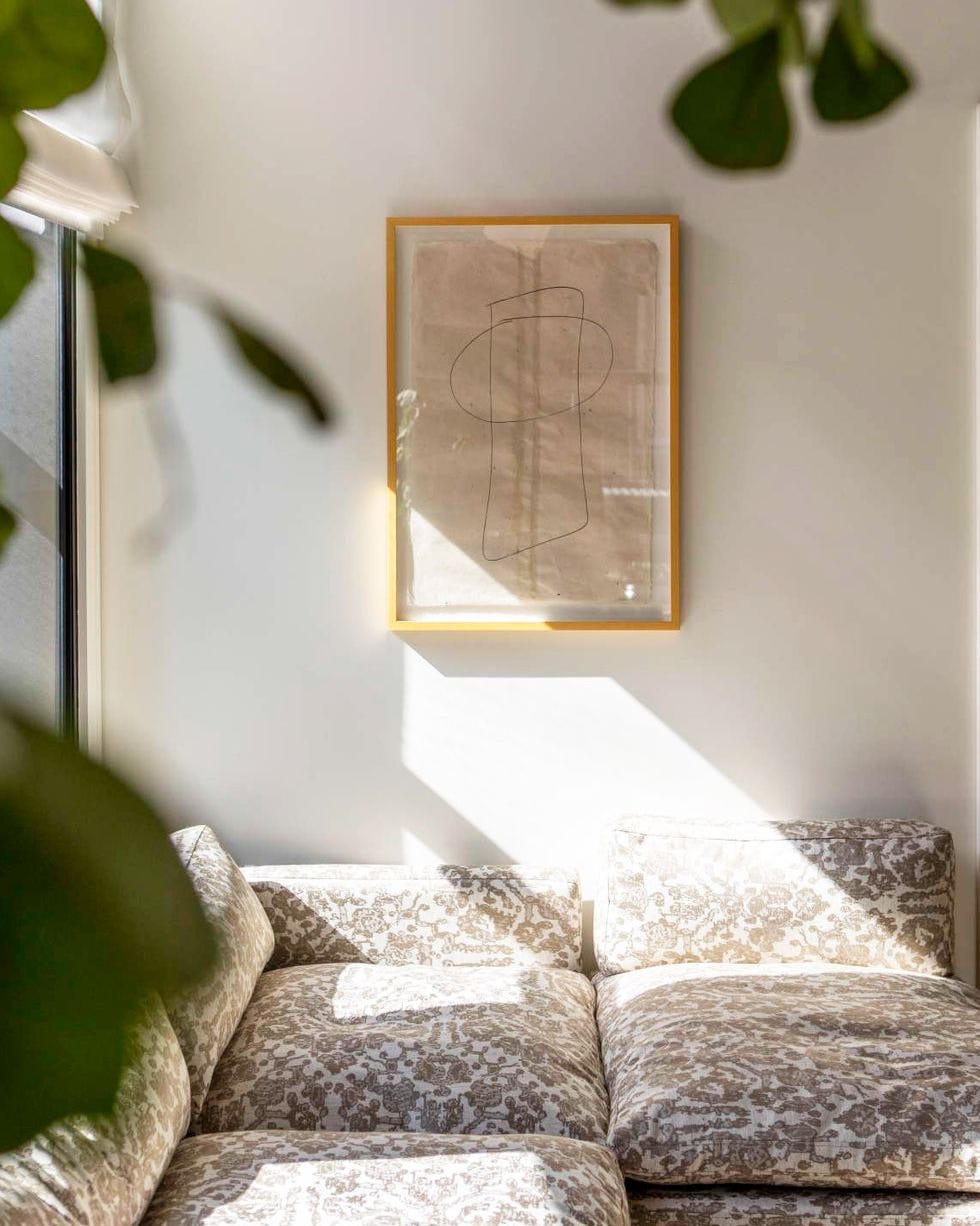 Laure Joliet
If you're planning on lounging in the sun (and drifting into the occasional cat nap), outfit your space with a plush seating arrangement you'll never want to leave. ETC.etera filled this small space with a roomy damask sectional, ideal for catching up with friends and family.
8
Green Room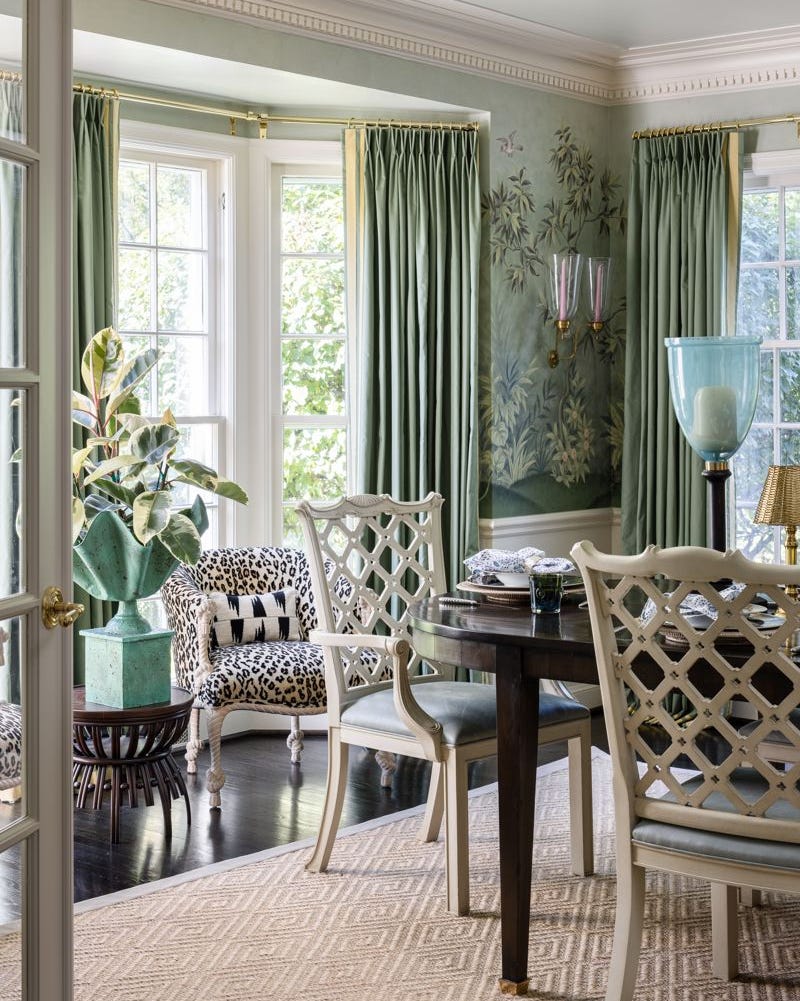 Nate Sheets
Let your favorite plants thrive in a sculptural planter, on leafy wallpaper, and through a bay window. The one shown here, which is original to this Kansas City home, completes a botanical scene for hosting elegant meals.
9
Cozy Corner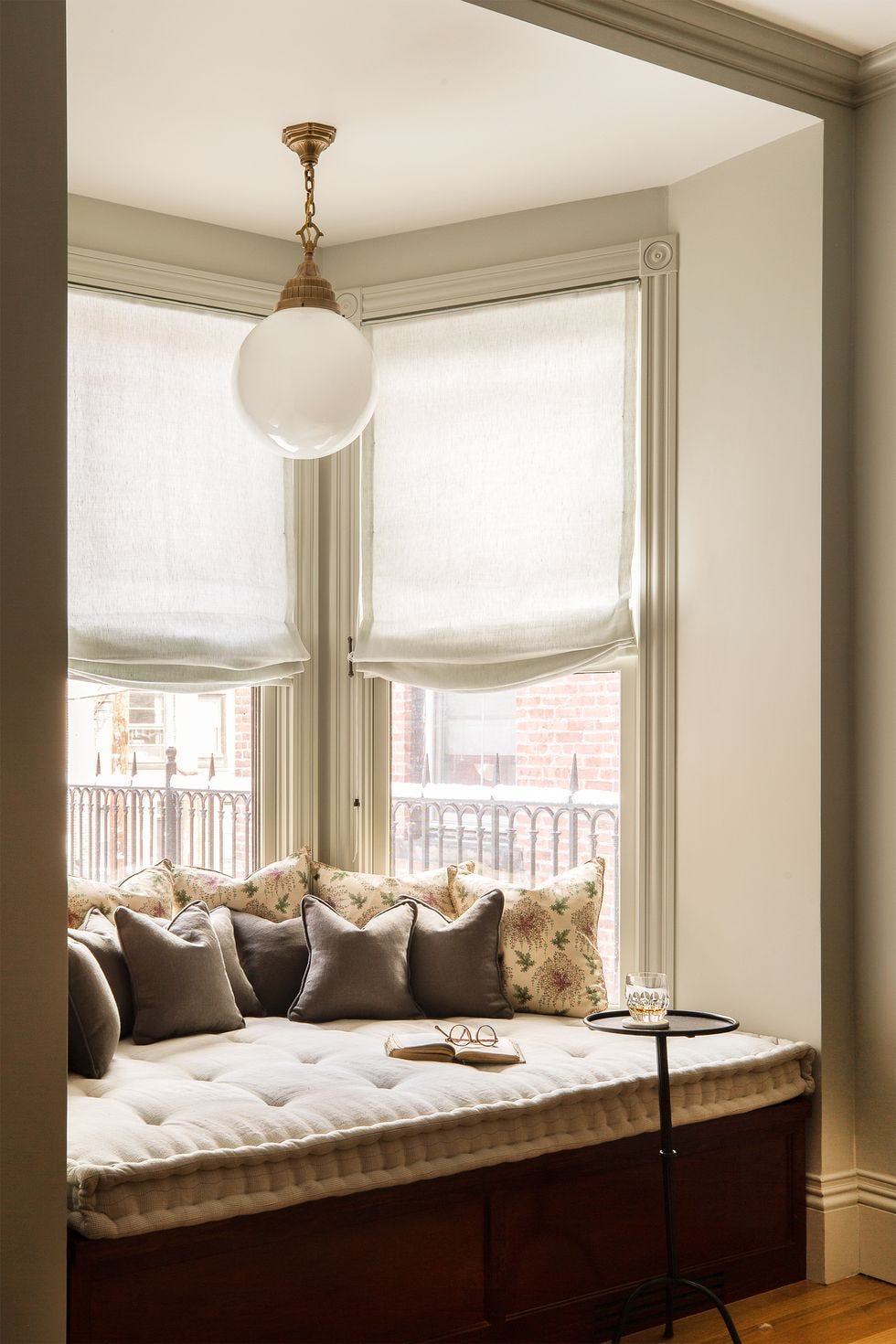 Shade Degges
Your partner will barely see you in bed once you get snug on a bay window spread large enough to rival a sleeper sofa. Pile on the pillows and add a pendant light for tasks, as Jae Joo did here.
Advertisement - Continue Reading Below
10
Dinner and a Show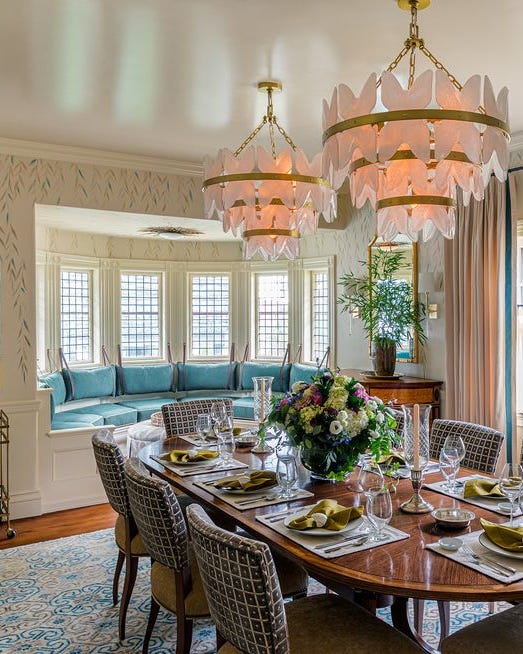 Sean Litchfield
Dane Austin proves a bay window can be a conversation starter in this elegant dining room with walls handpainted to mimic willow branches. Whimsical and alluring, a built-in bench will beckon your guests to recline immediately after dinner.
11
Conversation Pit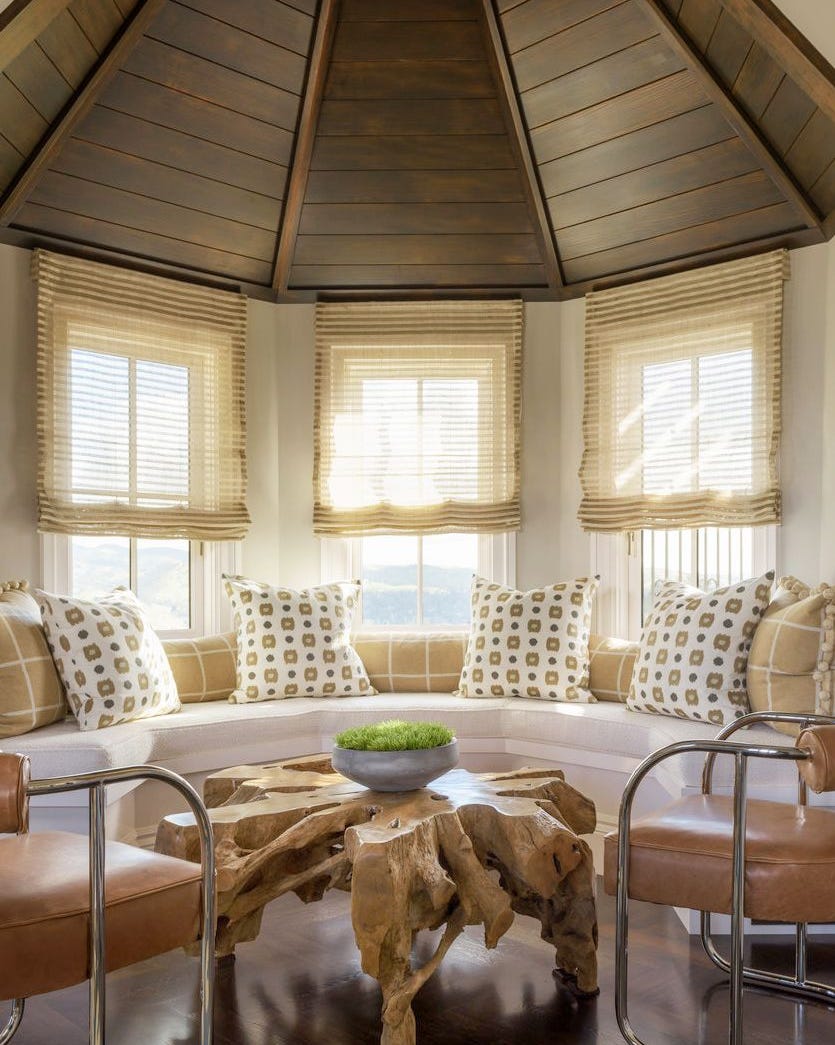 Aaron Leitz
A bay window can be a warm and welcoming place for friends to gather. Alison Pickart took advantage of the large one in this room by adding a comfy built-in window seat, coffee table, and two opposing armchairs to create a bright and cozy sitting room.
12
Traditional Breakfast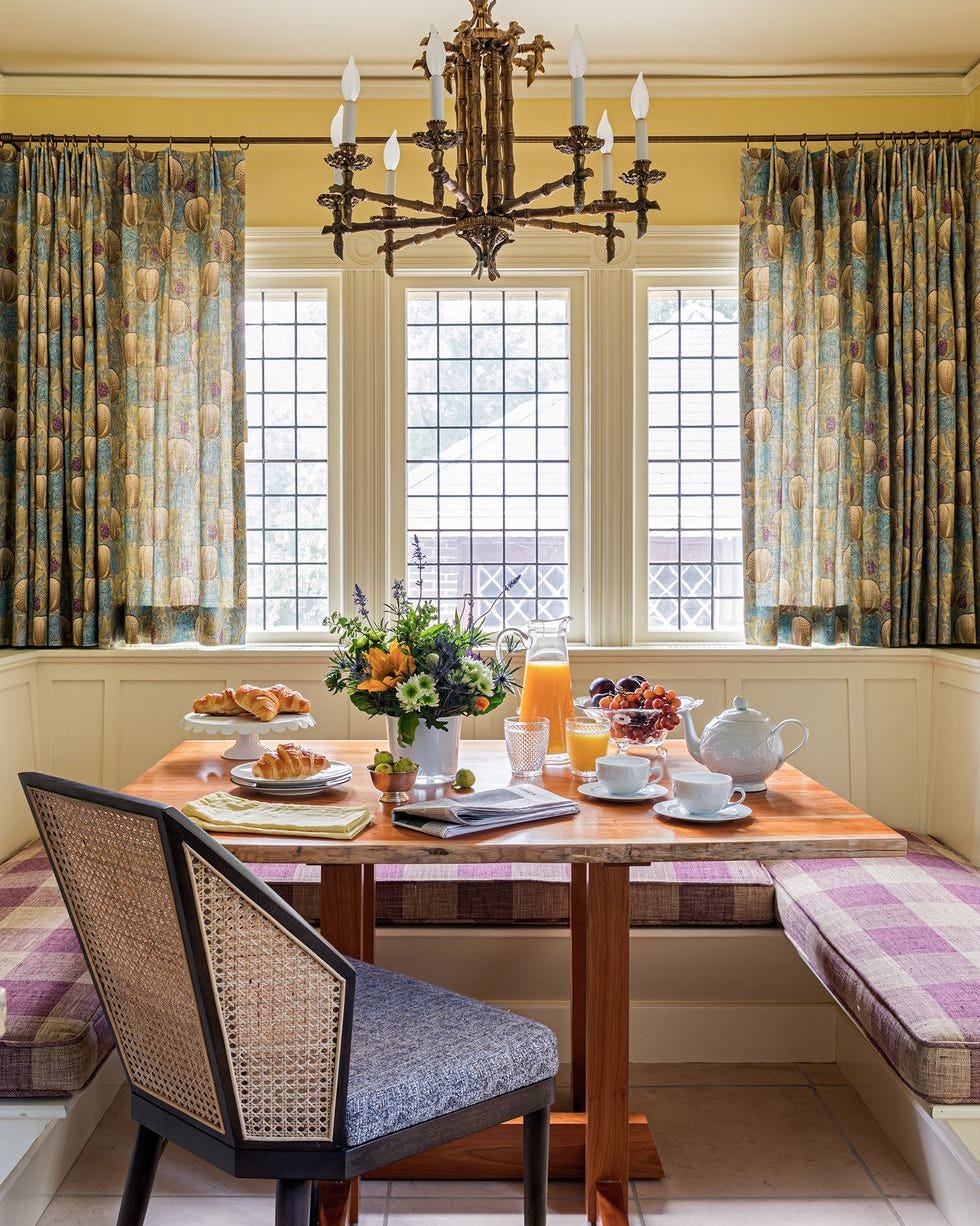 Sean Litchfield
This kitchen nook has a sunny disposition that will lift your spirits no matter how early in the morning it is. Dane Austin designed this 19th-century home for families to enjoy meals with a view. "An antique brass faux bois chandelier and a live-edge craftsman-style breakfast table further the naturalist touches of an English countryside estate," says Austin.
Advertisement - Continue Reading Below
13
Morning Light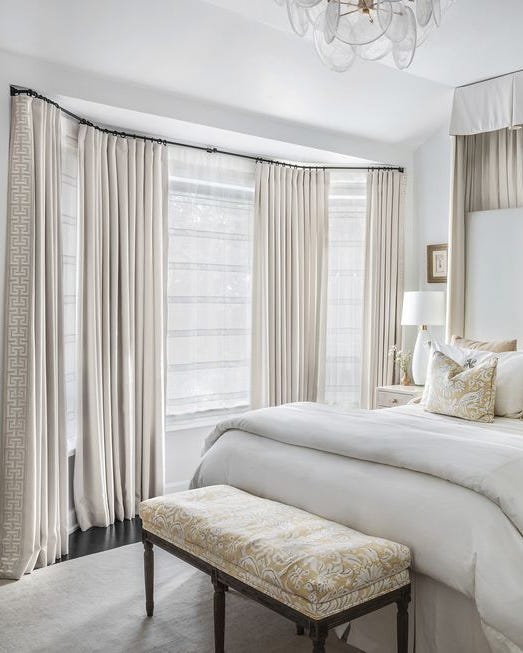 Cate Black
Sherrell Neal designed a room fit for a fairytale with floor-to-ceiling drapes. The neutral colors make waking up a heavenly experience as the sun streams in through the sheer curtains.
14
A Playful Pattern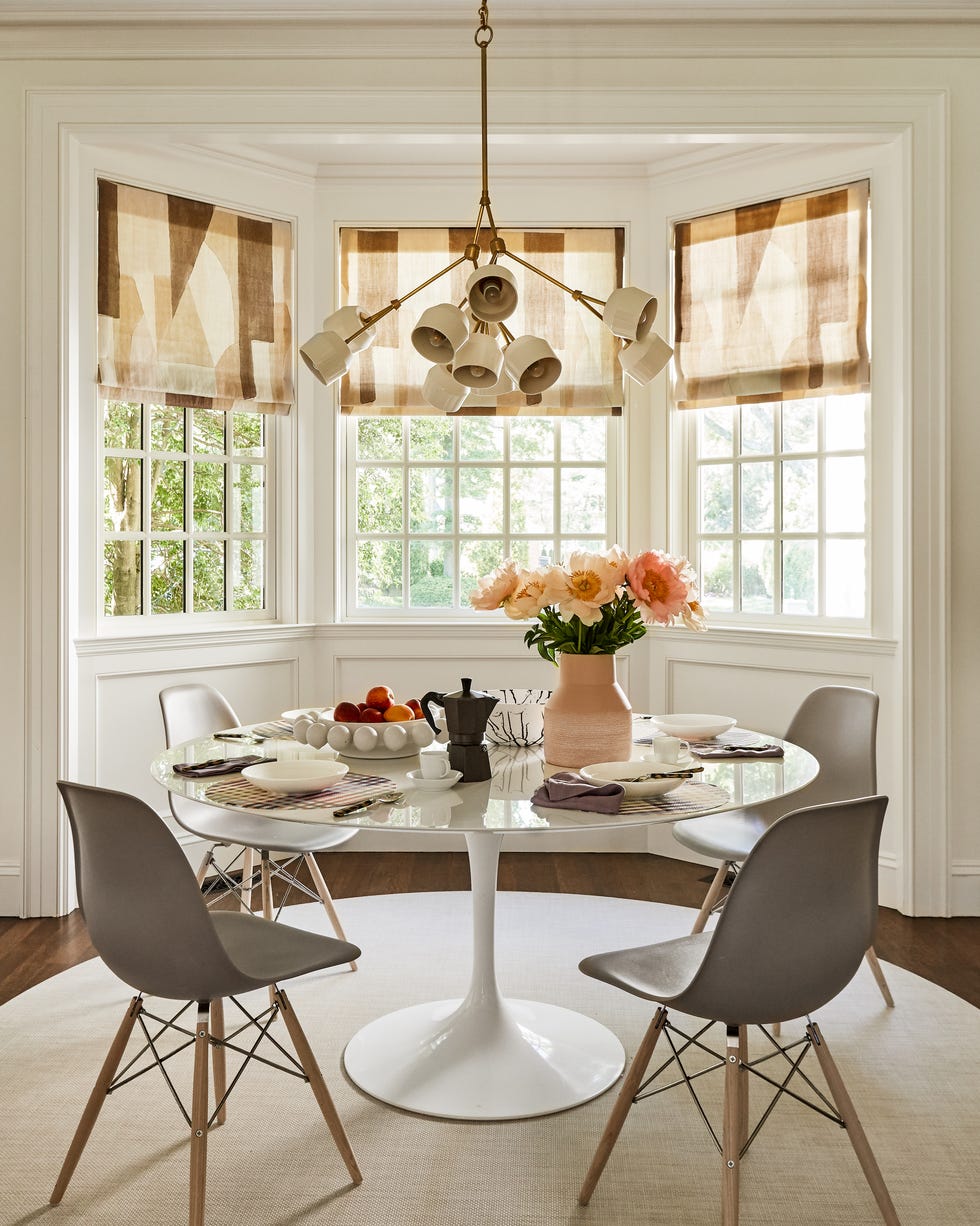 Courtesy of Hilary Matt
Sunlight filtering in through mosaic Roman shades like these will make whimsical shapes on your table. This kitchen nook designed by Hilary Matt has a warm and inviting atmosphere you'll lose track of time in.
15
Relaxing Reflection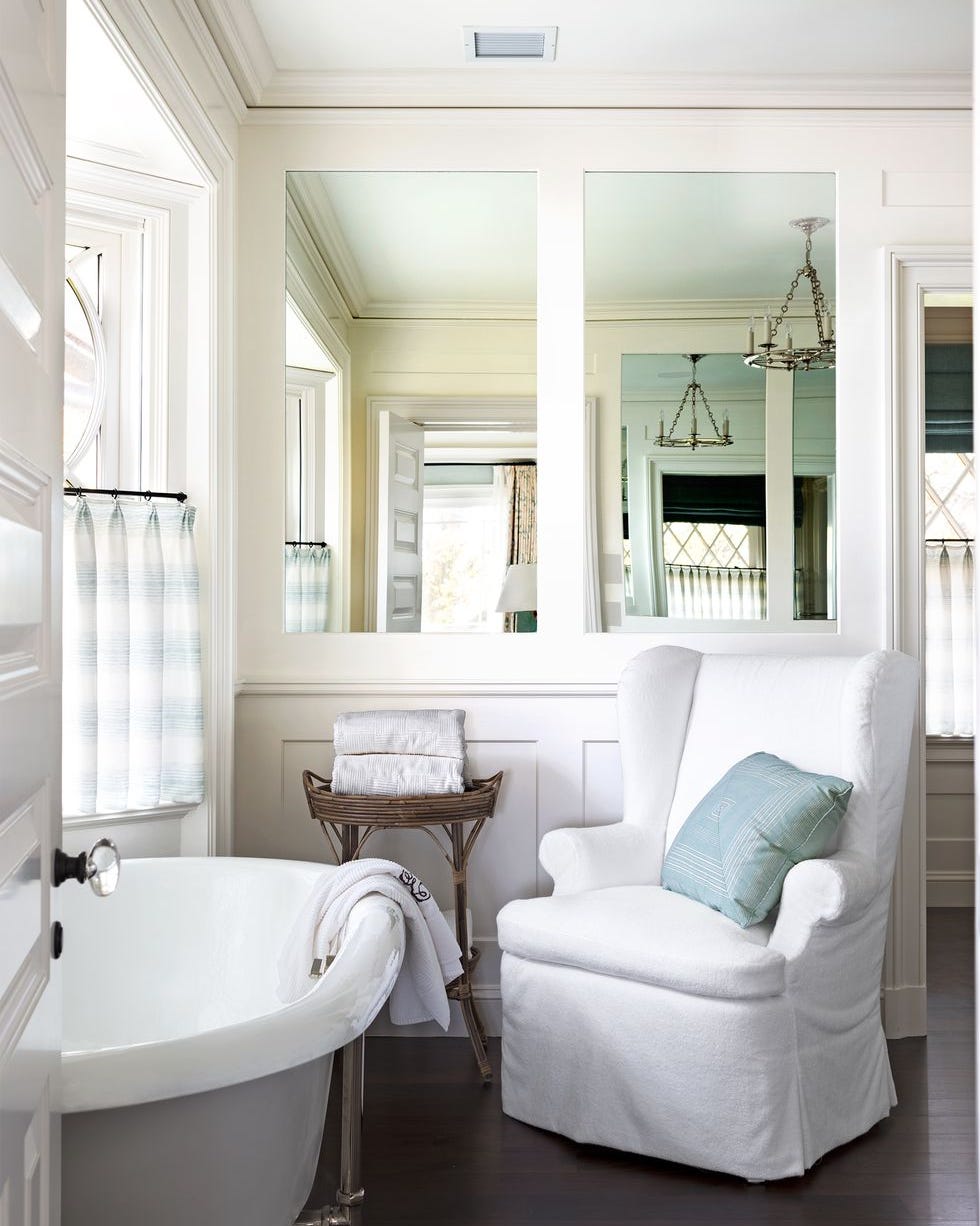 James Merrell
This bathroom features a bay window directly above the bathtub. Create the illusion of more space by lining the other three walls with mirrors, and the light streaming in will bounce from every corner.