10 Open Kitchen Ideas That Maximize Flow and Function
Start planning your next dinner party, stat.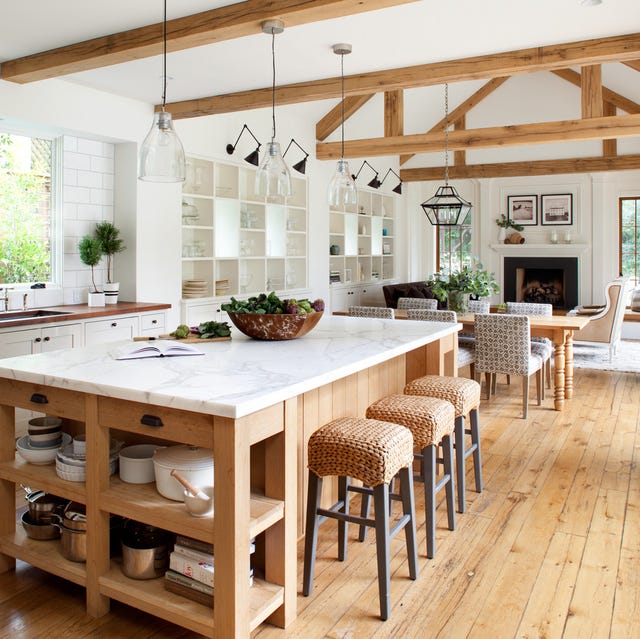 Paul Dyer
Whether you live in a sprawling ranch, a center-hall colonial, or a petite city apartment, one thing rings true: Your kitchen is probably the center of your home. Life naturally orbits around this do-it-all room, and modern kitchens have to live way beyond their original intentions. They're cook spaces and craft spaces, drop zones and WFH zones, entertaining hangouts and homework hubs. And when your kitchen flows freely into other "rooms" of your house? Well, that multifaceted space needs to work extra hard. Luckily, there are tons of smart open kitchen ideas you can tap into to make the most of your main floor—whether you're designing a kitchen from scratch, considering a renovation, or just looking for inspiration.
The best open kitchen designs share a few key characteristics. They allow plenty of room for circulation—designer speak for the space allowance between built-in elements like cabinets and islands and furniture. They light every zone well, using pendant fixtures to illuminate an island or a dining table and sconces or task lighting around the sink and storage areas. And they carry the same colors or material finish from one area to the next to create a cohesive feeling throughout.
We've found 10 designer-approved examples of great open kitchen concepts. From small layout tweaks that maximize flow to palettes that unite each space visually, these kitchen layout and design ideas will ensure your open-concept space feels dynamic, unified, and—perhaps most important—livable. Check out some of our favorite open kitchen ideas below.
1
Keep Things Simple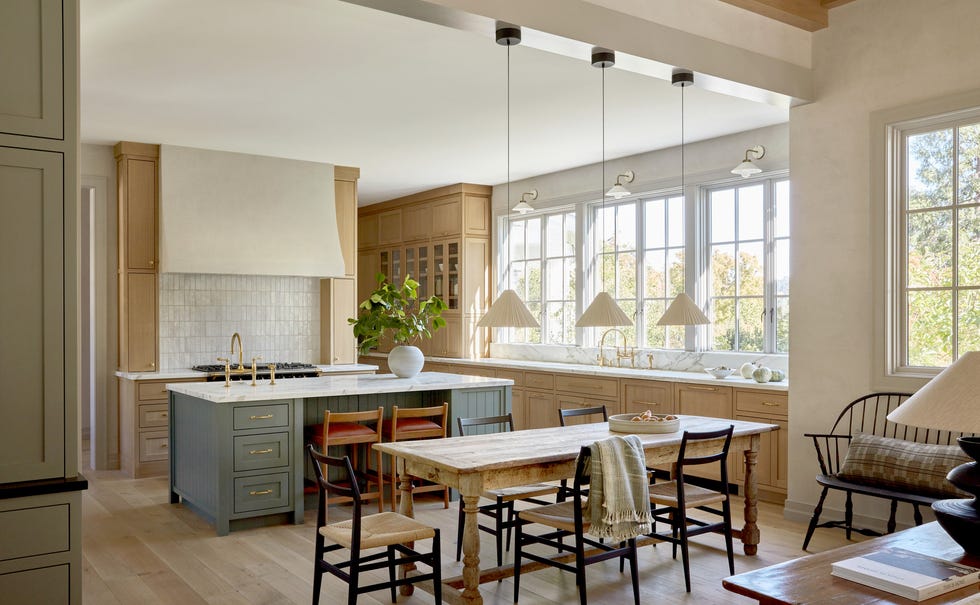 Seth Smoot
For a tranquil open-concept kitchen, lean on neutral palettes and streamlined shapes. They will help keep visual clutter at bay. Here, designer Lauren Nelson maximized cohesion and flow between the kitchen and nearby dining room with white oak cabinetry, soft white details, and barely there pendant lights.
2
Allow Extra Room for Walking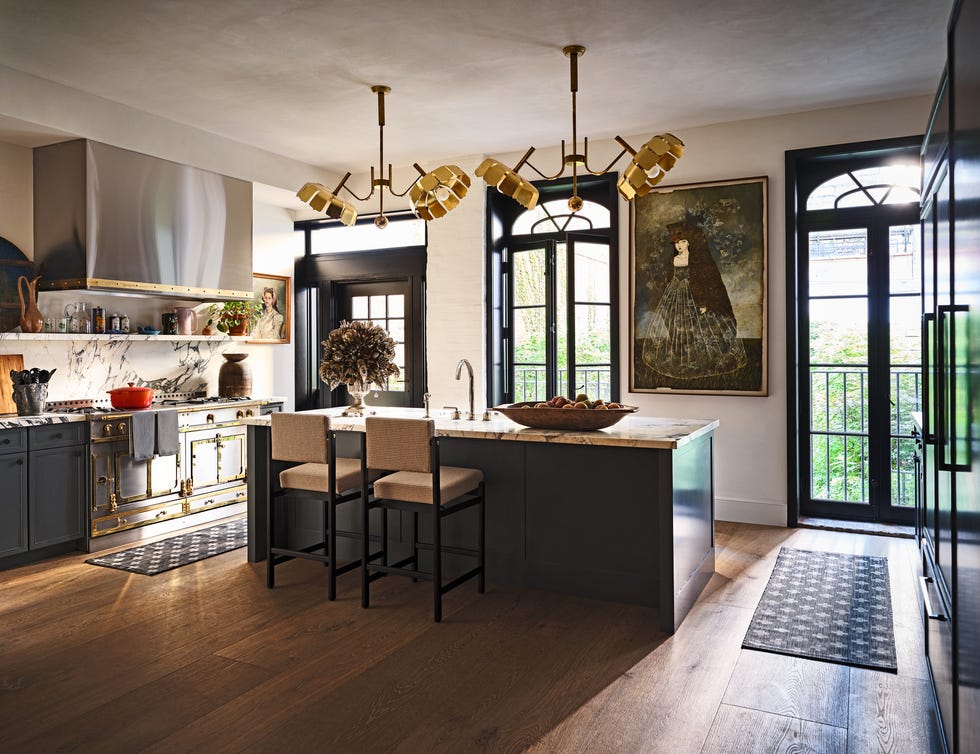 Frank Frances
Open-concept spaces invite a lot of movement between "zones," so pay close attention to the width of paths and sightlines in each space. A standard walkway width in kitchens ranges from 40 to 42 inches (or more). It's a good idea to go wider in an open kitchen design. This West Village home designed by Cortney and Robert Novogratz shows how spacious aisles on either side of the island make it easy for guests to buzz in and out from the outdoor patio.
3
Add an Airy Partition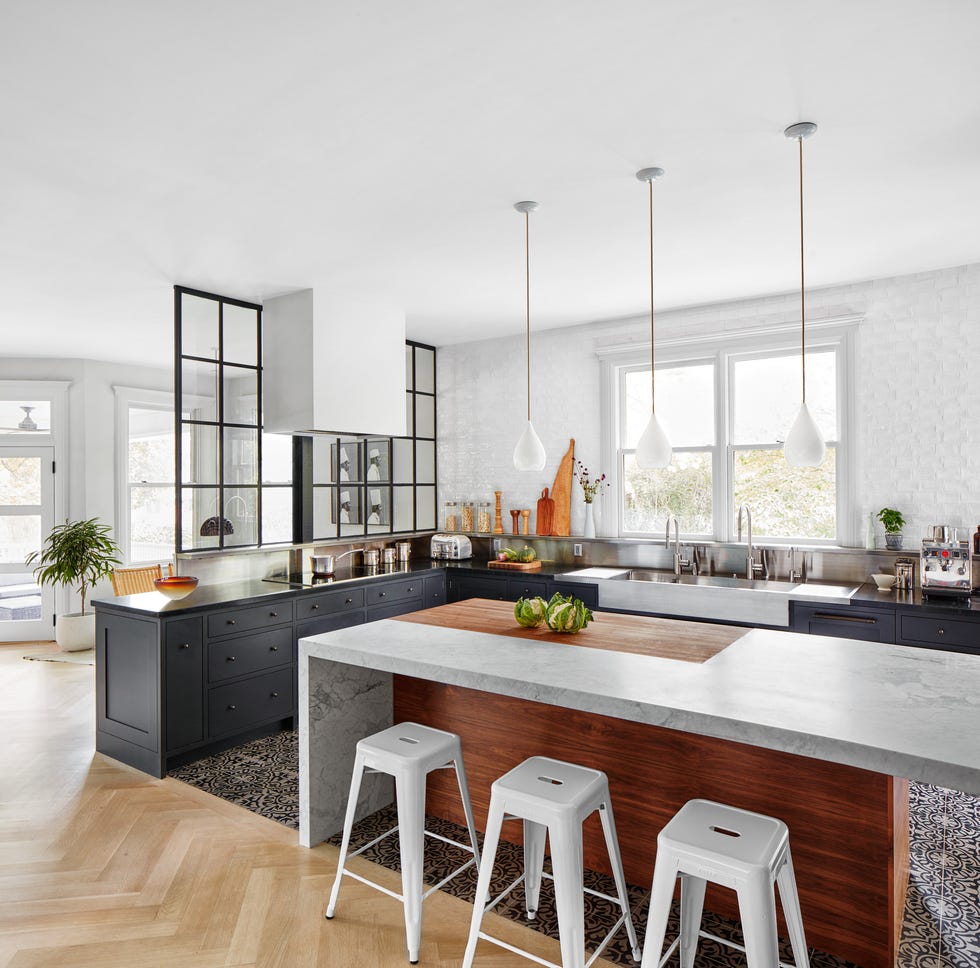 Colin Faulkner
An open kitchen concept doesn't mean zero separation. In this New Jersey home, metal and glass panes section off the kitchen from the nearby dining room without blocking conversation (or light!).
Advertisement - Continue Reading Below
4
Go Bright and White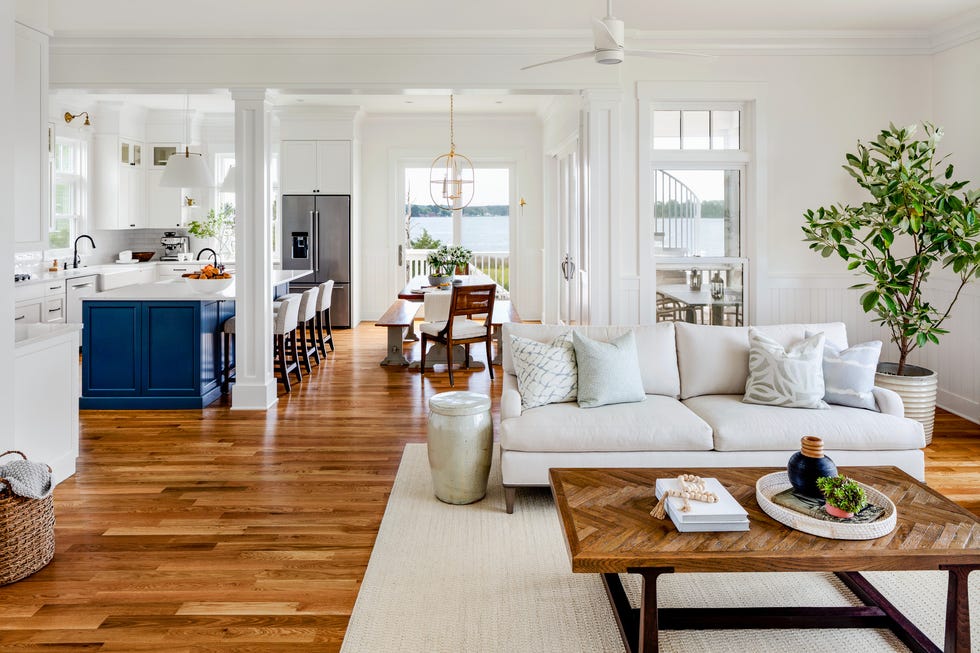 Jennifer Hughes
Nothing makes a space feel more open than a crisp coat of white paint. Lean into the expansive nature of a great room by grounding it in a barely there palette of whites and creams. Here, designer Laura Hodges illuminated every corner with a soft and subtle hue, save for the kitchen island, which she anchored in a nautical blue.
5
Repeat a Feature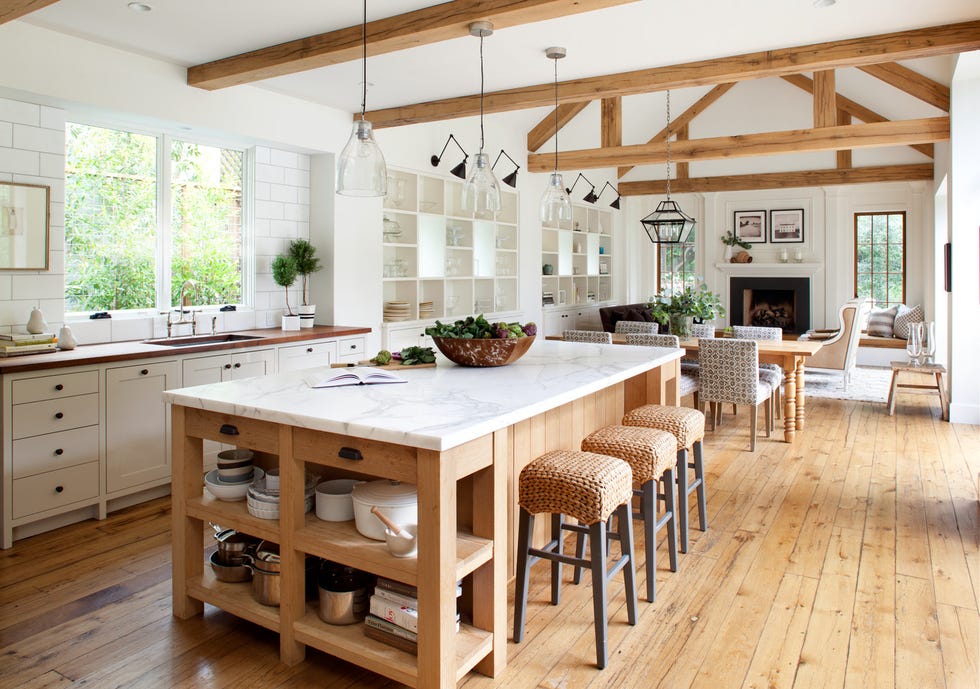 Paul Dyer
To promote synergy between an open-concept kitchen and nearby living spaces, repeat a signature finish or architectural feature in both zones. The rustic-yet-refined wooden beams that span the ceiling throughout this main floor are a visual touchpoint that ties everything together.
6
Play With Complimentary Colors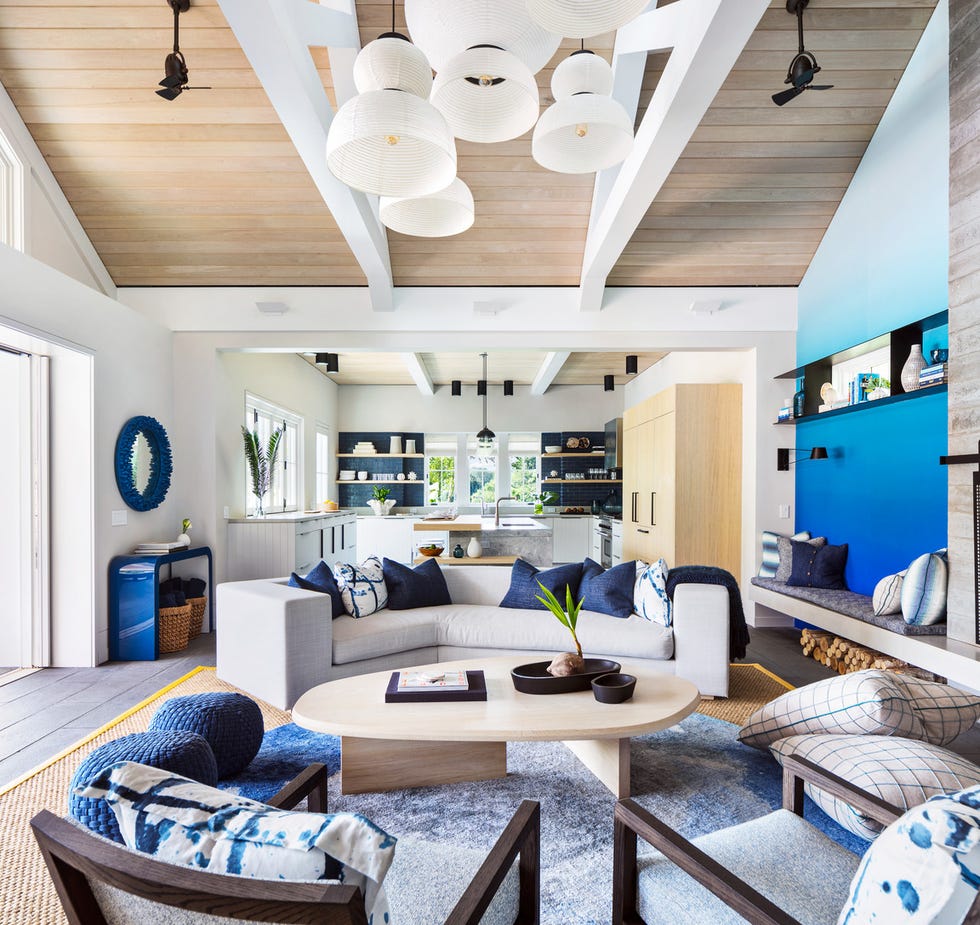 Donna Dotan
In this open kitchen idea, color is the shining star. The design team at Workshop/APD used blues to unite the kitchen, breezeway, and living room. The entire space is punctuated by pops that range from inky navy to vibrant cerulean for a main floor that's as fun as it is functional.
Advertisement - Continue Reading Below
7
Change Up the Flooring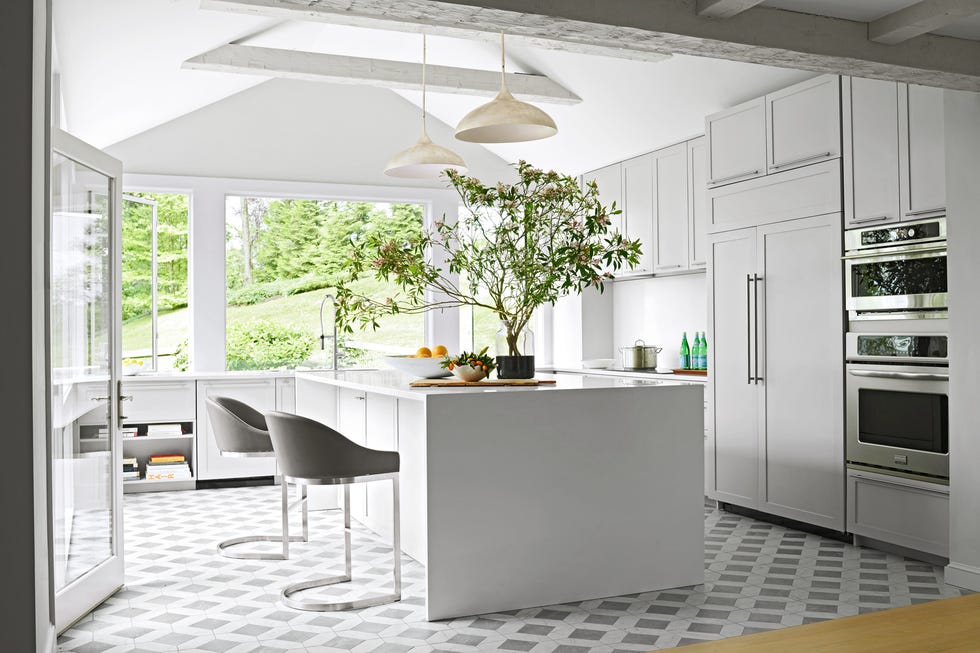 William Waldron
For another way to define "spaces" in an open layout, look to ground level. While continuity in flooring is often preferred (and can be a great, timeless look), opting for a bold tile in just your kitchen space is a playful and creative way to set it apart from the rest of the main living area in an open concept design.
8
Add in Some Warmth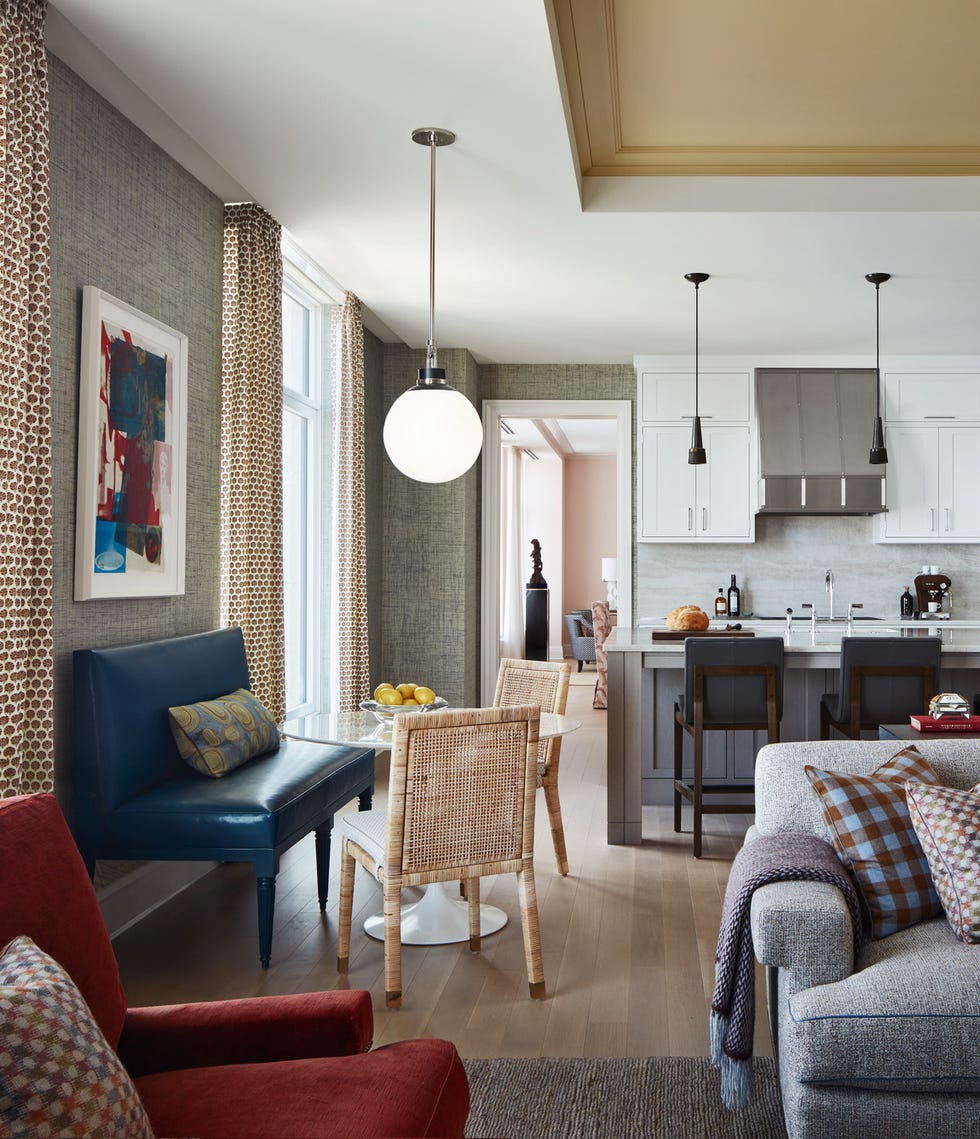 Kendall McCaugherty
Kitchens can often be devoid of warmth—after all, at their core, they're utilitarian spaces. However, this poses a problem when your cook space borders somewhere you want to feel cozy, like a relaxed family room. The solution? Take a page out of designer Bruce Fox's playbook. He swathed this kitchen and family room in textural grasscloth to blend both rooms and create a welcoming feel.
9
Bring in Creature Comforts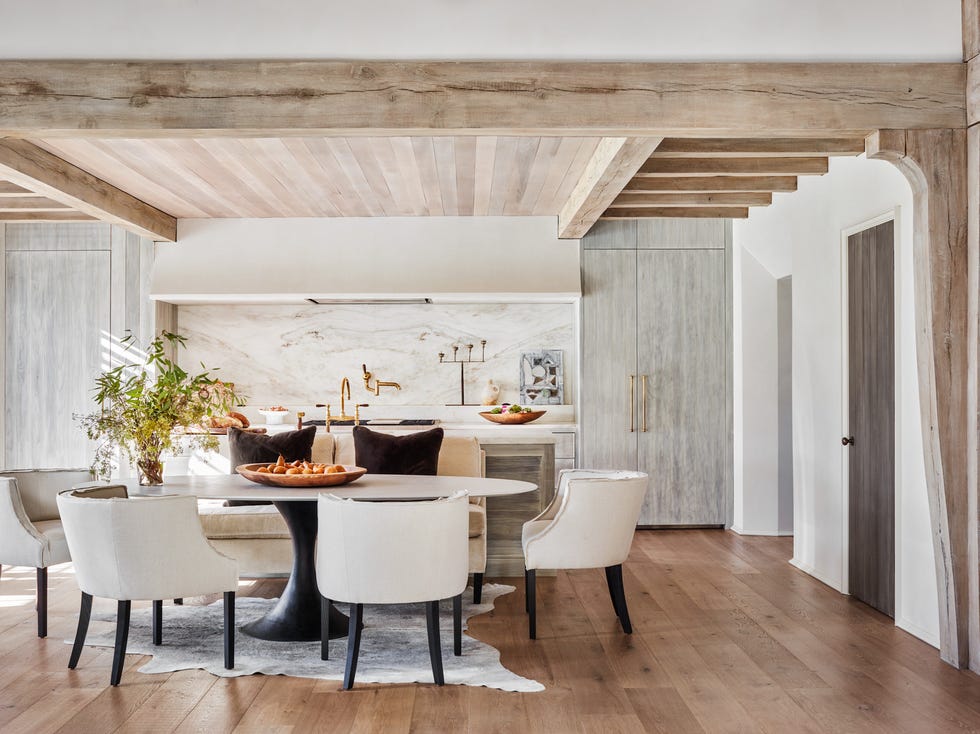 Emily Followill
When designing an open-concept kitchen, look at each decision as an opportunity to add comfort and versatility to your space. In this space by Jeffrey Dungan, perfectly patinated materials combine with a sleek modern dining table and upholstered chairs. The result blends seamlessly into the living room.
Advertisement - Continue Reading Below
10
Choose Multifunctional Pieces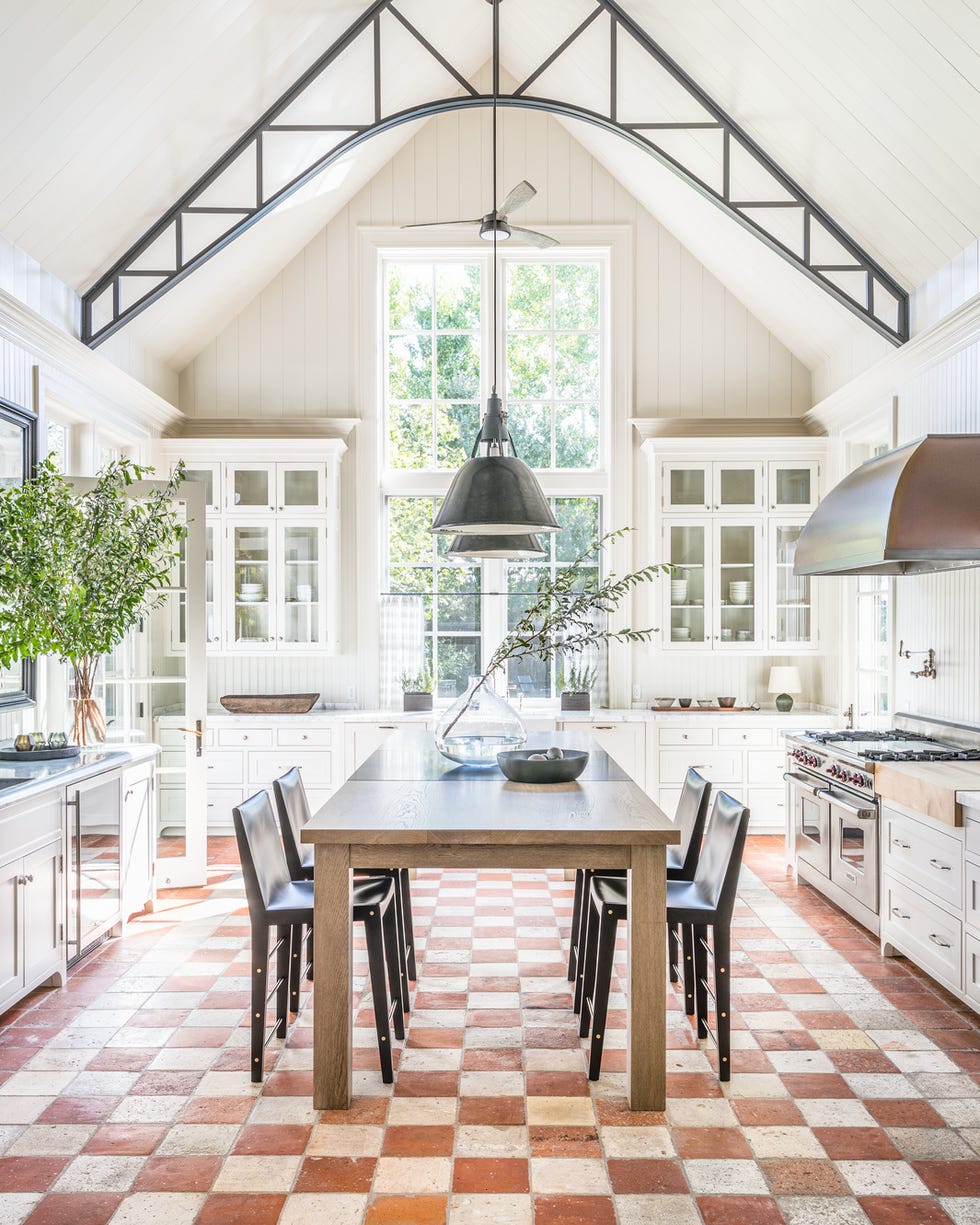 Andrew Frasz
Multifunctional rooms call for multifunctional furniture. For a wide-open kitchen that had to double as a dining room and entertaining zone, designer Victoria Hagan selected a dining table to hold court in the room instead of an island. The perk? The taller-than-average design allows the piece to flex seamlessly between prep space and serving space for a room that truly does it all.