The Best Thanksgiving TV Episodes to Watch Instead of Football
A good laugh is something everybody can agree on.
By Kate McGregor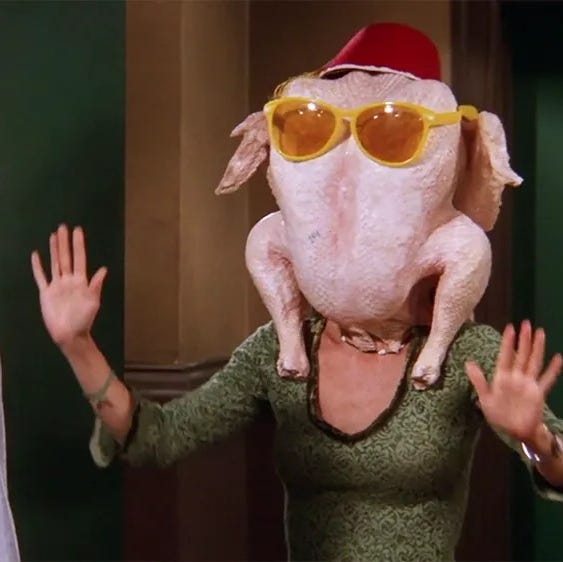 Courtesy NBC
Thanksgiving is usually dedicated to food, family, football, and massive character balloons. But it's also a holiday that has dominated American television for decades. And while you may have to juggle food preferences, seating charts, and family drama, one thing you shouldn't have to fight over on the big day is what to watch. Most Thanksgiving groups naturally divide into two categories: parade and football. But instead of starting a civil war, why not opt for a third (and much funnier) option?
The best Thanksgiving TV episodes not only provide a well-needed break from the family tension, but they're also a viewing pleasure that the whole family can get into. From classics like A Charlie Brown Thanksgiving to modern hits like Gossip Girl, there's a Thanksgiving-themed episode for everyone. Plus, lounging about and taking in TV is exactly what post-dinner, pre-shopping time is for.
If you're wondering what shows have a Thanksgiving episode, the answer is nearly all of them. Even the business-focused Roys on Succession take time to celebrate the holidays. A quick tip is to google the title of your favorite TV show plus "Thanksgiving" and see what comes up! You'll probably find the exact season and episode number you're looking for.
Still undecided? There are a few classic Thanksgiving TV episodes that every person should see at least once. Ahead, we're highlighting 10 of our favorite Thanksgiving TV episodes for your food coma viewing pleasure. Binging all of them is perfectly acceptable.
1
Gossip Girl: "The Treasure of Serena Madre"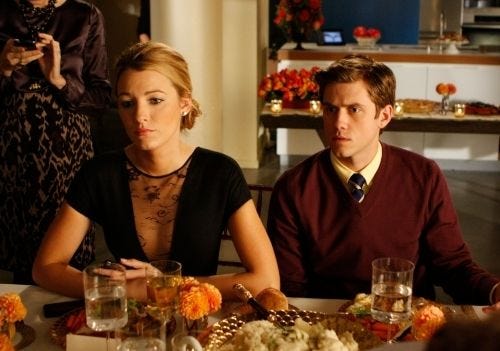 The CW / Warner Bros. Television
In what's arguably the most dramatic episode of Gossip Girl, Thanksgiving quickly dissolves into chaos as secrets are revealed around the table. No doubt you remember the iconic backing track of Jason Derulo's "Watcha Say."
2
Gilmore Girls: "A Deep-Fried Korean Thanksgiving"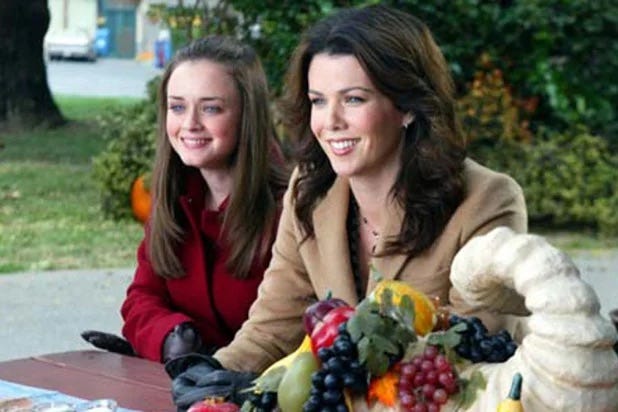 Getty/WB
Lorelai and Rory may be notorious for their boundless appetite, but what happens when the pair realizes they've quadruple booked themselves for Thanksgiving dinner? Skip the rolls.
3
A Charlie Brown Thanksgiving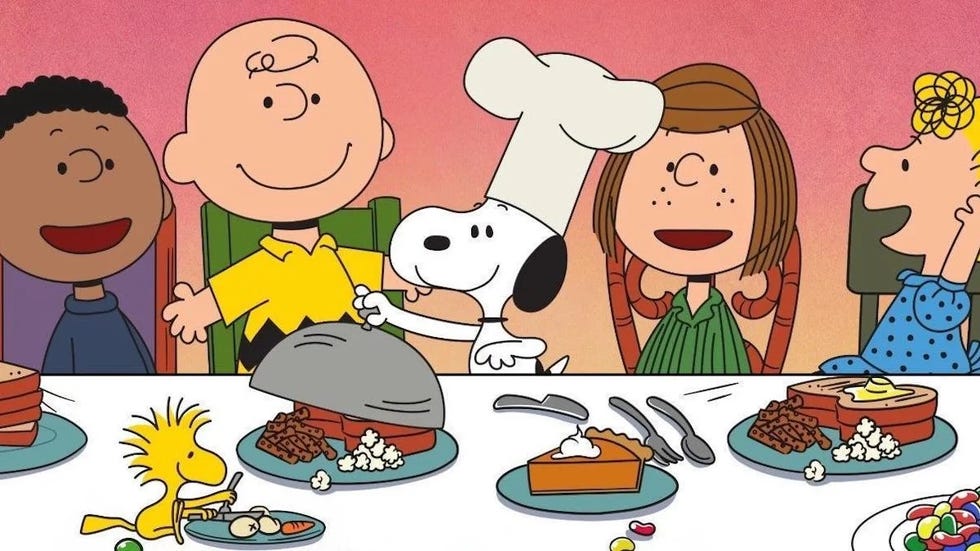 Peanuts Worldwide
A classic for good reason, this sweet standby reveals what happens when Peppermint Patty invites herself and her friends over to Charlie Brown's. Together with Linus, Snoopy, and Woodstock, he attempts to throw together a wonderful Thanksgiving dinner full of some nontraditional eats.
Advertisement - Continue Reading Below
4
Schitt's Creek: Turkey Shoot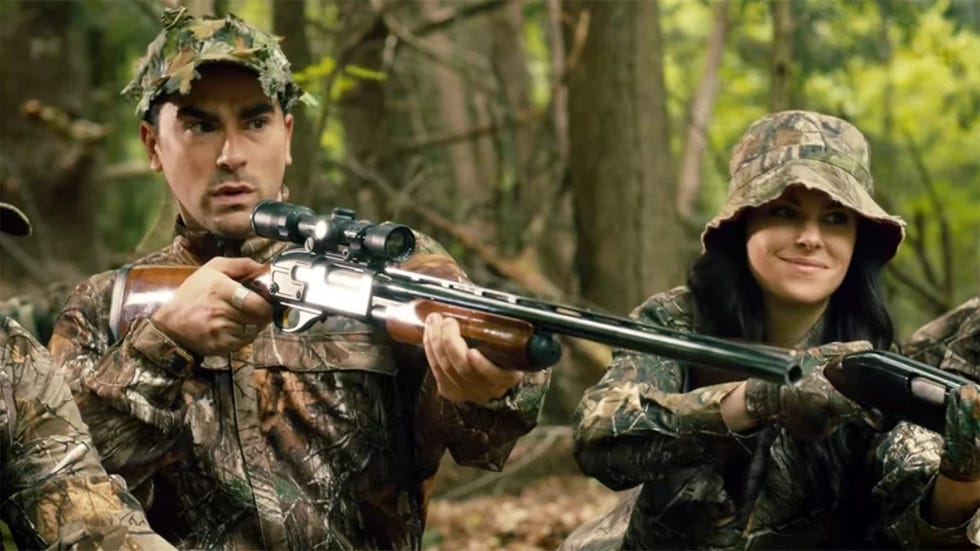 Courtesy of Hulu
In an attempt to defend his "manliness," David agrees to partake in Roland's annual Thanksgiving hunt while Jocelyn and Moira have a spa day.
5
Succession: "I Went to Market"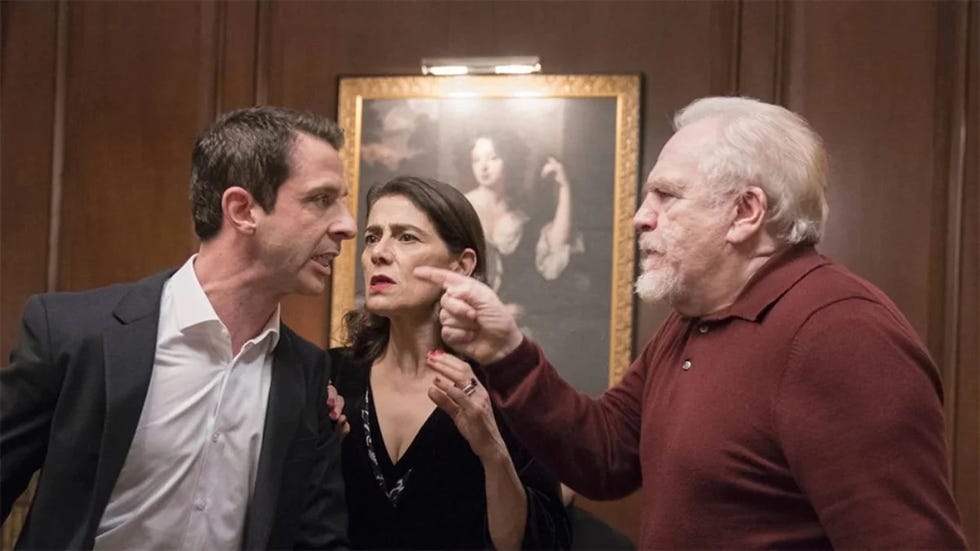 Courtesy of HBO Max
No family does holiday drama better than the Roys. In this high-stakes episode, Kendall plots for a vote of no-confidence against his father for wanting to sell the TV division, while Greg is stuck driving his grandfather from Canada.
6
Modern Family: "Punkin Chunkin"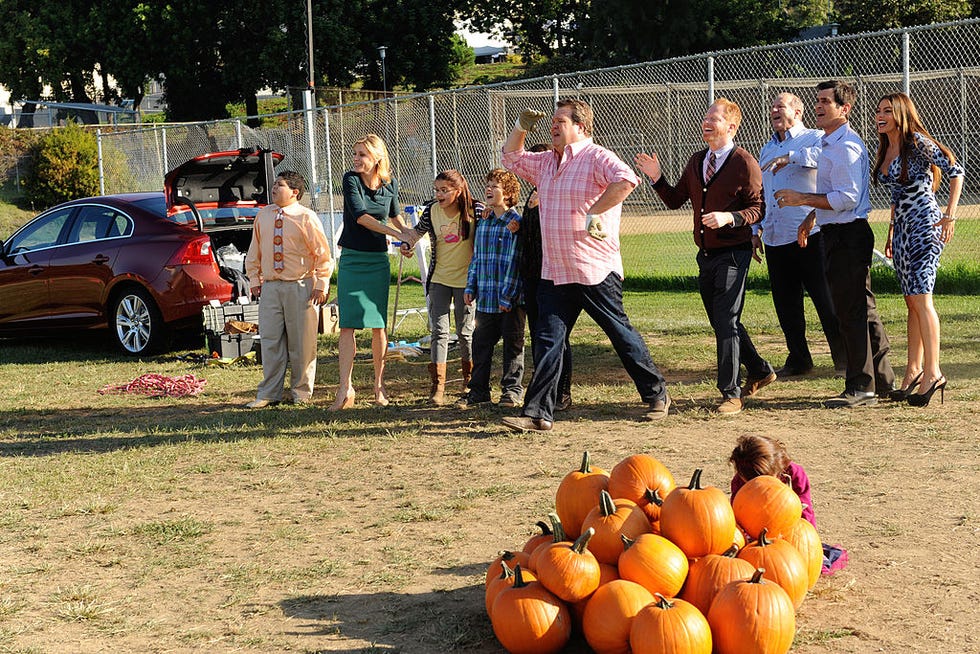 ABC
Phil is upset that Claire is stifling his creativity, and Mitchell doesn't believe Cameron's "punkin chunkin" story. On the other side of the city, Gloria won't let Jay tell Manny that his Thanksgiving centerpiece is horrible.
Advertisement - Continue Reading Below
7
Friends: "The One with Chandler in a Box"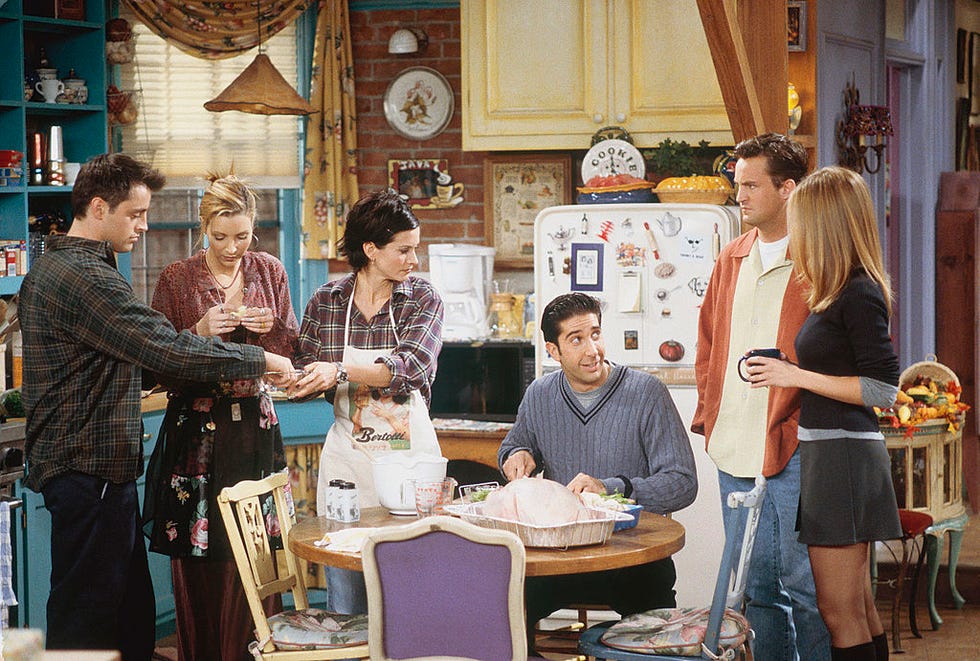 Courtesy NBC
The friends have a Thanksgiving meal together, Monica is reminded of Richard when she tries to kiss his son, and Joey frees Chandler from the box that he's being kept in to stop Kathy from leaving him.
8
New Girl: Thanksgiving III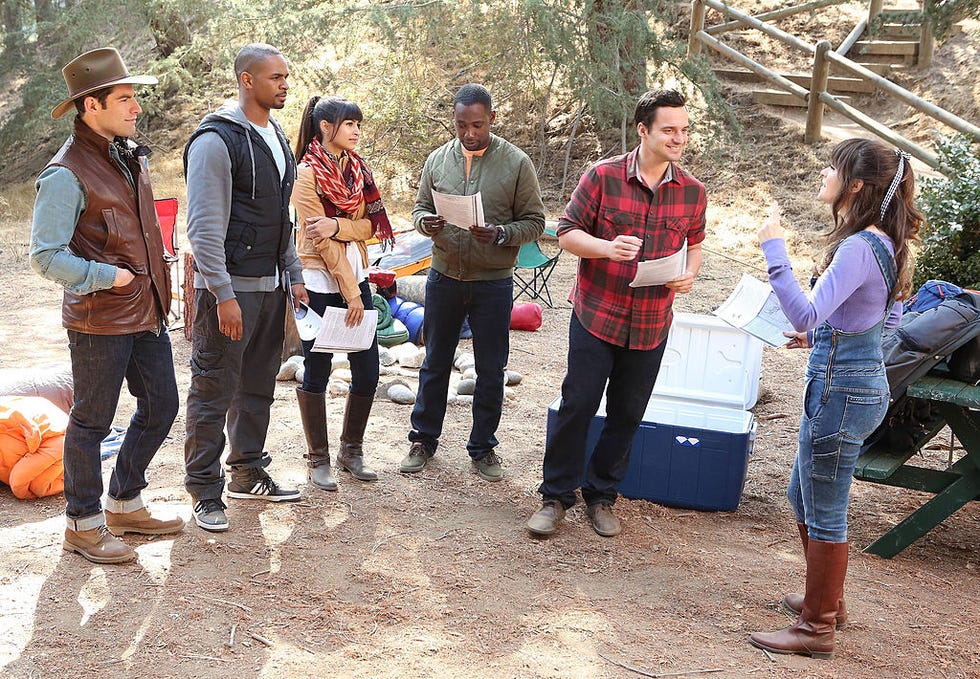 20 Century Fox
Rather than host a traditional meal indoors, Jess and the gang decide to go camping. What follows is nothing short of disastrous: Coach and Schmidt compete to prove who's the best woodsman, while Cece and Winston bond over a shared dislike for the outdoors.
9
Bob's Burgers: "Now We're Not Cooking With Gas"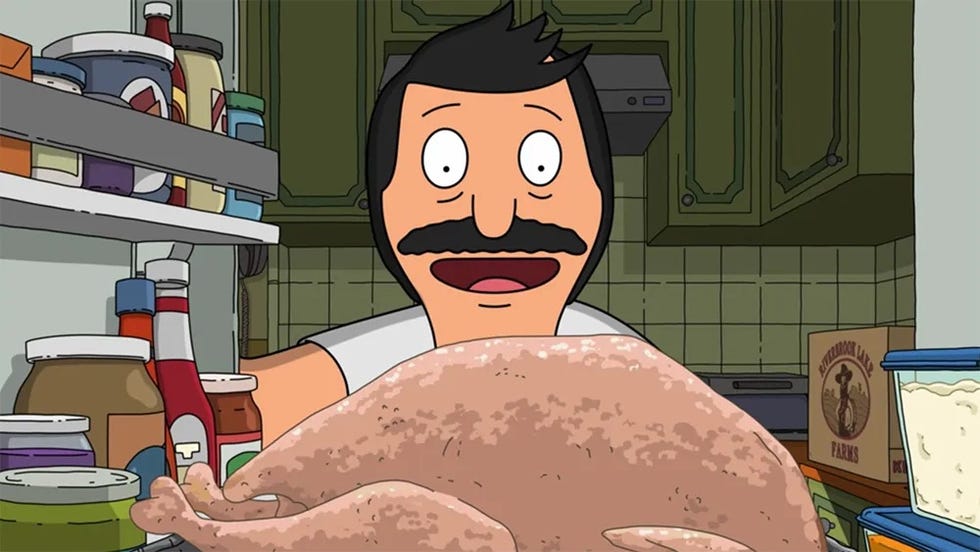 FX / Hulu
Despite living above (and owning) a restaurant, cooking a rare heritage turkey proves to be Bob's greatest struggle after the building's gas goes out. But that minor problem won't stop him from crafting the best Thanksgiving dinner ever.
Advertisement - Continue Reading Below
10
Friends: "The One With All the Thanksgivings"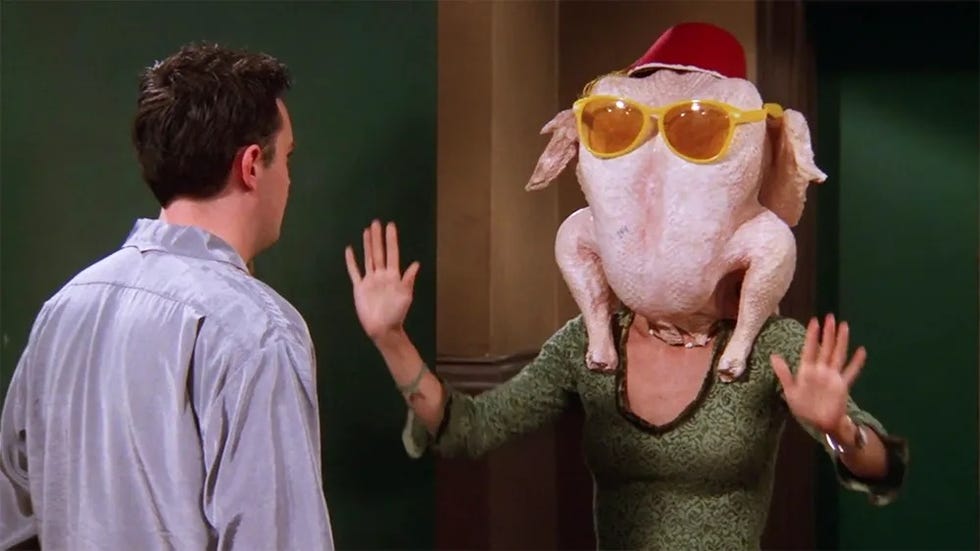 Courtesy NBC
Take a trip down memory lane while the Friends crew discusses their worst Thanksgivings ever while they digest Monica's huge Thanksgiving meal.
Kate McGregor is House Beautiful's SEO Editor. She has covered everything from curated decor round-ups and shopping guides, to glimpses into the home lives of inspiring creatives, for publications such as ELLE Decor, Domino, and Architectural Digest's Clever.