Every item on this page was hand-picked by a House Beautiful editor. We may earn commission on some of the items you choose to buy.
The Mansion From "Meghan & Harry" Is on the Market for $33.5 Million
This cinematic crib is ready for its closeup.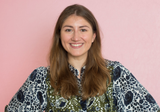 By Kelsey Mulvey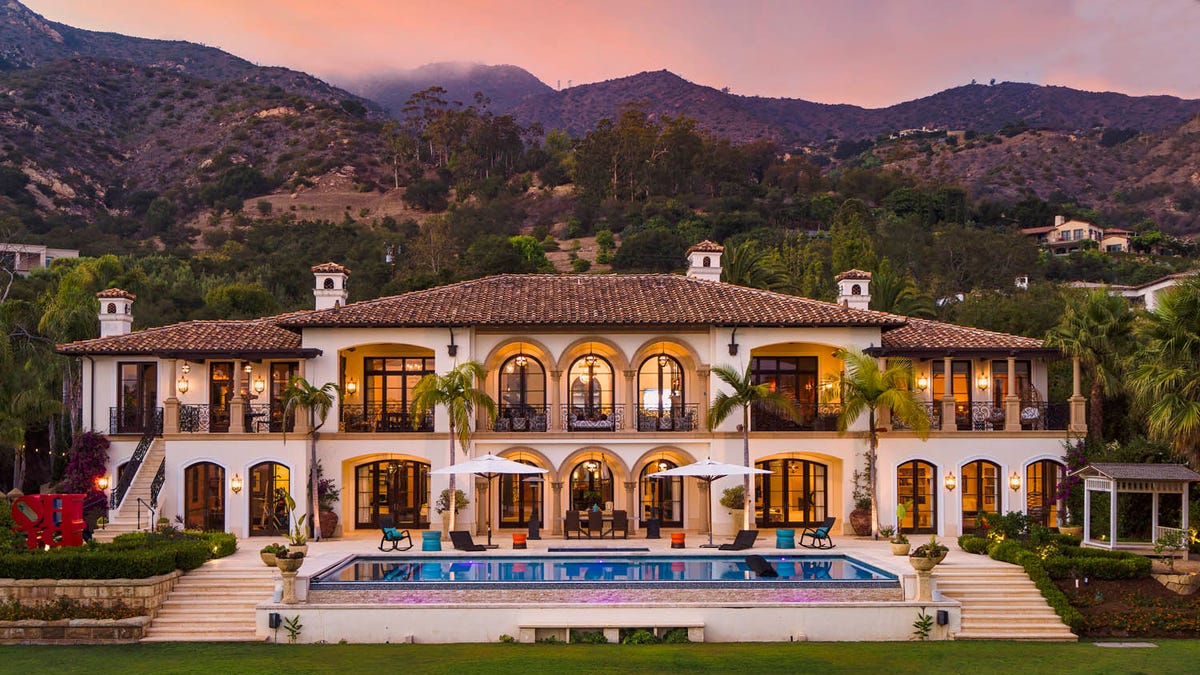 Prince Harry is making headlines again—and, no, we're not talking about his memoir and the subsequent tea from it. Instead, the mansion that was the backdrop of Harry & Meghan—the six-part documentary series that chronicles the Duke and Duchess of Sussex's courtship, experience as senior members of the British monarchy, and new life in California—has officially gone on the market for a whopping $33.5 million. While this property was never owned by Harry and Meghan (think of it as a very well-appointed set), it's certainly fit for royalty.
Nestled in Montecito, which is a stone's throw away from downtown Santa Barbara, this listing gives the notoriously laidback California lifestyle a refined and downright luxurious twist. Clocking in at just over two acres, the property boasts an array of outdoor features such as chicken coops, secret gardens, and a greywater irrigation system. (Not to mention panoramic views of nearby mountains and the Pacific Ocean.) But, as if the backyard wasn't impressive enough, the lot's accompanying mansion is unsurprisingly cinematic. In addition to the cathedral ceilings and those arched windows that made a major cameo in the documentary, the palatial pad boasts a gym, private bar, separate guest house, and five-car garage.
"Flexible spaces both inside and out make this an intimate home for two, yet can easily accommodate crowds of over 200," Ryan Malmsten of Santa Barbara Brokers writes on the listing page.
Want to take a look at the property, but can't pony up $33.5 million? Read on for an intimate tour at the stunning space. We may not be royalty, but a person can dream, right?
1
Exterior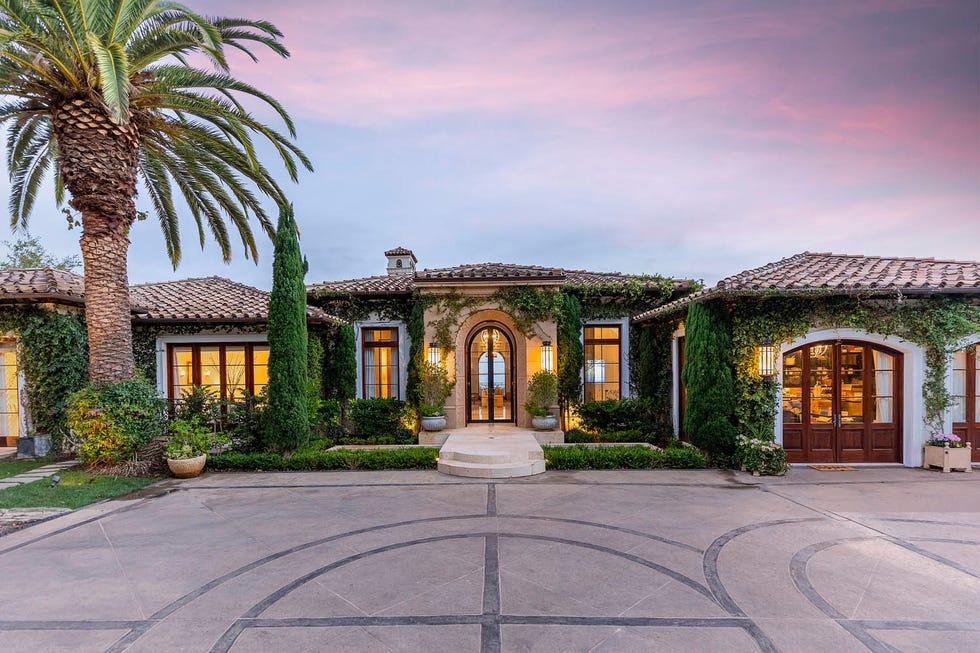 Jim Bartsch
The 13,599-square-foot mansion has an upscale Mediterranean flair, thanks to its tiled roofing and stucco exterior.
2
Living Room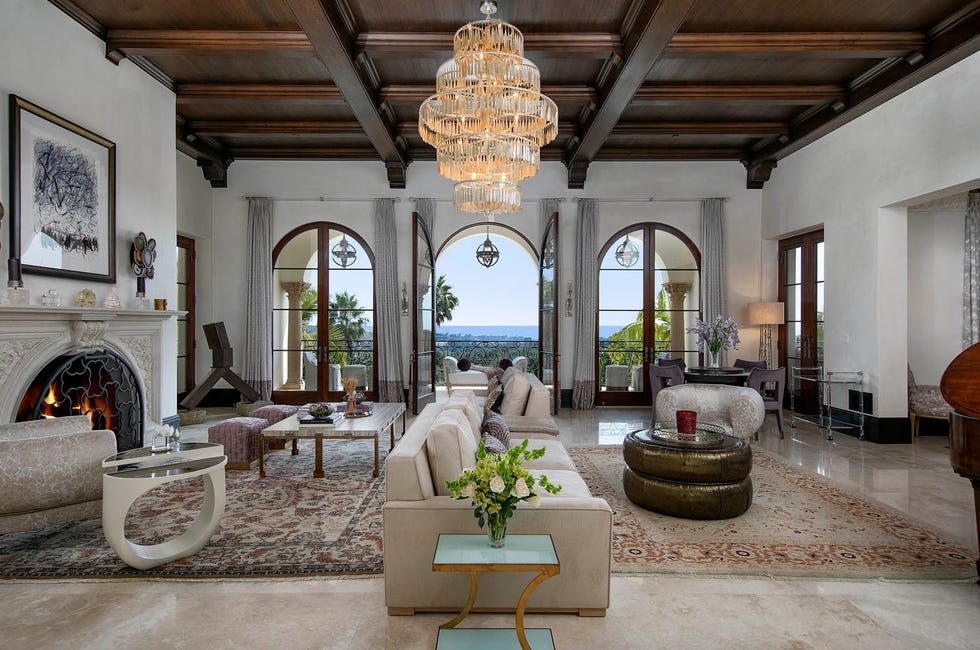 Jim Bartsh
Recognize these gorgeous arches? Meghan Markle sat right in front of them during her one-on-one interview for the documentary. With a fireplace, glamorous chandelier, and gorgeous views, we wouldn't mind sitting in this regal room, either.
3
Family Room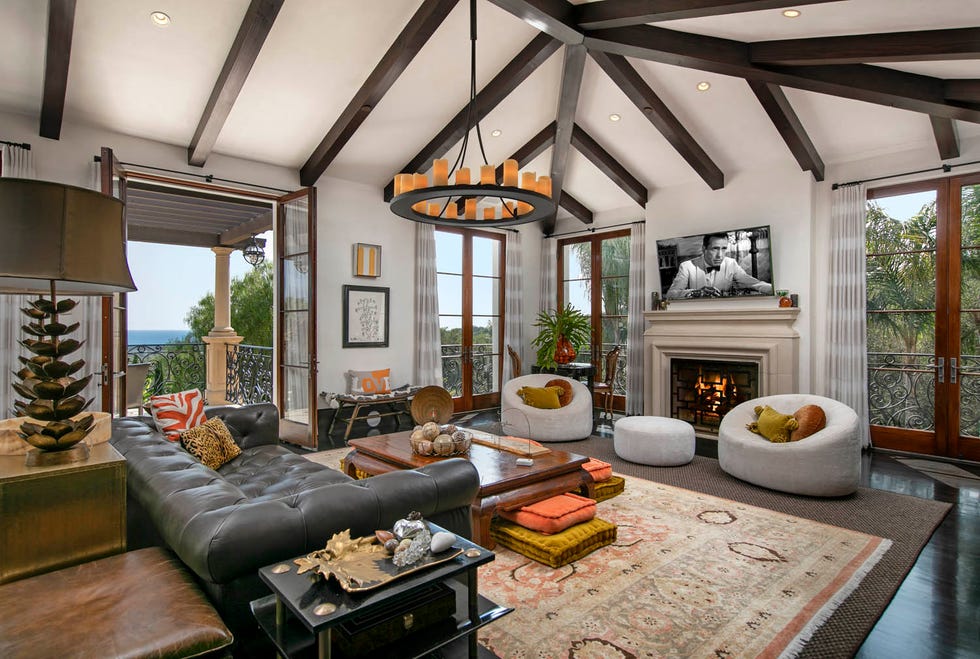 Jim Bartsh
Or, if you're looking for something a bit more casual, head into the family room. The beam-clad cathedral ceilings create a cozy atmosphere, while the easy access to the outdoor terrace allows you to soak up that stunning California sunshine.
Advertisement - Continue Reading Below
4
Theater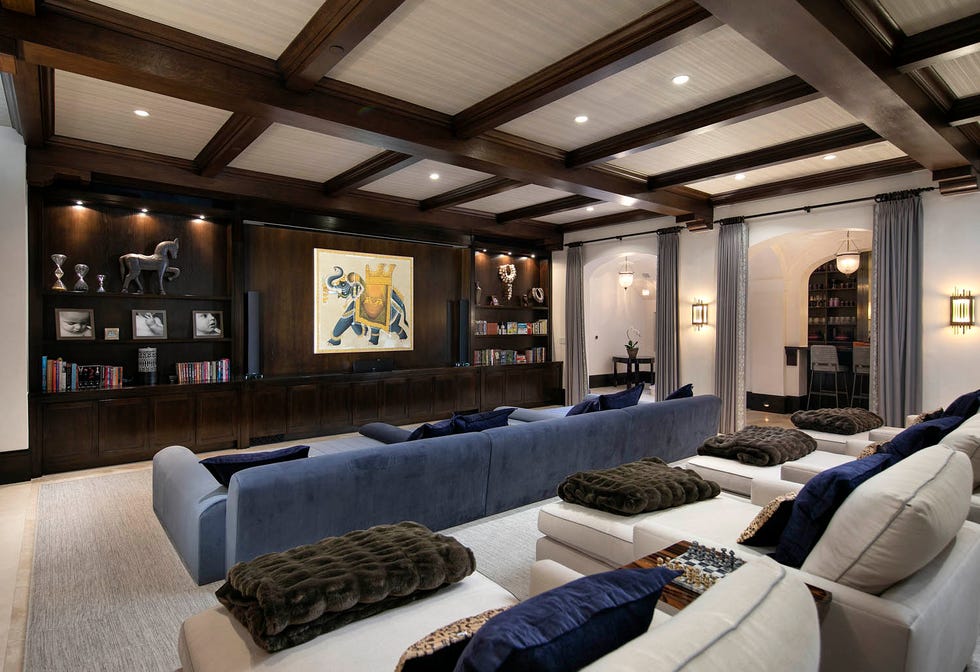 Jim Bartsh
Netflix and chill, anyone? This property also a private theater, so you can kick back, relax, and watch your favorite streaming obsession. (In case you're looking for recommendations, we happen to know of a certain docu-series that could fit the bill.) Should guests get thirsty during their binge session, they can grab a refreshment at the home's adjacent bar.
5
Kitchen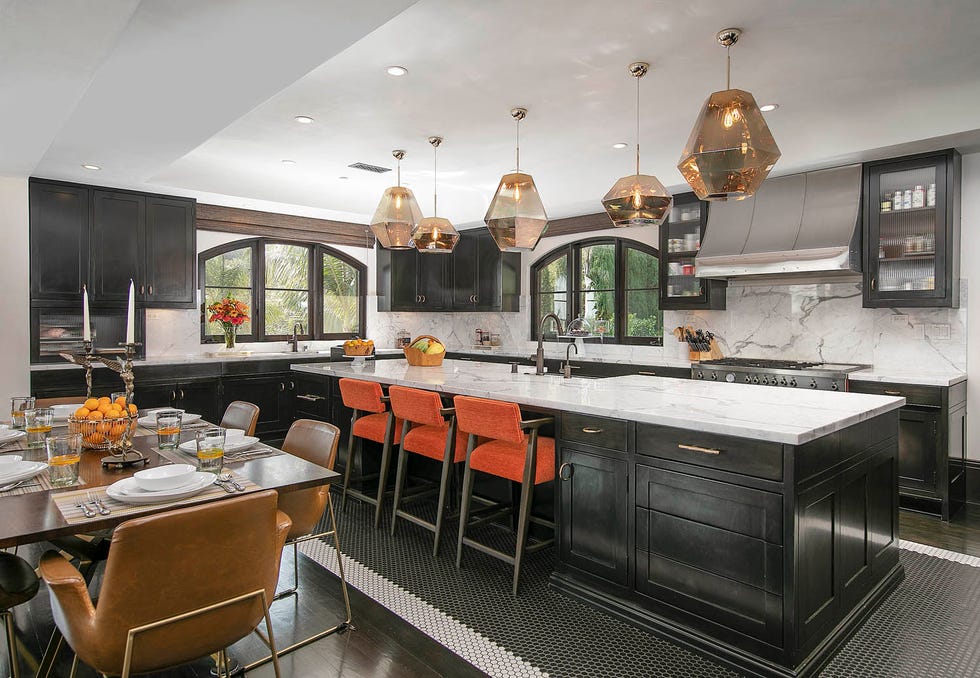 Jim Bartsh
The kitchen is the heart (and stomach) of every home—and this culinary space is no exception. Between the gorgeous marble details, top-notch appliances, and spacious island, the area is *chef's kiss*.
6
Dining Room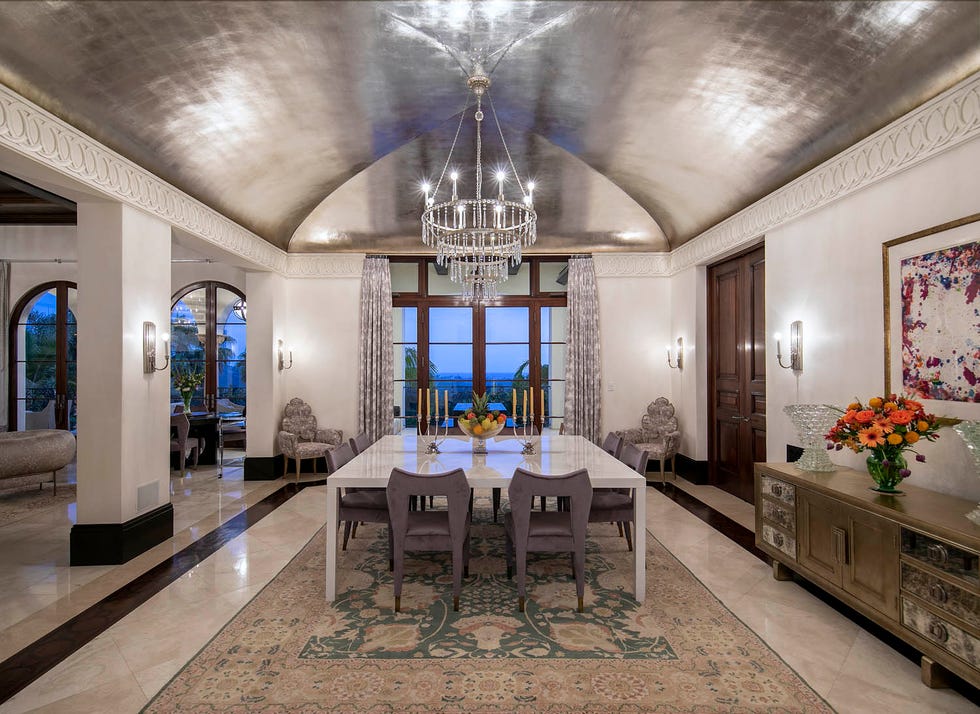 Jim Bartsh
With sky-high ceilings and a breezy, open layout, this dining room is the perfect spot to flex your hosting muscle. Think of it as a dinner party that appeals to all of the senses.
Advertisement - Continue Reading Below
7
Office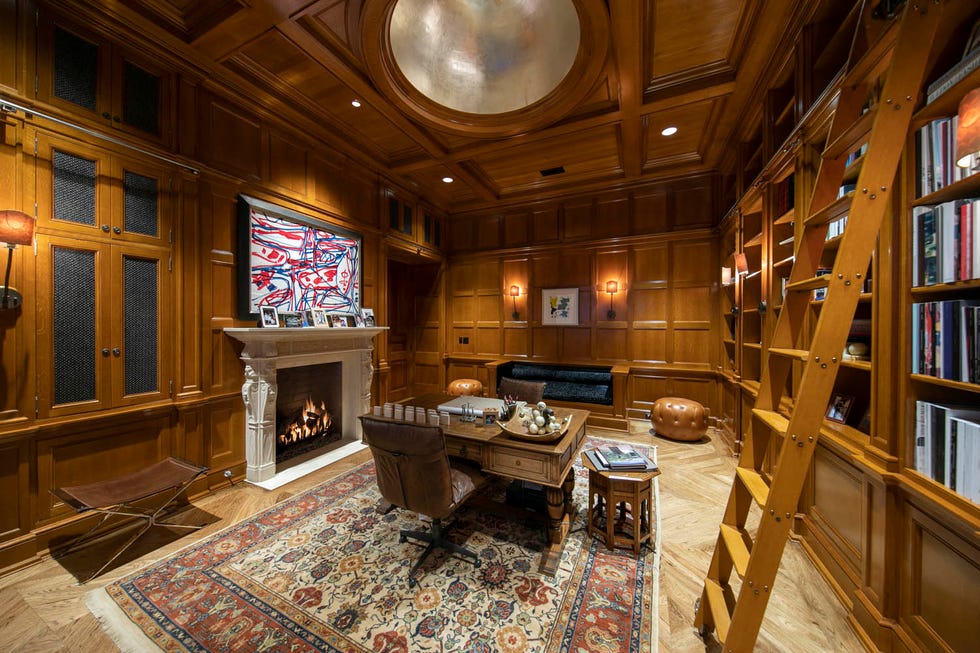 Jim Bartsh
Complete the nine-to-five grind in style in this wood-paneled home office, which boasts a fireplace and row floor-to-ceiling bookshelves. Let's just say you won't need a Zoom background in this upscale spot...
8
Game Room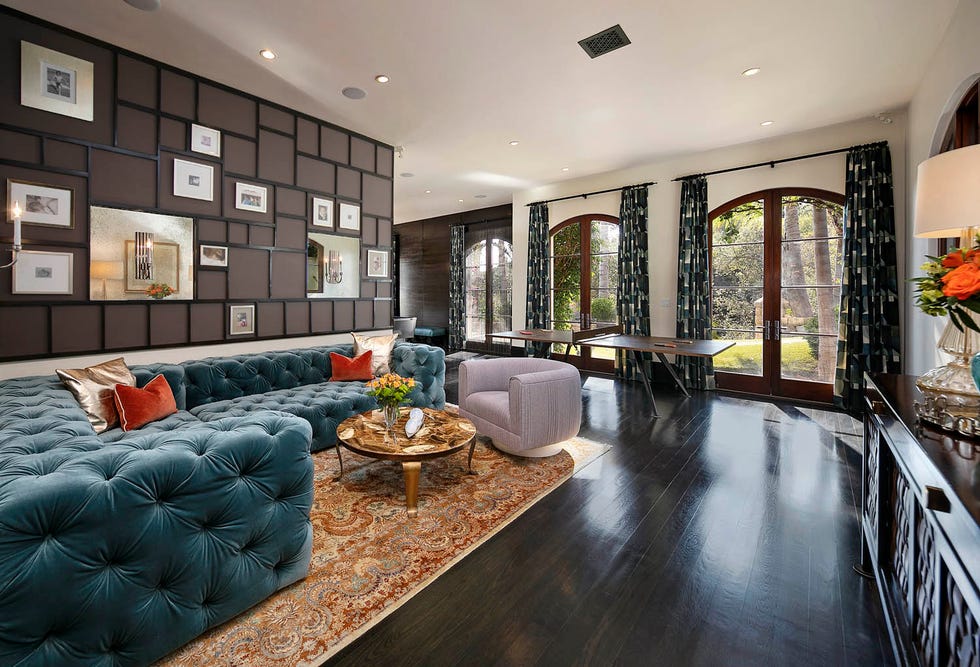 Jim Bartsh
Whether you play a round of ping pong or Uno at the designated seating area, this game room is the ultimate place to unleash your competitive streak.
9
Recreation Room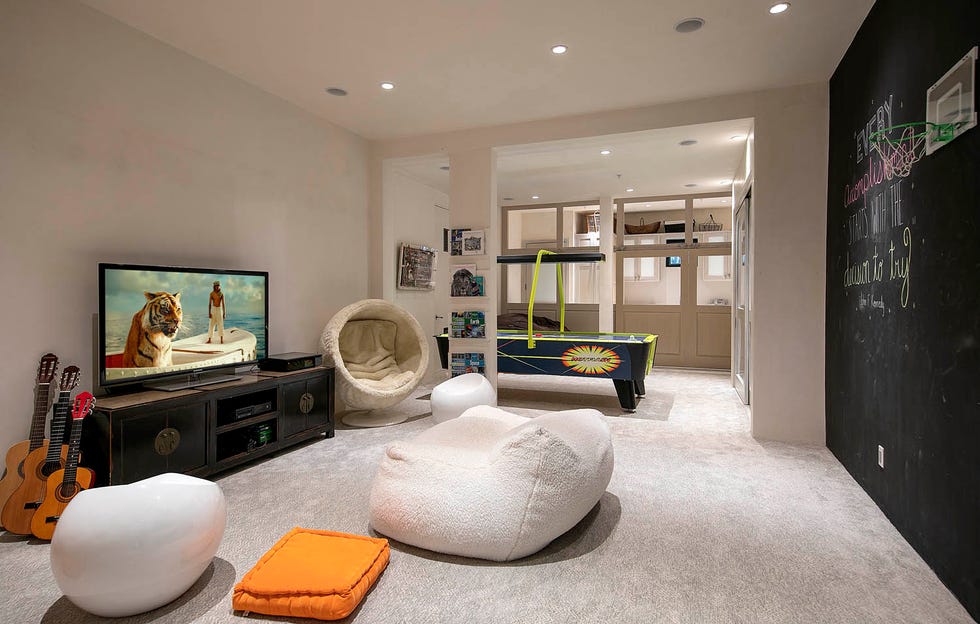 Jim Bartsh
Why have one game area when you can also have another recreation room? If Harry and Meghan actually did live here, we could totally picture Archie and Lilibet playing in this sweet space.
Advertisement - Continue Reading Below
10
Meditation Area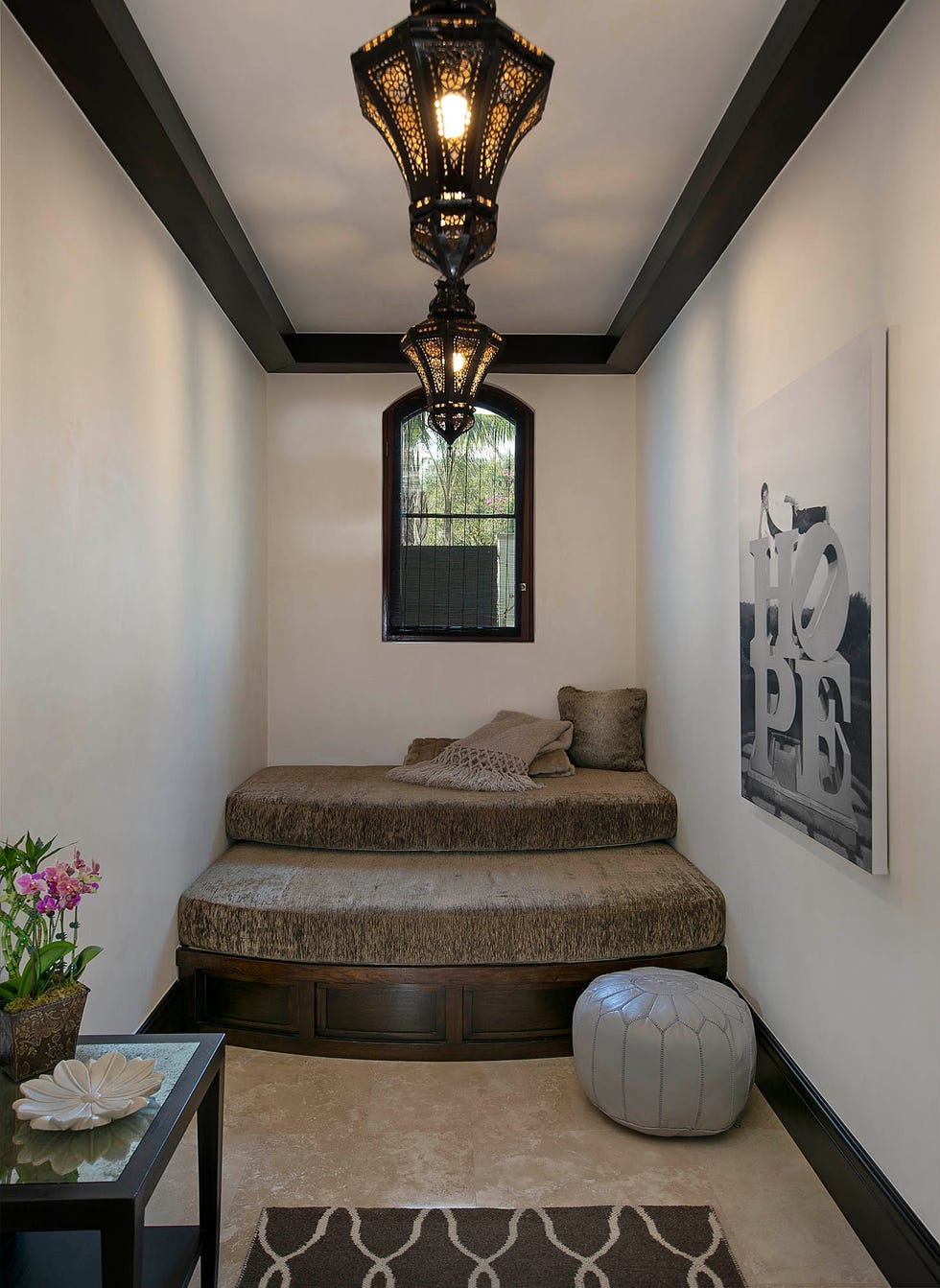 Jim Bartsh
Though this Montecito mansion has designated rooms for games, movies, and entertaining, there are also plenty of calming nooks and crannies. Case in point: This tiny area, which is perfect for clocking in some serious zen time.
11
Primary Bedroom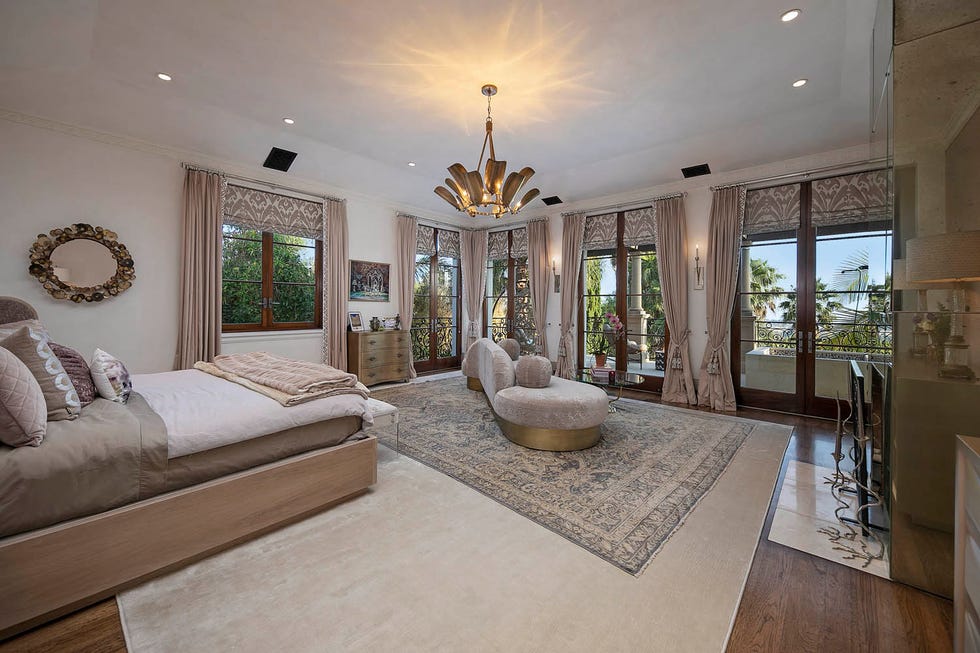 Jim Bartsh
Though this Montecito property boasts a whopping six bedrooms, nothing compares to the primary bedroom. The designated seating area? The sun-drenched windows? The views? Yes please to all.
12
Primary Bathroom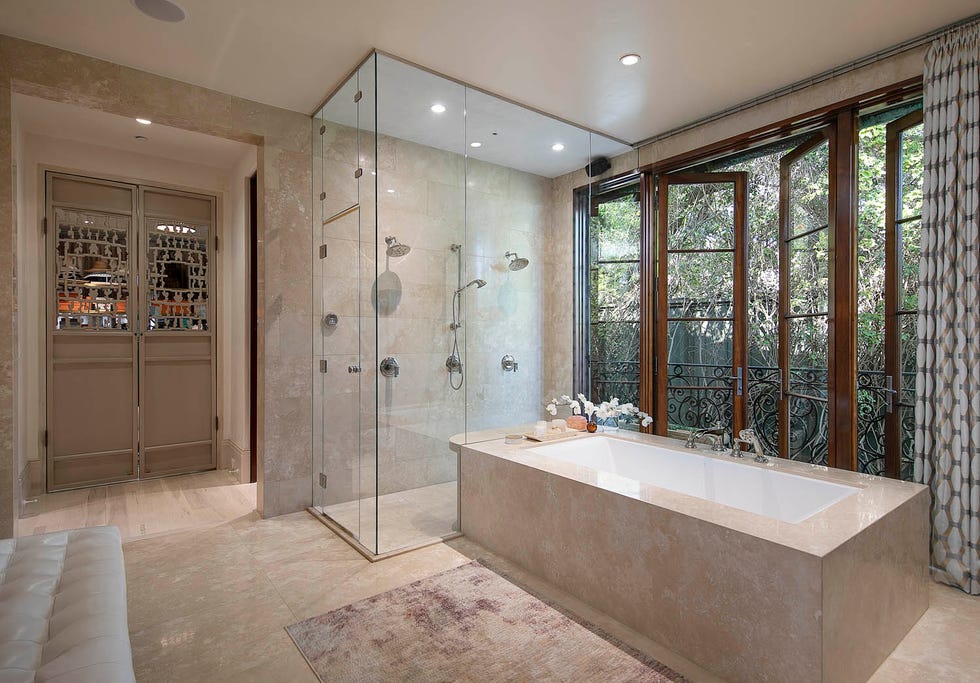 Jim Bartsh
In true A-lister fashion, the primary suite also boasts an upscale bathroom with a dual shower and soaking tub. It's like a fully-stocked spa in the comfort of your own home.
Advertisement - Continue Reading Below
13
Terrace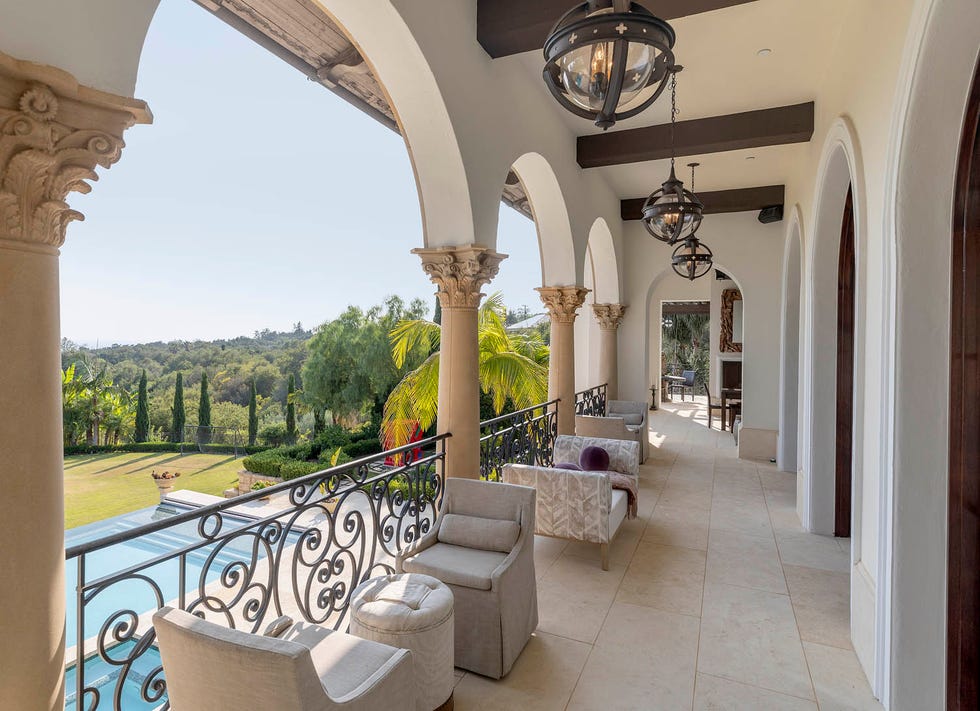 Jim Bartsh
Several rooms in the mansion have excellent views of the surrounding area, but if you want to spend some more quality time with Mother Nature, head to the outdoor terrace. (There's even a row of ceiling lights so you can stay outside long after the sun sets.)
14
Pool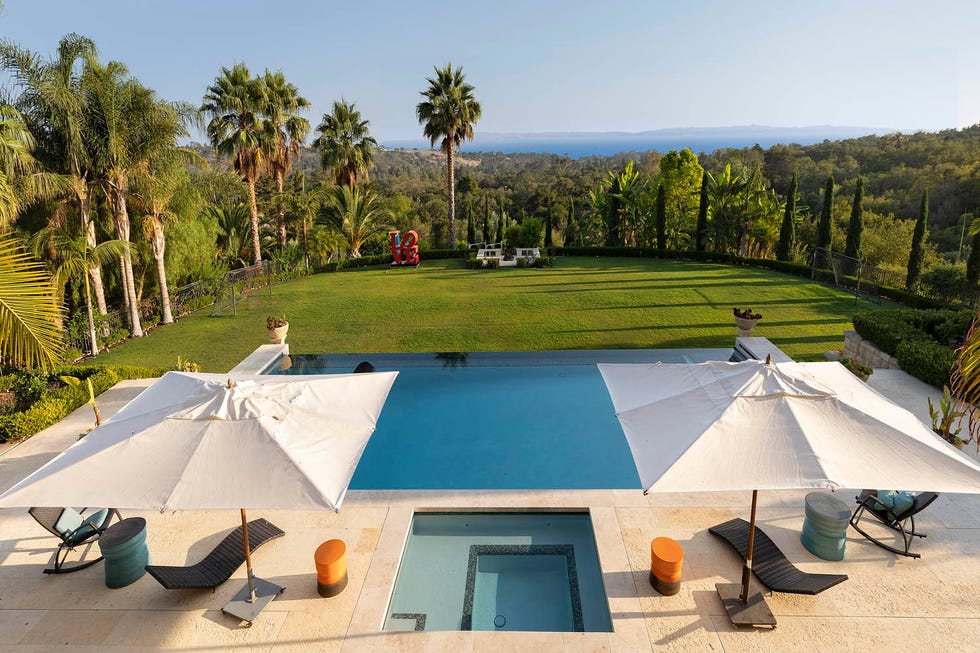 Jim Bartsh
Of course, no megawatt mansion is complete without a pristine pool and spa. Cannonball!
15
Chicken Coop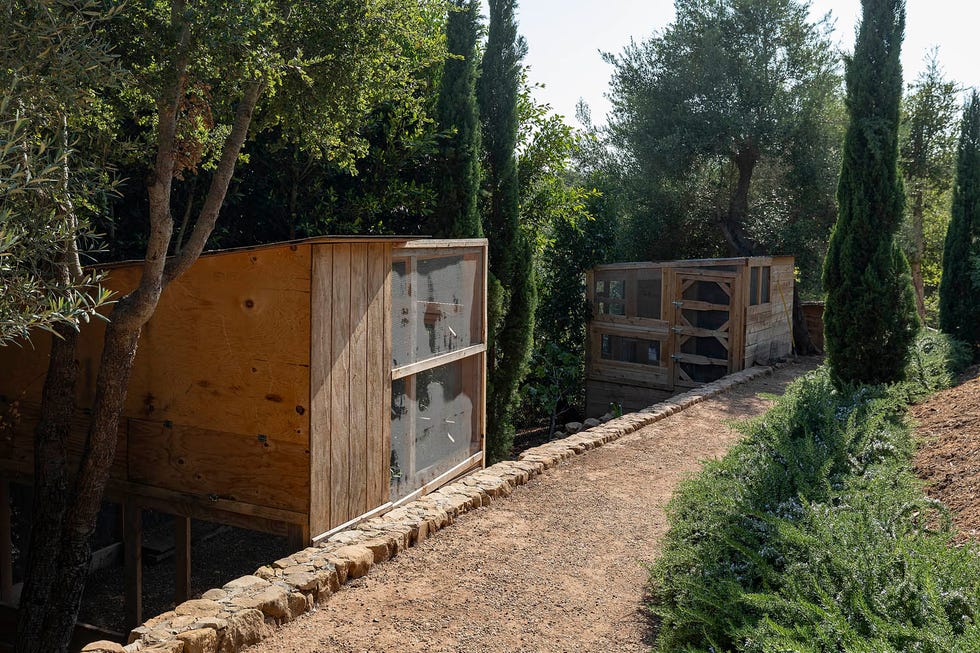 Jim Bartsh
Anyone who wants fresh eggs for their morning omelette will find a lot to love about the property's chicken coop. (In fact, Harry and Meghan famously have their own setup in their nearby home.)
Advertisement - Continue Reading Below
16
Garden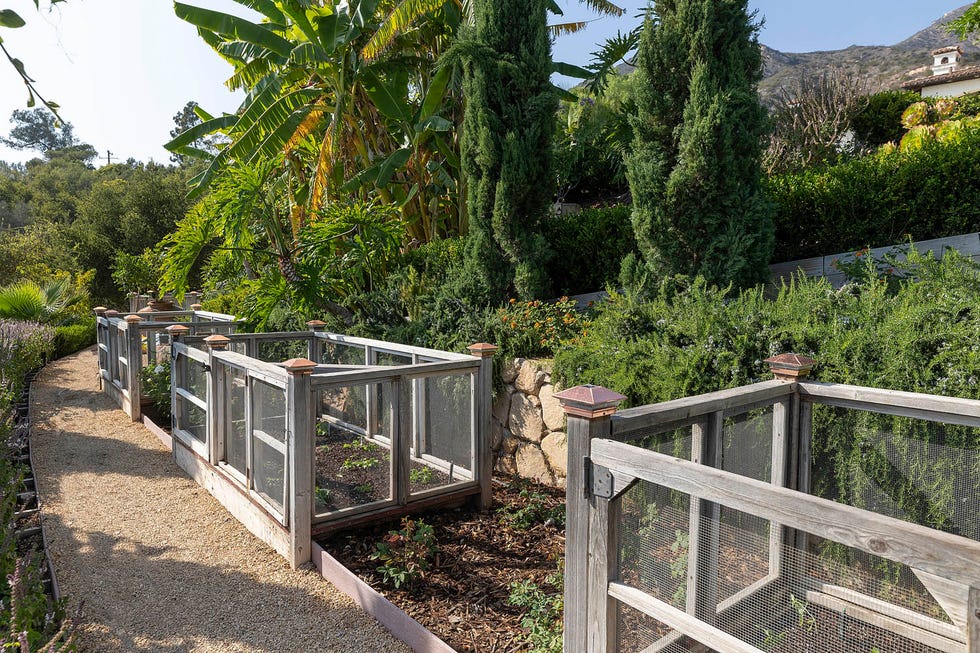 Jim Bartsh
Have a hankering for fresh herbs? The yard's outdoor garden and citrus trees will bring a farm-to-table quality to your next meal.
17
Guest House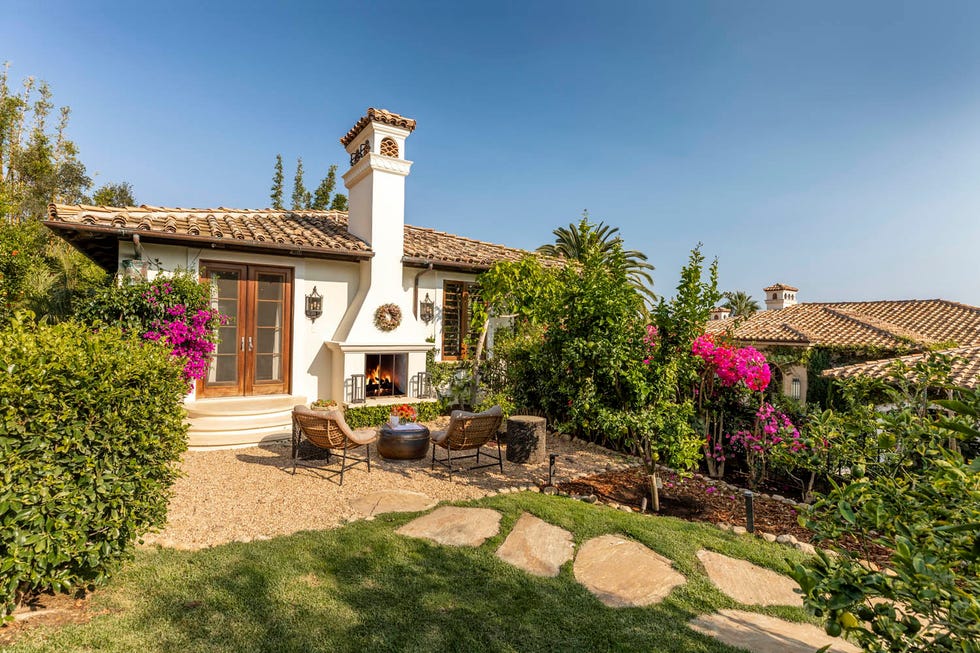 Jim Bartsh
In addition to the magnificent mansion, this property also has a sweet guest house. We wish the Duke and Duchess of Sussex would submit an offer so Meghan's mom, Doria, could live here!