From trap doors that lead to ominous hidden rooms to messages left under layers of wallpaper and forgotten pools under the floorboards, our homes are packed with (sometimes terrifying) surprises. But, what if your home's surprise wasn't scary at all? What if it was beautiful and expensive? That's exactly what happened when Sheila and Bruce—owners of a bed and breakfast called the Great House in England's National Park—set out to revive one of the fireplaces in their space.
Covered with pink outdated tiles, this fireplace was a far cry from a "wow" factor. In fact, Sheila and Bruce openly called the fireplace "ugly." But, when they removed the '70s tiles and the curved brick surround, they started to spot glimpses of blue and white. They kept digging only to discover that their fireplace was framed in rare and beautiful Delft tiles. In case you need to brush up on your design history, a town in the Netherlands called Delft started to make exquisite blue-and-white ceramics back in the mid-1600s. Today, there's only one official Delft factory that's producing the ceramics, so they are very rare. (In fact, some people claim a Delft plate can be worth up to $5,000. Let that sink in for a second.)
Of course, the surprise doesn't stop there. Sheila and Bruce kept digging and found that the original surround was made of ultra-luxe (and notoriously expensive) Carrara marble. "The Carrara marble surround is contemporary to the 1690 build and the Delft tiles are slightly later," the twosome wrote on their Instagram.
More From House Beautiful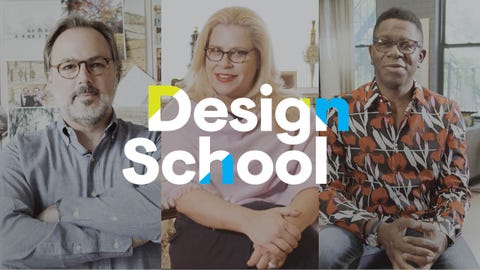 Suffice it to say Instagram is low-key freaking out about this discovery, and many followers were shocked that these beautiful features had been hidden in the first place. "How could anyone THINK of covering that?" one commenter asked. "There's a special place in hell for whoever ruins vintage/period furniture/artwork into modern plain boring style," another said.
Meanwhile, others were completely blown away by the final result. "First time in my life I'm glad theres less pink," a design lover mused. "The original is stunning." Another viewer kept simply wrote, "An epic reveal." We couldn't agree more.