15 Farmhouse Living Room Ideas That'll Make You Feel Right at Home
Kick your feet up and relax.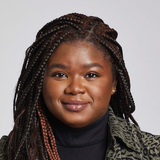 By Medgina Saint-Elien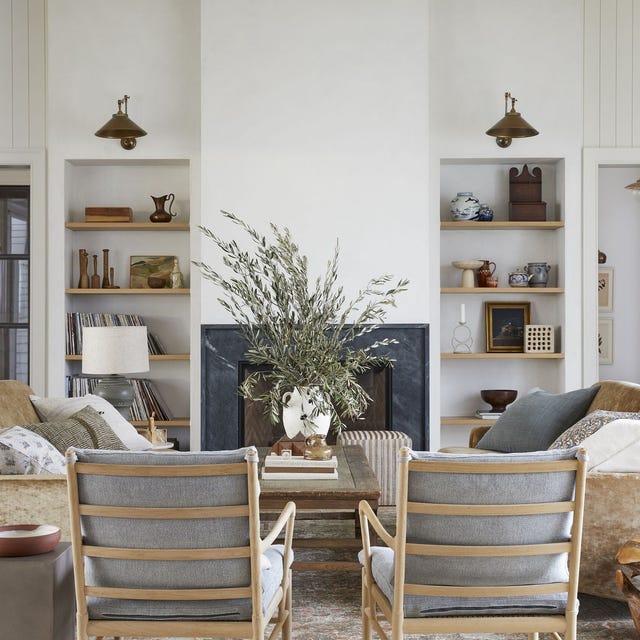 Margaret Austin
If your mind flashes to Chip and Joanna Gaines filming an episode of Fixer Upper when you hear the term farmhouse, we're not surprised. The duo made the style ultra popular, but it's so classic it transcends the trends. The farmhouse aesthetic is also versatile enough to work in most styles of houses, whether yours is modern or traditional. We especially love a farmhouse living room that honors the basics: wood, shiplap walls, a fireplace, and plaster, to name a few. If you're not sure where to start, we've found farmhouse living room ideas to inspire you.
Designers favor farmhouse design in living rooms because it's practical and comfortable. It's also easy to upgrade with modern touches that are timeless but exciting. Modern farmhouse design incorporates midcentury modern elements, rattan, and woven materials. The one color you'll find in a modern farmhouse living room is black! It breaks up the mostly neutral palette by bringing attention to other details in the room like the fireplace or exposed ceiling beams.
Farmhouse style isn't going anywhere, so you might as well join the choir. The look is simple to achieve since it prioritizes comfort, neutrals, and minimalistic sentiments. You can go big with barn doors or achieve a laid-back look with a weathered coffee table and large white cloud couch. If you feel stifled sticking to one design, farmhouse is the perfect jumping-off point for building up another look like a bohemian or coastal decor style. Your guests will praise your ability to make the aesthetic your own! Below, you'll find a few of our favorite farmhouse living room ideas that encourage family and friends to stay awhile.
1
Begin With a Blank Canvas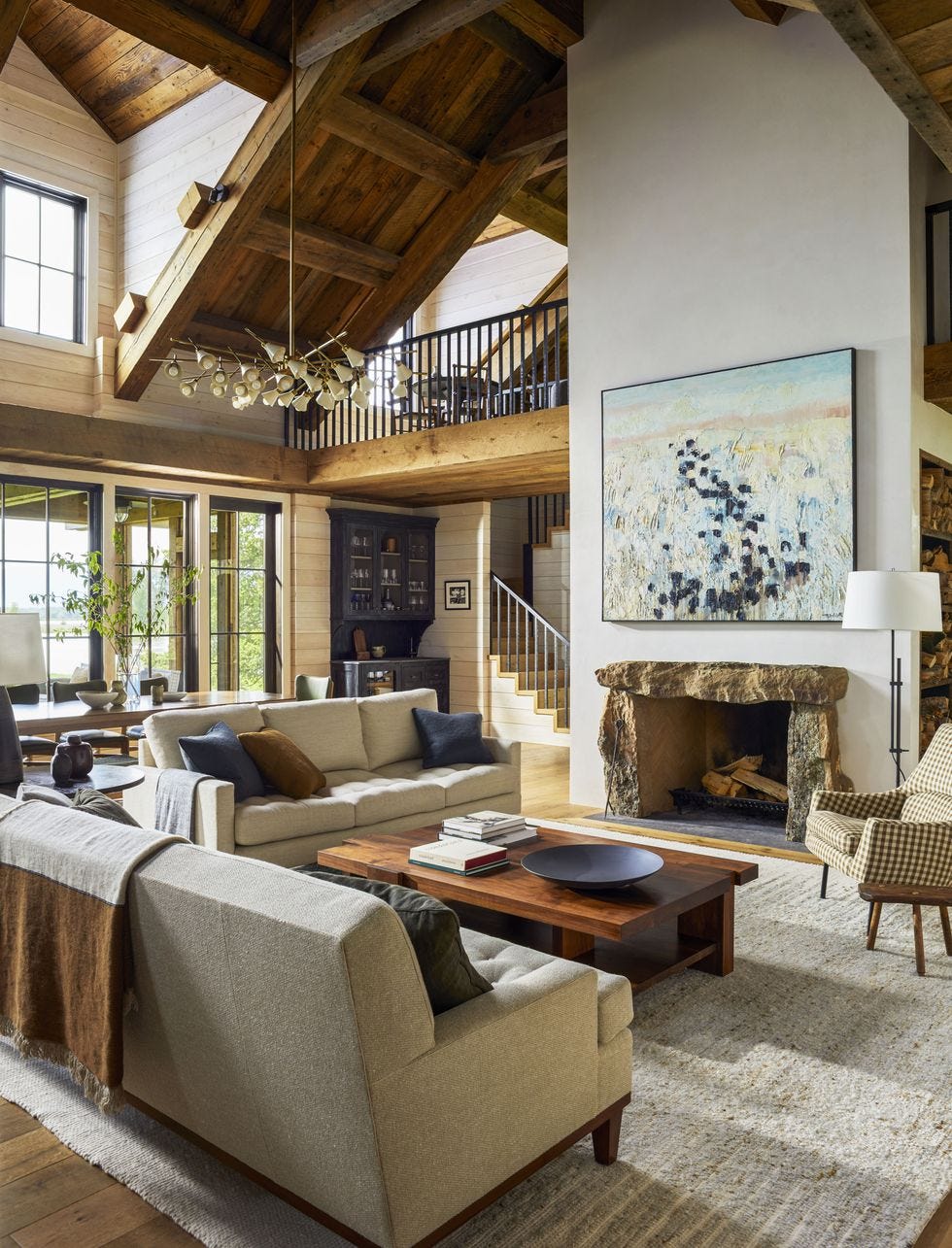 Eric Piasecki
This glorious living room designed by Kylee Shintaffer is part farmhouse and part rustic design. Shintaffer brought the best of both worlds to a couple with different design styles: one wanted "more of a white farmhouse and the other a woodsy retreat." The open-plan living area features a large plaster and stone fireplace. "If we clad that entire thing in stone, it might feel heavy and dark," Shintaffer notes. Instead, it's a blank canvas that shifts the emphasis to the rest of the room—including the heart-stopping views.
2
Honor the Shiplap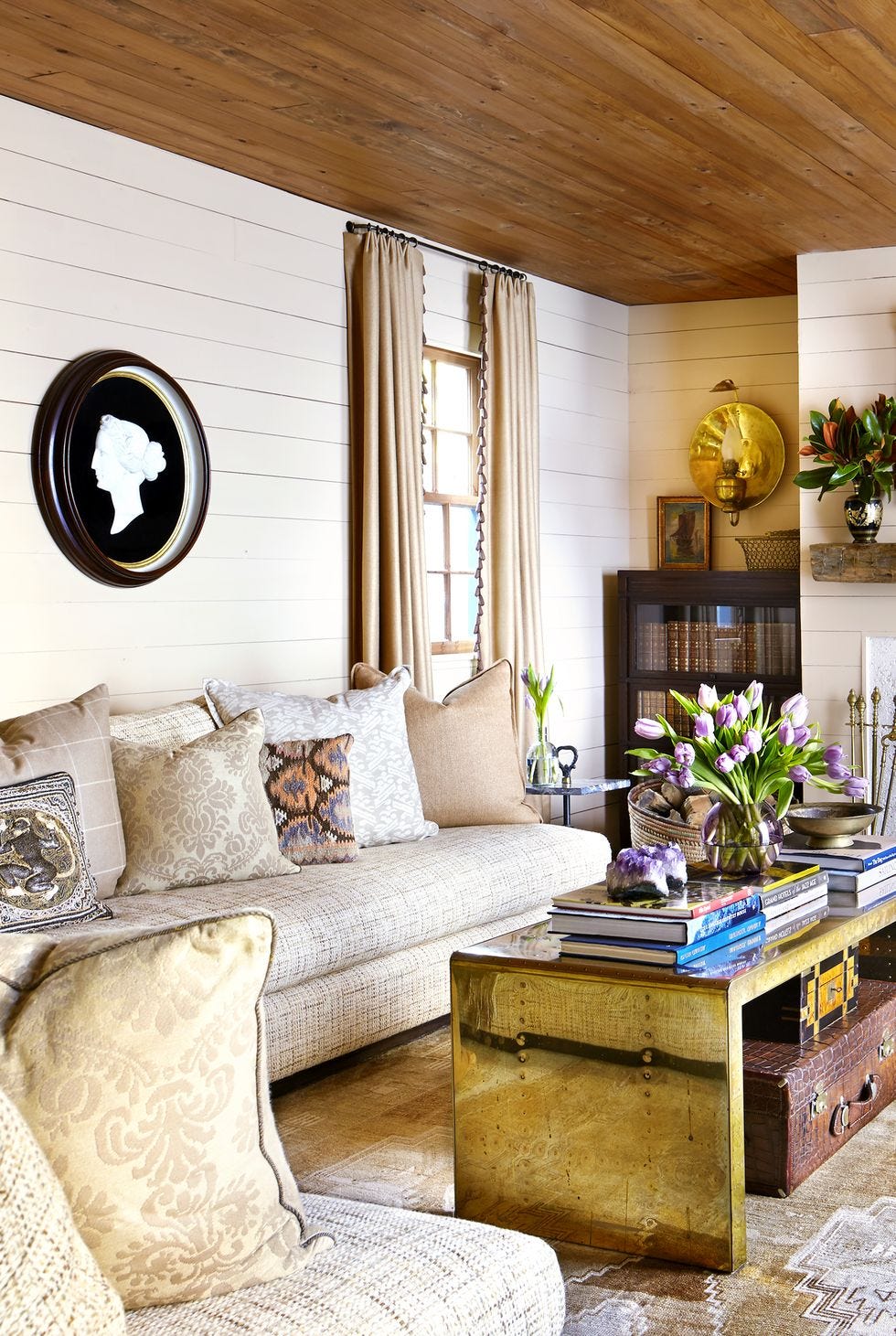 Trevor Tondoro
To up the farmhouse vibes, install shiplap. Outside of the fact that Joanna Gaines would totally approve, it's a classic addition to all farmhouse layouts. Then add something metallic, like a coffee table or wall sconce for a surprise finish in the sea of wood.
3
Look to Your Landscape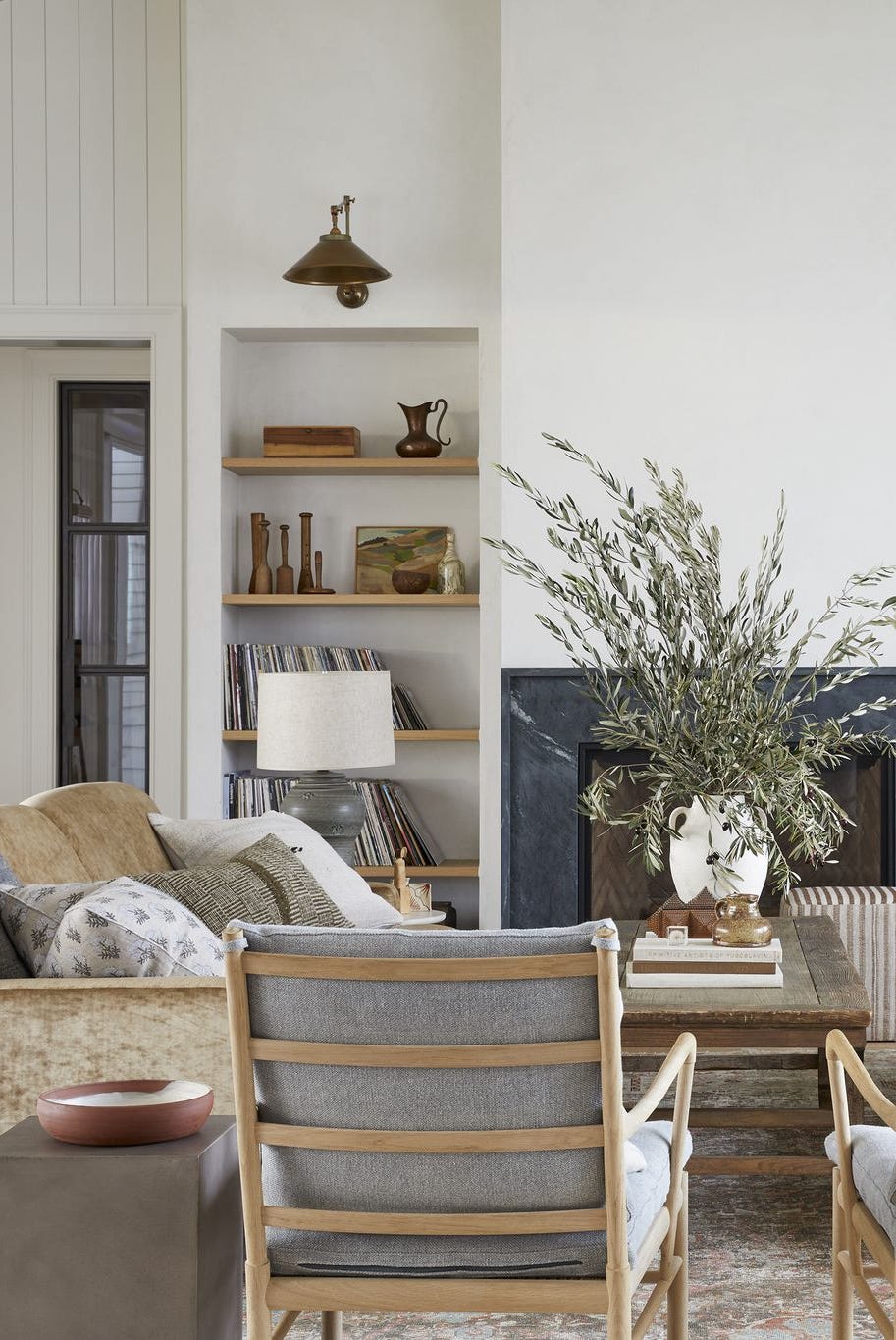 Margaret Austin
Gone are the days of farmhouse being viewed as a regional design—it's popular from coast to coast! When one homeowner set out to build her forever home in Sonoma, California, she tapped Lori Anderson Wier of Anderson Wier Studio to help bring her dream to fruition. This living room is an open-concept space with distinct zones that play with topography and scale, from the low-slung sofa to a rustic coffee table.
Advertisement - Continue Reading Below
4
Get Cozy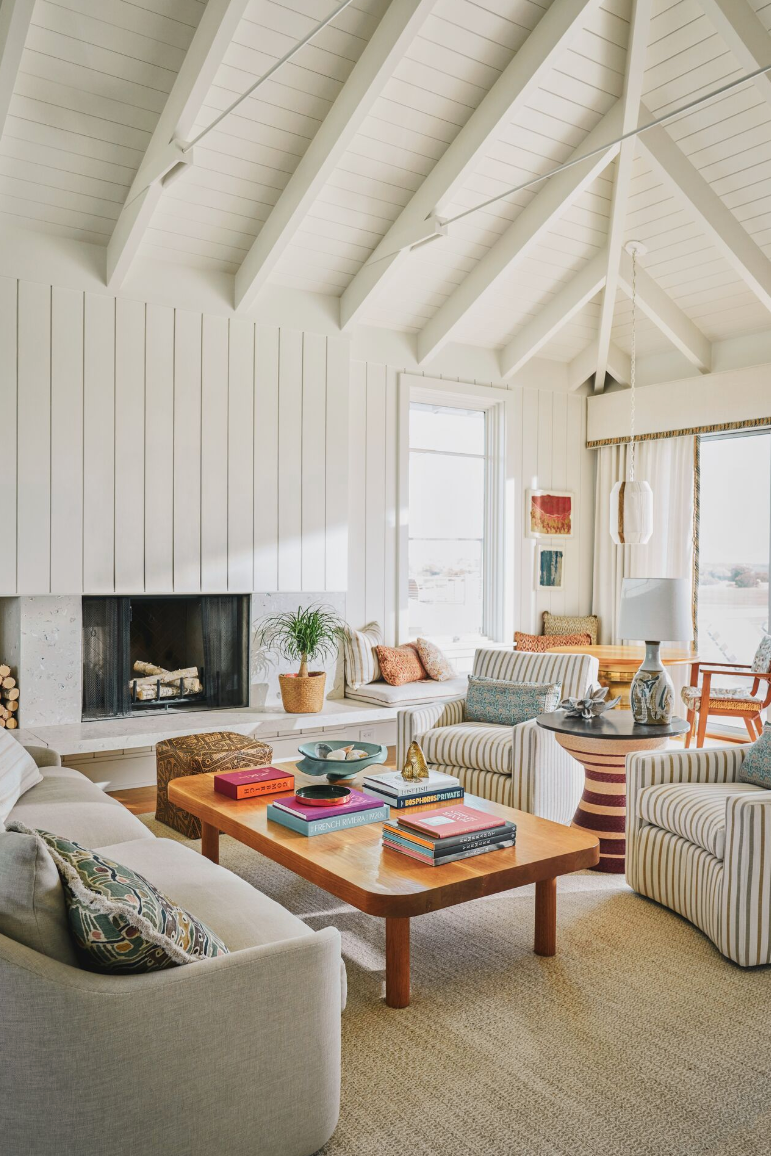 Paul Costello
Think a beach house can't feel like a farmhouse? This living room designed by Barrie Benson proves that the farmhouse aesthetic can go coastal. It expertly balances bright and airy with warm and cozy: The sisal carpet and fireplace are so welcoming, while the lofted ceilings, natural exposure, and lofted ceilings feel light.
5
Choose Unconventional Seating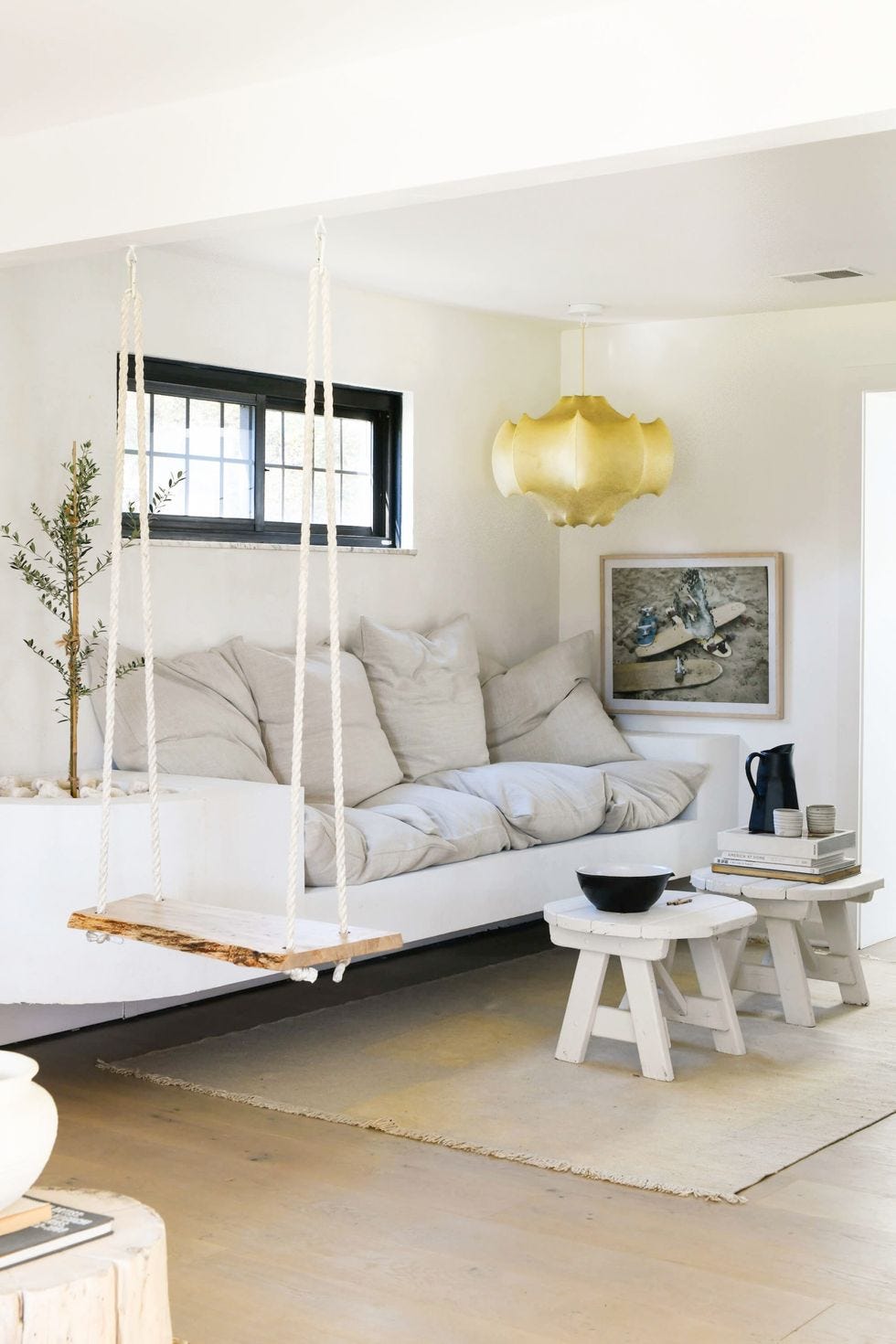 Leanne Ford Interiors
Bring in the fun! This eclectic space designed by Leanne Ford Interiors uses quirky seating arrangements and out-of-the-box furniture. Two small stools are painted white for a soft, cohesive, and personalized look (they can serve as coffee tables too). Plush cushions are piled on top of a ledge as a makeshift sofa, and a swing mounted from the low ceiling invites hanging out.
6
Go Antiquing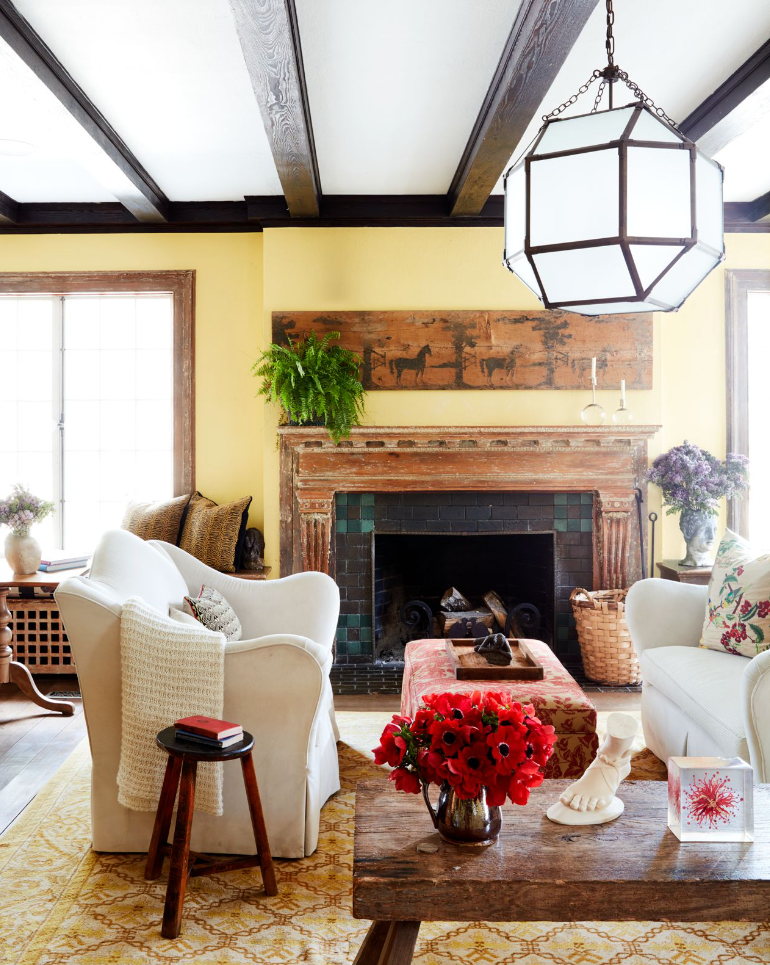 David A. Land
Stay on theme by finding gems for your farmhouse living room at your favorite vintage or thrift stores. You don't want it to look too on the nose, but small moments like artwork and rustic wood furniture will bring out the farmhouse aesthetic.
Advertisement - Continue Reading Below
7
Create a Multipurpose Zone
Josh Franer
If you don't have room for a separate living room, family room, and home office, combine the concepts in one famhouse-inspired space. This living room and office by Leanne Ford proves that the right layout and pieces can look great no matter what size the room.
8
Try Scandinavian Accents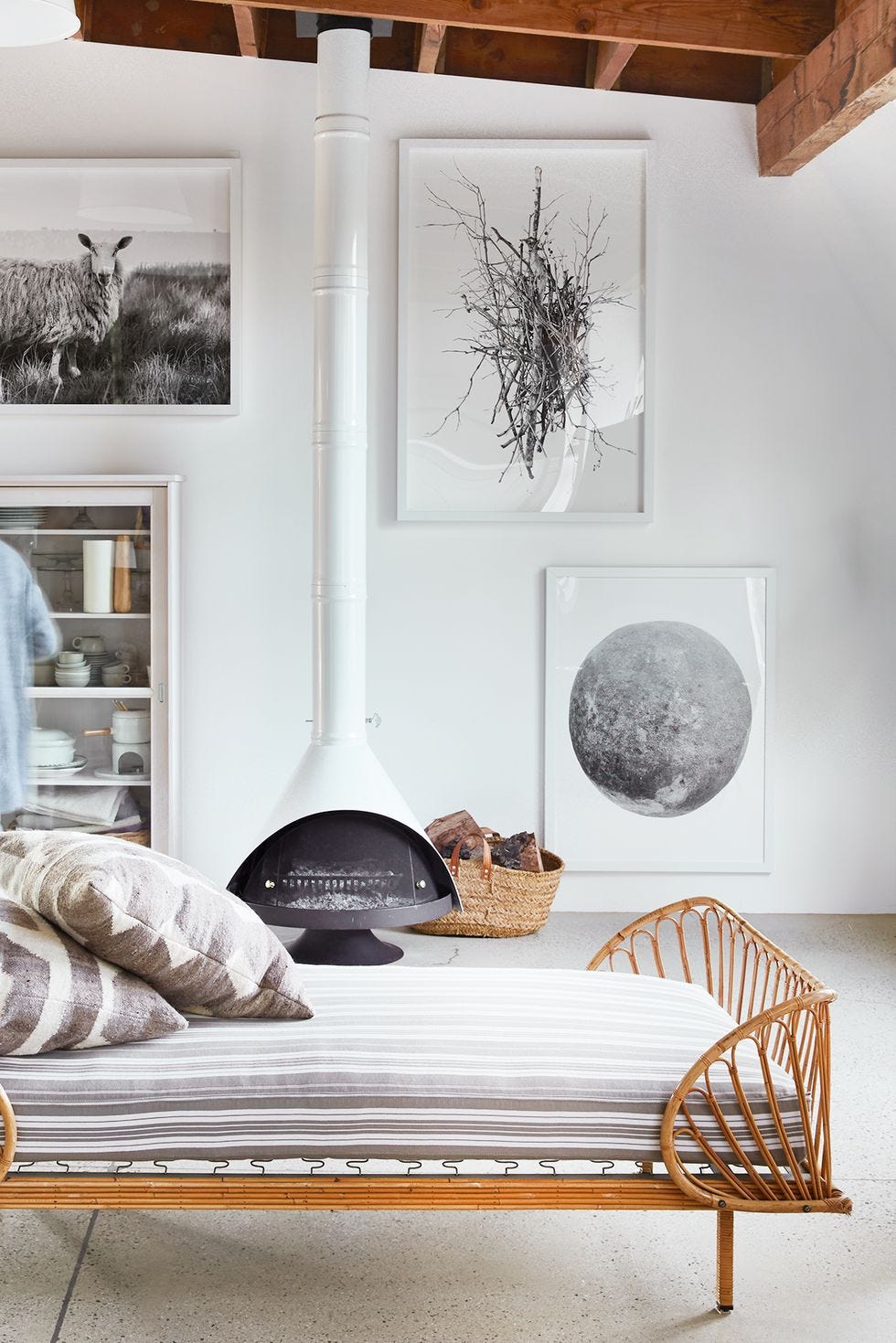 Victoria Pearson
Go hybrid! Modern Scandinavian design meets farmhouse style in this bright white living space photographed by Victoria Pearson. White paint, rough flooring, and modern prints give it an edgy feel, but there's also a bohemian touch that makes it super approachable and laid-back.
9
Skip Curtains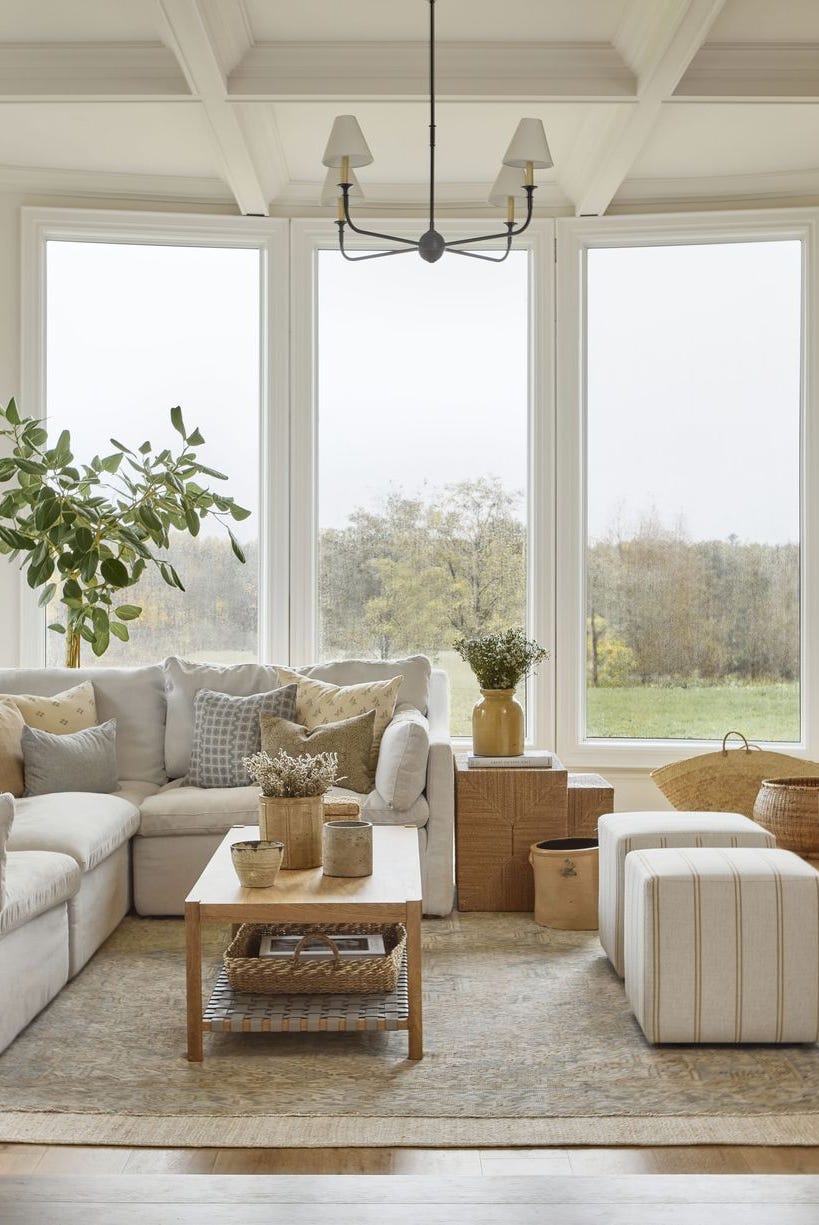 Lauren Miller
No curtains were needed for privacy in this Ontario-based home, so designer Ashley Montgomery left them out for unobstructed views of the surrounding meadows. "Nothing could be too fussy or precious," Montgomery says of the modern and practical three-bedroom, three-and-a-half-bath farmhouse. The effect is picturesque but lived in.
Advertisement - Continue Reading Below
10
Choose Weathered Furniture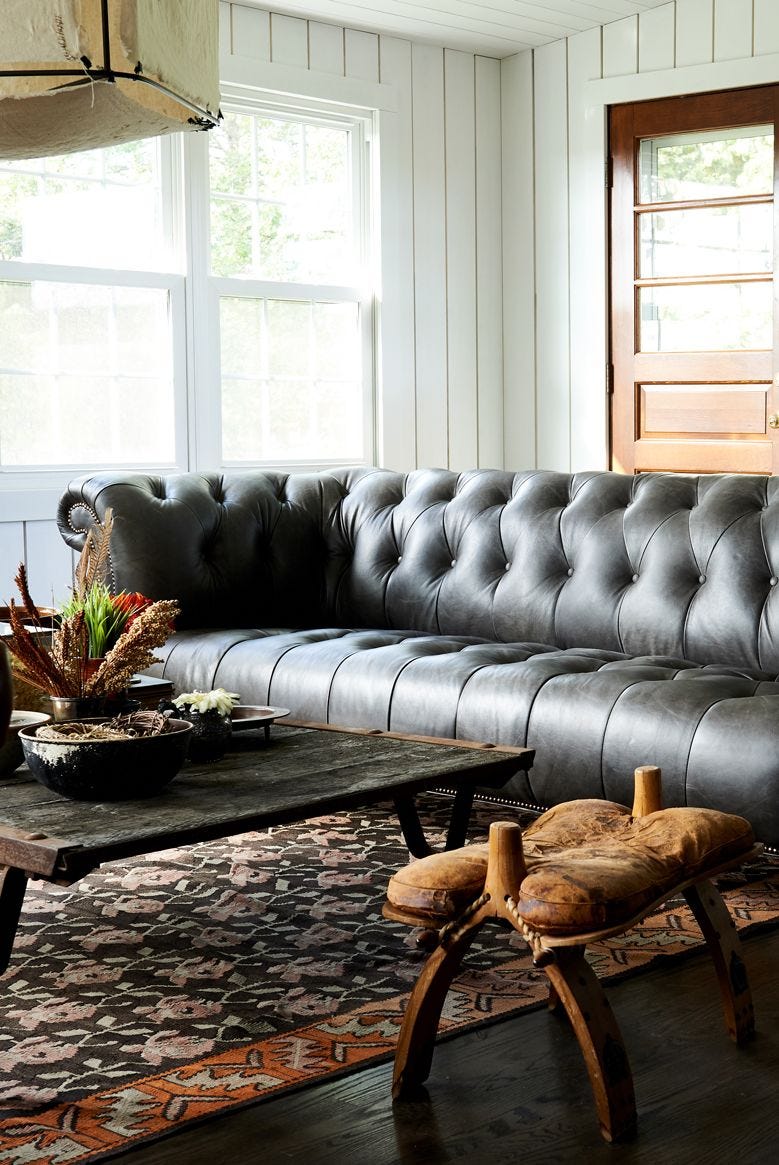 Alexandra Ribar
An antique stool vibes well the Chesterfield sofa in this room designed by Leanne Ford. Pro tip: Resist the urge to push all of your furniture up against the walls. If you create space behind the furniture, it makes the room look wider than it is.
11
Keep the Convo Going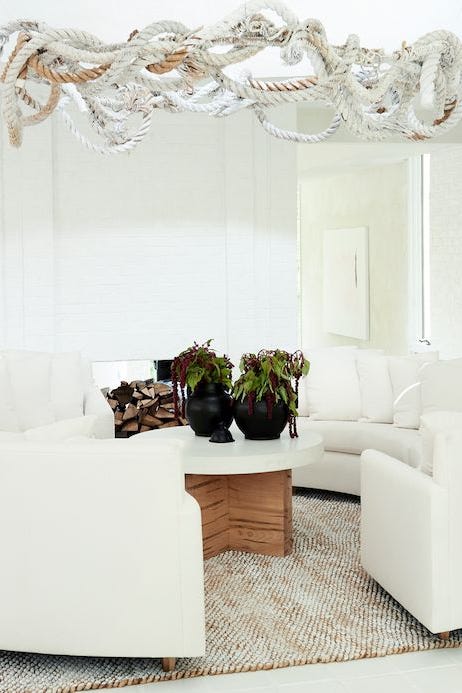 PHOTO: Alexandra Ribar; DESIGN: Leanne Ford Interiors
If you frequently entertain at home, choose a farmhouse living room layout that promotes conversation. This room designed by Leanne Ford Interiors incorporates semicircular seating that's spacious and inviting. Bonus: If you love the all-white aesthetic, take note: Ford brush-painted the natural Ikea rug and custom-made rope light seen here—an easy DIY that adds a lot of texture.
12
Borrow Ideas From the Barn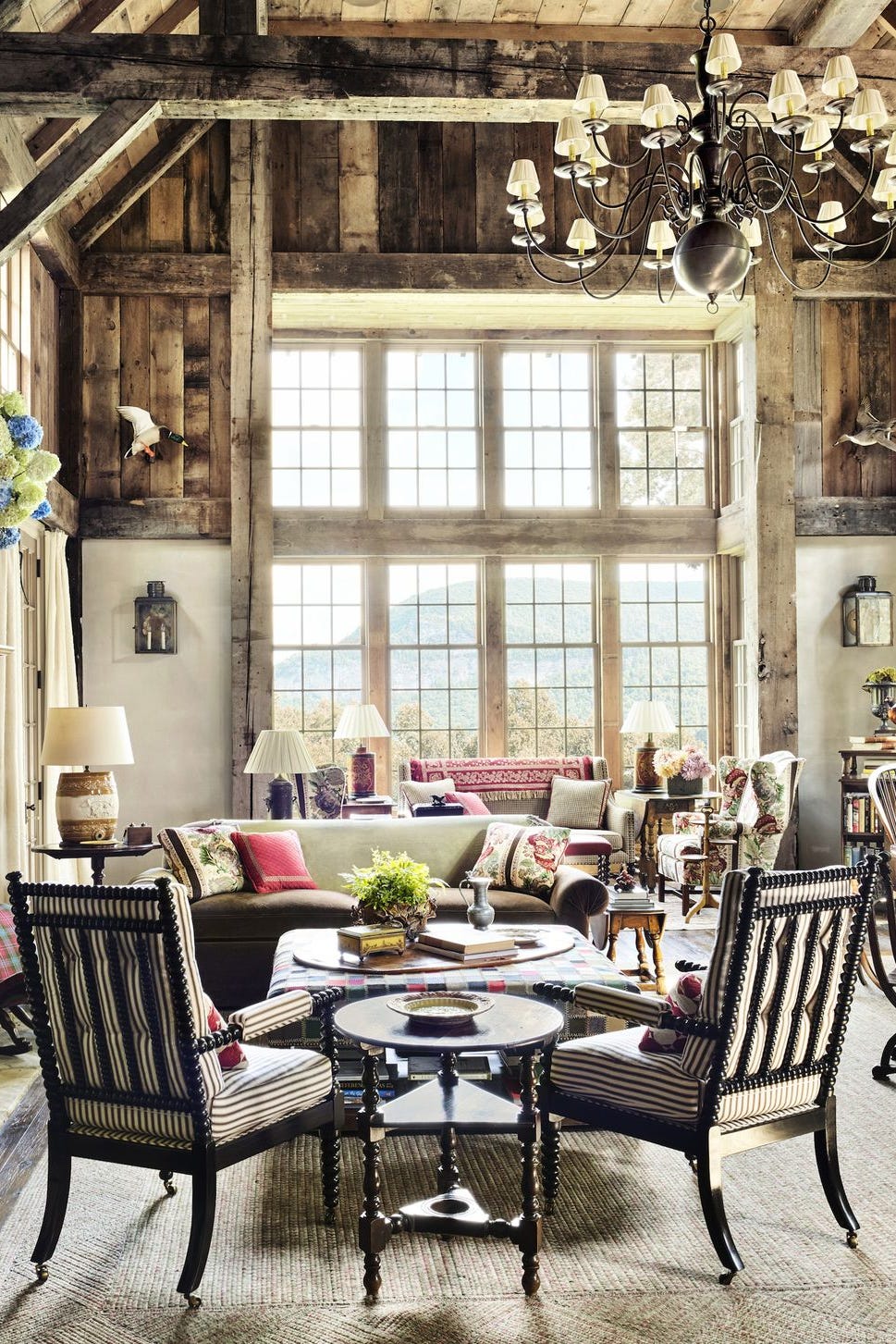 Annie Schlechter
This rustic great room was built to resemble a converted barn. If you're blessed with a large open-plan living room, add natural wood accents and set up multiple sitting areas to maximize the space. Here, there's one zone for hanging and snacking, one for cuddling up with a good book, and one for formal entertaining.
Advertisement - Continue Reading Below
13
Incorporate Soft Textures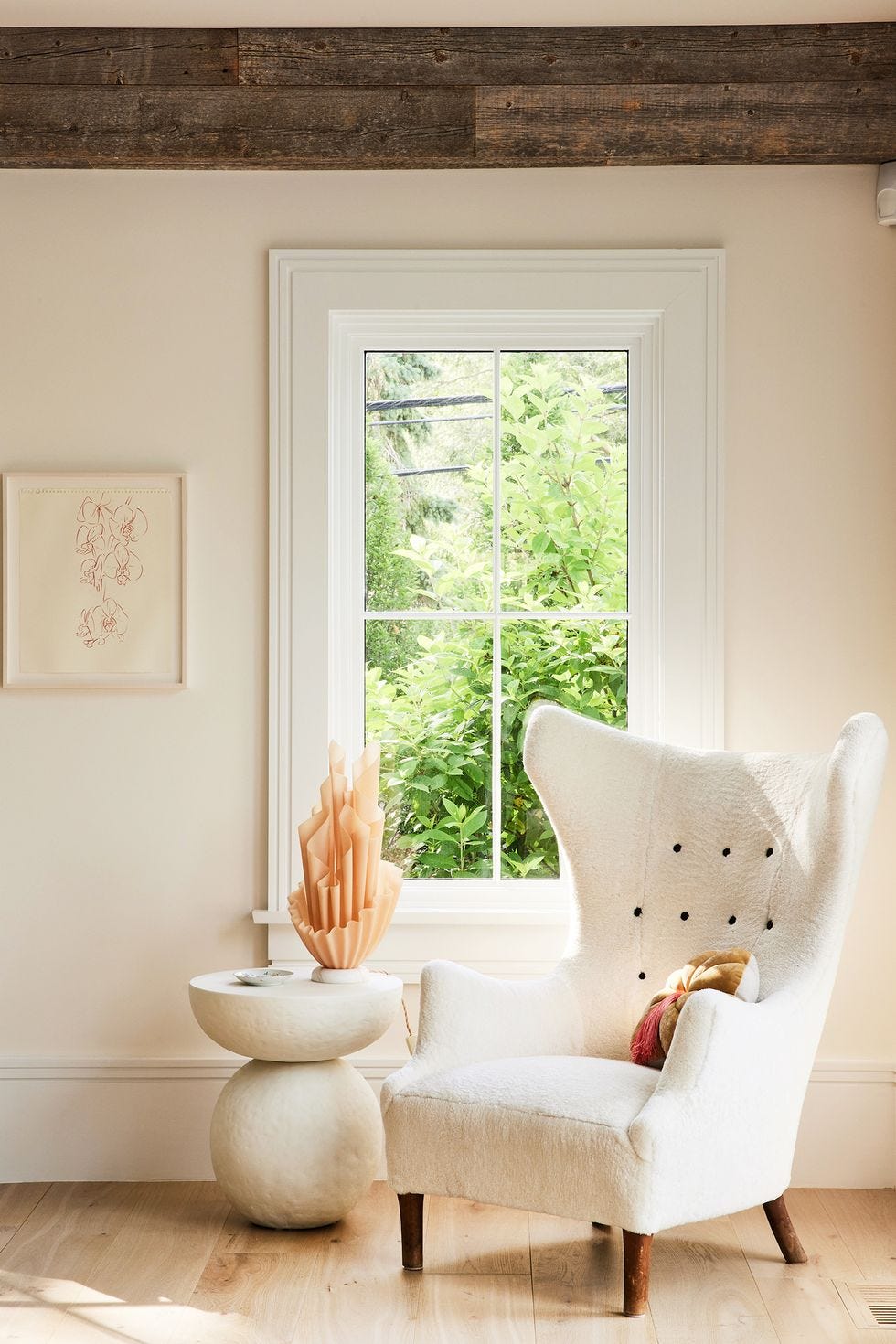 Nicole Franzen
A traditional armchair upholstered in bouclé fabric looks modern and cozy against this cream and pale pink backdrop designed by Kristin Fine. The color palette helps soften the darker wood exposed beams on the ceiling.
14
Craft Intimate Moments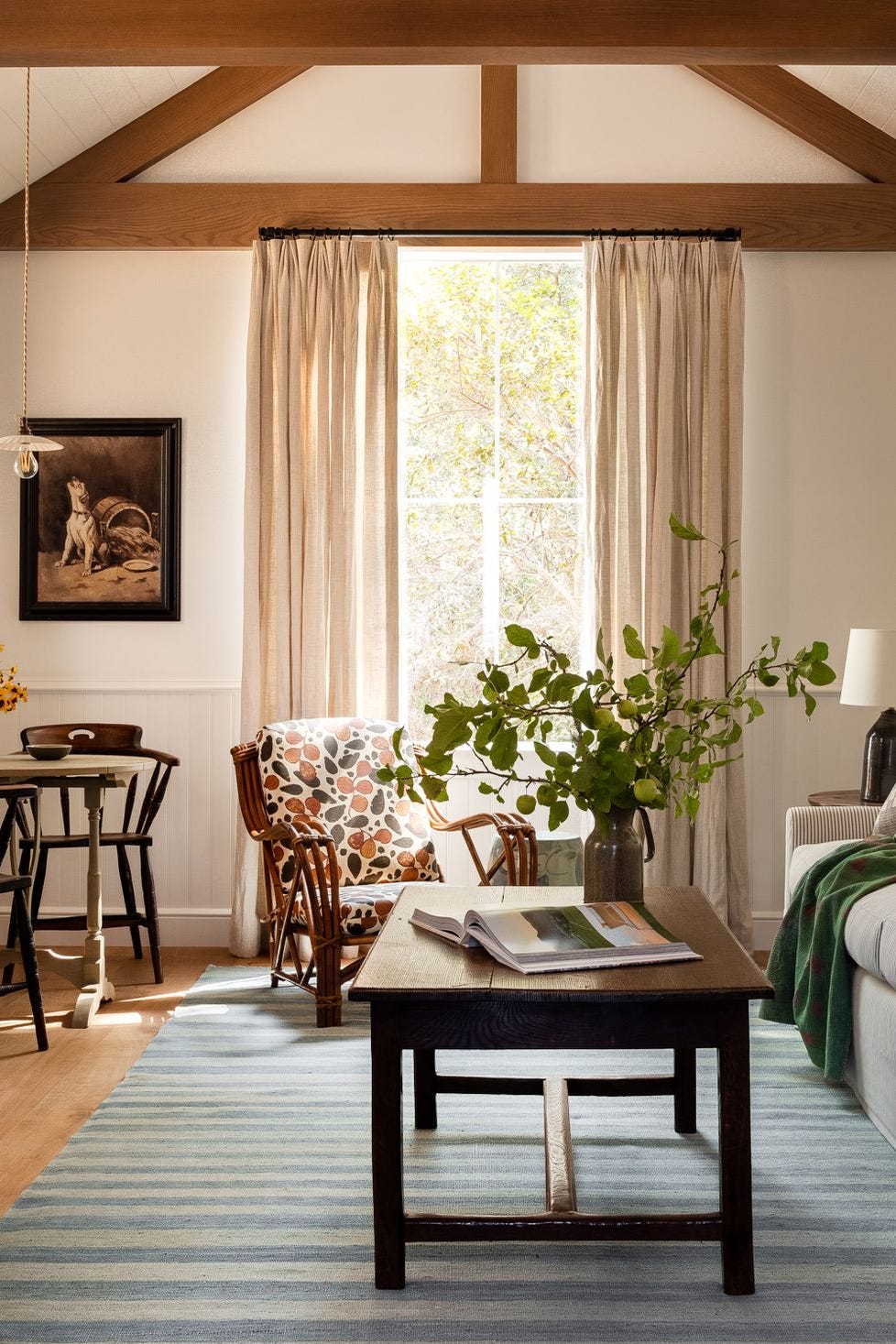 Heidi Caillier Design
This living room off an open kitchen also functions as a dining nook, so Heidi Caillier kept the furniture edit minimal: a sofa, coffee table, and chair. Semi-sheer curtains that let sunlight pour in invite you to read by the window or sit down to breakfast.
15
Add Some Glamour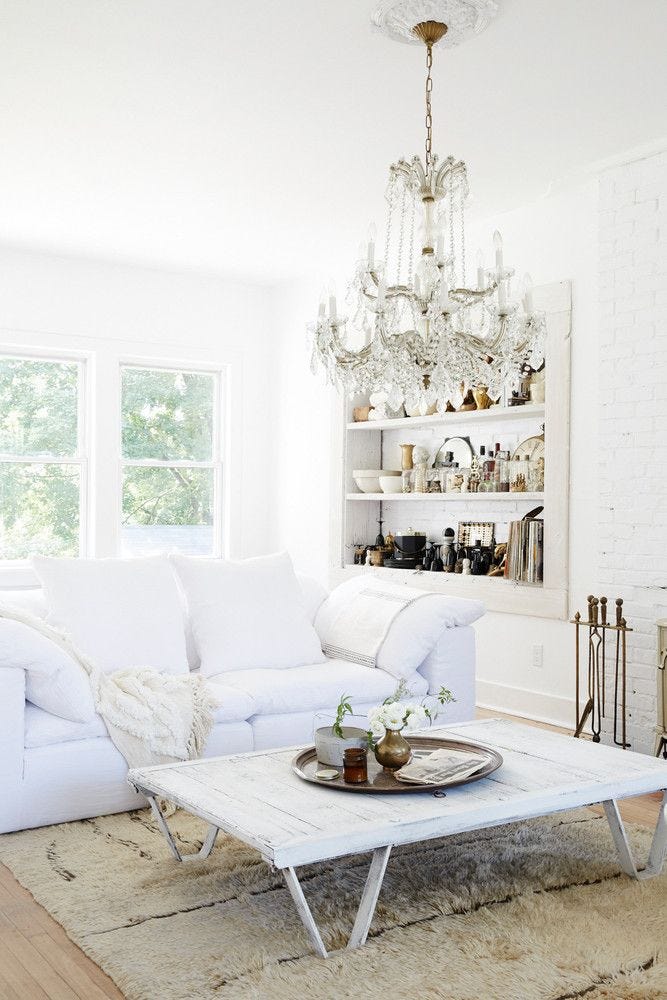 Nicole Franzen
Embrace the finer things in life! In this shabby-chic farmhouse living room designed by Leanne Ford Interiors, we love how the over-the-top, formal chandelier creates contrast and intrigue. This room is proof that it takes only one element to bring drama to a neutral landscape.