30 Brilliant Bookshelf Decor Ideas to Show Off Your Style
Prepare for shelfie gold.
Avid readers and design enthusiasts have one thing in common: They love a well-styled bookshelf. But no matter if your taste is more coffee table books or award-winning novels, filling a bookshelf with just, well, books, can be quite boring. The best bookshelf decor ideas combine chic organization with an aesthetically pleasing layout for books that look great and are still easy to find (read: no shelving them spine in or in a rainbow).
An easy way to decorate a bookshelf like a pro is to vary the way you stack your books. Having some stacked vertically and some horizontally is a quick way to add visual interest. Laying books horizontally is also a great way to house books that are too tall otherwise, like cookbooks or coffee table books. On top of the horizontal stacks, we recommend placing a sentimental photo, your favorite candle, or another object to break up the abundance of paper.
Even if you're not an avid reader or you controversially prefer your Kindle to a hardcover, you probably have a book or two in your home. We have inspiration for people who own every book they've had since high school too—including ideas to safely store collectibles like rare books. Minimalists and maximalists and everyone in between can agree on the importance of displaying your favorite reads whether on floating shelves or built-in bookcases. Plus, a well-styled shelf can be a great conversation starter. Ahead, we highlight 30 of the best bookshelf decor ideas for every design and home style.
1
Protect Your Valuables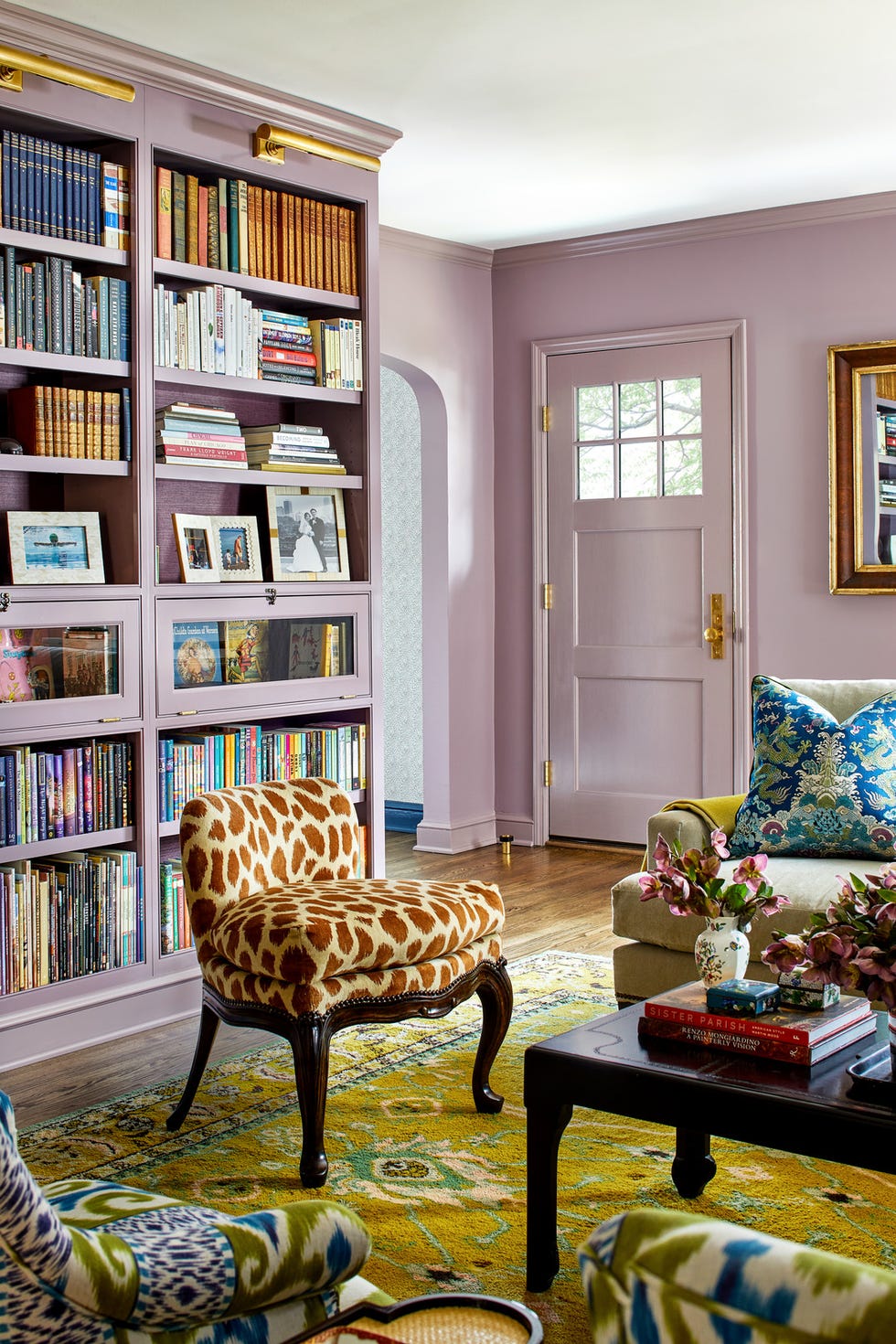 Stacy Zarin Goldberg
For rare books, first editions, or just your favorite ever book, opt for glass doors to cover certain shelves in order to keep those copies safe and out of reach. In Melissa LaSalle's home, the covered shelves have easily accessible latches for any time you want to reread or admire your collection.
2
Make It Pop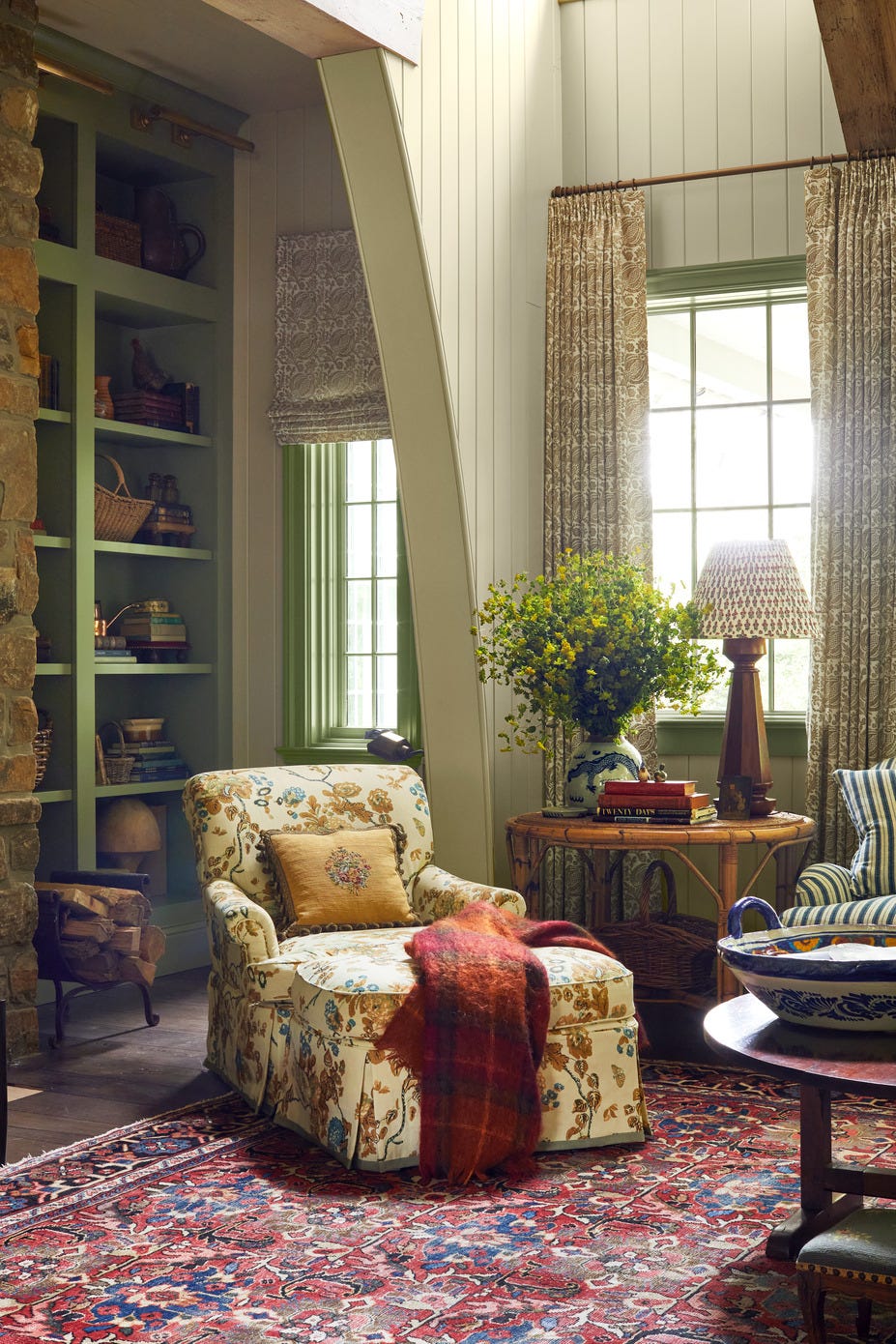 David Tsay
To make your bookshelves a statement, paint the wood the same accent color as the room's trim, as designer Fran Keenan did here in this Alabama home. We also love how she recessed the shelves into their own nook to create a cozy reading corner.
3
Utilize Negative Space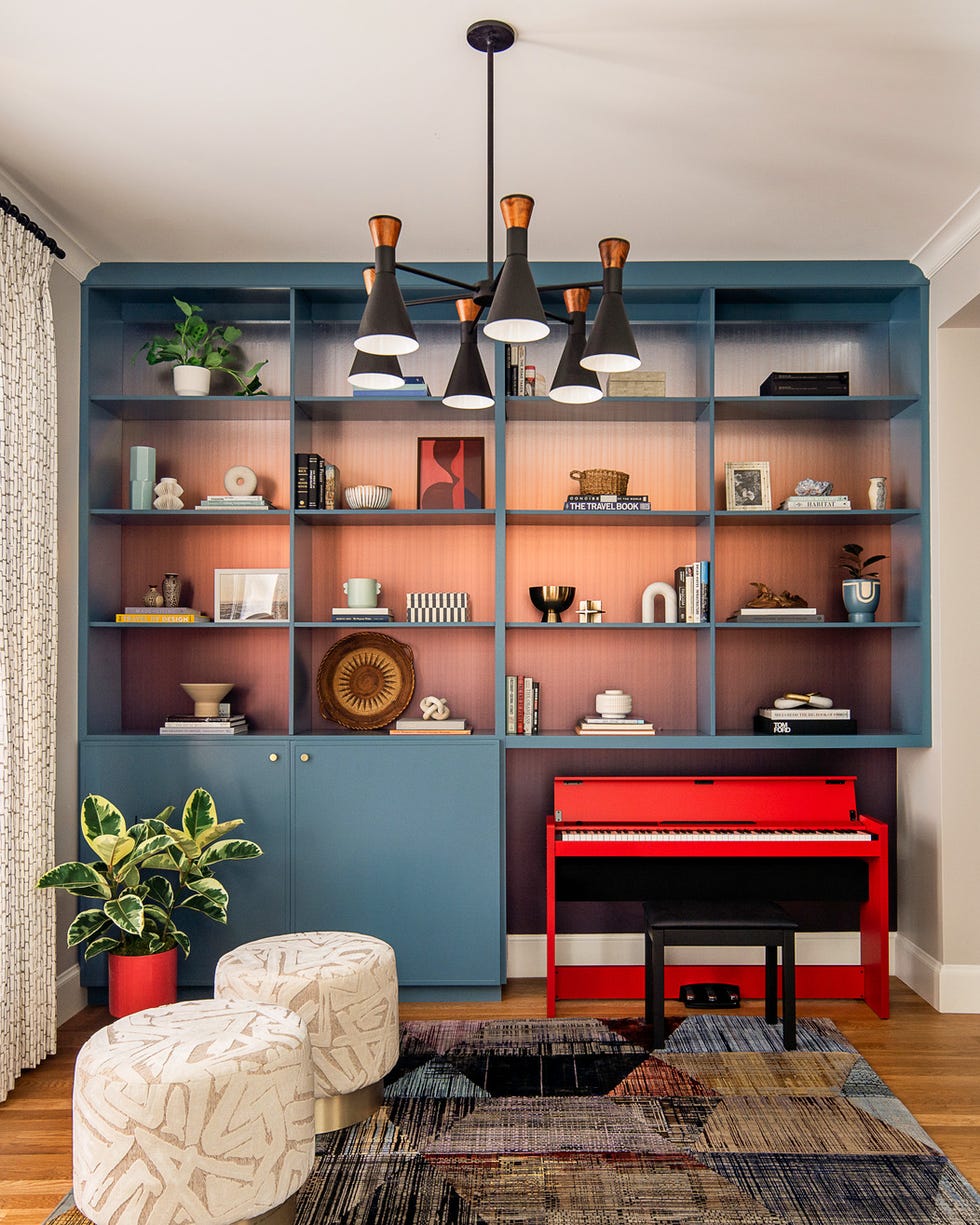 Thomas Kuioh
Have more tchotchkes than books? Take a note from Joy Street Design and use empty shelving to your advantage to take a more minimalist approach. Back each shelf with wallpaper to make the blank space feel intentional rather than sparse.
Advertisement - Continue Reading Below
4
Set the Scene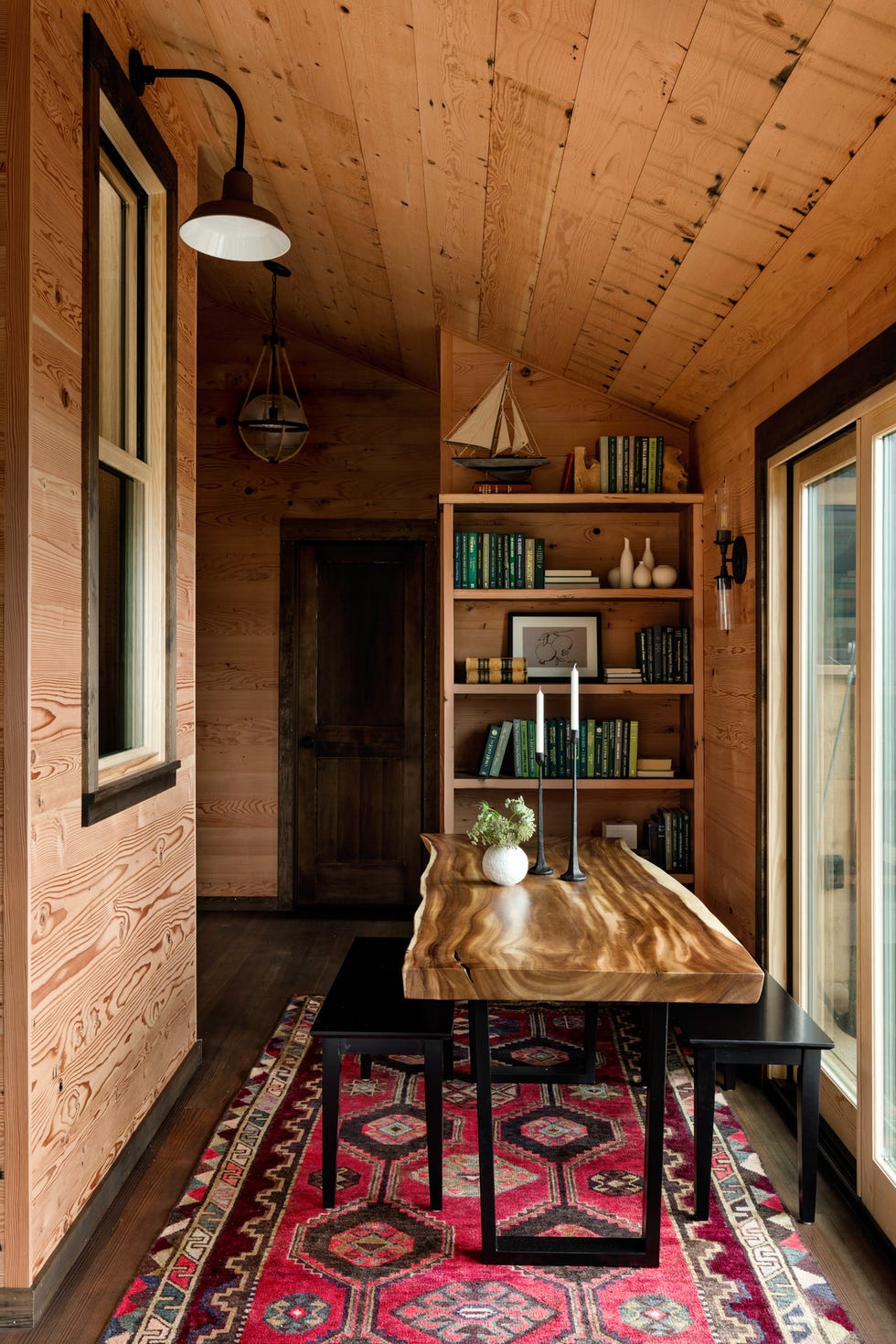 Miranda Estes
Bookshelves are a great way to keep your most frequently used things within arms reach. In this treehouse-like room by White Space Design Group, journals and games are kept close to the gathering table.
5
Treat It Like a Wall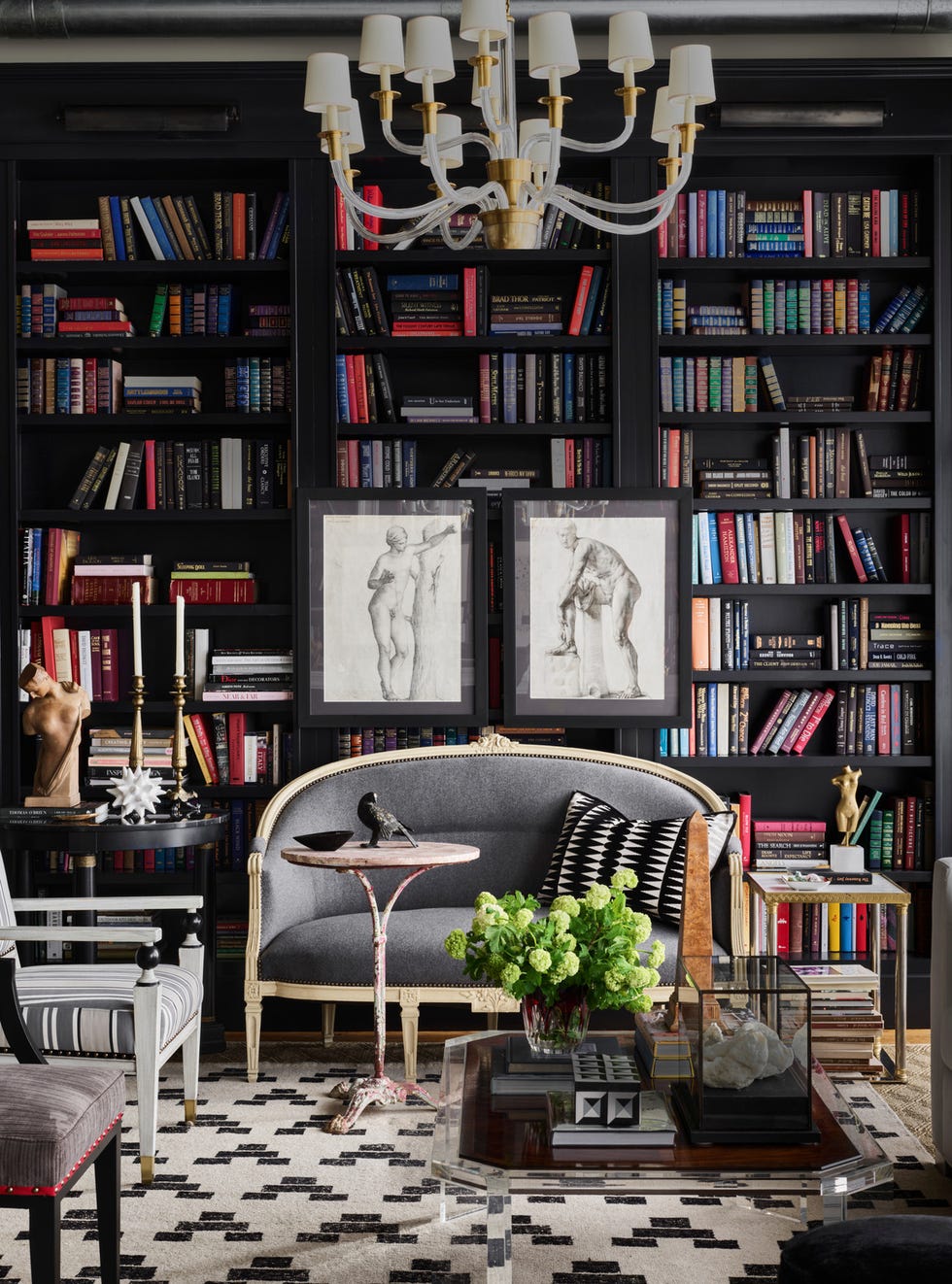 Douglas Friedman
Bookshelves can take up a lot of wall space, which might leave you with more art than you have blank walls. Treat your bookshelf like any normal expanse of wall and hang your beloved art from its cross-sections as M James Design Group did here.
6
Choose a High-Impact Theme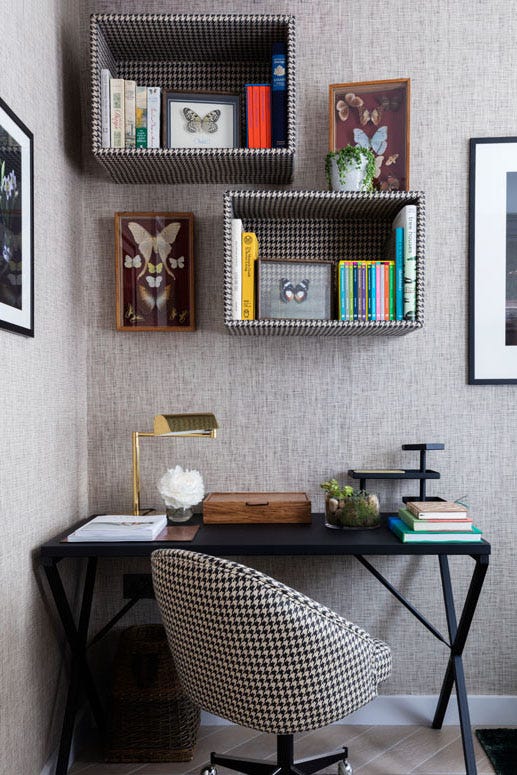 Studio Ashby
To give a workspace or reading nook cohesion, upholster your floating shelves or cubbies in the same fabric as your seating. We love the contrast between the graphic houndstooth print and butterfly motif in this space designed by Studio Ashby. The stacked floating cubbies achieve great dimension too.
Advertisement - Continue Reading Below
7
Stack 'Em Under the Stairs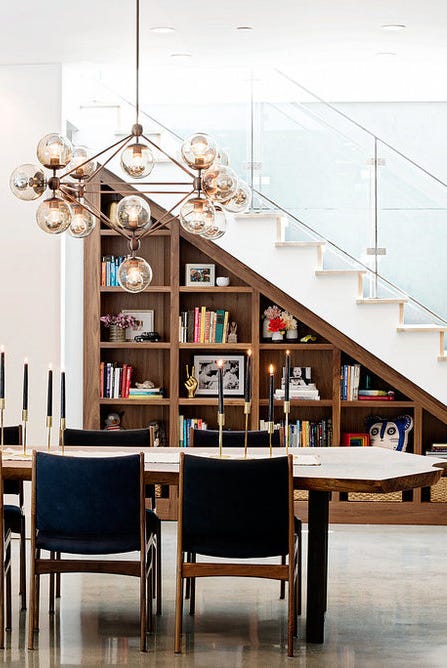 Regan Baker Design
Bookshelf storage is a great way to transform that awkward space under your stairs into something beautiful. Decorated by Regan Baker Design, this one is actually a secret passageway that opens up into a storage closet. Bonus lesson: Bookcases are the perfect decoys for hidden rooms.
8
Go Simply Stacked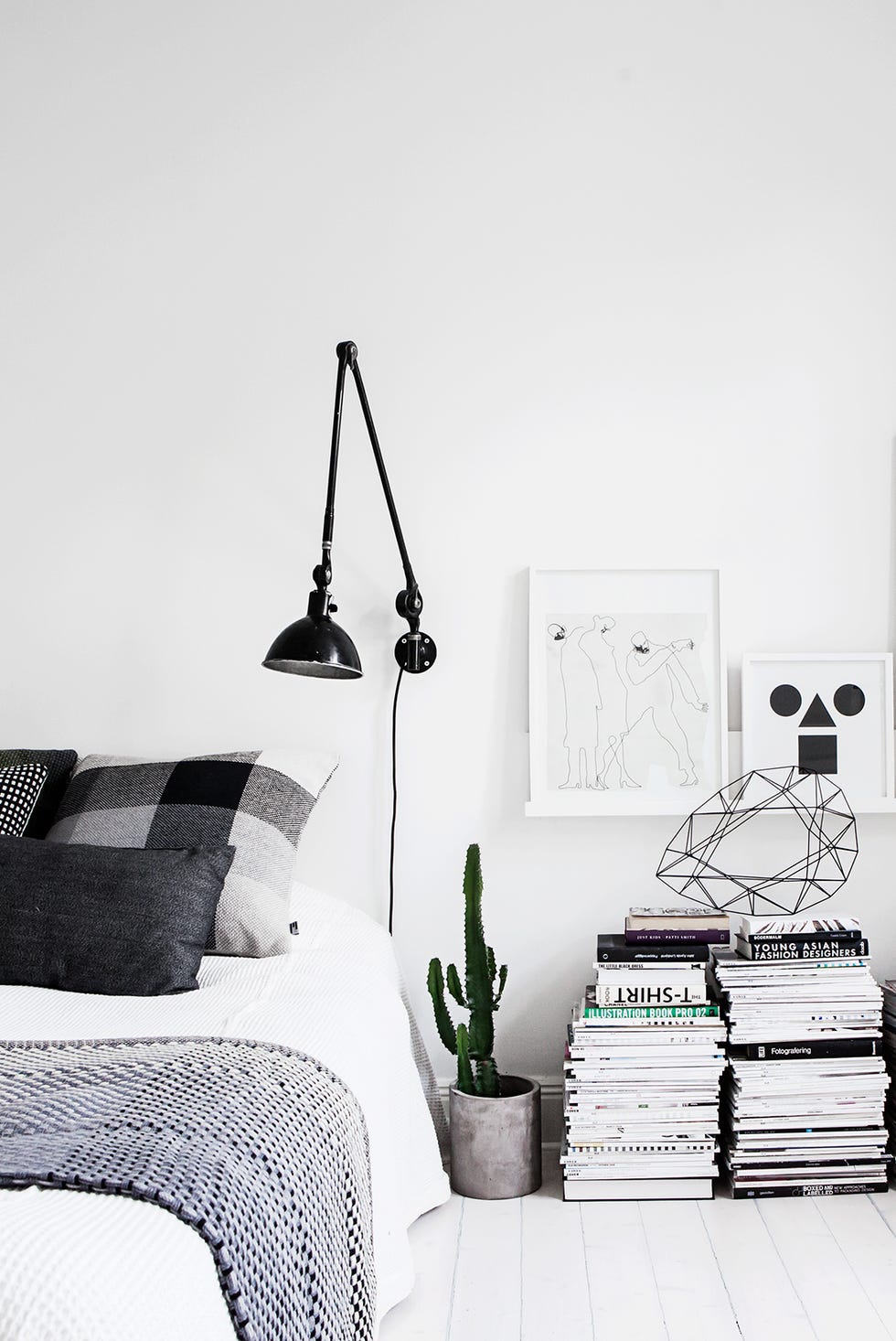 Fantastic Frank
Instead of splurging on a shelving unit, simply stack your books in neat pile against the wall. If you stack them close enough to your bed, you can use your books as a makeshift bedside table.
9
Try an Artwork Overlay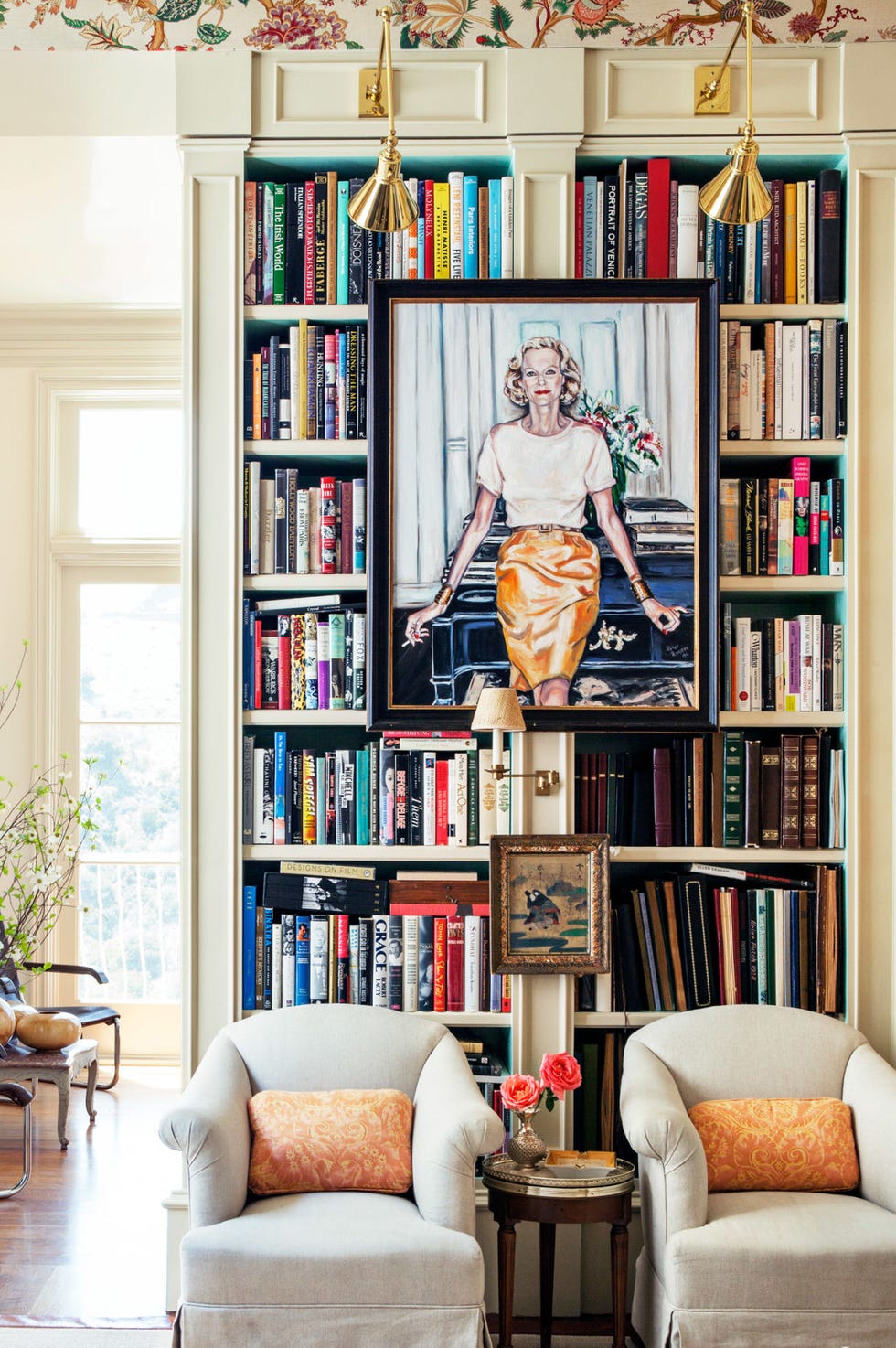 Lisa Romerein
A Peter Rogers portrait of Alex Hitz's close friend the late Nan Kempner hangs in the library of his Los Angeles home. "The room doesn't get a lot of light, so I decided to make it cozy and turned it into an English-style portrait room, which is ridiculous but fun," he says.
Advertisement - Continue Reading Below
10
Vary Heights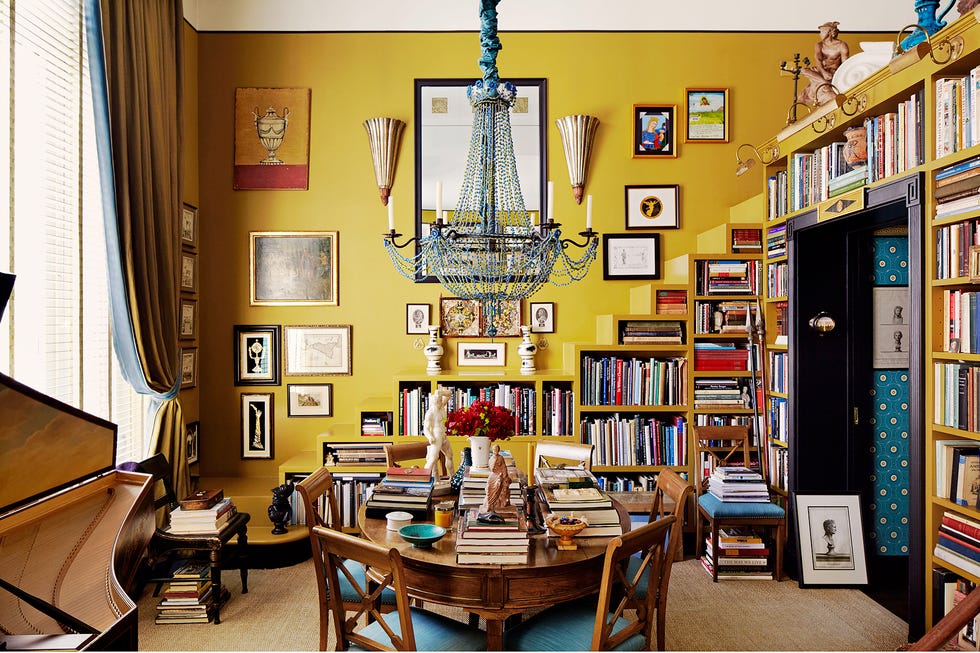 Simon Watson
This wraparound bookshelf by design duo Brockschmidt and Coleman becomes a work of art with its staggered height and shelves filled with colorful tomes.
11
Get Resourceful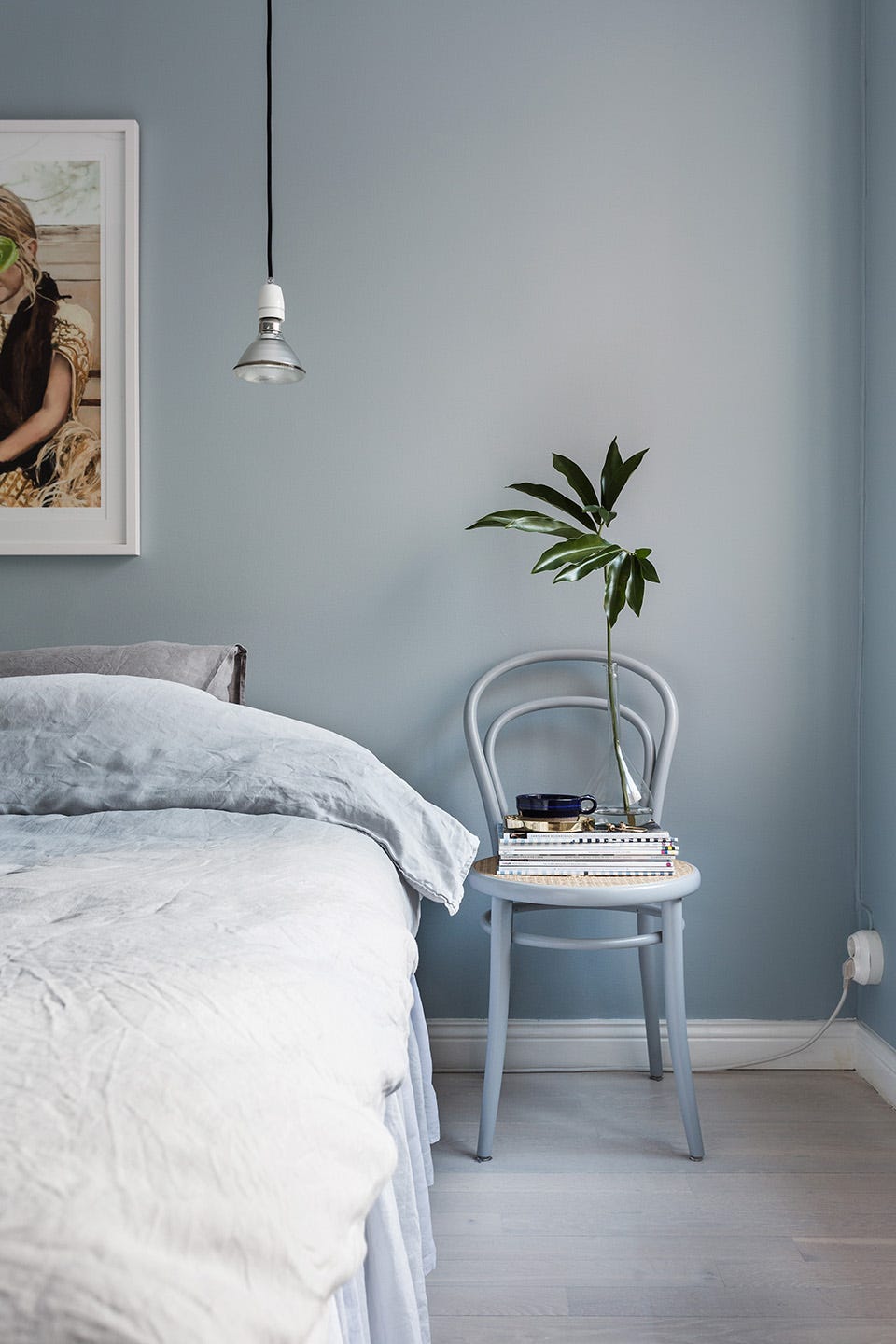 Fantastic Frank
Meet the easiest DIY bookshelf ever—this side chair is doubling as a bedside table and a bookshelf. The effortlessness has a charming appeal but it doesn't look sloppy in the slightest.
12
Drench It in Color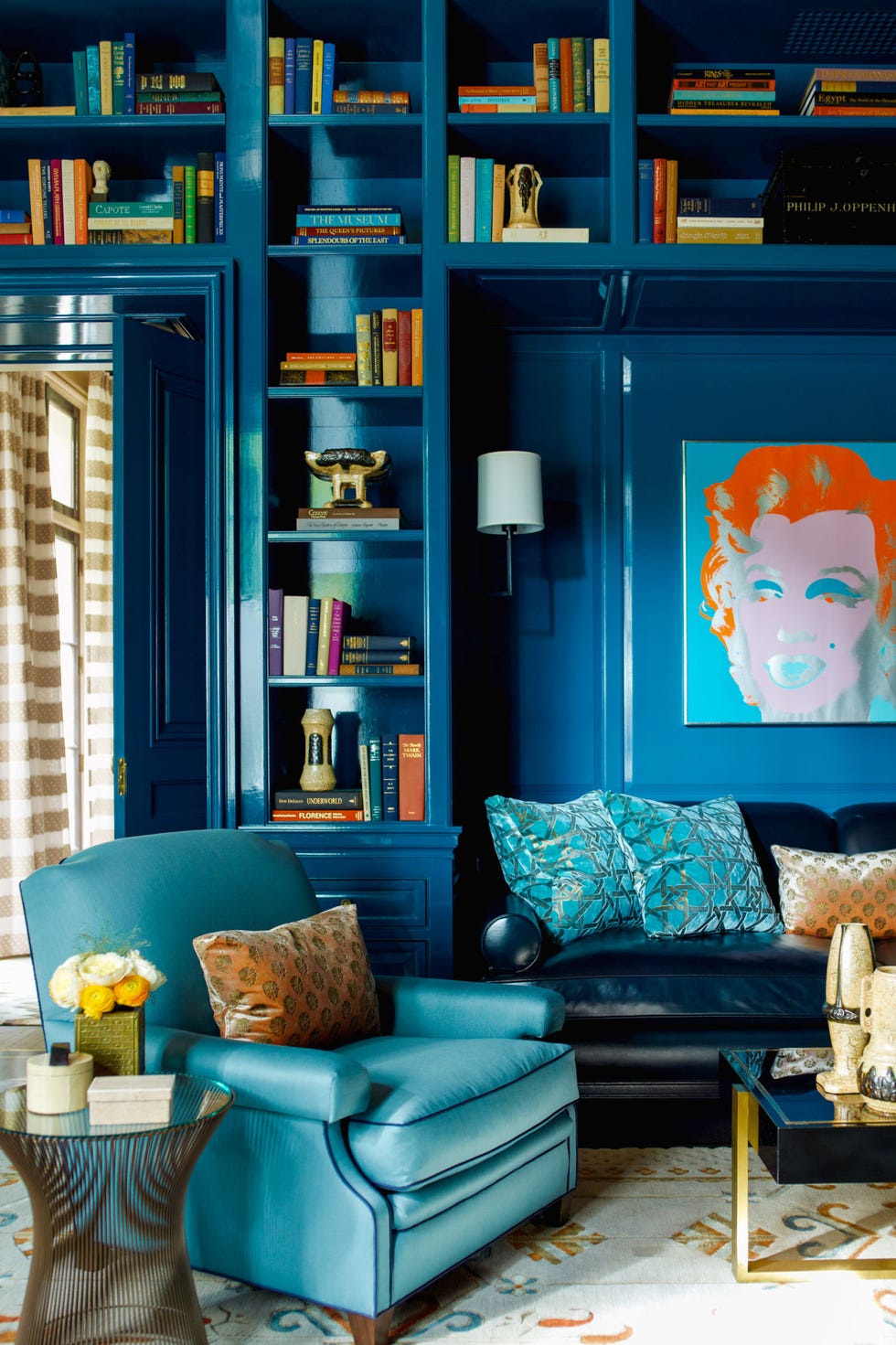 Eric Piasecki
A custom peacock-blue lacquer by Fine Paints of Europe gives depth and richness to the library of a Chicago townhouse. Designer Steven Gambrel dialed up the color here and throughout the home to compensate for Chicago's long winters.
Advertisement - Continue Reading Below
13
Accent Floating Shelves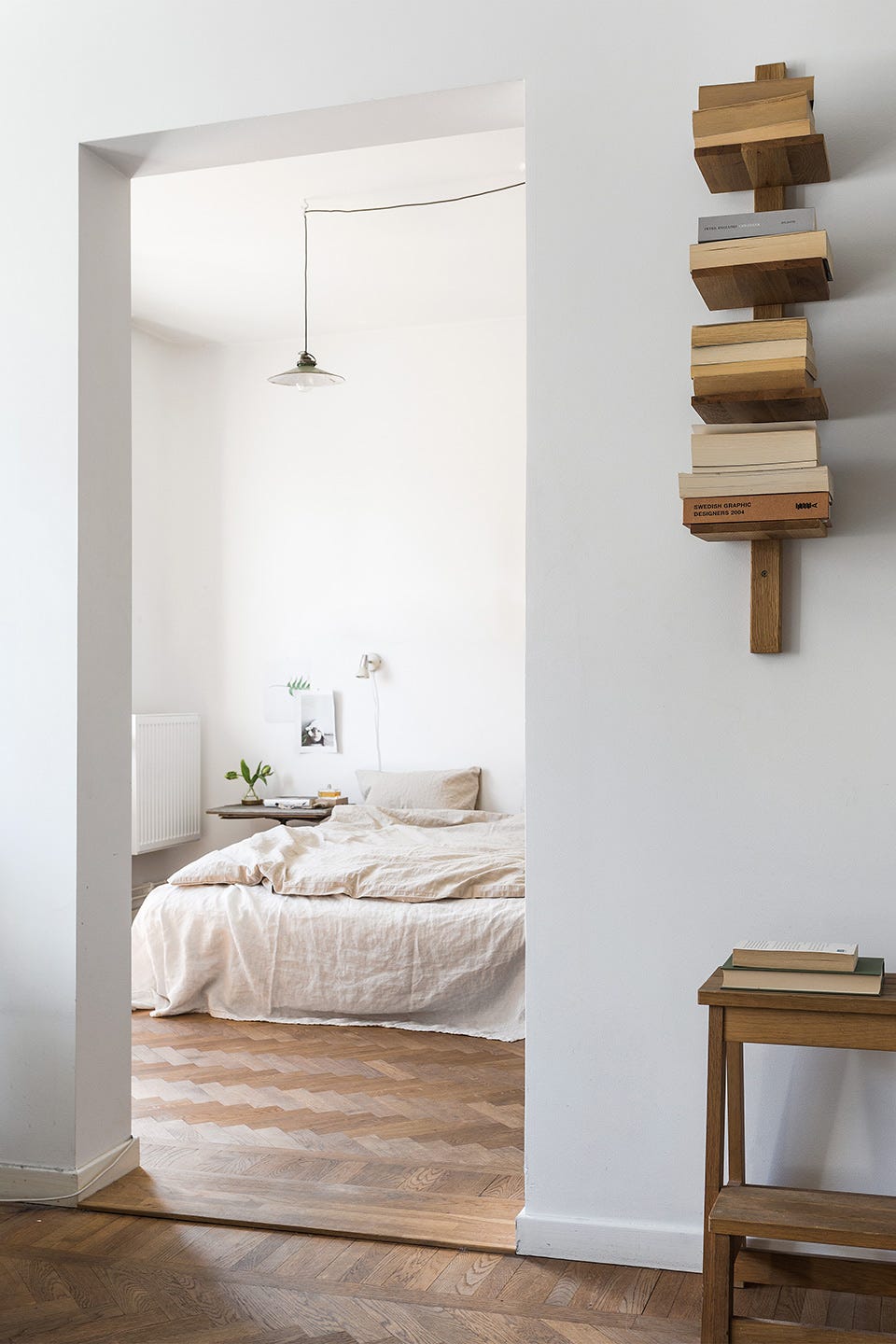 Fantastic Frank
Have a blank wall and a few extra books with nowhere to go? Install a slim wall shelf to solve both problems in style.
14
Leave It Empty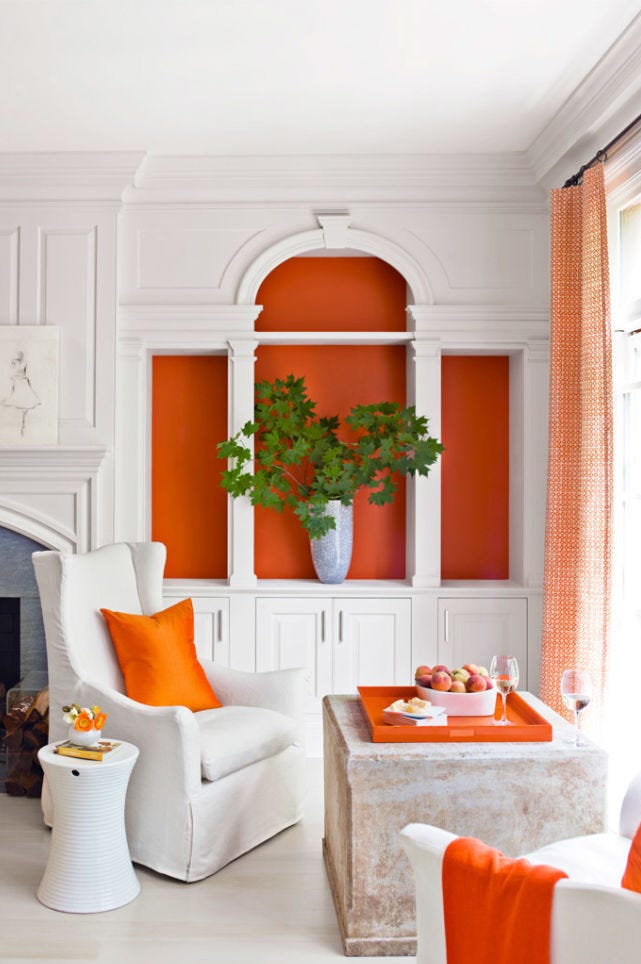 Eric Piasecki
Orange paint (Pratt & Lambert's Orange Spice) sets off the Palladian details of the bookcase in the living room of an Atlanta house. "I wanted that saturated color, as deep as I could get it," designer Kay Douglass says. "It almost becomes an art piece and helps make the room, instead of being just a place to store things. One of the biggest design mistakes people make is cluttering their world with too many things."
15
Opt for Easy Access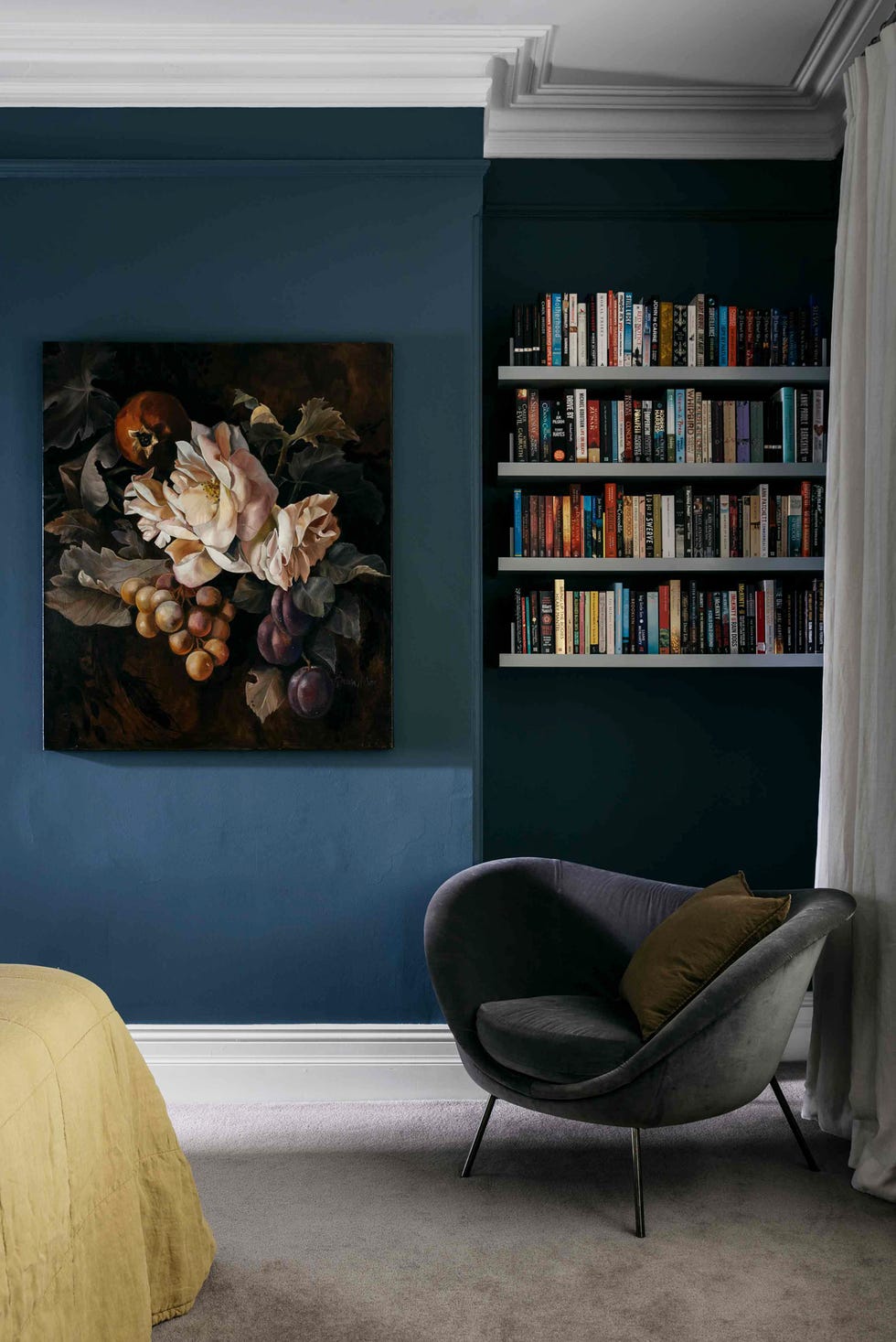 PHOTO: Felix Forest; DESIGN: Arent & Pyke
If you have a reading nook in your bedroom, keep your books in reach by setting up rows of floating shelves. They bring color and structure to the space while also sprucing up a lackluster corner, as seen in this bedroom designed by Arent & Pyke.
Advertisement - Continue Reading Below
16
Go for Clever Displays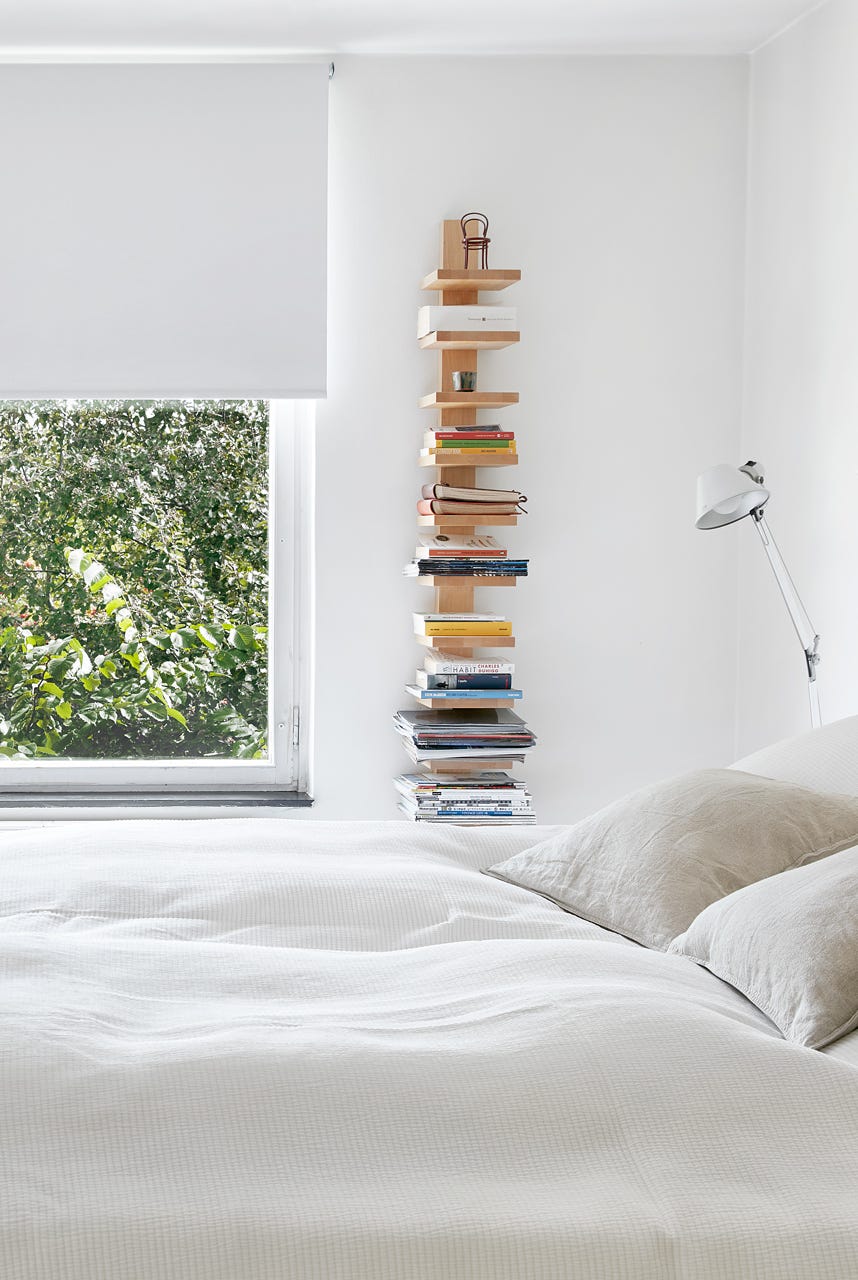 Fantastic Frank
Compact and understated, this vertical shelving unit makes books looks like they're floating on the wall without actually having to pick up a hammer. Oh, and we love the mini chair on the top shelf for a subtle touch of whimsy.
18
Try Facing Backward
Fantastic Frank
Get creative with the way you display your books. As seen in this minimalist space, the books are stacked in alternating compositions: one pile laying horizontally and the other vertically. They achieve consistency by facing the page-side outward, though.
Advertisement - Continue Reading Below
19
Go Glam with Mirrored Backs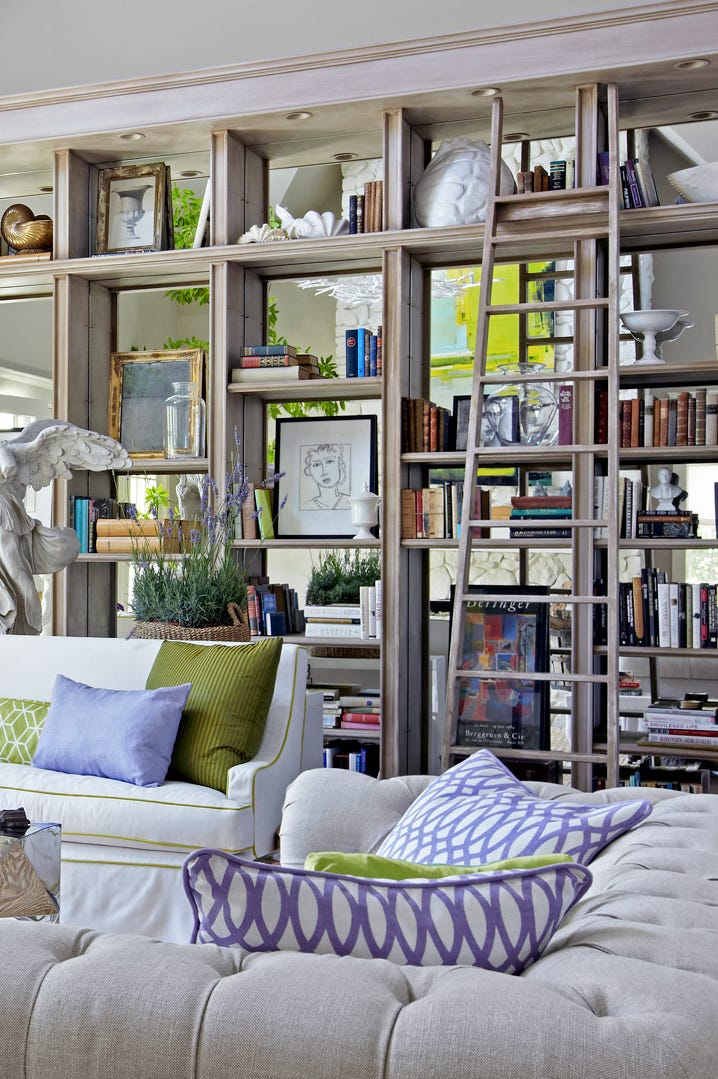 Luca Trovato
In a California cottage designed by Stephen Shubel, mirrors installed along the back of the built-in shelving give the wall depth and make the room feel brighter.
20
Try Open-Backed Cubes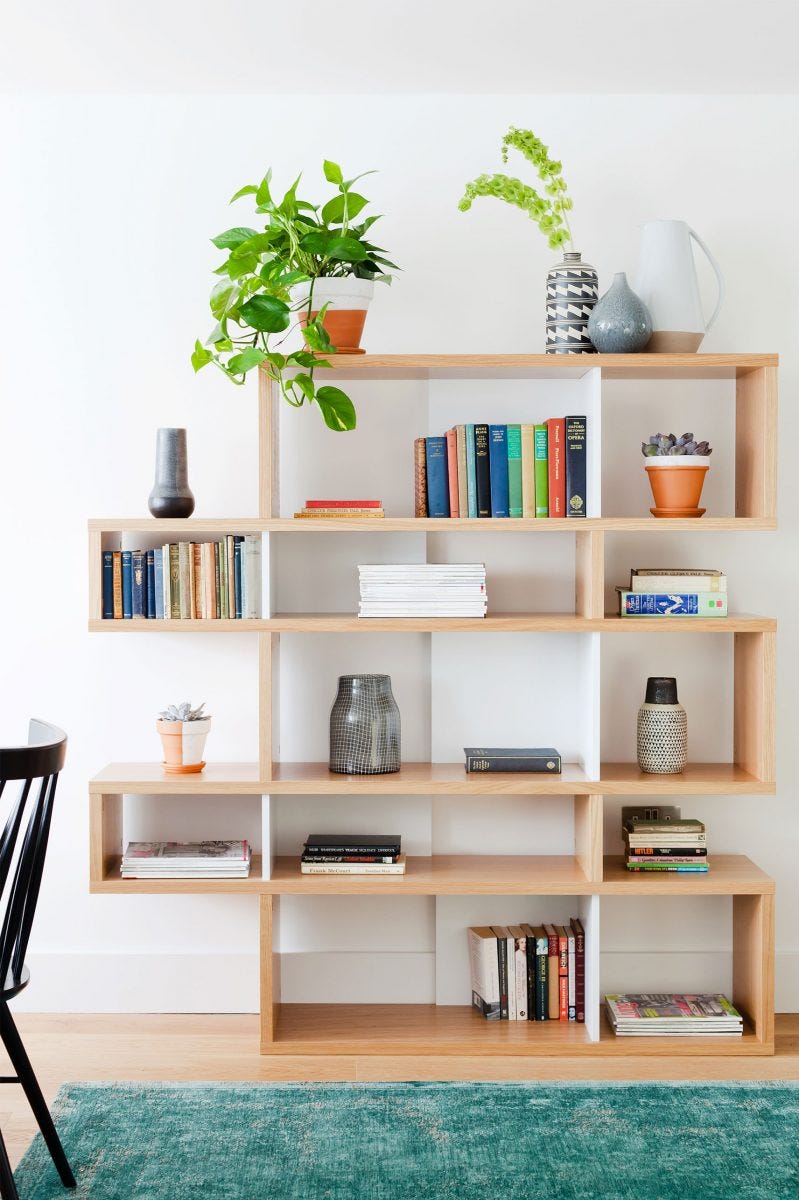 2LG Studio
This asymmetrical open-cubby situation designed by 2LG Studio brings some offbeat intrigue to an otherwise empty wall. Fill yours with plants and vases to break things up.