If there is one design debate that always gets heated, it's whether or not to include an island in the kitchen. Some people are for it, others are vehemently opposed to it, and there is no in-between. We reinvigorated the discussion with an Instagram post highlighting New Jersey-based interior designer Gail Davis, whose dreamy renovated kitchen has no island. Let us just say that the commenters are torn.
One user said, "Not enough counter space here for sure without an island. Function!" Another commented, "I'm on team no kitchen island! I opted to put our dining table in its place instead during our renovation and it was the best decision for our family. I have zero regrets!" Well, there you have it: Heated.
Instagram isn't the only place to hunt for contested opinions. We asked a few experts for their takes on the matter, and even they couldn't agree. Our Director of Special Projects, Carisha Swanson, says, "Sitting side-by-side with no one across from you might be better reserved for a restaurant bar scene than home life. If I'm in the kitchen, I don't need an audience unless you're sitting there chopping!"
More From House Beautiful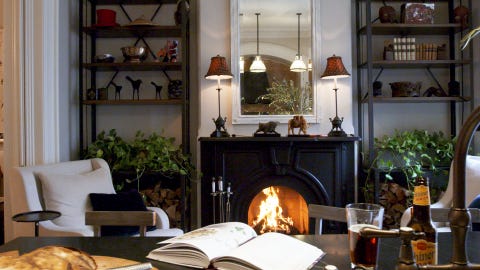 She has a point. There's something a bit off-putting about basting a roast chicken while your guests sit in a line watching you. "Not every kitchen needs an island," Swanson adds. "Would you prefer to have a kitchen table as the center of this family space? Is getting up pnto a counter stool the thing you want to do every day? If you put in an island, is this now your primary eating space? And if so, does it allow you to connect with your family or guests?"
On the other hand, Sarah Blank, a kitchen and bath designer based in Connecticut, insists, "There has never been a downside to having an island, provided it is adequately designed. An island with enough space in the room will always add value whether you have storage, seating, cooking, or a sink."
We also chatted with Davis, whose lack of an island inspired the most recent debate. "I have fond memories of sitting at the kitchen table with my grandparents," she says, explaining her island-less reno. Though her own space is inspired in part by her heart-warming childhood memories, she also looked to the kitchen designer Stephanie Sabbe designer in House Beautiful's Whole Home 2021, which centered around a table. She recalls, "I loved that."
The question remains: Island or no island? And there's only one acceptable answer: Do what's best for you and your space.

---
Follow House Beautiful on Instagram.